3D Milf Porn Visual Novel Review: A Wife & Mother
Hentai Reviews

>

Reviews

>

3D Milf Porn Visual Novel Review: A Wife & Mother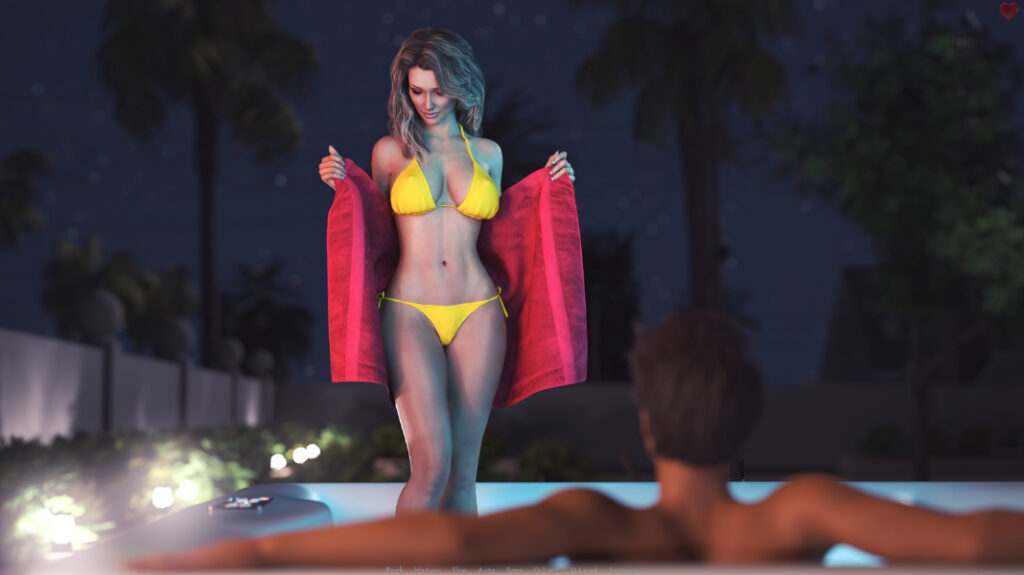 Written by Rastafoo69, edited by Otaku Apologist
A Wife & Mother, a 3D porn game developed by Lust & Passion. Visit the developer's Patreon. Released October 21, 2017. Download for Windows PC, Mac OS, and Android mobile. No voice acting. Uncensored genitals.
Sophia has two kids, Dylan and Ellie. She is married to her successful husband, Liam Parker. She lives the peaceful life of an urban housewife. But all of that changes when Liam has to move the family to San Alejo for his job. Will Sophia stay pure, or will she fall to the temptations the city has to offer?
STORY
We are approaching the fifth year of this game's development and there still isn't a sex scene. According to the developer, they are currently on version 0.15. We have delayed this review long enough! If the patrons wish to be milked, they can continue, but we aren't waiting until the year 2100 to review this!
The game begins with a lore dump about the main cast of characters, then establishes potential sex partners. These include Sam the neighbor boy, Patricia the lesbian friend and various other minor characters like Aiden who tries to blackmail you. The reason this game is not complete after five years is because of the sheer volume of routes and characters being covered.
Much of the dialogue and world building is told through long paragraphs of information. Instead of a visual novel, the game often feels like an essay, which is okay when you're enjoying a scene, but annoying when you're just trying to progress forward.
The writing and dialogue stretch your suspension of disbelief. Liam, the patriarch of the family, refuses to give his daughter the window seat and whines he might get carsick. This is all build-up to get Dylan to sit on your lap. When he does, he calls his sister a "hussy". The strap of her dress falls down her shoulder a bit. This feels like it was written by a teenager. Real people do not talk or behave this way.
As you get further in the game, the writing improves, but it never really impresses. A neat feature of the writing developing is how the author is confident in changing the perspective of the reader. While most of the time you view the world as Sophia, there are small portions of the game where you play as her son Dylan and get to make choices for him. Do you tell your peers to stop talking dirty about your mom? Do you break it up when the neighbor and your mom are too close? Making choices as Dylan is an interesting change of pace, and does a great job of complimenting the story lines about Sophia.
A fatal flaw of this game is how so many of the scenes are locked behind inconsequential choices. You must approach Ellie randomly to unlock the trampoline scene with Sam. Even if you do, you may be locked out of the full trampoline scene because you didn't let someone grope you in the pool or you made some other small choice that locked you out of the scene. It's no wonder that there's a massive walkthrough to help players avoid these random soft-locks.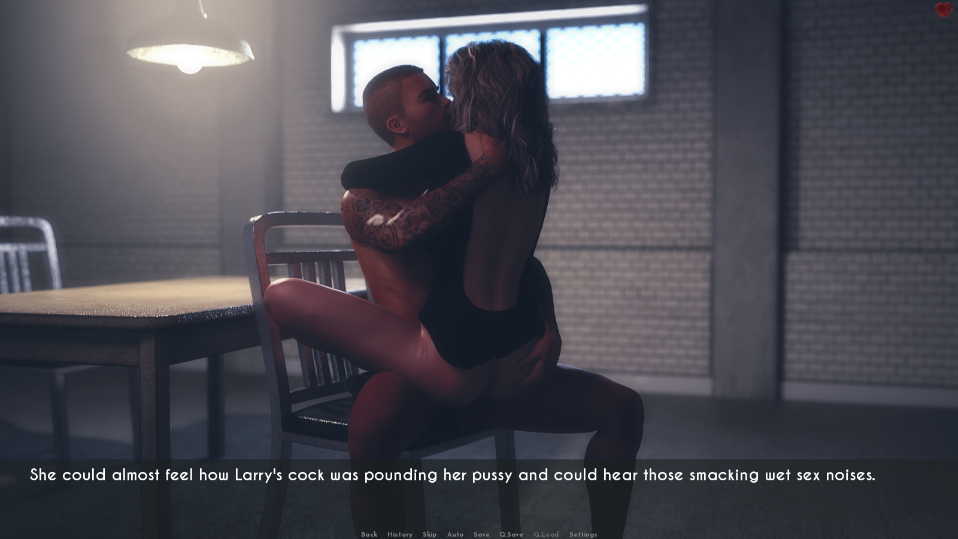 GAMEPLAY
A Wife & Mother is a visual novel created in the Ren'Py engine. Click the screen to progress the story. The game prompts you with branching dialog choices at key moments in the story. Press CTRL to skip dialogue.
You basically have two choices with this game. You'll either have to use a walkthrough or use the cheat function. This is because the game is hyper-linear in tracking affection levels. You must have Sam at affection level 8 or Dylan at affection level 12 in order to progress. If you somehow missed a scene, then you'll effectively soft-lock your playthrough. What I mean is, future scenes will ask for even higher affection levels, but you'll be unable to view them, because you fell behind. Just use a walkthrough or use a cheat.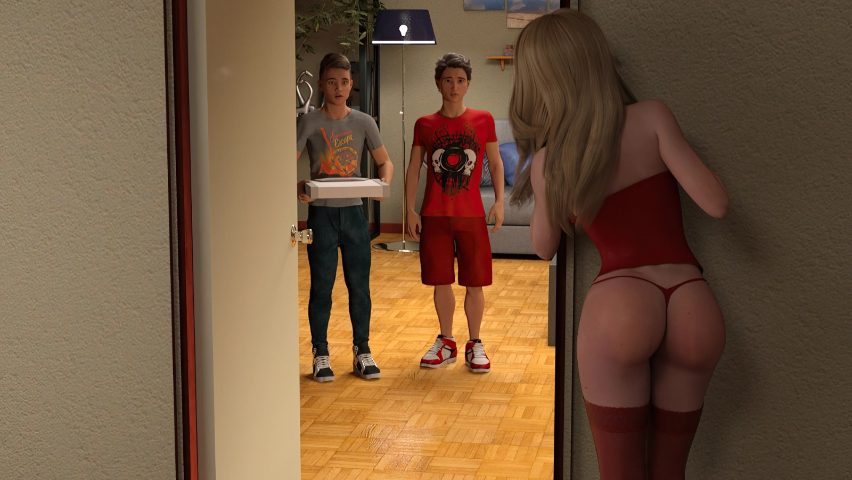 GRAPHICS
After five years of development, there are still no animations throughout the entire game. Similarly, there are no unique or creative scene transitions. Everything is "fade to black" before a new scene. Most outfits are standard stock assets from the 3D model engine library. If you've read our other reviews, you'll likely recognize outfits and apparel from other games!
The level of detail put into every scene is inconsistent. Some scenes are just 3D models haphazardly positioned close to each other, while others are downright art. Like the scene with Sophia opening her towel to unveil her swimsuit! The red stripes of the towel contrast with the yellow bikini. Her hair is downright gorgeous, her legs are perfectly shaped to emphasize her curves, and the lighting is simply phenomenal. Like all Patreon games, the game is built with one update after another, so each section of the game is a roll of the dice in terms of visual quality.
The vast majority of the game takes place at Sophia's suburban home, though there are some standout scenes like at the prison and the gym. However, since we are only given a limited third person perspective on Sophia's surroundings, I still have no clue exactly how large San Alejo really is.
Not to sound like a conspiracy theorist, but I think Sophia's face changes throughout the game. Sometimes she seems to have a thin face, but other times it's more rounded. Sometimes her cheeks are full of color, other times they're white. Sometimes she looks a bit tan, other times it looks like she never goes outside. I'm willing to bet that by the end of the project, Sophia will look downright unrecognizable.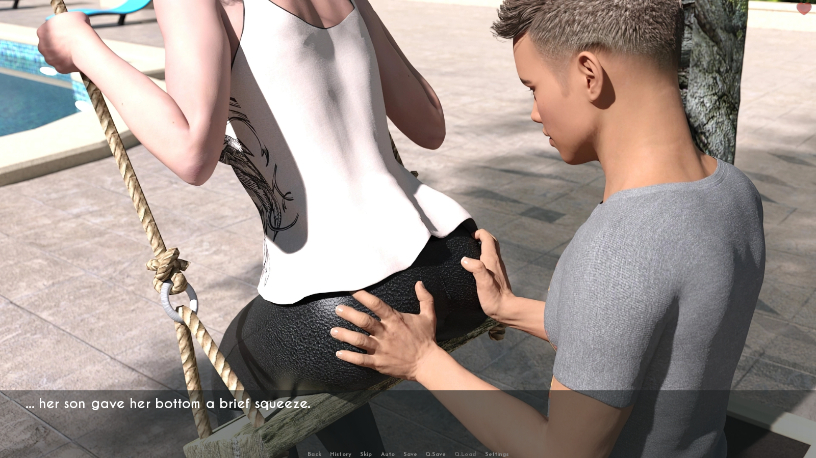 VOICE ACTING AND SOUND EFFECTS (SFX)
A Wife & Mother has no voice acting.
A wide range of sound effects are used throughout the game. The trickles of water in the shower, the rumble of an airplane, the whoosh of a blow-dryer, and so on. While most sound effects are realistic and believable, others like the RPG Maker door sound effect felt jarring and obvious as stock assets. Moments like these turned a fresh experience into something that felt manufactured.
MUSIC
Besides the simple guitar track for the title menu, the vast majority of the game features atmospheric sound effects. Waves at the beach, the rumble of a car driving, and so on. If you hear birds, you're in a tranquil area, but if you hear chatter you're in a crowded area. These atmospheric tracks are nice, but can make the world feel a bit empty when you're expecting a change of pace. Especially during sex scenes, I would have loved some saxophone rather than generic background noise.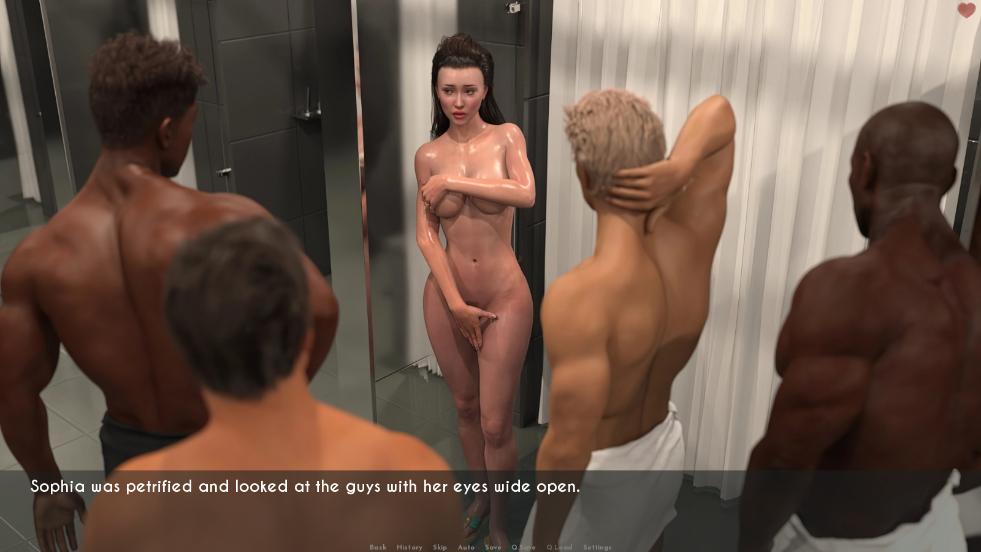 HENTAI
Due to the patchwork nature of Patreon games, you'll often go 20 minutes or longer without a character or scene you're craving. Waiting for Dylan scenes is annoying and Ellie barely has any scenes at all. You can tell the developer was simply reacting to what the fans wanted, rather than creating a balanced game experience.
Lesbian content shows up without warning. I'll never understand the insistence of Patreon developers to add lesbian content that does not advance the plot.
Despite years in development, there isn't even a handjob scene! There are dream sequences involving sex, but nothing substantial or real. The dream sequence feels completely out of the blue. One day Sophia is randomly dirty talking with a prisoner with almost no setup whatsoever! This game is a mess!
Hearing about your daughter's pink dildo is gross. Giving a sponge bath to old men should be easily avoidable. The kiss with Sam should have been a choice instead of mandatory. Sophia showing a stranger her bare tits was completely random. The game randomly ending with Sophia getting in the hot tub was a major let down.
Of course, there are some bright spots. Sophia helps Dylan deal with his boner by posing and letting him jerk off. That was totally hot and I was so turned on, I couldn't wait for more! If the developer can get their act together, this could become something.
CONCLUDING WORDS
A Wife & Mother could be a decent porn game, but it requires a walkthrough or cheat codes to avoid getting soft-locked. The scenes are random and inconsistent in quality. The lack of music makes it less memorable. It's free to try if you wanna give it one.
Graphics

Gameplay

Story

Music

SFX

Hentai