Written by Otaku Apologist
Sakura Gamer, a hentai visual novel developed by Winged Cloud. Released on November 13, 2017. Download on Nutaku.net for $10.00. For PC Windows and Linux. No voice acting. Censored genitals.
Another erotic visual novel in the Sakura franchise, this carbon copy title tells the story of Clover, Nekohime, and Suki. These girls take no stops hitting all the sexual tropes and wearing hentai meme clothes that geeky guys will find attractive. In this game, you will find everything from cat-ear hoodies, to cat-ear headphones, to striped panties and socks. It's like a collection of porn memes from 2016.
We've reviewed the following other titles from this developer: Sakura Space, Sakura Santa, Sakura Halloween, Sakura Dungeon, Sakura Gamer, Sakura Nova.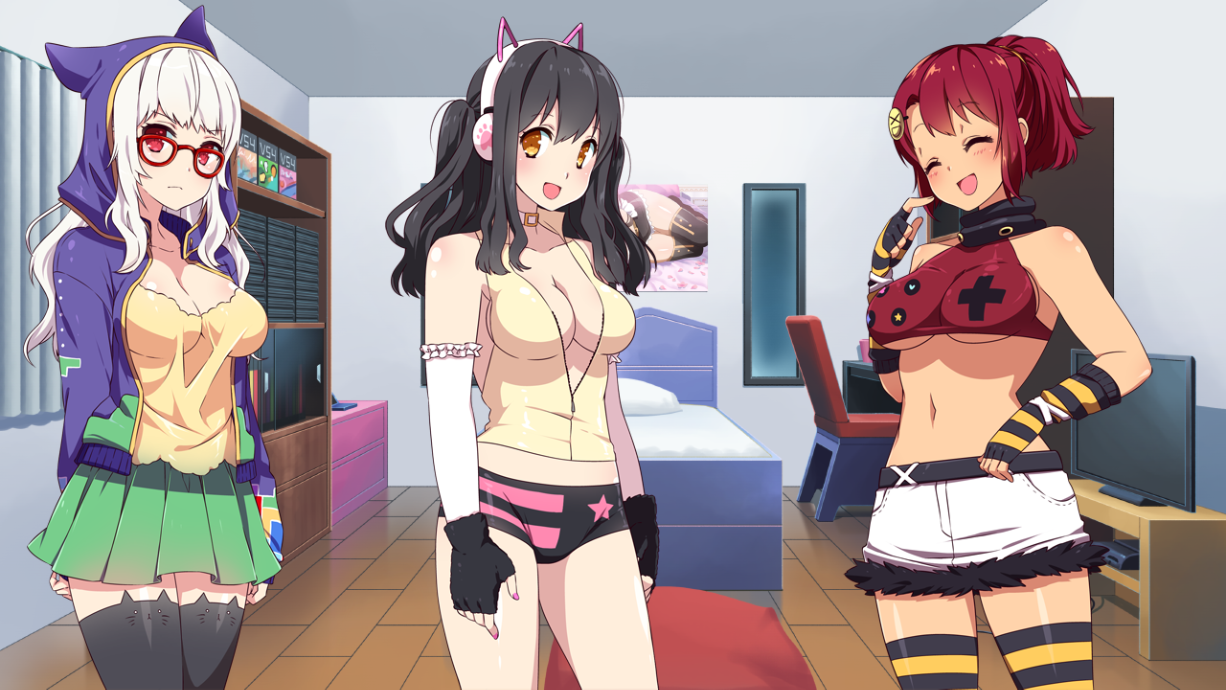 STORY
Nekohime is a real geek girl that lives with her lesbian friend, Clover. The latter dresses like a slut, with ample underboob plopping from underneath her shirt. They are gamers, anime fans, antisocial neet social media addicts without social lives. The girls want to make an erotic visual novel, because they are depressed out of their skulls with their passive indoors lifestyle that's causing them severe anxiety issues. This story is very, very meta.
A new girl joins Clover and Nekohime, she's called Suki. She unblocks the cunt blocking of Nekohime, and starts perverting the girls, patiently manipulating events towards a liberal lesbian threesome. Suki is an artist, that starts crafting character designs based on her new friends. This clever ruse she robbed from the Titanic movie, where Leonardo Dicaprio drew Catherine Zeta Jones naked, in preparation for animalistic car sex.
The girls are supposedly making a hentai visual novel together, but this is more "tell", than "show". I never saw them coding, playtesting, or doing much in terms of asset creation, except draw each other naked. They didn't fix payment solutions, research tax laws, create a website, nor did they plan a cut-throat shock marketing social media strategy, or contact game sales platforms, they didn't subscribe to any cloud services for backup solutions, or any other crucial business stuff that goes into real game development. The whole visual novel storyline is absolute bullshit.
The plot is uneventful. The girls barely leave the house. They have some chit chat about feelings, which doesn't affect the events of the story. The farthest these girls go out is their yard. Apparently they're so middle-class, they can afford their own pool. They eat, watch television, and sexually harass each other. But it's okay, because they all really want to eat pussy, deep down. Clover and Suki are clit-hard for a good fuck, but don't manage to get their pants off until the very end. There's no reason they don't just fuck out their frustrations, because the only person that's cunt blocking the girl-on-girl threesome, is the introverted Nekohime. She doesn't show interest in sex despite seeing the other girls kissing, flirting, even getting naked in her face.
This nonsensical game is cock tease from beginning to end.
The characters actually talk about the minimum effort formula behind the Sakura franchise, which has made Winged Cloud mad money, which they refuse to re-nvest into higher quality games. But anime fappers have such low self-esteems and standards, these shitty games continue to sell like hot cakes. Everyone in the industry can enjoy this hustle, like the war on drugs.
GRAPHICS
The excellent visuals have always made the Sakura Games sell. The character art, drawn by artist Inma, is beautifully colored, shadowed, with plenty of detail. The backgrounds, drawn by artist fatelinealpha, are also gorgeous. The characters are drawn in cookie-cutter anime style, with special attention given to the lady lumps. The clothes are deliciously designed, to look like something any young girl would wear, with an added spice of fantasy. But who honestly wears shit like "XD" hairpins, laced stockings, or belt scarves, while loitering at home? Who cares, it looks juicy. The art is just perfect for a game of this genre, it's all hand-drawn anime goodness.
GAMEPLAY
The game mechanics are simple visual novel stuff. Clicking moves the slides forward. The saving and loading options are visibly on display, on the right side of the dialog box. The save menu has so many slots, that you can backtrack virtually every choice, no issue. Pressing "H" in your keyboard will hide the text, so you can oogle at the pictures unimpeded. The game has multiple endings, and different choices alter events. How much impact your choices actually have in this game, you fappers will have to find out yourself.
MUSIC
The music is purposefully gamey. It's digitally composed, and very cute. The soundtrack has energy, feeling, and decent variety to it, so you're not always listening to the same tired songs while the bitches yap. It's like high-quality 8-bit midi music, except better. As standalone pieces, I don't think the songs sustain their entertainment factor, they're not like the opening themes of To Love-Ru. But that said, I enjoyed the shit in context of the game. Didn't make me wanna slice my wrists.
VOICE ACTING AND AUDIO (SFX)
The game has no voice acting. There are mild sound effects, like when saving a file, you hear a small bleep.
HENTAI
The slow descent into homosexual chaos progresses step by step. The girls are young, and horny, and still opt to play videogames despite super model bodies, no fear of Hell stopping them from fucking like monkeys. They roam around the house in their exotic lingerie, often topless, teasing each other endlessly, beyond the point of frustration. Instead of hopping into a club to hunt cock, these conservative girls are waiting for marriage, not calling up their fuck friends on speed dial. After playing the game for several days, I have not seen one picture of dripping wet vaginas.
Let's discuss the elephant in the room. The girls have a meta discussion about the philosophy of the Sakura games, in the actual game. Apparently Winged Cloud's rationalization for the chronic lack of gaping, gorging cunts is "we can't compete against bigger companies". The developers state openly, that less sex, positions them better on the eroge market. This is capitalism: you faggots get what you pay for.
The atmosphere is excellent, with the unfulfilled promise of lesbian sex lingering in the air. The girls are perfectly comfortable with nudity, and later on, they start masturbating in front of each other, using vibrators and other kinky things. You have to wait a fair bit before they start cumming. Preceding any pornographic content, there's plenty of scenes where they wear nothing but panties and bra, sometimes no bra. Their naked tits are displayed in full color and gorgeous detail. Most of the sexual content is in the erotic relationship dynamics. The cock tease is fun, sure, let's agree to disagree.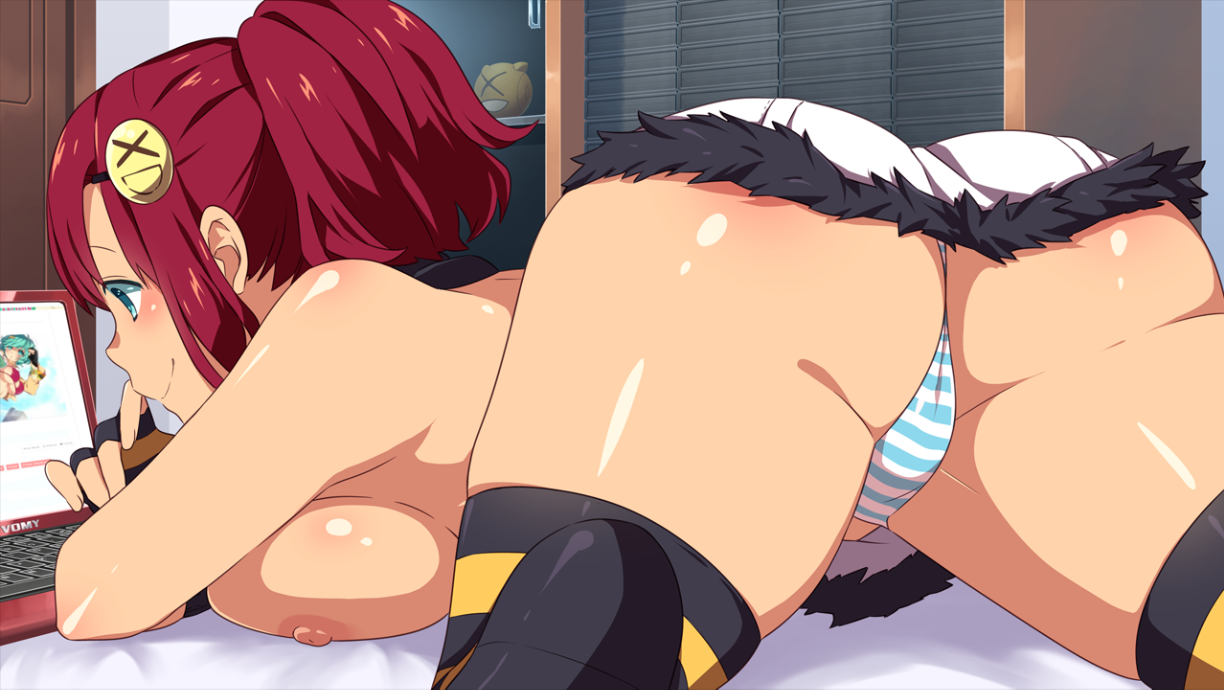 Sakura Gamer is full of hentai meme clothes. There's striped socks, shimapan panties, thicc thighs, cat ear headphones, and more. If the sheer presence of memes makes your genitals explode, good for you.
CONCLUDING WORDS
Sakura Gamer is a formulaic hentai visual novel, that's a dime in a dozen. There are tens of games just like it in Winged Cloud's game library alone. The game is padded to hell, with little content worth reading. No drama, no voice acting, nothing. If you like the gamey premise, or the nerdy characters, you're gonna cum when the girls get all batty on each other. No guarantees, no refunds. Download Sakura Gamer.
Graphics

Gameplay

Story

Music

SFX

Hentai