Written by Jin0uga, edited by Otaku Apologist
Lust of the Apartment Wives, a hentai visual novel developed and published by U+Me PLUS. Download at Nutaku.net for $14.95. Available for PC Windows. Full Japanese voice acting. Uncensored genitals.
A Japanese hentai visual novel that tells the tale of three neglected housewives, "Lust of The Apartment Wives" attacks the milf-porn market balls deep. For fans of cheating, mature big mamas, this game delivers the maximum ball-busting masturbation experience.
STORY
You are Motomichi Fushimi, a grocery delivery man with a fetish for older women. You're popular among the housewives of your apartment complex. Your friendly demeanor, and panty-dropping smile, are making these women melt. Your virgin act is merely a front to hide your overbearing lust for these women's lascivious bodies. Week after week, you deliver their fruits and vegetables, waiting for the perfect timing to start nailing that pussy deeply.
After sizing up different customers with your gaze, you focus your efforts on three target women. Each of the ladies hits vastly different tropes, with different bodies and personalities. Their husbands have barely touched them in a decade, so they're as sexually pent up as you are.
Lust of the Apartment Wives is a straightforward porn romp. There's barely any fluff between scenes with pornographic content. I didn't have to wait long for the first sex scene. After a brief opening that introduced the three housewives, I already found myself picking a woman to bone. Motomichi used his playboy skills and talked his way into their panties, then plunged into their wet, eagerly drooling vaginas.
Some anime fappers might appreciate the game cuts straight to the goods. Personally I expected a little more relationship building, and world building. The thrill of the chase was completely skipped out. Outside of the hentai, there's an content resembling a 'plot'. While Motomichi needs to use some negotiating to convince the women into sucking his raging member, they give in way too quickly for my tastes. By the time he's grabbing their tits, you've already practically won.
Mayumi's route, is a good example. She's a childhood friend to the main character. One would expect that a prior friendly relationship would lead to more resistance from the woman's part. After all, when you get closer to a person, you also risk losing them to hurt feelings of rejection. Mayumi has a newborn child and maintains a good relationship with her husband, but her ass falls on Motomichi's dick in less than fifteen minutes. Her storyline would have been much more interesting if the main character had more obstacles to overcome.
CHARACTERS
Motomichi Fushimi is the main horn dog in this story. He's a very blank slate character, with barely any details revealed about his past. His main character trait is his obsessive fetish with housewives. He's described as a young man, but he has zero interest in girls of his age. To him, middle-aged women are the only pursuits worthy of a man. He comes off as a sleaze ball at first, but after some time, I found his inner monologues hilarious. His dedication to bagging women old enough to be his mom, makes the visual novel a fun read.
Kaori Enkoji, is a housewife in a loveless marriage. She's the most flirtatious among the three, and doesn't give two fucks about propositioning sex to the main character. Her outfit makes even prostitutes look like nuns sworn to chastity. She wears a low-cut cocktail dress, gaudy earrings, and a gold necklace that draws attention to her breasts. She thinks she's hot shit, despite the obvious signs of age wearing her down.
Ryoko Yamashina, is the plainest housewife you could imagine. Though undoubtedly simple, in looks and personality, Motomichi sees the soul of a cockslut within her. She's soft-spoken, and rarely talks to the other wives in the complex. As the saying goes, it's always the quiet ones that surprise you. Other than being an emo introvert, she's the tired housewife who dedicated her youth to raising ungrateful children, and taking care of a workaholic husband.
And finally, Mayumi Togashi, a childhood friend to the main character. Characterized by her chirpy demeanor and social skills, she's the most stable out of all three housewives. But with the recent arrival of her newborn child, her husband neglects her, giving more time to the baby than his wife. Without anyone to relieve her sexual frustrations, she becomes a vulnerable target to the predatory Motomichi.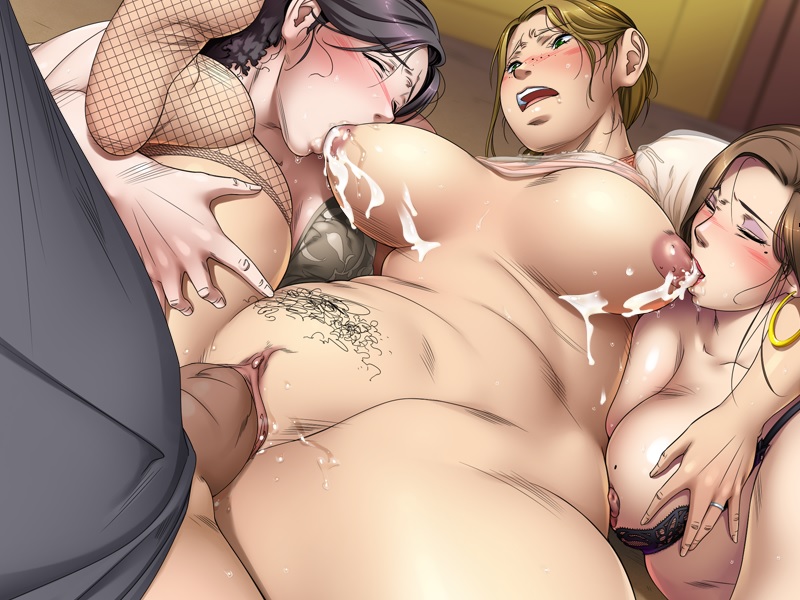 GRAPHICS
The visual novel has an art-style leaning on realism, reminiscent of old anime. The characters retain some modern characteristics like round, anime eyes, but their faces and bodies are very realistic. The three women have varying body types that tell a lot about their lifestyles. Kaori, for example, thirsts for attention. It comes across in the amount of care she invests in her looks. The women's outfits also match their individual personalities. Ryoko barely shows any skin with her plain long-sleeved shirt, but Kaori's shirt just screams 'fuck me!'
Since the housewives are middle-aged women, their bodies are drawn to reflect their age. Unlike prepubescent girls, they have flabby thighs, and stomachs. They also have body hair on their vaginas and armpits. If that makes your dick explode, good for you. Despite the emphasis on realism, the art is sexy, putting their plump butts and tits the focus of the CGs. One detail netorare enthusiasts will like, is the wedding rings visible on each housewife's finger as they clamp on Motomichi's meat rod with their unfaithful cunts.
The visual novel's colour palette resembles its art style. It uses safe, dull colors, like the soft chocolate shade of Motomichi's hair. The colors in non-hentai scenes mesh perfectly, creating a very immersive world that feels real. The backgrounds are well-drawn, with details like telephone poles and side characters also living in the apartment complex. The living rooms have plenty of furniture, and detail. The shadows are minimal and don't attract much attention.
The colors in the hentai CGs are darker, helping at emphasizing the women's clothes and bodies. They draw attention to the breasts, and the expressions of ecstasy on the women's faces as Motomichi fucks them. Backgrounds are less detailed in these CGs as most of the space is taken up by the characters. Items in the background are vaguely visible, even blurred. The shadows are more visible.
MUSIC
The visual novel has three soundtracks. The first track plays in the menu, and scenes where Motomichi is wooing the women. Like the art style, it has a 90s anime feel, a mix of synthesizer sounds and the sultry playing of an electric guitar. It works well at setting the mood when you first start the game.
The second track is the most average out of the three. It sounds like a generic slice of life song, and plays during small talk moments. There are violins and pianos, which work together to produce a light-hearted atmosphere. There's a soft tapping sound, like someone hitting the rim of a drum, marking up the rhythm.
The last track plays during the hentai scenes. It is the perfect blend of ominous and inviting. It plays during moments where Motomichi is kissing, or groping his target. Like the first track, it sounds like something from the 1990s. It's the type of song you can imagine playing in a seedy bar, and sets a sultry, intense atmosphere. The three tracks get slightly repetitive after a while, but the game isn't long enough for them to get annoying.
VOICE ACTING AND SOUND EFFECTS (SFX)
The game has full female voice-acting. Only the housewives are voiced. Dialog scenes with side characters are also fully voiced, but the side characters don't get a sprite of their own. The voice acting for Kaori, Ryoko and Mayumi are top-notch.
I liked Ryoko's voice during regular scenes. But for hentai scenes, her voice sometimes made me cringe. When she gives a blowjob, it sounds like she's choking on Motomichi's rod. It wasn't sexy to me, but it might be for you. Her moaning can also get way too exaggerated, breaking the immersion. These moments are thankfully rare.
The sex scenes feature plenty of sound effects, like moans, grunts, and wet fingers diving in a pussy. The women have some internal monologue during sex, which is also voiced. The moans are quite lengthy, and the game lets you loop them until you blow your load. My only disappointment is the lack of ass-smacking audio, when Motomichi is thrusting his cock in and out of the women. There are sounds of women getting their mouths filled with cum, but the hentai would be sexier with pounding noises.
GAMEPLAY
Lust of the Apartment Wives is a visual novel. You click the textbox to "turn the page". During hentai scenes, you're given branching options for Motomichi's next action. Clicking them unlocks different CGs. For example, if Motomichi's cock is in Kaori's mouth, two options will show on the screen. Choosing one will unlock an ending, with CGs specific to that ending. It's usually better to save your progress during these choices, so you can go back to explore the other option.
HENTAI
Middle-aged vaginas are still delectable for a good pounding. The sex scenes are raunchy, straight-forward fuckfests. The first time Motomichi fucks a woman, the following blowjob scene is lengthy, with rather well-written descriptions, and sound effects. Then, after she's all soaked through her panties, he uses his hands to bring her to orgasm.
Each scene has some foreplay. After that's done, Motomichi rams his manly member into their pussies, and pleasures them until they scream his name. The expressions of the women are clearly depicted in the CGs, ranging from overwhelming lust, to dazed, to faces that say 'this bitch just got fucked'.
There's a decent variety of sex poses for each woman. The sex is mostly vanilla, since the women aren't total sluts. The game explores a couple of kinks, like armpit licking, or using vegetables as sex toys. I personally didn't enjoy that content, but those scenes are rare. For fappers who like the thrill of getting caught, there's an ultra erotic ball-busting scene where Motomichi bangs Mayuri while her husband is right close by in another room.
CONCLUDING WORDS
Lust of the Apartment Wives is a splendid fap fodder visual novel for lovers of milf-themed games. I masturbated to this game to my heart's content. There are minor flaws here, and there, like the lack of some very important ass-flapping sound effects. The story skips straight to the action, starting with one scene, and quickly proceeding to the next. The seduction process is short-lived, and the bulk of the game's running time is dedicated to massive milf asses getting absolutely ransacked.
Download Lust of The Apartment Wives at Nutaku.net.
Graphics

Gameplay

Story

Music

SFX

Hentai