Hentai Anime Review: Joshi Ochi! 2-kai kara Onnanoko ga… Futte Kita
Hentai Reviews

>

Reviews

>

Hentai Anime Review: Joshi Ochi! 2-kai kara Onnanoko ga… Futte Kita
Written by Mistress Valentine, edited by Otaku Apologist

Joshi Ochi! 2-kai kara Onnanoko ga… Futte Kita, a vanilla hentai anime developed by a currently unknown studio. 6 of the 9 episodes announced have been released. Episode 1 runtime is 5 minutes. Censored genitals. English subtitles available.
Fetishes: ahegao, creampie, cunnilingus, large breasts
Joshi Ochi! 2-kai kara Onnanoko ga… Futte Kita, translates into English as 'Falling Girls! A Girl Comes… Falling from the Second Floor'. It's a vanilla hentai anime that follows Aikawa Sousuke, a guy living the poor man's life. He is a part-time worker who lives in a run-down apartment. One day he hears a creaking sound from his ceiling, and suddenly the resident of the apartment above, falls through a hole in the ceiling. The woman's name is Unyuu Sunao, and she's a real hot babe. Thus begins Sousuke's and Sunao's comical life of living together.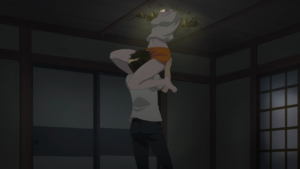 STORY
Aikawa Sousuke is just trying to get by in life. He works his job, he goes home, sleeps, wakes up, repeats. But one day he hears a creaking noise coming from upstairs and goes to sort out the racket. Unyuu Sunao opens the door, and a gorgeous, big-breasted anime babe tells him she wants to be an actress. The noise he keeps hearing is the sound of her rehearsing. Seeing her body, Sousuke's boner takes over his mind and he abandons his investigation.
The weight of the ceiling finally breaks under the weight of Unyuu's massive breasts and she falls through. Sousuke catches her with his mouth embedded in her crotch, much to Unyuu's embarrassment. After a little wobbling, Unyuu finally falls completely through and lands on Sousuke's dick. Like right on there. Sousuke even comments on his penetration.
With his dick already inside of her, Sousuke takes the initiative and begins to play with Unyuu's breasts before throwing all caution to the wind and fucking the wannabe actress, turning her into a porn star on the spot.
VOICE ACTING AND SOUND EFFECTS (SFX)
Sousuke and Unyuu's voice actors are fantastic. Both give very entertaining performances. The dialogue for both characters is really funny. The episode shies away from typical hentai dialogue like "That big thing is inside me", replacing it with phrases like "I'm nutting!" The dialogue aims for humour and lands most of the time, giving the hentai that extra injection of fun.
The show has few sound effects. We have floorboards giving way, footsteps on the ceiling and ceilings collapsing. The latter makes for an excellent sequence. In the case of the sex, we have breasts being sucked and fondled by someone who clearly has never fondled another human being. Hips thrust and people grunt as they pump into one another.
MUSIC
The musical score left an impression on me. It has a symphony vibe, making you feel like you're at the opera, but the orchestra mimics the pace of the fucking, building the hype up and up until reaching the grand crescendo. It definitely gave the hentai a different feel.
You could argue that the entire sex scene is a symphony of two people playing one another as instruments. The pace of the music slows down when the action does, almost coming to a standstill before blasting the ears once the sex resumes.
ANIMATION
The animation quality is excellent. You can tell by the vibrant colours, shadows and the character designs that the studio chose to sacrifice the length of the episode for style and vibrancy. It shines within the world these characters live in, and the characters themselves. Sousuke has a very unique design that makes him stand out. Unyuu likewise has a sexy design that also sets her apart from other hentai females this season.
The lighting is very dark, since the episode takes place indoors. Unyuu's breasts deserve a special mention. There is a single shot of Unyuu opening the door where we get to see her bountiful beauties take in the warm sunshine. Her boobs serve as the highlight of the story. There's also an amazing shot of her ass bouncing up and down as Sousuke plows her pussy. The animators were doing their best here. Sousuke's dick disappears inside of Unyuu early into the sex scene.
 HENTAI
Even with limited time to boink, the episode is packed full of steamy sexiness between Sousuke and Unyuu. I was surprised that Sousuke's dick managed to survive Unyuu piercing it with her landing. What a bizarre way to lose your virginity.
Sousuke just assumes that since his dick is already inside of Unyuu, he has automatic consent. He starts groping her boobs and sucking on the nipples. Unyuu doesn't take much encouraging to respond in kind. She's already on another guy's dick, might as well enjoy it. They kiss while Sousuke starts riding the wannabe actress on top of him.
CONCLUDING WORDS
With just five minutes, Joshi Ochi! 2-kai kara Onnanoko ga… Futte Kita manages to do what most hentai can't with four times the length. It sets the stage, introduces characters, gets right to the point and provides you with sexual encounters that are so over the top and funny that you're guaranteed to bust a gut moments ahead of busting a nut.
Watch this anime at several shady streaming sites. Try Hentaistream.com, or Hentaiplus.co, or Freehentaistream.com.