Written by Rastafoo69, edited by Otaku Apologist
Peniban Quest, a hentai RPG developed by SadisticAlice. Released May 2, 2015. Download on DLSite for $18.00. For Windows PC. Full Japanese voice acting. Censored genitals. Free demo available.
You are the son of the great hero Ortenga! Succubi have exterminated all the strong men of the world except for you! Fight hard alongside your smoking hot female party members to defeat the forces of evil.
STORY
Aheru is the son of the great hero Ortenga. His father died fighting the succubus armies. He gathers a party of women who help him in battle, until he's strong enough to defeat the Demon Lord Maramos.
Ths story structure of this game is horrible. Almost every choice is meaningless, so there's never a reason to care. No matter how strong you are, many scenes in this game are scripted for you to experience a defeat.
The quality of the writing and dialogue is average at best. Hundreds of fourth wall breaks make it hard to take the game seriously. The game is so absurd and random, there's never a good reason to care. Nothing flows or slowly builds into the next part, everything is dropped on you without any supporting writing.
The world building is done recklessly without any overall plan. It feels like the author had no idea what they were doing, and made this up as he went along. New nations, concepts, and characters are dropped at random. Rather than use foreshadowing to insinuate what's coming, everything is random! For example, people across the mountain scarcely heard of the hero Ortenga. But if that's the case, it means your father barely traveled at all, which contradicts his image as an explorer!
This game might be ten hours long with tons of unique dialogue, but none of it had proofreading or structure at all! Anyone can write a bunch of nonsense onto a page, the mark of a writer is presenting this information in a cohesive and engaging way.
Discover more femdom hentai games we've reviewed over the years!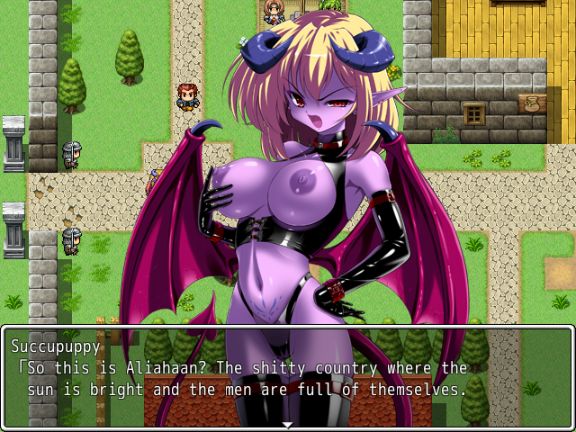 GAMEPLAY
Peniban Quest was created with the RPG Maker VXAce, the most common version of the engine. Use the arrow keys to move. Press CTRL to skip dialogue. This game is a standard dungeon crawler. There is nothing unique to this experience.
The DLsite page says "Challenging battles – no need to deliberately lose to see the fun". The battles are not challenging, as you can simply repeat attacks to win. And the game has many cases of scripted defeats, so yes you do have to lose to see the fun.
The DLsite page says "Fast paced progress – gain XP 400% faster than the usual RPG!". That's a lie. The level ups are slower than many other games, on average it will take an hour to rise 4-5 levels.
The DLsite page says "Over 20 hours of play – from monster collecting to casino games". That's an exaggeration. For example, you don't really get to play casino games because they're fully automated. Another example is the tournament side-quest, which ends in a mandatory defeat. It's more likely your twenty hours will be spent in hundreds of frequent random encounters.
There are hundreds more flaws with this game, but the point is already made. Gameplay is generic, linear, slow, tedious, and overall not very fun. I urge you to download a full save, because a standard playthrough of this game is not worth it.
GRAPHICS
The art is Japanese anime style. A wide array of colors are used to create a flashy experience that draws you in. The art is honestly the best part of the game, and the primary reason to play it.
From character sprites to world design, a few minutes in this game makes it clear that the developer was creating a parody of the old school Dragon Quest series.
A functioning world map tracks locations and destinations across the world. Sadly, goals are marked with white stars, which are sometimes hard to see. Many players report frequent confusion when they cannot find their next goal. Such a fundamental game feature should have been given more attention.
There are few variation images for sex scenes. The first image is all you'll get. The lack of movement kills the intensity of the scenes. Staring at a still image is not fun, especially when there's no button to hide the text box! This game came out in 2015, there is no excuse for missing such basic features!
All characters have thin rectangular eyes that barely appear human. Some scenes are so grotesque they're hard to look at. No photos of this scene have been included, but at one point your character is beaten and abused until he's bleeding. Though the game is advertised as a femdom game, there is some hardcore violence that will likely shock new players.
VOICE ACTING AND SOUND EFFECTS (SFX)
Peniban Quest has full voice acting for all sex scenes and it is glorious! The women speak in such a seductive manner, with a realistic conversation tone that immersed me deeply. My favorite voice acting came from the mother in the first scene of the game. She's scolding you for wetting the bed, and spanks your bottom for misbehaving. Her speech had a motherly tone mixed with a seductive tone.
The sound effects are stock assets from the RPG Maker library. The spanking sound effect was fine, but some of these assets never fit the action. When a woman peels back your foreskin, it should not sound like a rubber band being pulled.
MUSIC
There are 29 songs on the soundtrack, all of which are completely unique to this game.
Violins, bongos, cymbals, and many other classical instruments come together to create a beautiful symphony. This music belongs in a Hollywood movie. Sadly, these fantastic tracks don't fit the game very well. They create so much suspense, but all the fourth wall breaks and other hiccups stop these tracks from properly conveying the right emotions. These songs belong in a better game.
HENTAI
Peniban Quest has around 20 sex scenes in total. There may be more, but artworks and scenarios repeat a lot.
The game starts out with a sex scene, so you already know that sex is the focus! And the scenes are fantastic! My favorite was when you get fucked in the ass in public by a futa dog girl! Your friends and a crowd of people are forced to watch as the legendary hero gets knotted like an animal! X-ray effects show your ass being penetrated as doggy cum fills up you to the brim!
Humiliation and femdom scenes are abundant. Your character never has vaginal sex, and remains a useless small cock loser. And the degrading dialogue mixed with full voice acting really hammers this home! Too bad there's no recollection room until end-game!
CONCLUDING WORDS
Peniban Quest is an okay RPG experience. The story is a parody that doesn't take itself seriously at all. The gameplay is below average, while the voice acting and sex scenes are incredibly exciting. The soundtrack is amazing, even if the songs don't quite vibe with the game's style. If you love femdom and grindy RPGs, try this title now!
I recommend this game to femdom fans. Download Peniban Quest. Also check out our review for Detective Masochist.

Graphics

Gameplay

Story

Music

SFX

Hentai