Written by Rastafoo69, edited by Otaku Apologist
Liz of the Tower Town, an exhibitionist hentai game developed by circle Clymenia. Released July 6, 2016. Download on DLsite.com for $14.30. For PC Windows. No voice acting. Censored genitals. Free demo available. Download the English fan translation patch.
Liz is a young pink-haired mage who must search for three artifacts and return them to the Mage's Guild. The final artifact lies in the town of Bramach, a place filled with ruthless criminals and vagabonds who cannot be trusted. Will they succeed in taking advantage of the pure and innocent female heroine?
This game is a sequel to circle Clymenia's first title, Luxuria. The protagonist from that game returns in Liz of Tower Town as Liz's mentor. I recommend playing the previous installment if you like the story and the characters.
STORY
Liz gets separated from her magic instructor while hunting for an artifact. She begins searching for her lost instructor in the tower town of Bramach. Liz must climb the tower, and save her master.
Liz soon discovers that the town has multiple districts. There's many floors from the ground floor to top of the tower. She must battle her way up each level to find her master! Only when they're reunited, can the two of them recover the magical artifact and return home.
Unfortunately, the town does not accept non-local currency. All of Liz's money is worthless! She has to take odd jobs in the town to make money, and these jobs will slowly corrupt her. Liz's deepening corruption is marked by her rising "impurity level".
Depending on your impurity level, Liz will behave differently in cutscenes. Higher impurity means that she'll be more open to sexual experiences. There are two endings to the game.
GAMEPLAY
Liz of the Tower Town was created with RPG Maker, but utilizes significant scripting to create a unique experience for the player. You move with the arrow keys and press the spacebar to interact with objects and people. Press CTRL to skip dialogue. Press Q to hide the dialogue box.
The game cycle is highly dependent upon a system of "contribution points" that function as a fame system for your character. As you complete more quests, you gain points and unlock new areas to the town.
The game is designed in such a way that you can completely avoid all hentai content if you so choose. You can also avoid all combat if you only want to immerse yourself in the 80 hentai scenes available.
If you choose to avoid hentai, you'll need to explore the Tower Dungeon for enemy encounters that yield items for crafting. You create special items like furniture and candy to please the townspeople and gain contribution points. If that sounds like too much work, just have sex with everyone in sight to win the game.
The Tower is filled with a poisonous air that drains your health as you explore it, so you'll need to allocate crafting materials for healing items in order to succeed. Simply walk into enemy characters to initiate battles. This consumes your magicka. The game mechanics push you to balance magicka and health in order to win.
The game keeps track of who you lost your virginity to, and how many men you've slept with. If the dungeons prove too difficult and you absolutely must take a job, I recommend you work at the local pub. It's better to flash your tits at customers than to increase your sex count and risk the bad ending!
GRAPHICS
The art is anime style. Once you see the variety of scenes, you'll see just how gorgeous the artwork is. You cannot explore areas outside of Tower Town, but the available game area itself is absolutely gorgeous. The tower has a lava zone, an ice zone, and a forest zone.
There are at least 30 different enemy types. Each of them drops unique crafting materials. Every enemy can be easily identified by their battle sprite, and each NPC has a completely unique visual design. Contrasted with some other titles we've reviewed, Circle Clymenia produced enough artwork to not have to rely on shortcuts.
The tower town is separated into districts that correspond with different social classes. As you ascend the tower, you witness the changes in the environment as you transition from the slums to the middle-class district, and finally the upper crust of society. The wealthy live at the very top of the tower, as you may have guessed.
Although this is an RPG Maker title, the level of variety and creativity in this game is incredible. Core cast members are colored with a wide variety of pastel colors. This is contrasted by the earthen tones of the tower town. It's a great contrast that drives home the fact that Liz is an outsider in a corrupt world of single mother households.
There are several sexy outfits you can have Liz wear. There's her default wizard gear, a suit of armor, the tavern wench costume, a nun's robe, and more. The outfits aren't completely cosmetic either. You wear the nun's robes in a mission where you corrupt a man of God with the pleasure that only your young female body can produce to a man. Liz takes a good pounding in the nun costume in four separate magnificent scenes that will keep your juices flowing to the sloppy end.
The male partners that Liz invites to plow her holes are faceless when giving the girl her daily dose of dick. Meanwhile, Liz's character has multiple facial expressions that show the full spectrum of feelings from shyness, to fear, to boredom, to absolute disdain for the male gender.
SOUND EFFECTS AND VOICE ACTING (SFX)
Liz of the Tower Town has no voice acting.
You'll hear plenty of generic sound effects ripped from other similar games, but there are also many completely new effects. The sound of vaginal sex sounds like boots stomping a puddle. However, the audio clips used for blowjobs and handjobs were absolutely perfect, sounding very realistic.
MUSIC
The soundtrack includes 20 unique songs. The songs were so good, they reminded of tunes I've heard in Nintendo games like Super Smash Bros, and anime shows from the early 2000s.
The songs utilize flutes, drums, piano, and even electric guitars, all digitally mixed to create instant classics for you to enjoy. The tone and tempo of the music ranges from smooth, simple melodies to upbeat battle anthems that will stay with you for hours after play. The musician behind these scores is very talented, and the songs are musically complex enough to keep you coming back for more.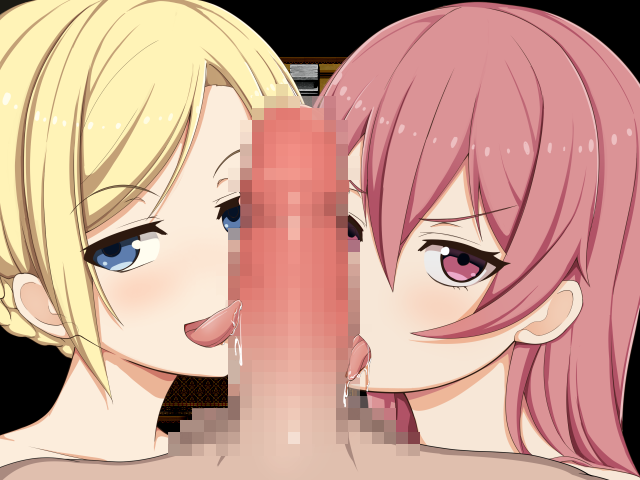 HENTAI
Liz of Tower Town has 84 scenes and around 60 CGs. There's more variety than one would expect from a shabby indie title. Depending on where the scene takes place, Liz will wear cute and unique outfits.
As Liz gets into more sexual encounters, her impurity level will rise. She grows more willing to have sex, and will even prostitute herself! You can reduce your impurity level by speaking to the only old lady in town. When you have sex again, you can experience Liz's descent to corruption all over again!
This game features primarily exhibitionist-themed hentai content. No matter how many men creampie this slut, she cannot get pregnant. However, Liz can be corrupted into a whore very quickly if that hits your spot.
Prostitution, glory holes, non-consensual sex, and public sex are the most prominent fetishes included in this game. At first, Liz will only go topless when she's sufficiently drunk, but that's not always the requirement.
Later in the game your clothes get stolen while you're bathing, and you're forced to walk outside naked! If you follow that storyline through, you'll unlock the ability to walk around town fully naked, which leads to men taking advantage of you. Every character in game has a unique reaction to your nudity.
At the end of the game when you find your mentor, you can have a victory tour around town and fuck every man you find. You can watch Liz and her sexy mentor become total sluts right before your eyes.
CONCLUDING WORDS
Liz of the Tower Town is perfect for hentai gamers who love exhibitionism and corruption themes. The game has over 6 hours of unique gameplay. The crafting system is innovative and each musical track is a work of art. There's a staggering amount of artwork for a relatively small indie title, with over 80 hentai scenes available. There's enough variety of sex scenes and fetishes explored to leave any hentai lovers satisfied with their fap session.
I recommend this game to fans of exhibitionism porn. Download Liz of the Tower Town.
Graphics

Gameplay

Story

Music

SFX

Hentai