Dragon Ball Hentai Game: Videl Quest H
Hentai Reviews

>

Reviews

>

Dragon Ball Hentai Game: Videl Quest H
Written by Rastafoo69, edited by Otaku Apologist
Videl Quest H, a Dragon Ball hentai game developed by circle Below the Equator. Released March 28, 2015. Download on DLsite.com for $15.00. Available for PC Windows. No voice acting. Censored genitals. Download the English fan translation patch.
Videl has been trapped in a dream world by a strange virus! She'll have to fight her way through hordes of saibamen to find all the wet dreams in her mind, and destroy them from her memory!
STORY
Videl is sleeping, but her consciousness roams the realm of Dremia. With a mysterious figure named Rem as her guide, she needs to track down and destroy all the wet dreams she has, before it's too late!
Along the way she'll have to fight through many saibamen who are protecting Videl's wet dreams from being destroyed. The only question is, where did these dreams come from?
Videl learns that some kind of mind control virus has infected her. She will actualize her wet dreams in the real world when she wakes up, unless she can destroy them. In the end, Videl destroys all of the dreams except the ones where she makes love to Gohan, because she really, really wants Gohan's super saiyan penis.
GAMEPLAY
Videl Quest H was created with RPG Maker, and the controls are standard. You move with your keyboard's arrow keys. Press spacebar to interact with people and objects. Press SHIFT to run.
The game is a dungeon crawler. You fight through multiple saibamen in turn-based battles. The damage they deal stays on your character, but luckily you can find healing items along the way. At the end of each dungeon, you're rewarded with a sex scene. There's no character progression system, no levels, no gear. The only enemy type you fight in the game are saibamen. There are also no item shops, though you can find senzu beans in the dungeons. If you can avoid the battles with saibamen, you should, because they don't yield any items or experience points. You can run from every battle without consequences.
The game is under an hour long. Fast readers will complete the game in a half hour.
GRAPHICS
The game's art is in the Japanese anime style. The character customization is very limited, but you can at least choose between two different hair styles for Videl. She can either be short-haired, or long-haired. Your choice will be reflected on the in-game sprite and in combat sequences. Sex scenes are not affected.
As you lose health, your clothing will tear. Videl's clothes can be restored by eating a senzu bean. Her clothes never fall apart completely, as Videl will always be wearing some rags at least.
Each dungeon in the game has a unique theme that was created with RPG Maker stock assets. There's a grassy forest, a stone labyrinth, an arid desert. If you've played RPG Maker games, you'll recognize the tilesets.
The first artwork you see shows Videl with her long hair, which she had when she met Gohan. Her hair gets shorter during the world tournament. In another image, she wears the red dress and shoulder-length hair from Dragon Ball Super. You also see her with a burgundy jacket, her hair down past her eyes like in Dragon Ball GT.
Strangely, Videl's bust size changes throughout the game. Sometimes she has small breasts that would fit in the palm of your hand, other times she has big breasts as big as her head.
SOUND EFFECTS AND VOICE ACTING (SFX)
Videl Quest H has no voice acting.
The sound effects are standard RPG Maker assets. Most audio clips play during combat only. The sounds are digitally synthesized. The game has over 300 sounds in its files, but very few see use. Mostly, the only sound you're hearing is a "pound" when you hit a saibaman, and "ding" sound when you fiddle with the menu.
Play brainless hentai card games for millenials! Read our review of Smutstone.
MUSIC
There are less than ten songs on the soundtrack, all stock music from the RPG Maker library.
As stock music, there is little soul to the soundtrack. Every song is a mashup of digitally composed tones and beeps that repeat every 5-10 seconds. You get to enjoy an electric piano with some bass play in the background in a simple, repetitive loop that repeats every five seconds or so. The music loops endlessly, which is infuriating when you're stuck in a long dialogue sequence. I personally muted the music.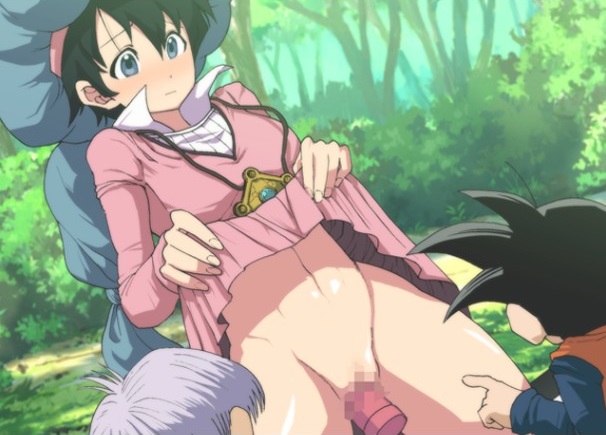 HENTAI
Videl Quest H has 9 sex scenes in total, each with a single, unique CG image.
Naturally, Videl is in every sex scene. She wears a unique outfit for each one.
Sex positions range from reverse cowgirl to doggystyle, with not a single missionary position to be found. Surprisingly, half of the scenes don't have vaginal sex at all. Fetishes range from forced sex to tentacle sex, and the cheating wife fetish. With only one scene per fetish, the focus is clearly on putting Videl into sexy situations than explore any particular fetishes.
The writing describing Videl's sexual activities is decent English, but not very memorable. The dialog is also very standard, with characters uttering such immortal lines as "We shouldn't be doing this" and "Please cum inside me". My favorite sex scene was the one where Spopovich defeats Videl in battle and fucks her on the stage of the world tournament. Everyone watches the sex show! Spopovich even says he plans to impregnate Videl in front of the crowd like some grand spectacle.
CONCLUDING WORDS
Videl Quest H is a fantastic Dragon Ball hentai game for porn-addicted anime fappers with low standards. The story has a great setup that lends itself for lots of creative freedom. For such a short game, it features many hot scenes featuring the classic anime waifu, Videl. The gameplay is very basic, and the audio design sucks dicks. If you love Dragon Ball porn, this game is a must-play.
I highly recommend this title to Dragon Ball fans. Download Videl Quest H.
Graphics

Gameplay

Story

Music

SFX

Hentai