Hentai Game Review: Kuroinu Chapter 3 – The Patriarchy Restored
Written by Otaku Apologist

Kuroinu Chapter 3, a hentai visual novel developed by Liquid ltd. Published in English by Mangagamer in May 31st, 2018. Available for download at Mangagamer for $24.95. Available for PC Windows operating systems (Vista, 7, 8, 10). Full female voice acting. Fully uncensored genitals.
A dark medieval fantasy erotica, Kuroinu is a visual novel series with three chapters in total. All the chapters have been officially released via commercial channels in the English speaking market. The thid chapter continues the tale of the mercenary Vult, as he establishes his own ultra patriarchal nation based on the principles of rape culture.
Read my review of Kuroinu chapter 1. Also read my review of Kuroinu Chapter 2.
STORY
The dark elf queen Olga has waged war against the southern kingdoms for hundreds of years. As the kingdoms grew tired of getting fucked in the ass, they launched an alliance. However, instead of uniting under one banner to take the war to the north, the alliance leaders decided to employ a group of mercenaries to defeat the dark elf queen. They hired Vult. His battle-hardened army effortlessly demolishes the ragtag band of monsters defending Olga's castle.
Soon after conquering the citadel, Vult declared war against the southern kingdoms. Assisted by multiple betrayers within the Seven Shields Alliance, the mercenaries conquer each fortress and capture the luscious princesses.
Vult declares the birth of a new nation: Cuntry. The law of the land is that women must service men sexually. The girls are turned into prostitutes, their holes sold to the highest bidders.
CHARACTERS
This chapter of Kuroinu features three girls: Celestine, Maia, and Lulu.
Celestine is the immortal high-elf queen. She's a submissive milf. She's a completely useless twat that only acts as the face of the Alliance. She's a soft-spoken virgin cum dumpster that gets addicted to cock after a few rapes. Vult sells her magical breast milk with healing powers on the streets.
Maia is a strong and independent female mercenary with a heart of gold. After Vult punches her in the stomach and captures her, she gets prostituted to a perverted nobleman named Michel who uses magic to dominate her.
Lulu is the feisty halfling princess. Her superior womb gets turned into a seed bed for disgusting bugs. She also gets gang raped by men and monsters until her pussy is too stretched to get off on tiny dicks.
All the rape victims are legal cartoon girls of 18 years of age at minimum.
The story has depth beyond the porn. The context surrounding Vult's unstoppable rise to power bears similarities to how despots throughout history have emerged to conquer and bring unity to scattered continents. I wrote my arm-chair analysis of the game's real-world parallels in my post Boob Goddess Fails at Geopolitics.
GRAPHICS
The CG artwork is way better than the character sprites. The contrast in lighting, and detail, is enough to make the sprites look cheap in comparison. The images of sex have been gracefully colored, with gorgeous shadows providing a sense of shape to the bodies. The sprites have several poses, a few sets of clothing, and multiple faces. Even scenes that depict disgusting things like insects raping women, the content looks so good, you will rub one out. I had high hopes for Celestine's storyline, which was reserved for this third chapter. However, the scenes focused almost entirely on her boobs. She was fucked in her nipples, she gave paizuri, the lactation fetish was covered, it wasn't my cup of tea. Her visual design was still boner-popping.
The character designs are extremely erotic. The girls have curvy feminine bodies with large breasts and hips. They're very realistic, with even their ribs and bone structure clearly visible. Their outfits leave little to the imagination. The women wear skin-tight dresses that struggle to cover their bikini area. Their dresses barely hide a speck of flesh. The background art is consistently high quality, my favorites were the depictions of the medieval castles with their high towers.
Each girl hits different porn tropes. Their storylines explore very different scenarios. The general theme is that the women get sexually dominated to the extreme.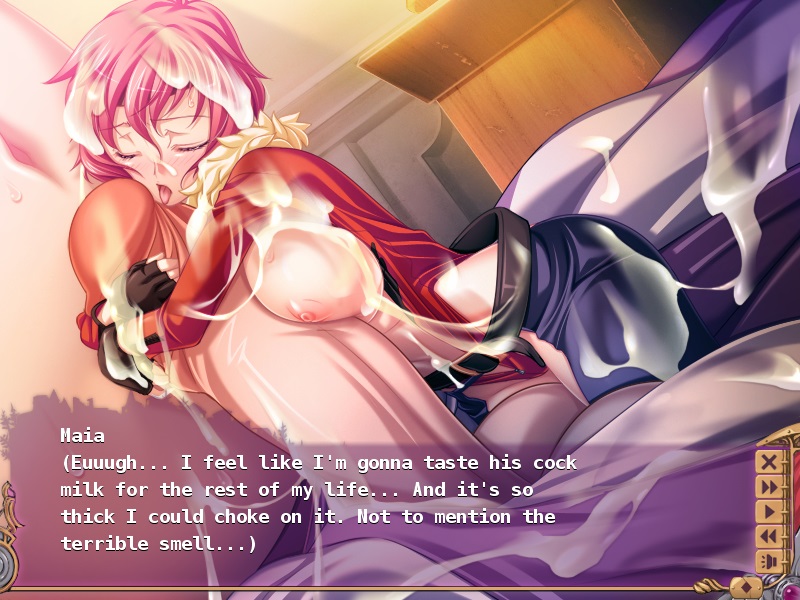 GAMEPLAY
Kuroinu is a visual novel. Click the screen to turn the pages. Multiple save slots let you save your progress.
The game let me choose which castles to raid, accompanied by two sex scenes with the girl. After Vult wins the war, you get to choose which babe to put up for slave auction. Each option includes a sex scene for the chosen girl. Consecutive scenes get increasingly more depraved, so keep picking the same girl to see her broken.
MUSIC
The music is dark and edgy, befitting of a medieval princess rape scenario. I enjoyed all the tracks, including that chill song that played during dialog songs. The casual songs in eroge are usually the ones that fail to set the mood. The soundtrack provided the freaky ambiance that made this edgy story come alive. The songs were great, with plenty of variety for the sex scenes as well, though none were particularly erotic. I almost felt like the music was working to kill the emotional side of the scenes. Kind of like how the songs played in night clubs are often cold, synthetic beats without singing.
After listening to the songs throughout the three chapters, they're starting to grow on me. Each track fits its context, and brings the right mood for the occasion, be it rape, or guys talking about rape over drinks.
VOICE ACTING AND SOUND EFFECTS (SFX)
The women are fully voice-acted, while the men aren't. The game has a few sound effects, like doors slamming open or shut. Many sound effects you would expect from a porn game, like the sloshing of a wet pussy, are blatantly missing. The voice actresses make up for this by keeping constant noise. If they're eating a cock, you're hearing their slurping.
The voice-acting is professional-tier Japanese quality. The actresses somehow completely immersed themselves in their roles as victims of rape. Every embarrassed gasp and sound of protest, they utter in a sexually enticing manner. Maia's voice acting was the most enticing for me. She was such a hard-boiled alpha bitch, that when she was forced to eat gallons of semen from her rapist, the actress was going bonkers spitting and gasping. I was reminded of Naomi Evans from Kangoku Senkan. It's a sadistic pleasure to watch a man-hating bitch struggle to gobble cock.
Meanwhile, the actress of Lulu was on fire. She screamed "baka baka baka" faster than Eminem rapped in Rap God. If you're into flat-chested girls acting tough until they're broken to the point of tears, you will cum buckets at Lulu.
Celestine was just a hentai milf. If you enjoy nice girls with incredible bodies taking orders without giving you shit, Celestine might hit your notes. You just have to be into boob-focused fetishes to enjoy her route.
Note, there's an occasional censorship bleep when the girls talk dirty; the words for genitals are censored.
HENTAI
The hentai scenes depict exclusively non-consensual sex. The women are high-status females who are raped and destroyed.
The sex scenes feature a singular slide and plenty of text describing the action. There's also incredible Japanese voice acting. The image changes to a different variant as the scene progresses. For example, after the first creampie, the cum stays in the woman's now-gaping slit. When another monster comes to plow her hole, the gallons of semen gushing out are shown.
The trick that makes these crazy rapey scenarios enjoyable for a mass audience is that the sex is hyped as non-consensual, but there's barely any violence involved. If the writing was changed, there's not really any visual cues that make the sex look any more terrible than a normal video of consensual group sex. The circumstances surrounding the sex scenes are dark and edgy, but the women are not harmed.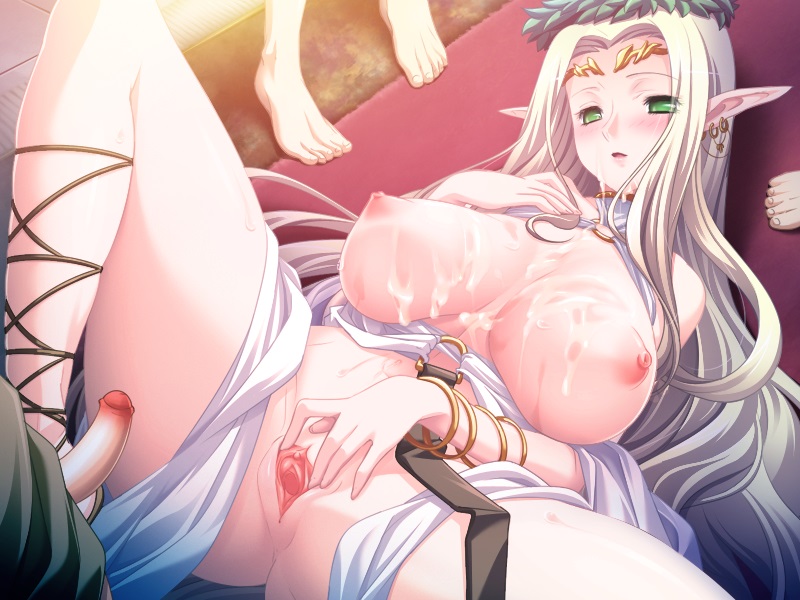 CONCLUDING WORDS
Kuroinu Chapter 3 features the final three women from the game, and they're all fuckable closet sluts. If you're burned from hunting a soul mate in a dating market infested with mentally unstable feminists, this game is rife with easy-access porn bodies guaranteed to hit your kink spots. Boot up this game, grab yourself a good onahole, and you'll have better orgasms than you'll ever have with most of your sexual partners. Rub it out and get back on the hunt.
Download Kuroinu Chapter 3 at Mangagamer. Buy your rubber pussy at JLIST.
https://hentaireviews.moe/2018/08/01/hentai-game-review-kuroinu-chapter-3/
https://i1.wp.com/hentaireviews.moe/wp-content/uploads/2018/08/kuroinu-chapter-3-hentai-visual-novel-screenshot-15.jpg?fit=800%2C600&ssl=1
https://i1.wp.com/hentaireviews.moe/wp-content/uploads/2018/08/kuroinu-chapter-3-hentai-visual-novel-screenshot-15.jpg?resize=300%2C300&ssl=1
Featured
Reviews
big boobs,boobjob,creampie,download hentai games pc,kuroinu chapter 3,liquid ltd,mangagamer,medieval fantasy,milf,paizuri,porn games,rape,visual novel
Written by Otaku Apologist Kuroinu Chapter 3, a hentai visual novel developed by Liquid ltd. Published in English by Mangagamer in May 31st, 2018. Available for download at Mangagamer for $24.95. Available for PC Windows operating systems (Vista, 7, 8, 10). Full female voice acting. Fully uncensored genitals. A dark medieval...
OtakuApologist
otakuapologist@gmail.com
Administrator
Admin of Hentaireviews. EMAIL: otakuapologist@gmail.com
Hentai Reviews