Hentai Game Review: Monster Tamer Aria
Hentai Reviews

>

Reviews

>

Hentai Game Review: Monster Tamer Aria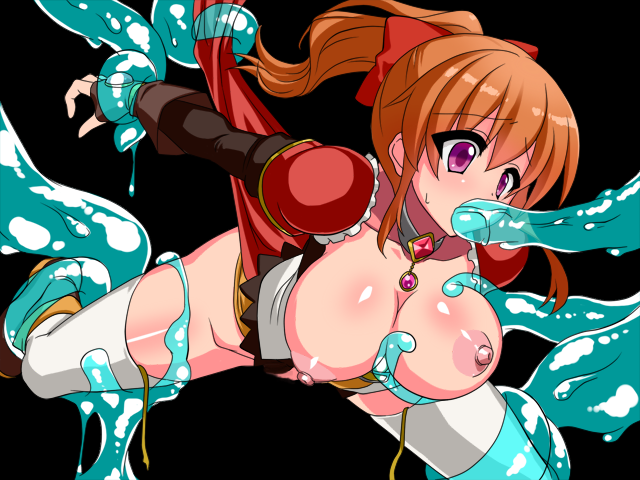 Written by Rastafoo69, edited by Otaku Apologist
Monster Tamer Aria, a hentai RPG developed by Tsukudaninosato. Released on December 6, 2015. Download on DLsite for $12.00. For PC Windows. No voice acting. Censored genitals. Free demo available. Download the English translation patch.
Aria wants to become a master of monster battles! She needs to get fucked and knocked up by weird things like slimes, and demons, to earn her title. This game is all about sex and impregnation!
STORY
Aria is finally old enough to get her monster training license from the government! She visits a professor specialized in monsters who gives her a starter monster. Excited to begin her journey to become the best, she goes out into the wild to capture more monsters and defeat gym leaders! Along the way, she'll face other trainers!
The story is a parody of the classic Pokémon games. Catch all the monsters, train them, win gym battles, explore new areas, become a master trainer of disgusting violent demons. Totally PG-13!
Aria is not alone on her quest. She has a fierce rival who is visiting the same places and gyms as she is. When the rival finds you, they fight you. Sound familiar? Yes, this Pokémon style porn game takes about 3-6 hours to complete.
GAMEPLAY
Monster Tamer Aria was made with RPG Maker. Press CTRL to skip dialogue. Standard RPG Maker controls apply.
The game cycle is your classic pokemon adventure. Go out and beat monsters to train your team, and return to town for rest when their health gets low. The monotony of this cycle is broken up the "beast pen", which holds your roster of monsters. Monsters you've captured are left behind your house in a beast pen. From there, you can distribute your experience points to whom you choose. You can also chat with them.
Each of the seven monsters has different abilities and stats. For example, the orc character has high defense and does primarily physical damage. Depending on the monster you use, your strategy will differ based on their strengths and weaknesses.
The only way to unlock sex scenes and get pregnant is to first fight an enemy, lower their health to the minimum, and then proposition them for sex. Don't kill them or they can't fuck you!
The Trainer Center has multiple item shops where you can buy items to help on your journey. The most important items are the status boosting consumables. Buy them to increase the strength and defense of your monsters. The stat boosters make it possible to beat the game with only one monster.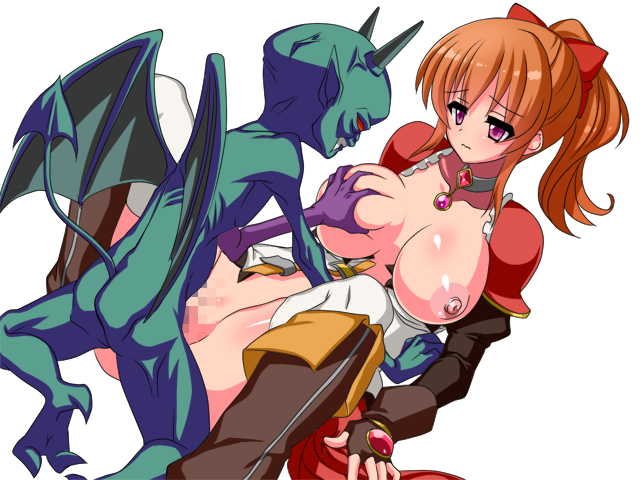 GRAPHICS
The art is Japanese anime style. There are 15 unique images total and 7 sex scenes.
Each sex scene is devoted to one of seven characters. Each is featured in two art pieces only. The image count is much lower than most other Dlsite titles I've reviewed. The porn content is focused on the main character, Aria. She's your classic innocent anime waifu. She only sees the best in people. With huge breasts and no nose, she's a real beauty!
There are five primary areas to explore in this game: The Town, the grassy fields, the forest, the beach, and the mountains. Each area has a unique design that makes it exciting to explore. The art is well made and consistent between scenes.
SOUND EFFECTS AND VOICE ACTING (SFX)
Monster Tamer Aria has no voice acting.
The sound effects are standard RPG Maker assets that you've heard in a hundred other titles made with this engine. From the "squish" of a slime to the "oof" of a blunt attack, all the bases are covered when it comes to combat audio. The sex scene sounds need improvement though. Whether it was a goblin cock, or a tentacle, the sex sounds were the same.
MUSIC
There are 17 songs on the soundtrack, most of which are standard RPG Maker assets. They're all digitally synthesized tunes that fill the silence. None of the songs are complex or memorable. Record a guitar riff and make it repeat every five seconds on music maker, and you've basically recreated this soundtrack.

Read our review of "Hikari! Clover Rescue"
HENTAI
Monster Tamer Aria has 15 unique images and 7 sex scenes. Aria has sex with slimes, goblins, orcs, and more. Almost all sex in this game is vaginal. You get one handjob, one titjob, and two scenes focused on ass. It gets predictable, but is still enjoyable. The content is your standard visual novel style porn with an image in the middle and dirty prose describing the action in a text box. The English translation is decent enough that busting a nut is a breeze. If you enjoy watching a young girl getting fucked by a cheeky winged demon, you'll have fun with this game.
I'm not sure how a slime thing can impregnate a human chick, but I guess it can. Confusing but hot!
CONCLUDING WORDS
Monster Tamer Aria is a fun little hentai game. The story is comedic, the world is fun to navigate, and I'm always a sucker for impregnation. With a complex RPG combat system to boot, this title is a must-play for one-handed gamers.
I recommend Monster Tamer Aria to anime fappers with a boner for Pokémon. Download Monster Tamer Aria. If you want a butt-fuck crazy game with similar RPG shenanigans, check out our review of Petite Goddess Emily.
Story -

50%

Gameplay -

80%

Graphics -

70%

Music -

40%

SFX -

50%

Hentai -

70%