Written by Rastafoo69, edited by Otaku Apologist
Shin Chikan no Kiwami Groper of Glory, a hentai game developed by Beel ze Bub. Released February 20, 2018. Download on DLSite for $30.00. For PC Windows. Full Japanese voice acting. Censored genitals. Free demo available.
You are part of an elite group of men who grope women on the train. Work together with your squad to isolate and deflower any woman who comes your way. Treat them well, and you'll soon be fucking them off the train.
STORY
The primary reason we chose to review this game, is because the dlsite page is completely empty with no description whatsoever. This was highly suspicious, but was done for good reason. The game has no overall story.
There are nine women you can meet on the trains. Although each has a bit of dialogue and personality, only three are fully fleshed out. These three women can be fucked and creampied off the train, and have their own mini-plotlines. Like the girl with the orchid purple hair, she has a boyfriend and feels guilty about cheating on him with men on the train.
Although the store page presents the game as a pure simulation experience, these visual novel aspects help provide variety and motivation behind your actions. You even get to learn the names of your fellow train sex enthusiasts, like the aptly named "Flame" who has dark red hair. The writing isn't incredible, but it's better than nothing!
Usually the dialogue is limited to character introductions and your cohorts saying "She'll be our next target". It's like the plot of first-person shooter games. Don't worry about the details, this is just a setup for your next mission.
The game doesn't strive for believability. You'll probably have many questions like "why am I being paid to grope women" or "why do these women never resist". My biggest question is how you can have sex on public transit and nobody will stop you!
GAMEPLAY
You play this with your mouse only, so it's easy to drop in and start. Scroll for the text log. Press CTRL to skip. The game was created in Unity, so expect the occasional blank screen or game crash. Good thing it autosaves!
There are three basic modes of gameplay. Firstly, the visual novel content. Just click to progress the dialogue. Secondly, the team management content. This allows you to customize and plan your next romp. Thirdly, the groping content. This allows you move around the train and get in the proper position to unlock lewd content.
The team management menu has five men to represent five possible actions. The redhead will send you out to the trains. The guy with sunglasses allows you to customize your movement style and special abilities. The beanie guy lets you choose which men you take with you. The last two are the recollection room and title screen.
Movement style lets you choose to move horizontally or diagonally. Special abilities have various effects like reducing the number of people in your proximity or slightly increasing your movement distances. When choosing your party, keep their character classes in mind. Some party members can shove through crowds and clear the way for you, while others can travel diagonally, weaving through crowds and using special abilities. Choose your party wisely!
The actual train sex content is the core of the gameplay experience, and also its weakest aspect. Your success in this mode is pretty randomized. Sometimes the train is crowded and it's impossible to move, other times the woman keeps running away and it's hard to get a hold of her.
Only the main character can grope the women, so if he's stuck far away from them, you're screwed. You only get experience points and money when you grope them, but sometimes the game randomly shows you sex scenes. If you want to level grind or simply enjoy the strategy content, you're going to be interrupted with sex scenes even if you didn't want to.
Only the main character levels up, but he needs to be leveled up three separate times for three separate movement speeds. Level-ups don't have a lot of impact, and progress in this game is often hard to feel. Especially because the only purpose of money is to buy more party members!
Altogether this game feels like a prototype of something greater. If the developer releases a sequel that polishes these features, the game could easily be a world-wide best seller. No other title I know of tries to turn groping into a simulation style RPG experience. Just iron out the bumps, and this could become the greatest eroge concept on the market.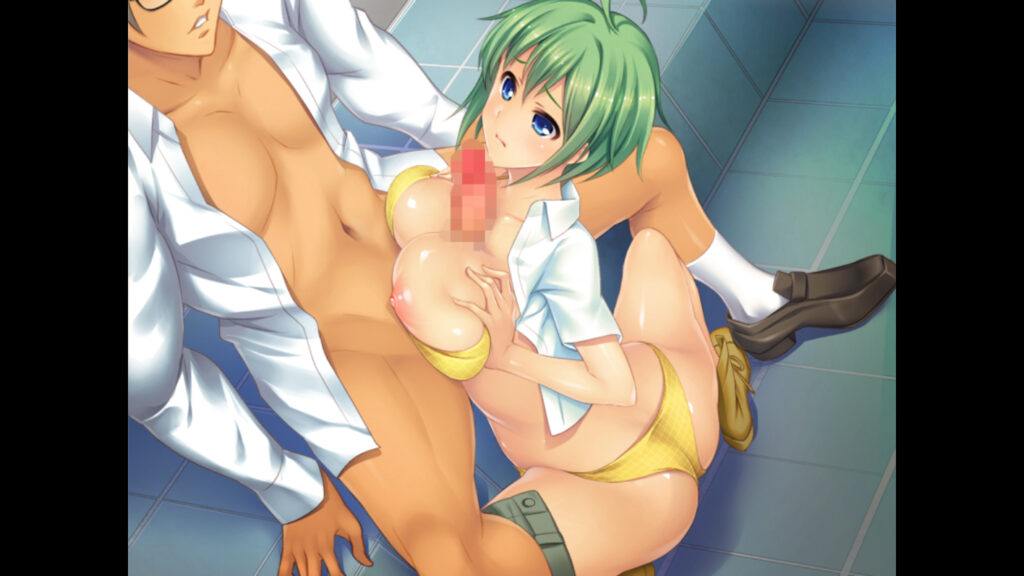 GRAPHICS
There are nine girls, each with a minimum of 5 unique animations, but that's only for train gropings! There are also fullscreen CG images with numerous variations based on possible sex acts like fingerings or intercourse. Altogether, there are hundreds of unique art assets to enjoy.
The censorship in this game is often excessive. Even the balls are pixelated! It's hard to get excited by a cock-focused scene like a blowjob when you can't even tell what's going on. And these pixelated dicks range in color from red, to brown, to even gray! It looks more like a turd than a good fucking! Competing titles emphasize the bottom or breasts of the girl to get around the censorship, but this game does not. It's pixels in your face 24/7!
The game lacks any free roaming functionality. All interactive gameplay takes place on the train, which is a bland enclosed space. With only a handful of NPC types, there's never really any variety to be seen. I would have loved features like having to walk around fat guys or avoid upsetting pregnant women. Sadly, once you've played the first level, you've pretty much seen all the visuals this game has to offer.
Although the spritework is nice, all characters move exactly the same. Their sprite pans across the screen with practically no animation whatsoever! Some would call this acceptable because the lewd scenes are animated, but I must protest. Although the scenes are animated, they all use the same 5 movement animations, just with different hair colors and outfits. Again, playing the game for an hour will show you everything it has to offer visually.
VOICE ACTING AND SOUND EFFECTS (SFX)
There are 9 unique women, each with their own unique manner of speaking. The voice actresses are not credited on the DLSite page or the readme-document. It's all standard performances you'd expect from the genre. The milf has a more sultry tone, while the inexperienced schoolgirl has a high-pitched squeal. Since the game lacks any substantive dialogue or character building moments, the voice acting is primarily aimed towards erotic sex scenes.
The sound effects in this game are limited and strange. When you use your special abilities you'll hear a digitized chime or whoosh. When you bump into someone on the train you'll hear a rough "slam" like you ran into a wall. While the sound effects work well, they do feel a bit cartoonish for what should have been a suspenseful scenario.
MUSIC
The music choices in this game are extremely odd. The main menu was craped with sharp angles on the art, but the music is an atmospheric collection of tones and digitized choir chants. Meanwhile the main base music fits well with an upbeat bass line to give a "boys club" vibe to your party. And yet, the soundtrack for train gropings is always the same no matter how far you progress through the story. It seems like the developer couldn't find exact tracks to fit the tone and mood he was going for. These tracks are good, but you can tell he had to settle.
HENTAI
Although there are nine girls in total, only three can be repeatedly fucked outside the train. The other six are exclusively for groping and standing sex.
The game starts out with a great concept. You only have one girl to target and grope. You need to work your way up to more difficult targets like the headstrong businesswoman. The problem is, new girls are unlocked based on playtime rather than if you deserve or intended to have them. I kept replaying the first level to learn the mechanics, and ended up unlocking five girls in a row!
In other words, the pacing needs work. The game would have been much better with proper foreplay and buildup. I would have loved to corrupt each girl, one at a time, to unlock the next one. Like, convincing them to fuck off the train means it's time to move on to a new target. Instead, the new women are given out like candy!
There's a dark-skinned girl with pink hair whose name translates to "Flower". Her artworks show a genuine lack of artistic design. Sometimes she has a million sweat marks, other times her skin is really shiny. Sometimes her breasts are really low on her torso and seem super unrealistic. This was especially disappointing because she's on the game's cover art.
Although the game markets itself as a "chikan" title with a groping emphasis, you can actually undress the women on the train within moments of starting. It seems the developer lacked confidence in the main theme, because the groping fetish quickly ends up on the backburner in favor of standard sex.
CONCLUDING WORDS
Shin Chikan no Kiwami Groper of Glory is a great prototype to what could be a fantastic genre of adult gaming. The mechanics are solid and the animated gropings are super hot, but the developer didn't stick the landing. All he needs is to polish the game some more, and it can be a truly unforgettable porn experience.
Download Shin Chikan no Kiwami Groper of Glory. If you love simulation style games, check out our review of Let's Turn the PickUp Beach Into a Free For All.

Graphics

Gameplay

Story

Music

SFX

Hentai