Cheating Porn Game Review: My Girlfriend's Amnesia
Hentai Reviews

>

Reviews

>

Cheating Porn Game Review: My Girlfriend's Amnesia
Written by Rastafoo69, edited by Otaku Apologist
My Girlfriend's Amnesia, a porn game developed by Daniels K. Visit the developer's Patreon. Released on May 2, 2017. For PC Windows. No voice acting. Uncensored genitals. Download the game for free.
After a horrible car accident, your girlfriend got a terrible amnesia. You're taking care of her, when suddenly her sister comes to live with you. Will you stay loyal to your amnesiac girlfriend? Or will you use this golden opportunity to fuck her sister?
Discover more high quality porn games we've reviewed.

STORY
Your girlfriend was left with amnesia after a car accident! She doesn't remember the last few years of her life, and forgets everything that happened yesterday, every morning. With a clueless cutie at your disposal, you can be a gentleman, or exploit the situation!
What's more, your girlfriend's sister has come to live with you two! While your girlfriend is a sweetheart, her sister is a huge troublemaker! She might even tempt you to cheat on your amnesiac girlfriend, but you would never do that, right?
The game follows nine long days as your girlfriend recovers her memory. Your choices during those days will decide which ending you unlock. You can take her to a strip club, jerk off in a clothing store changing room, you can exploit her amnesia however you want. There are many exciting and surprising scenarios to be explored! A lot can happen over nine days.
GAMEPLAY
My Girlfriend's Amnesia is a visual novel created in the Renpy and RPG Maker game engines. The original game was created in RPG Maker, but a fan on f95zone named selectivepaperclip remade the game on Renpy.
The RPG Maker version of the game has slightly more content and bug-fixes, at the cost of clunky and slow gameplay. You spend hours walking across the map. The Renpy version has a streamlined user interface and the ability to teleport to locations.
The game is much less grindy on Renpy. The developer made DLC bonus content Renpy exclusive. He's announced that his future games will be in Renpy, so he likely agrees that the RPG Maker version is inferior.
Gameplay is minimal. Navigate to an area and activate dialogue, then make a choice. The choice will decide which sex scenes you see. Choices also influence whether you get the "Jerk" or "Gentleman" ending.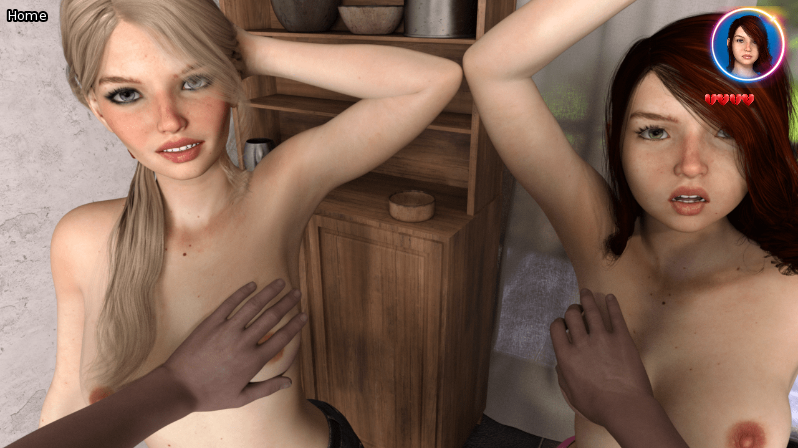 GRAPHICS
The character models in this game were created with 3D modeling software, then animated for their sex scenes.
The animation in this game is fantastic. Watching her toes curl as you plunge your dick into her is incredibly hot! You have a vast variety of facial expressions and sex positions. There are plenty of hot, exciting visuals to see. I highly recommend you download the "Gallery Mod" if you're interested in seeing all of the scenes.
The game map is your standard, cramped, RPG Maker city. It's not very fun to navigate, and everything looks generic and boring. It's clear that the developer sunk most of his time into the sex scenes and dialogue.

VOICE ACTING AND SOUND EFFECTS (SFX)
My Girlfriend's Amnesia has no voice acting. There are very few sound effects. You hear the "click" of a camera and the "pow" of a punch. When you're navigating the pause menu, you hear loud, annoying digital tones whenever you press any button. Vaginal sex scenes have generic moaning sound effects, but they do not match the scene.
MUSIC
Only the title screen has music. The track is pure piano with a tone that is up to interpretation. Sometimes it feels semi-emotional, like a man longing for his girlfriend to remember him. Other times, it feels ominous like something terrible is about to happen.
In-game, there are only atmospheric tracks of birds chirping and wind blowing, to convey that you are outside and exploring the game world. It's standard Youtube stock audio.
HENTAI
My Girlfriend's Amnesia features over 100 porn scenes in total. 40 of them include fully uncensored sex between two or more characters. Each scene has at least one animated section. There are over 3000 unique images to find.
Sex positions range from doggystyle to cowgirl, to more exotic positions. The writing is always hot, with heavy emphasis on the cheating fetish that is central to this game. Animations are well made, and always exciting to watch.
The women in this game can be named. It adds a sense of roleplay. If you're a degenerate memester, you can just name your girlfriend Hitler, and bang her sister Stalin! Personally I named the girlfriend after my high school crush, just for shits and giggles.
This game offers both sides of the cheating fetish. You can watch as your girlfriend cheats on you with the local construction worker, or you can disable that content and focus on banging chicks before she gets her memory back!
My favorite scene is when you have sex with your girlfriend's sister right next to her! Your innocent forgetful girl is sleeping quietly, while you're dropping a load right into her sister's pussy!
Important note! The content with the girlfriend cheating is disabled by default. You need to download a patch to restore the content.
The three endings are affected by your choices. Do you stay a gentleman and remain with your girlfriend? Do you leave her for her sister? Or do you just love cheating on her with lots of women? The choice is yours.
CONCLUDING WORDS
My Girlfriend's Amnesia is one of the hottest cheating games on the market today. Available completely for free, play through this animated infidelity adventure. You can be a gentleman, or a cheating jerk! With spicy sex scenes, branching plotlines, and lasting consequences for every choice, this game is worth checking out.
Download My Girlfriend's Amnesia. If you love games about cheating, check out our review for The Adventurous Couple!
Graphics

Gameplay

Story

Music

SFX

Hentai