Impregnation Hentai Game Review: Demonic Embryon
Hentai Reviews

>

Featured

>

Impregnation Hentai Game Review: Demonic Embryon
Written by Rastafoo69, edited by OtakuApologist
Demonic Embryon, an impregnation hentai game developed by Studio Tsunnequze. Released June 20, 2020. Download on DLSite for $5.00. For PC Windows. No voice acting. Censored genitals. Free demo available.
Viola and Milo are two happy siblings in a far away village, but that all changes when the demons attack! Casting everyone under a hypnotic spell, they demand that Viola give birth to the next Demon King, or they will burn this village to the ground!
Read our guide how to download DLSite games.
STORY
Viola and Milo are the children of the great Sword Saint Alphonso! He defeated the Demon King and brought peace to the world long ago. But that peace is shattered when the remnants of the Demon King's army appear, with a plan to conquer the world!
Rather than wait for someone fit to be the next Demon King, the villains decide to make one of their own! After forcing Viola to drink demon blood, her womb is now ready to give birth to the next Demon King! All she needs is some sperm!
To secure Viola's obedience, the demons put everyone in town under a magic spell. They're all hypnotized to get along with the demons and act super horny towards Viola. Even her brother Milo is under the spell, and refers to one of the demons as Uncle Belial! Obey the demons or Milo will be hurt!
There are four endings: The normal ending, whore ending, bad ending, and true ending. The true ending can only be achieved if you've beaten the game once, so I recommend one whore playthrough and one true playthrough.
In the true ending, a homunculus created by a friend of the Sword Saint comes to save the day! He protects your village from the demons and they run away. Years later, your brother wants to become a hero just like his father, so he sets out on a journey! In other words, this game is a prequel origin story!
The primary focus of the game is mind control, corruption, and impregnation. Over a 14-day period, you absolutely must have a demon child or the villains will kill you. Even in the true ending, you must give birth to a demon child. That's because Milo's quest hinges on facing the King! The story ends on such an exciting cliffhanger, I was left hungry for more! This is a prequel done right!
GAMEPLAY
Demonic Embryon was created in RPG Maker MV. Press TAB for the text log. Press W to skip dialogue. Press Z to interact with others.
There are no battles or puzzle mechanics. Simply walk around town talking to NPCs to initiate lewd acts. At first you can only give footjobs and gropings, but as Viola grows more lewd, she'll be able to have sex with any guy in town!
The DLSite page says the game takes 1 hour to complete, but it took me two hours. And if you're looking for every scene and every ending, the game could easily take 4 hours total.
Every day you have a certain amount of action points. Get lewd or simply talk with NPCs to consume action points. Once you're all out, you advance one day. Whether you're reading books or revisiting scenes, try to use your action points wisely to get corrupted and pregnant fast enough to beat the deadline.
When you give birth, you can see the power level of the baby you created. Mine was level 16 and pretty mediocre. Naturally, getting fully corrupted and having multiple babies will boost their level. Your baby's strength has no effect on the story or world, but it's a super cool mechanic of measuring how your actions affected the pregnancy. I wish more games did something like this!
GRAPHICS
There are 40 CGs in total, 10 of which aren't full sex scenes. For example, there's a visual for the siblings sitting together. You also see Viola relaxing at the bar. The use of fullscreen artworks for nonsexual scenes brings out the personalities of the cast.
The art is drawn in a cartoonish but realistic style. Characters have five fingers on each hand, and the artist confidently draws scenes from difficult angles. Most games don't show the man or have the feet out of frame! This game even shows the birthing scene instead of it happening off screen! Even if the art can be simplistic, it allows for some truly unique scenes!
Pressing a number key will change the clothing worn during a scene, and undress the character. You can also turn the underwear on or off, the same with the animations during sex! This is especially hot during scenes like the footjob. Some players will love a glimpse of panties, while others want them off to see that sweet pussy!
Different outfits, unique sprites, and animated visuals are nice, but the greatest feature of all is the user interface! The pause menu is completely unique and customized instead of the standard RPG Maker default. Combining all these great features together, the visuals are phenomenal.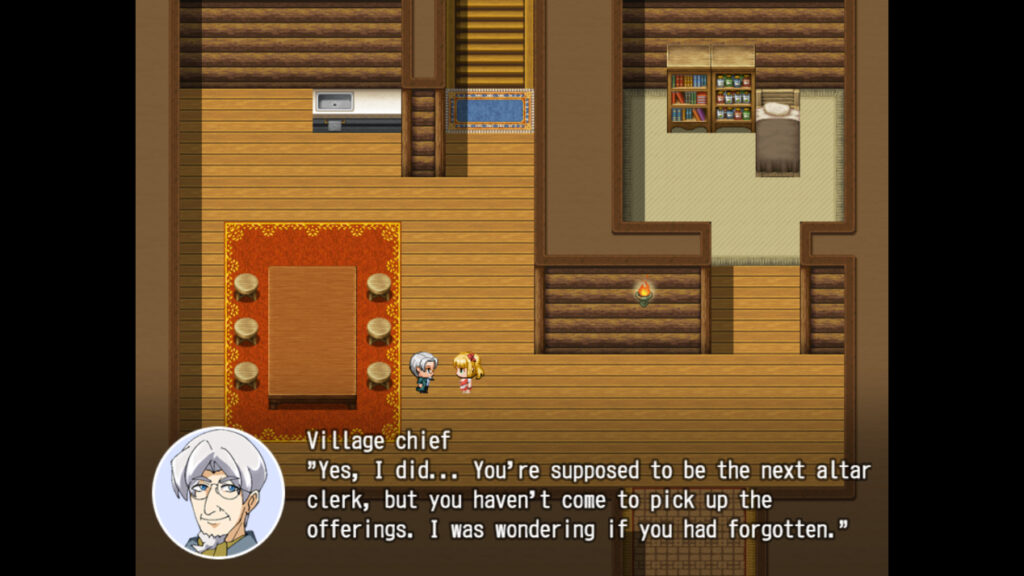 VOICE ACTING AND SOUND EFFECTS (SFX)
Demonic Embryon has no voice acting.
Sound effects are used sparingly but creatively. Like the heartbeat sound during the footjob scene, which conveys the rising sexual tension and approaching ejaculation. Due to the lack of battles or exploration, opportunities for solid sound design are limited.
MUSIC
There are 10 songs in total. The main menu features a music room that allows you to customize the tempo and balance of the music. If you hear better with your left ear, you can customize the music to play louder there. The style of music is retro, with some tracks resembling an 8-bit techno theme you might expect from an RPG Maker-98 project. Overall the visuals are the focus, and the music performs its job.
HENTAI
There are 40 CGs, 30 of which are used for sex scenes. The focus of the game is on corruption and impregnation, which is only possible because most of the town has been mind controlled to act extra horny. Side fetishes like deflowering get no emphasis, and there isn't any virgin blood at all.
All scenes have variations depending on the girl's sluttiness. The recollection room allows you to review scenes in both their forms. An X-ray view allows you to see the penis enter the vagina. You can skip previously seen scenes, which is useful if you're farming corruption points. The game keeps track of your sex stats like the amount of semen you've taken, so feel free to corrupt Viola like crazy! Seeing one ending allows you to unlock every scene in the gallery.
Sex positions range from cowgirl to missionary. Erotic dialogue is usually pretty hot since the characters are well written and realistic. Some basic animations play, but they're not too detailed.
A key issue with this game is that no man is different from any other. Do you fuck villager one or villager two? Do you fuck the Mayor or some guy at the brothel? That's pretty much it. Where are the homeless? The elderly? The monsters? This game is rather vanilla when it comes to sex partners.
CONCLUDING WORDS
Demonic Embryon is a totally unique adult game about giving birth to the next demon lord! The visuals are hot and the focus on corruption makes for good progression, but the gameplay is really simple and can get repetitive if you pursue all the scenes.
Download Demonic Embryon. If you liked this game and want another casual experience, check out our review of Prostitute of Magmell.
Graphics

Gameplay

Story

Music

SFX

Hentai