Written by Rastafoo69, edited by Otaku Apologist
Park Exhibition JK, a hentai game developed by circle Double Melon. Released January 12, 2017. Download on DLsite for $8.00. For PC Windows. No voice acting. Censored genitals. Free demo available. Download the English fan translation.
Yuna Ayase is a normal Japanese schoolgirl, except for her love of exhibitionism! This summer, Yuna will finally indulge in her fetish! She might be a virgin, but this summer she wants to finally have some real experiences!
Before trying this game, please read our guide how to download DLsite games.
STORY
Yuna Ayase found a huge park in the big city. She has begun exposing herself there! With tons of men wandering around, she's loving the thrill that she might get caught! Let's keep our fingers crossed she never does!
There is no overall story. Control Yuna as she strips off her clothes around the park. At first she's only willing to expose her underwear. By the end of the game, she can have sex with the homeless guys camping at the park!
There are five endings in total. The ending you unlock depends on your level of purity and whether you were deflowered. For contrast, one of the endings shows Yuna get completely nude at midnight in the park, while the most hardcore ending shows that she's become a consenting cum dumpster for anyone interested.
The story has extra plot points if you pursue erotic events. For example, someone took a photo of you while you were naked, and begins blackmailing you for sexual favors. Another event shows Yuna nude in the men's bathroom, almost getting caught by the urinating guys nearby.
Overall, the writing in this game is very predictable. There is no heart or soul behind it. This is a simple tale of a girl who likes exposing her body, so don't expect anything special.
GAMEPLAY
Park Exposure JK was created with the RPG Maker game engine. Press Q to hide the text box. Press CTRL to skip dialogue. This game can be completed in an hour, but 100% completion requires over two hours of play. The computer in your bedroom gives hints on how to find all the scenes, which makes things much easier.
The player has two stats. Slutiness starts at zero and rises as you expose yourself. Purity starts at 100 and decreases over time. Changing these stats will unlock new scenes. Interact with sex magazines to speed up your corruption.
Different events will appear if you visit the park during the day or night. As you become more corrupted you'll unlock new areas like the men's bathroom and homeless camp. Visit them during the day and the night to see all events.
The game ends when you go to sleep in your bed at 100% sluttiness.
GRAPHICS
The art is in Japanese anime style. Yuna Ayase is the only character ever shown.
Most scenes are focused on Yuna exposing her tits and pussy. Dicks are censored and most character sprites are stock assets. The majority of textures and objects in this game are stocks from the RPG Maker library.
The game world is relatively small. It's a public park with a few small regions. NPCs always give the same dialogue, so the world feels plastic and dead after the first hour.
The art is average and never very personalized. The girl will always be blushing like it's her first time exposing herself, even after she's fully corrupted. She should give a smirk when she's more experienced, to showcase progression.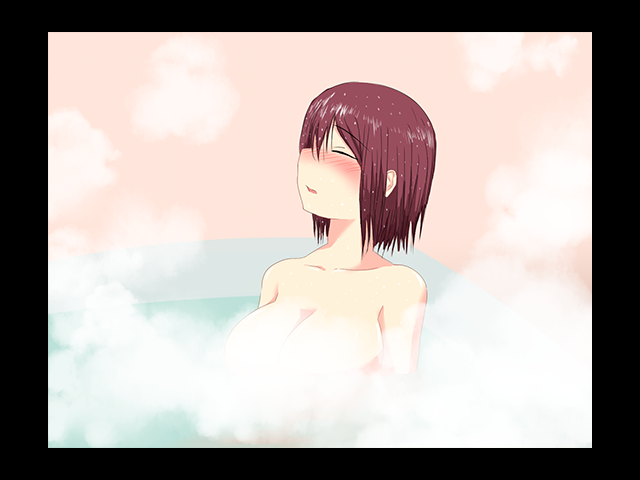 VOICE ACTING AND SOUND EFFECTS (SFX)
Park Exhibition JK has no voice acting.
Sound effects are minimal. A fabric rustling sound plays when clothing is removed – that's about it.
MUSIC
The soundtrack has 17 songs, but only two or three are ever used. They are digitally synthesized and commonly used in almost all RPG Maker games. Thankfully the game also has some original, personable atmospheric tracks.
The background noise of the game changes depending on your region. You'll hear running water, or birds, or a cool breeze. Walk to different areas of the park to hear them all! Admittedly these tracks are short and loop frequently. You're obviously expected to move between regions often.
The are numerous forced deflowering scenes in this game. The sadness and fear of the scenes is emphasized by the use of a sad piano ballad to convey her suffering. Without piano, I would feel nothing. Well done!
HENTAI
There are 19 base CG images to fit the 15 erotic scenes. Most images are of the protagonist exposing herself or standing around naked. Five of the base CG's comes from the five endings to the game.
As an exhibitionist game, the player is given the classic choice. You either get pure nudity or forced and unwanted sex. There are three or four scenes like this where the protagonist is deflowered and forced to be with men she doesn't like. She screams and pleas for them to pull out, but they refuse. One scene even shows homeless men taking turns on her.
It rarely ever seems like the protagonist enjoys the sex. All of the dialogue indicates she wants them to stop but they refuse. This is marketed as an exhibitionist game, but the content is very dark.
The consensual sex scenes are incredibly hot! Watch her masturbate in public or open her legs and offer sex to people at the park. Her face is delicate and her tits are enormous. I loved watching her fuck.
CONCLUDING WORDS
Park Exhibition JK is a hentai RPG with a simple setup and even simpler gameplay. The music is well utilized while the sex scenes are varied and hot. If you're looking for a casual exhibitionist h-game, check out this one.
Download Park Exhibition JK. If you like this game and want something even better, check out I Love Exposure.
Graphics

Gameplay

Story

Music

SFX

Hentai