Written by Rastafoo69, edited by OtakuApologist
"Perfect Service: The Guild That Does Anything for You", a corruption hentai game developed by circle Kurotozakka. Released February 9, 2019. Download on DLSite.com for $10.00. For PC Windows. No voice acting. Censored genitals.
Your guild master has lost your job records! You have 30 days to do jobs for people around town and create brand new job records. Fortunately for you, the available work assignments are sexy and super fun!
Before trying this game, please read our guide how to download DLsite games.
STORY
Kanan and Shion are the two beautiful babes that work for the local guild. Carrying boxes, finding lost children, patrolling with guards, they work hard to make the town a better place. They won't be doing normal jobs for long!
Your guildmaster has lost your job records! You need to rebuild the reputation of your guild before the month is up! The fastest way to build a lot of popularity is by selling pussy!
Kanan is the blonde and inexperienced virgin. In spite of appearances, she's actually a realistic and intelligent girl. Older men love her and want her to hold them close like a sweet, loving wife.
Shion is the brunette and experienced girl. She loves to dominate men through force of will and manipulation, pretending to be a tsundere when it suits her. Younger men love her and want her as a loving girlfriend.
To be completely clear, neither of these girls are whores or prostitutes! They are civil servants who normally do manual labor. The excitement is how they're trying sex for the first time and slowly getting corrupted!
There are at least three endings to this game. Kanan absolutely must lose her virginity to get a good ending. The first ending shows the girls lose their jobs because they failed to get enough points.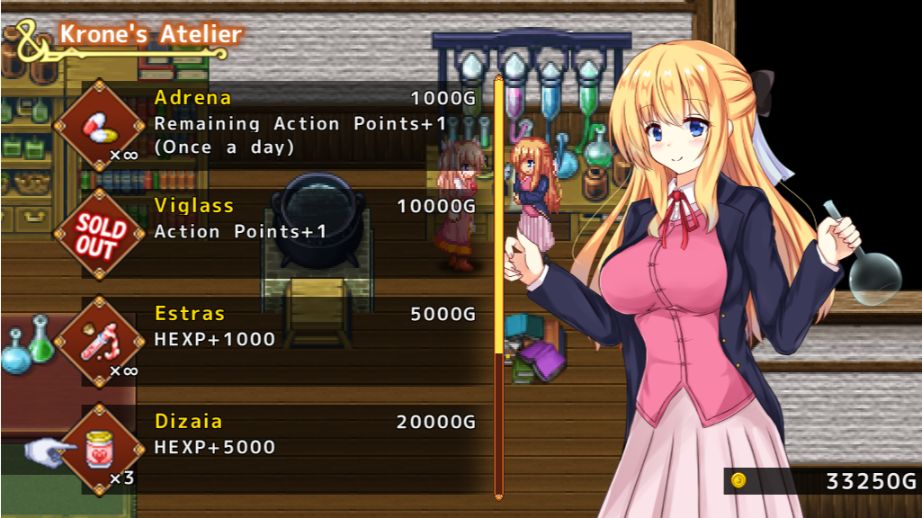 GAMEPLAY
Perfect Service Guild was created with Wolf RPG Editor, the best variation of the RPG maker engine. Use the arrow keys to move. Press F4 to change screen resolution. Press "S" to access your map and "X" to skip dialogue or show the pause menu. F1 and F2 are quick save and quick load respectively.
The primary focus of the game is raising your reputation to 15,000 for the good ending. This is only possible by viewing erotic scenes and corrupting your main characters.
The secondary focus of the game is raising money. This money is used at the alchemist and the bookstore for bonuses like extra energy, fast travel, and much more! Try to save money whenever possible.
The player is given the choice between pursuing erotic events or normal jobs. You're rewarded with varying levels of reputation and money. You should focus on money early on. I recommend patrolling the city walls.
Each heroine has a unique corruption level. Shion can only seduce young men, while Kanan attracts mostly older men. Drinking aphrodisiacs and having sex will raise your corruption level. It maxes out at level 5, so don't buy too many aphrodisiacs, because it will be a waste of money.
A single playthrough of the game will take around 2-4 hours. If you want to see a different ending, you'll have to play through the entire game again. You can skip dialogue to speed things up.
GRAPHICS
The visuals are a mix between pixel artworks and anime CG images. Usually, both artworks will be side by side, so you can see the anime girl and her pixel sprite at the same time.
The world is a gorgeous city ready to be explored. Much of the city is under-used, and it seems like the developer planned for more events. Already he's updated the game with a side-plot of the alchemist losing her virginity, so maybe he'll use all these empty areas? At the time of writing, the world is beautiful but largely barren.
Although the anime photos are still images, the pixel art is fully animated to include the thrusting and movement of actual sex! If you love animated sex scenes in your hentai games, you're in for a treat.
The visual presentation is orgasmic. Character stills are syncronized with pixel animations to create a deep sense of immersion. Fade-ins with panning and zooming brings each scene to life. And at the end of every day, you're given a tally of your earnings so far, on an actual spreadsheet like a real guild would have!
The main ladies have contrasting personality types and appearances. Kanan is a busty virgin with a bubbly personality. She wears a pink blouse and white ribbons in her hair. In contrast, Shion is a petite and short babe who knows she's sexy, and shows it off with a cute skirt that she's ready to flip up when it's time for sex!
Your choice of jobs is reflected in the visuals. While basic labor quests are visualized purely in pixel animation, erotic scenes will always include an anime CG artwork. This makes the sexy scenes even more exciting to look forward to, and the anime art feels like a welcome reward for your hard work.
VOICE ACTING AND SOUND EFFECTS (SFX)
Perfect Service Guild has no voice acting.
The sound effects are fantastic. It almost sounds like "asmr", because it feels so good to listen to. You have footsteps, creaking doors, even the sound of pencil on paper! Every audio file creates a feeling and aesthetic that matches the dialogue. If there were more opportunities to use varied sound effects, I'd call this game perfect. Sadly, much of the game has very basic sound design, and always left me wanting more.
MUSIC
The music of the game is mostly licensed tracks from accomplished musicians and texture artists. Your download of the game files will come with a "read me" text file that lists the sources for these tracks.
The music was created digitally, mimicking real world instruments of all types. Primarily, flutes and pianos were used with a very high pitch to create an inoffensive and relaxed soundtrack. It's an obvious cue that something special is happening when the pitch lowers. I wish the tracks were created with more heart and soul behind them, but the sheer variety makes up for this. While the tracks may seem average, the large variety makes them a joy to listen to.
HENTAI
With over 30 scenes and hundreds of unique animations and anime CGs, this game is a fantastic example of vanilla hentai done right. Each CG image has multiple variations, and each variation matches the ongoing animations!
The girl you play as decides what scenes you will see. Shion loves to dominate her men, and promise them sex in exchange for money or good press for the guild. She has a fetish for taking a crappy guy and motivating him to earn her pussy! On the other hand, Kanan lives to please! With her enormous tits, she's quick to engage in paizuri and blowjobs. A drunk guy even called her "mommy" and she accepted the title happily. She finds pleasure in pleasing desperate men.
The scenes feature footjobs, rimjobs, and even thigh sex! Two gorgeous babes are trying to earn money and prestige for their guild in any way possible! If you love the corruption of girls into sluts, you're in for some fun!
CONCLUDING WORDS
Perfect Service Guild is a fantastic vanilla hentai game. With multiple endings, tons of sexy scenes, and gorgeous animations, this game is an amazing experience! The busty blonde and the petite brunette are incredibly sexy characters who go the extra mile to prostitute themselves to as many men as their bodies can handle.
I highly recommend this game to fans of anime hentai. Download Perfect Service Guild.
Graphics

Gameplay

Story

Music

SFX

Hentai