"Treasure Hunter Mai" Has the Best Story in an Adult Game
Hentai Reviews

>

Rants

>

"Treasure Hunter Mai" Has the Best Story in an Adult Game
Written by Rastafoo69
Mai Takarada is the hero of the story. She's an adventurous blue-haired girl seeking the treasure left behind by Leonard Poire. By her side are her friends: Aina, Abel, and Mirim. Together the four of them set out on a journey to make their dreams come true!
This game has the best story I have ever seen in an RPG Maker Title – EVER. It constantly subverts your expectations and surprises you with lovable characters of all stripes! The game is at least 8 hours long, more likely 10 hours for inexperienced players – so there is a very long time to get to know the world and characters in it. And because of a quest tracking system in game, you can pick up and play from any point and still have a fantastic time.
The setup of the story is very simple. Her entire life Mai has searched for treasure with her best friend, Kenichi, who has a secret crush on her. Kenichi is an absolute loser who is constantly bullied by other kids at school – and Mai always has to stand up to them. One of the people who bullies Kenichi is named Takuya, he sleeps around and corrupts girls into whores all the time. He's only friends with Kenichi to get close to Mai…
If you take the NTR route to the game, Takuya will turn Mai into a whore and Kenichi will be forced to watch. You're never once given a reason to like Kenichi throughout the game, even though he's the good love interest of the story. He doesn't believe in treasure, and wants Mai to settle down and marry him. We'll come back to this later on in the story!
Read our original review of Treasure Hunter Mai!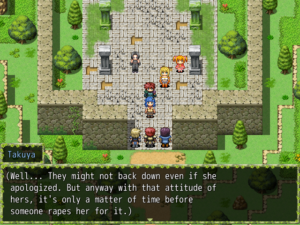 After befriending the married couple of Abel and Aina, the three of them head out to visit the top treasure hunter of the world, Jonah. He single-handedly is able to take on threats that your entire party struggle with, and its made very clear that he's a strong competitor in finding the legendary treasure. Alongside Jonah is his little brother, Linda, who wants to be a treasure hunter just like his older brother.
Jonah tells you to check out the ruined tower as your first place to search for the legendary treasure. You may find it difficult to do on your own, and notice that you have another slot open in your party. If you ask around town you'll soon find the Youth Adventurer Club, a group of orphaned children who's parents died looking for treasure. To befriend them, you have to deal with the bandit group in the forest…
After defeating them, you'll meet Mirim, who is a young teen girl that will travel with you from now on. She later learns a spell reflection ability that is vital towards beating the game, so be sure to recruit her as soon as possible! And now that you're a team of four, you'll find the tower to be a walk in the park!
Inside the tower you'll find the bully, Takuya, and rescue him from a trap. Mai refuses to travel with him, and he waits outside for you to conquer the tower. Continue through the tower and you'll eventually meet a powerful sorceress – Camilla. She claims to be the daughter of Leonard Poire and thus, destined to find his legendary treasure!
If you watched the optional intro to this game, you saw that Leonard Poire left home and left his only daughter alone, to go search for treasure. Up until this point, it was implied Mai was the daughter of the legendary adventurer, but now it seems that was not the case! Who was that little girl Poire left behind? Who is the true daughter of Poire?
After you leave the tower, you will probably get raped. If you're good at the game and have potions stacked up, you'll be fine – but otherwise you will get raped. Normally, you leave the tower and go to the Inn to restore your health and magic. This time, the exit to the tower is blocked by evil bandits, who want to attack you now that you're tired from climbing the tower…
If you lose against the bandits – Mai is kidnapped and gang raped by them all night and day until Takuya rescues her. At any point in the game you can push Mai into the netorare storyline, but this event of getting raped makes it quicker by increasing her lewdness greatly. If you want the NTR storyline, throw the battle. If you want the virgin ending, take potions!
After conquering the tower, Mai and her friends go to the Hot Springs for some relaxation time. Suddenly they get harassed by a bunch of thugs and it seems like they might be forced into a sexual act or something! And all because Abel owed a large sum of money to Duke.
Duke is the man in charge of giving out "Treasure Hunter Licenses" to people. If you don't have one, you're simply treated as a looter, and tossed into jail. Because society is centered around treasure hunters, Duke is a man of great wealth, and even greater power. If Abel cannot pay the debt, then his wife Aina will be forced into prostitution…
Luckily the thugs are convinced to leave, and the team decides to explore the southern continent for the legendary treasure. After traveling through an underground passageway to cross into the south, the team decides to set camp. There they all sit by a camp-fire and talk about their motivations for finding the treasure.
Abel wants to pay back Duke and live a peaceful life. Aina wants to find the treasure as a final promise to her deceased sister. Mirim is an orphan who needs to pay off the debts of her dead parents. And Mai, she's a whole other story.
Up until this point in the game, Mai has behaved as an incredibly naive and foolhardy girl who is hard to respect as a person. Back when the bandits tried to rape Mai outside of the tower – that didn't come out of the blue. Takuya told her in the past – if you keep picking fights, you're going to pick one you can't win someday…
But its here, Mai opens her heart to everyone. Sitting at the campfire, she reveals herself to be incredibly more intelligent than anyone gave her credit for. She talks about how Kenichi is being used by Takuya for personal gain. How she fears Takuya for it – because he's always been a bully and a "crazy strong" fighter – to the point that even Mai fears him. She fears him because he has evil in his heart – so Mai is always careful to keep him at arms length…
Then the monologue is interrupted, when Takuya appears at the campsite. He alone crossed the underground tunnel your entire party of four struggled with. Your team of four barely made it through alive – and Takuya easily conquered it while escorting two young boys. Turns out, Takuya is working for Duke, and he has a message. These two boys have explosive tags placed in their stomachs. And unless Mirim prostitutes herself to pay back the debt, they will both be killed.
Takuya also implies the same can be said about Aina – regardless of the fact that she's already married! The group tells Takuya to get lost and he accepts, but says he'll be back. The entire experience leaves the team shaken and concerned. Now more than ever, they need to find the treasure and get the Duke to leave them all alone…
Now having crossed into the Southern Continent, your party happens upon a fortune teller. She hands you a letter given to her by Leonard Poire when he was alive. Its a riddle, and the answer to it will lead you to the legendary treasure. And so you follow the directions given and head to the lake in search of the truth.
While fighting through the grassland on your journey to the lake, you come across Takuya and Duke, who want you to hand over the letter. Naturally you refuse, and Takuya reveals his new powers to your group. He summons an army of demons to fight you! After a difficult battle, you succeed and the Duke retreats – but you're left with more questions than answers. Where did Takuya get those powers and – who would have the power to bestow such abilities?
Once you clear the grassland and reach the lake, you discover a total and complete dead end. There's nothing to be done, and the riddle is impossible to solve! Then, Mai is visited by Leonard Poire in her sleep, and he establishes himself as her mentor figure throughout the story.
Now being recognized as a student of Leonard Poire – Mai decides to try whatever it takes! Through what can only be called dumb luck, Mai somehow manages to discover the entrance to a secret cave hidden in a wall – that leads to the treasure of Leonard Poire. After exploring the cave you learn that the treasure cannot be revealed without the use of four orbs, that are lost throughout the continent! And so, the search continues…
BUT WAIT! Remember Sorceress Camilla? The woman who claims to be the daughter of Leonard Poire? It turns out she followed you here, followed you hoping to steal Poire's treasure! And that fortune teller from earlier? That was Sorceress Camilla in disguise! Which means that Camilla found the letter from Leonard Poire first, and only gave it to you, hoping to be led to the treasure and steal it right from under you!
Now its Mai versus Camilla! Who can find the four orbs first? Camilla already has a head start, she already has one of them! Where can Mai possibly go to find the rest? The race is on!
Before you can begin the search though, Takuya returns to give you a message. Duke will rescind your adventurer's license unless you prostitute yourself for him and all his friends. This officially opens up the corruption NTR storyline of the game. You can go out every night and put slowly turn Mai into a whore. Along the way you'll discover your other female party members are also being forced into prostitution – and the only way out is to find the treasure… Or just refuse to participate and take the virgin route. Now then…
First you head back to the old Tower where you learn that Jonah was killed! The #1 adventurer in the land, the strongest of them all – KILLED, by a man called "God". He had no body, only a voice, and stopped Jonah's heart on a whim. Who is this God? Is he the one who gave those powers to Takuya? He can't truly be God…
Mai and her friends climb to the top of the tower, where they find a precious gemstone, but no magic orb. Luckily, Camilla was still stalking them – and Mai uses the opportunity to steal Camilla's yellow orb for herself! That's one down! And as for Linda, the brother of Jonah – you give him the gemstone so he can care for his sick mother, a touching end.
Then, you enter the Papillon Pyramid. No tricks, just defeat the boss and pick up the Blue Orb. With two orbs, you must now travel to Poire's mansion looking for the next one. While you're there you'll learn about a girl named Rosalia – the true daughter of Leonard Poire – and you'll learn where to find her. Unfortunately, she's spoken to countless treasure hunters before, and has zero interest in helping you!
Mai decides to make her famous charred Eel dish to earn Rosalia's trust, and along the way meets a giant Yeti, yes, that is crazy. This Yeti wants to be slim and charming to impress a human girl, meaning you have to find him the slim slim fruit as well as the charm charm fruit. Unfortunately, once you do, he becomes anorexic and disgusting!
The only way to cure him is to find the super panacea, one of the greatest treasures of the world! What a drag! Especially because even after he's cured, the girl still refuses to date the Yeti, making this all a waste of time! Still, it was nice to help a friend in need. Well, a new friend – because this Yeti was actually a great guy… Wait a minute, the Yeti found another orb! That's three down and only one to go!
Now you can return to Rosalia, who is much more kind, and tells you she does know where to find another orb. When she was a child of Leonard Poire, she was given one of the orbs, but she threw it into the ocean after he father left home to never return. He abandoned her. On the search for treasure, he barely even raised his daughter, and left her when she was only ten years old…
The only way to find the orb then, is to explore the ocean floor, through an underground chamber below the sea. While exploring this chamber, you'll run into Duke, who is also looking for the magic orb. He's trying to slow you down, so he can get the treasure first. Duke says from now on Mai has to prostitute herself or else he'll revoke your treasure hunter license and make you all into criminals!
The true choice of the game, that will lead to the true ending – is for Mai to ignore Duke and continue the search for the final magic orb. After a long and difficult trek to the bottom of the sea, you find… nothing. And return to the surface.
Back at Rosalia's house, if you speak to her baby, he reveals that eating the roast eel from earlier made him a hyper intelligent baby – and he gives you a clue to continue forward. You need to use a special outfit for Mai to be able to walk through water, and find the true ending to the dungeon…
Its a pirate outfit! And once you acquire it and go deeper in the ocean, you'll find a mystery key, that is used at some point in the future… Still, no orb. You return to give Rosalia the news but she's not home right now. Considering she's the daughter of Leonard Poire, there's only one place she could be…
If you watched the prologue, you likely assumed the orphaned child was Mai. Then we met Camilla the Sorceress, and she seemed like the true child of Leonard Poire. Now its clear this was all a distraction from the true daughter of Leonard Poire – Rosalia – who is standing in her room, in Poire's abandoned mansion.
Mai finds Rosalia in her old bedroom. The entire mansion has been ransacked, leaving only Rosalia's teddy bear on a shelf. Treasure hunters stole everything of value they could find, but left that silly toy behind. Rosalia holds it close to her heart, and begins explaining to Mai what it was like to be the daughter of Leonard Poire.
With a dead mother, all she had was her father – and Poire walked out on her hoping to find more treasure. That treasure, that legend that everyone is searching for – do you think it brings people together? Duke has corrupted Takuya to chase down Mai and force her into prostitution. Mirim's young friends have bombs in their chests because of the debts of their adventurer parents – and so much more. This treasure, all it does is tear the world apart.
For Rosalia – that treasure tore her family apart. It represents hatred and gluttony, and lonely nights as she grew up without any parents… And yet, treasure hunter Mai, disagrees. Even though Mai may seem like a naive child, she reveals even more behind her true personality.
Her father sells office supplies, her mother sells insurance. They're both cheating on each other, both constantly fighting – divorce is practically certain. Everyone at school bullies the weak and defenseless kids, including Kenichi – who Mai secretly is in love with. Mai didn't come from a family of adventurers, she came from a family of nobodies in a world of nobodies – in a world of gray nothingness she longed to escape from. And that's why – for her – regardless of what the treasure does to others – it represents hope.
The treasure didn't cause people to fall into debt and become evil – you can't blame an object for the folly of man! And the only thing that can fix those problems, is the treasure. To pay off everyone's debts and leave them enough money to live on their own. To allow Mai the stability so she can find Kenichi and bring him to this new world – for the two of them to live together in peace. No more gray modern technology – just the two of them – in a world of monsters and magic…
Simply put – Rosalia and Mai have a heart to heart and – it comes to a stop when Rosalia reveals… she never threw the orb into the ocean. As much as she wanted it, it was the only thing she had left of her idiot father – and that's why she kept it. She kept it, inside of this teddy bear she's holding. The one thing all the looters passed over, was the most invaluable treasure of them all. And Rosalia, gives Mai, the final magic orb.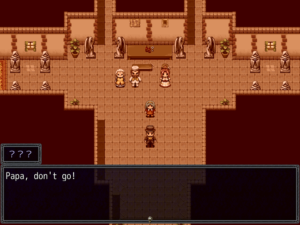 Finally, Mai is able to put together all four orbs and reveal Poire's legendary treasure! Yet when the deed is done, five treasure chests appear. You can only pick one, then the others will disappear. The choice is up to you.
If you pick the wrong chest, Mai and Takuya return to the real world and the entire adventure is over. Its just a monetary prize, a false treasure, something to satisfy the false adventurers who appear…
But how can you pick the right treasure? The true ending to this game is only available to people who spoke to everyone at Poire's mansion. If you did, you'll remember the strange words of an old gardener there. That Poire used to always say – the classic deception is second to last! A true adventurer would never hide his treasures in the golden chest – and it would be too obvious to hide the treasure in a beat up wood box! No, a real adventurer always picks the chest that is second to last – not too shabby but still inconspicuous.
You speak to that person very early in game, like, within the first hour of gameplay. So if you honestly remember that as I did – then you must really be wrapped up in the game! Anyways, its finally time to claim the true treasure when – Takuya appears! He surprise attacked and paralyzed the team, and now is stealing the treasure right out from under you! All your work, all that effort, gone. As Takuya takes the treasure away…
With no clue where to go next – Mai is left with no other option but to launch an investigation! You return to old friends like Linda and the Yeti to find out where to go next. It turns out, you may just want to ask The Spirit God for help. Whoever gave Takuya these powers is an unstoppable force – something like a God – and there's no way you could defeat him alone. With no other options, Mai and her team head out to the spirit realm to find the true god of this world, and discover a method to defeat Takuya and his master.
Spirit God is a character who has appeared in multiple other titles by this developer. Regardless of whatever continent you're on, and whatever game you're playing – Spirit God resides in the Spirit World totally above it all. He is truly, the funniest character in this entire game.
After telling jokes and goofing off with you, Spirit God makes mention of multiple other villains from previous games. People like Demon King Ropert and Saint Orian. Not to mention Princess Cistina, who outright defeated Spirit God in battle. And don't even get him started on that pack of werewolves! If you get any of these references, it'll likely put a smile on your face to know all these games exist in a shared universe.
After some chit chat, Spirit God reveals that Takuya's master is someone who drink the Holy God Elixir. It was created by Spirit God to give the drinker the powers of a God – and it was lost to Leonard Poire in a bet. After Poire died, someone must have gotten their hands on the water and since then is operating with the powers of a God…
Spirit God can make you a new elixir to protect you from the powers of this False God, but a vital ingredient is the love juices of a powerful sorceress. Regardless of if you're on a corruption playthrough, or a total virgin route – you will be forced to watch Camilla get tentacle raped completely out of the blue. She just appears and before you know it, has twenty tentacles up her butt – its weird.
Still, now that you've harvested her love juices – the potion has been made, and you are now immune to the magics of the False God! You're also forced to fight Camilla where its revealed, throughout the entire adventure she has been leagues stronger than you. The only reason she hadn't killed you in the past, was to stalk you while you unravel the mysteries of Poire's legendary treasure. She was using you…
There's no time to dwell on this now – its time to travel to the final boss dungeon and defeat this False God. As you fight through the dungeon, The False God summons demons and beasts of incredible power to attack Mai and her team. Its a boss run, of bosses you've never faced before – can you handle the challenge?
The problem is, the False God is abusing his power. Opening up portals from the demon realm and all the dimensions of the world – to bring out more and more monsters for you to fight. As he opens all these portals – the timeline of the existing world is collapsing in on itself! You need to defeat the False God FAST – or else all of existence will be destroyed!
You're making good time as you trek through the dungeon, slaying demons and assassins left and right until suddenly – The False God is getting scared, and decides to stop you in your tracks. He summons the three strongest villains in all of existence. Princess Pretty, Milnawaj the Assassin, and Dark Sorcerer Marik. Each of these is a returning villain from a previous title.
Princess Pretty is from Kisekae RPG Misaki -Get Monsters While Wearing Girlie Clothes! Assasin Milnawaj is from Assassin Sara: The Chaos Reaper, and Sorcerer Marik is from Bluff Mage Melissa -Oyakodon RPG-
Bottom line, you're fucking dead bro. I've played these games and I'll tell you – facing all three of them at once – you are fucking dead. That's it, you're fucked, game over. Even if you were level 99 – you barely have any chance of surviving. Looks like this adventure is over…
Sword Princess Cistina appears! She's the hero from the previous game, and used her magic to travel here after sensing a disturbance in the force – I mean – the universe. She is by far, the strongest hero ever to walk the land. A saint, and a slayer of darkness. She steps between you and the villains and says she'll hold them off, while you defeat the False God. With no other choice, you leave this stranger behind to fight those villains – wondering if she truly is as strong as they all say…
You find Takuya with the treasure chest, who reveals it cannot be opened! Mai was the first person to touch it, and so Mai is the only person who can open it. Your team of heroes says they'll only do so when God reveals his true identity to them. And so, out from the shadow comes – Rosalia's husband! How best to find the treasure? Marry the daughter of Leonard Poire – knowing that idiotic adventurers like Treasure Hunter Mai would surely come along! Rosalia joined your party some time ago, and is completely shocked at the revelation!
It seems like a battle will ensue, but out of nowhere, Sorceress Camilla appears again! STOP STALKING ME!!! She uses her magic to try and steal the treasure, but the False God is fighting her for it! All of a sudden, the entire dungeon begins to collapse in on itself! And in a flash of light, everyone awakes on the shore of a nearby beach.
Mai, Abel, Aina, Mirim, Takuya, Rosalia, Rosalia's Husband, and Camilla – the eight of you all awaken on the beach. The treasure, is nowhere to be found. It seems that in your anger Lord Vader, you killed her… I mean – it seems in the battle for the treasure and all the magic that was being released, it has been destroyed! It must have fallen into the nearby volcano and been burnt to a crisp. Looks like the journey is over… A TREASURE CHEST FALLS FROM THE SKY!
You simply can't get rid of this thing! Rosalia takes a step back, as everyone fights and hits each other trying to secure the treasure inside. Luckily, only Mai can open the chest. And when everybody calms down, she opens the chest to find the one, true, legendary treasure.
Its a cartoon. Scribbled in crayon by Rosalia as a child. It says "I love you forever Daddy" – and is a drawing of Leonard Poire. Alongside the photo is a letter. It says – that all the treasure in the world meant nothing if you have no one to share it with. And for Leonard Poire, when his wife fell ill, he went out to search the world for the legendary SUPER PANACEA, hoping to save her. He promised himself, as much as he wanted to see his daughter, he would not return until he had the cure to save his wife and make them all a happy family again…
The letter has a secret message inscribed. It says – "The hunter who truly laughs at this find, has become a far greater adventurer than I ever was". And Mai, begins to laugh at the 18 levels of hilarious and heartwarming this all is.
The super panacea, that you casually found in the middle of your quest for this, legendary treasure. You – Treasure Hunter Mai – have long since surpassed Leonard Poire. As the only one to find the four orbs, defeat demons from all dimensions, speak to the True Spirit God, and so many other feats. You've long since surpassed Poire! He, the man who everyone painted as a gluttonous treasure hoarder, was a simple family man at heart. A man who valued laughter and friendship and family – far more than any monetary treasure in the world…
Its just like her Hairband. If you haven't noticed, Mai has a black cat hairband she always wear, that was a gift from Kenichi. And though she could be wearing diamond helmets at this point – she never does. Because all along, from the very beginning, Mai never needed this treasure – she already had love and laughter in her life, from the very beginning.
Unfortunately, The False God is not pleased. He reveals he only body snatched Rosalia's husband, and never truly revealed himself to anyone! And now, as vengeance against Mai for all the trouble she's caused – he's going to kill all of her new friends in this world! Starting with Linda and the Yeti – then – killing everyone in sight!
He cuts their breathing, and they are slowly suffocating. He's choking them slowly with the hand of a false god, making them suffer. Everybody looks to Mai – hoping that her dumb luck will save them – but Mai has absolutely no clue! Still to this point in the game, you were never given even a tiny hint as to the true identity of the False God!
Again, the ghost of Leonard Poire appears before you. He says that you traveling to this world was no mere coincidence. That it was even unforeseen by the Spirit God. No – it was a power within Mai herself. Her longing for adventure, that ensured it was her destiny to come here. And now, you must use that wholehearted devotion to save your friends! Only you can defeat the False God, only you…
An epiphany strikes her! Maybe its dumb luck – maybe its heartfelt desire – maybe its destiny – whatever it is – She won't let her friends down! Mai commands Sorceress Camilla to call one man to their location. The one man who drank the God's Elixer so very long ago… A RANDOM SOLIDER FROM THE MERLAN ARMY – WHO YOU POSSIBLY SPOKE TO AT SOME POINT IN TIME – WHO WAS BEHAVING IN AN UNUSUAL MANNER – THAT IS THE MAN YOU MUST FIND!
In the most arbitrary plot twist of all time, Mai somehow locates the man who drank God's elixir, and drags him to their location. But he's not going down without a fight! Its time for a battle! The final Battle! Mai versus the False God!!!
The dust clears. The tyrant is dead. The True Spirit God takes him away from this world and removes his powers. With the False God gone, the adventure is finally over, and Mai can return to her true home, and be with her true love, Kenichi, right?
Back at home with Kenichi, he scolds Mai for running out into danger like that. Kenichi never believed in treasure, he only played along because he cared for Mai. But in his eyes, this entire misadventure was completely unnecessary, and Mai needs to settle down into a normal life from now on! His exact quote is "Please… stay here forever now". Then he asks for sex. You're given the choice. Have sex with Kenichi or refuse?
The true ending is to refuse. Regardless of how much Kenichi loves her, and regardless of how much she cares for him – it could never work. Kenichi is a cuck! They're nothing alike. Mai refuses his advances and they slowly grow apart…
Ten years pass. Mai wonders if that world of adventure ever really existed, or was it all a dream? By pure coincidence she ends up back in her hometown, and returns to the limestone cave where the story began. She returns to see if any of her memories are true. She feels, melancholy. A longing for something she's not quite sure is real. A desire, for something she can't put into words. Not anymore…
Suddenly, a flash of light, and she's back in that alternate world – or so it seems. Her desire, was just not strong enough to take all the way across dimensions. And so, she's in a shadow world, an incomplete transfer. She see's buildings but no people. She's failed. She can never return to all her friends…
Then – a giant Yeti appears! Wait, that's not "a giant Yeti" – that's THE giant Yeti. She remember him, an old friend she made long ago, and he leads her through town… Suddenly a crowd of people appear!
Because her desire was not enough to travel between worlds, it was her friends who brought her here! Day and night, praying to one day see her again – their prayers were answered, and Mai has finally returned to the world of treasure and adventure. The world where all her friends are! Though Mai has grown ten years older, only three years passed in this world! And now, she can finally live with all her friends again! With laughter and family and kindness – and everything Poire fought for – true friendship! But there's no time to waste! There's plenty of other treasures to explore for, and her friends have been waiting for her! Lets get out there, just like old times – and start a brand new adventure!
CONCLUDING WORDS
This story, touches every note. No article could possibly do it justice. From moments of absolute joy, to heartbreaking despair. It may seem like a typical RPG title at first, but it truly is a classic title. If not for the hentai content, it would be on game systems across the world – it is absolutely fantastic. Great dialogue, complex characters, a real world to jump into and enjoy. Treasure Hunter Mai by far, has the greatest story of any game I've played in a long, long, time. Read our original review of Treasure Hunter Mai!