Hentai RPG Review: The Married Selena and the Dungeon of the Magic Stone
Hentai Reviews

>

Reviews

>

Hentai RPG Review: The Married Selena and the Dungeon of the Magic Stone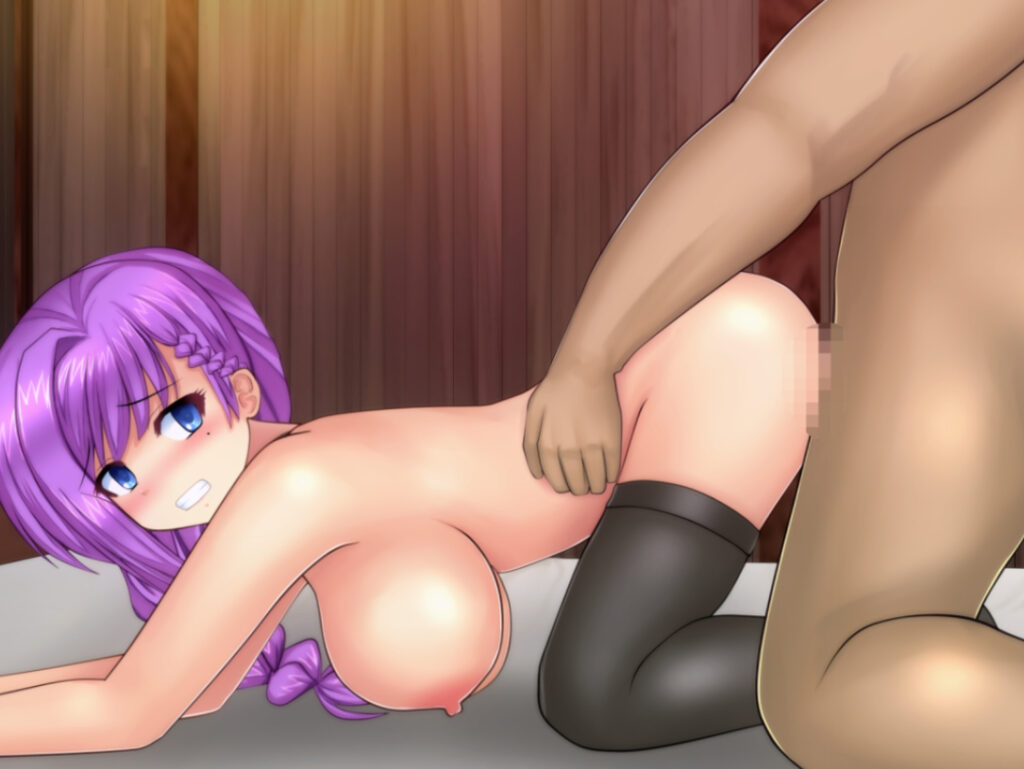 Written by Rastafoo69, edited by Otaku Apologist
The Married Selena and the Dungeon of the Magic Stone, a hentai RPG developed by Ressentiment. Released December 27, 2019. Download on DLSite for $11.00. For Windows PC. No voice acting. Censored genitals.
Selena is a former adventurer and wife of the world famous hero! But when she gets involved with a suspicious guild of adventurers, she is forced to please them all sexually! Her only hope of escape is to clear the legendary dungeon before she gets too corrupted to resist.
PROMO: When you download games through links on Hentaireviews, you help produce original hentai media.
STORY
The game starts with an intro that lasts over an hour. Even when you finally get to playing, the game remains extremely linear and slow-paced. Often times you're locked into long dialogue with nameless NPCs for ten minutes at a time. I enjoy dialogue, but not when the game is forcing it on me every few seconds.
Locations are blocked until you progress further in the dungeon, meaning you never get to experience everything the game has to offer, until it's already nearing it's end. Even though it's an RPG, the developer tries to force you to play at his pace, like when you're forced to return home from the dungeon because of some random dialogue. I wanted to keep exploring and keep fighting, but fuck what the player wants, right?
I hate how slow this game's beginning is. You can't even access the equipment shop or purchase spells until you're over an hour in! I would much rather be dropped into the game to play at my own pace.
The writing is garbage. Example: You really need a thief in your party and coincidentally meet a sexy female thief girl and her healer priest friend who want to join your party. The writer put zero effort into suspension of disbelief.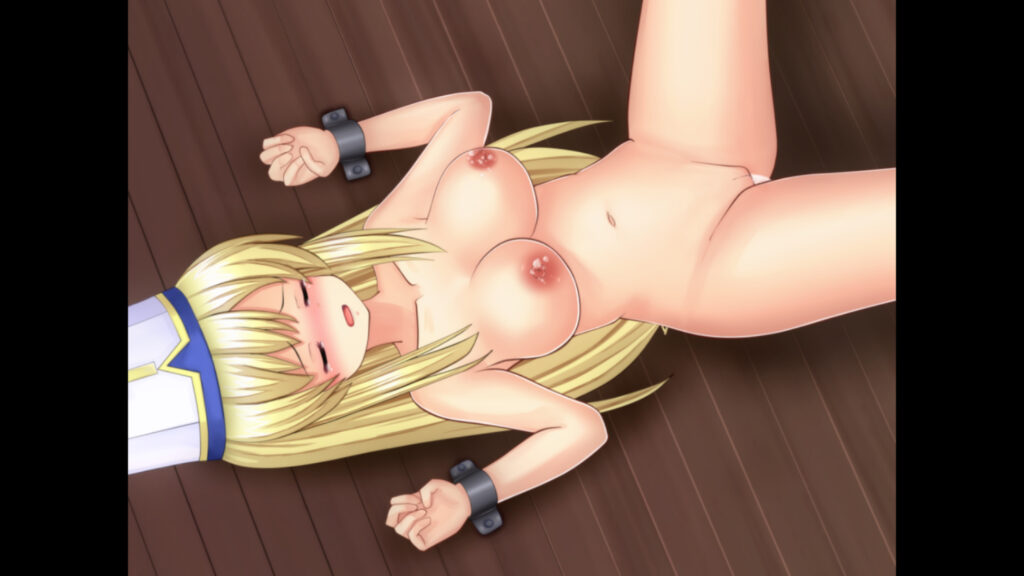 There is no clean play-through. This game is 90% mandatory sex scenes. It feels more like a kinetic novel than an actual game. And it's not even enjoyable! Like when you watch Julia the blonde get insulted and made fun of by strangers. Because she's in massive debt, she'll do anything for gold, like dance in the nude at their command. She's clearly unhappy and her despair is not fun to watch.
Most of the game is just Selena having sex with members of the adventurer's guild, but there are some other miscellaneous scenes like fucking homeless people. The side heroines include Selena's daughter, the thief girl and the priest girl. They all get a couple of scenes, but the main focus is just fucking adventurers. It gets repetitive.
Although the intro is an hour long, it could honestly be explained with a few sentences. Selena used to be an adventurer who once sealed away a great demon in a crystal orb. When it begins to crack, she needs magic stones to repair it. She goes dungeon diving to find some, but accidentally causes two men to be injured. She must now work for the guild to repay her debt and find magic stones.
At the start of the game, Selena's husband leaves on a trip to go kill some monsters. The problem is, this game has no time limit. So you could have like ten pregnancies and give birth to countless kids and the husband will never come home.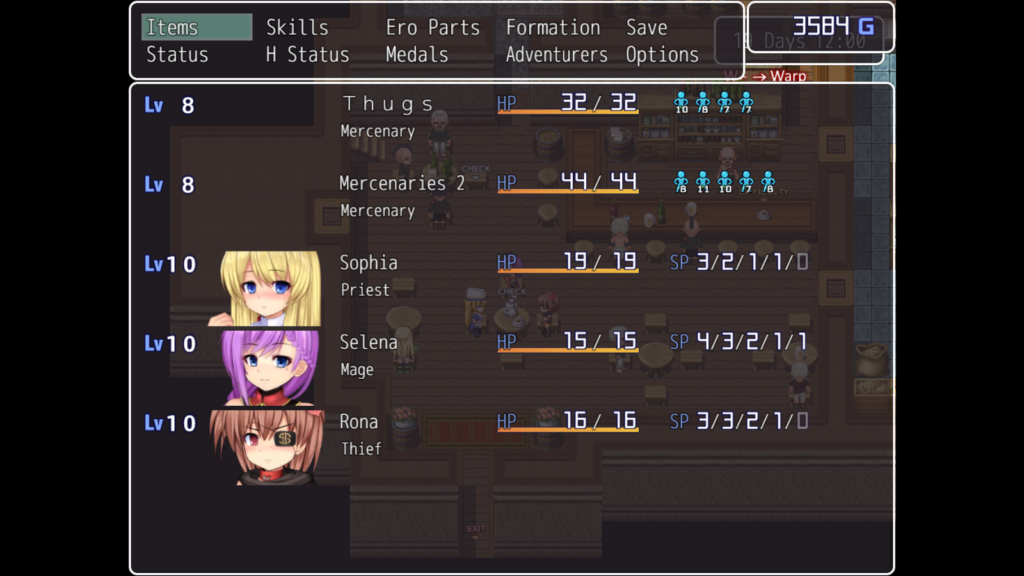 GAMEPLAY
The Married Selena and the Dungeon of the Magic Stone was created in RPG Maker MV. There are three difficulty modes ranging from normal to very easy. This only affects the amount of grinding you'll do, so feel free to play on easy mode.
Players can customize their own controls, but I'll be describing the default. Press Q for the backlog. Press TAB to hide text boxes. Press W for your map. In dungeons, you play in first-person perspective. Press up to move forward and use left or right to change direction.
This game is an 8-hour experience, in a dungeon with 5 large floors, that will probably be completed when you're level 16. That's two levels per hour, this is a massive slog to play through. Even worse, exploration is discouraged through a food meter. Once it depletes, you're forced to leave the dungeon. In other words, this game is slow as fuck, on adult game standards. You don't want to spend this long of a time to access sex scenes.
Combat often feels completely random. Sometimes you win very easily, other times enemies will outrun you and do massive damage. Because the player has so little health and magic, you're often forced to leave the dungeon and come back fresh later on.
Outside of combat, most of the game is not randomized. Rather, it's extremely linear and set in stone. Rather than a magic bar, the game simply restricts how many times you can use a spell. You can only cast flame three times. This is mediated by learning new spells down the line, but still, it's incredibly restrictive.
You always have to return to the bar to recruit stronger party members. Instead of finding equipment as random drops, you only find materials and are forced to leave the dungeon to convert the materials into better equipment. In practice, there are only two items in this game; materials and the escape rope. If you play the game you'll understand, it plays extremely linearly.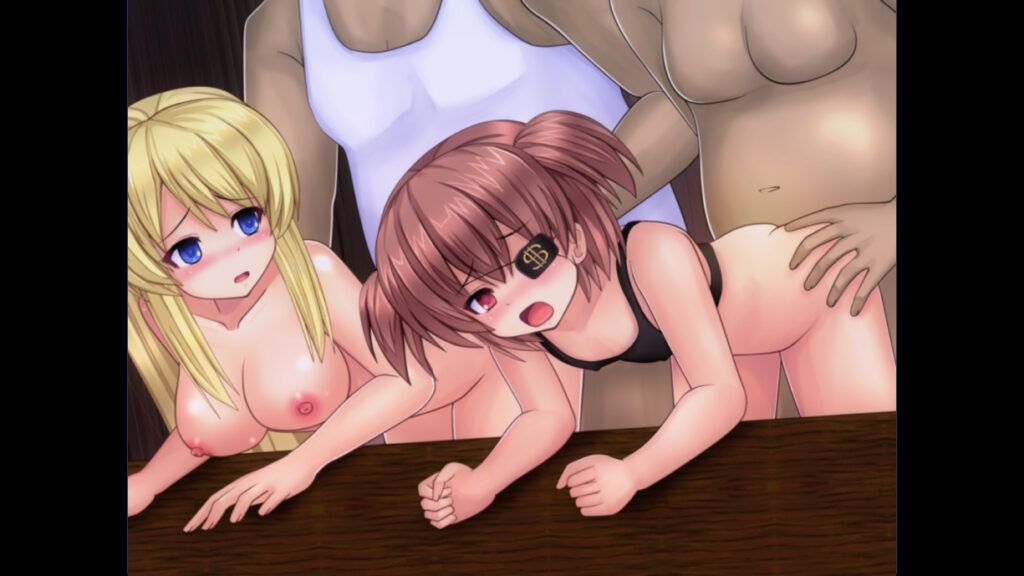 GRAPHICS
The visuals in this game are hit or miss. Some scenes like the ones emphasizing Selena's wedding ring are super fucking hot. Others like the thief girl getting fucked look very mechanical as if someone traced an image to draw this. Two scenes that really stand out are the semi-POV sex scenes with Selena. Seeing your hands grab those big round breasts is hot, and seeing your hands spread those legs. I wish there was more of a POV focus, because the artist shines in such scenes. On an unrelated note, none of the art shows Selena's feet, and often her hands are kept out of the frame. Almost as if the the artist lacks confidence in drawing these details.
While the sex animations are usually basic panning, the pixel animations are far more expressive. Julia begins dancing around the bar and moving in a realistic fashion. It's sad that the pixel animations are more lifelike than the CG animations.
I liked the unique UI for your party members. Outside of Selena and her three girls, you're allowed to bring five male party members to help you in the dungeon. They are displayed as little stick men, and their symbols change when they are defeated in battle. So you can actually see "three of my five men died in that last battle", and feel the consequences of your poor strategy.
The 3D perspective used for dungeon exploration is a nice change from the norm. However, you're entering the dungeon as a party of 9. Rather than a pure POV perspective, it would have been nice to occasionally see the sprites, so you can conceptualize how your party is organized. Because, being realistic here, it's hard to imagine 9 people fighting a single enemy at once.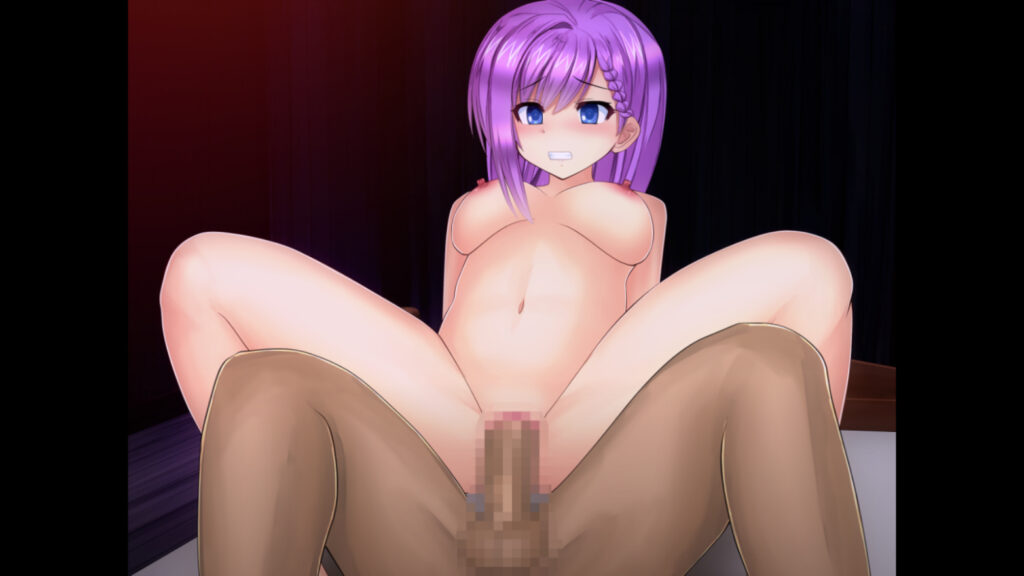 VOICE ACTING AND SOUND EFFECTS (SFX)
The Married Selena and the Dungeon of the Magic Stone has no voice acting.
The sound design for battles is fitting and does a good job, but for sex scenes, the sound effects are horrible! Insertion sounds like a septic tank pipe. Ejaculation sounds like mustard being squirted onto a tabletop. There are no thrusting sounds. The strangest experience I had with this game was when you finally give birth and you can hear a baby crying. Like, there is not a single voiced line in the entire game and suddenly you hear a human voice.
MUSIC
There are 39 music tracks in total. The main menu music is completely unique while the dungeon music relies heavily on electric guitar, and sex music borders on an EDM techno vibe.
Even though the tracks themselves are top quality, their placement throughout the game is pretty questionable. Sometimes you'll just be standing around, but electric guitar and hard drums are slamming out a loud beat. There are more than a few moments like that where the music clashes with the actions taking place on-screen.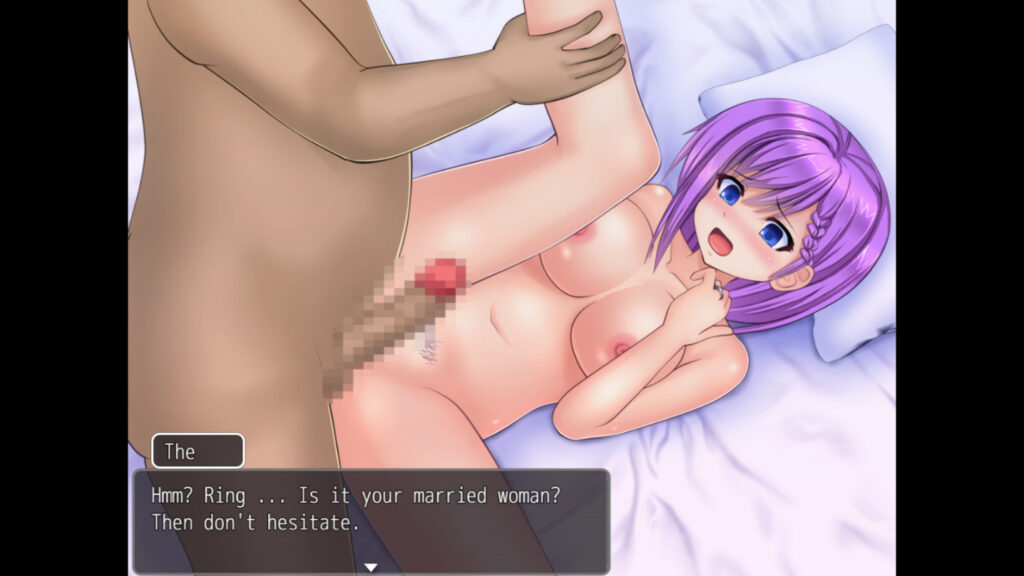 HENTAI
There are 35 sex scenes in total. The vast majority cover Selena, but a handful are available for the side chicks like Selena's daughter.
The focus of the game is on a married woman fucking tons of strangers. Each stranger you meet has sex stats tracking how many times they've fucked Selena. Each man also has unique traits like "big dick" or "premature ejaculator", but they don't effect the game play. Selena herself has sex stats available in the pause menu, tracking all of the lewd acts she has experienced. At the start of the game she has had 1 partner and 13 creampies, from her husband. In the bad ending of the game, her husband discovers all of her cheating and is forced to watch.
Although impregnation can be disabled, it's a pretty big part of the game. Every creampie lowers the durability of your womb until eventually, your egg is fertilized! After 1 in-game day, the girl will comment about morning sickness and get a big round belly! This is super hot in concept, but less so in reality. The amount your "womb durability" decreases is completely random, and you're often forced into sex scenes you have no interest in. Sometimes a single creampie breaks 50% of your durability, other times Selena is gangbanged and her durability is barely effected. It's extremely arbitrary. You can fix this by manually customizing her womb durability, but that defeats the point of the system in the first place.
The pregnant belly standing art is super hot. I love how characters comment on the pregnancy with their own individual thoughts. Let's say that Selena's daughter is pregnant. While Selena feels like a failure of a mother and begins to cry, the thief girl in your party shrugs it off and says it was inevitable after all the dick she was taking. This is why I highly recommend keeping impregnation content on.
In a standard play-through, impregnation is something that happens in the background. You can only have sex once a day, so it's not like you can get pregnant fast. However, once you beat the game, you'll unlock free mode. This allows you to play without any of the dungeon crawling. If you want to fuck your daughter's best friend, give birth to his babies, and then fuck your father in law, you can do that! Seriously, free mode was more fun than the actual game itself!
CONCLUDING WORDS
The Married Selena and the Dungeon of the Magic Stone is a long and sexy adult RPG focused on impregnation and pregnancy. The pacing is horrible, but Selena is so hot and the scenes are so varied, it can be well worth the wait. If you have a hard fetish for this kind of content, I can recommend this title to you.
Download The Married Selena and the Dungeon of the Magic Stone. If you liked this game but want some actual good writing, then check out our review of Tower of Aldia.

Graphics

Gameplay

Story

Music

SFX

Hentai