Written by Rastafoo69, edited by Otaku Apologist
Lab Rats, a 3D porn game developed by Vren. Visit the developer's Patreon. First build released on November 26, 2017. Free to download. No voice acting. Uncensored genitals. Download for PC Windows, Mac OS, and Android.
You've been lusting after your hot stepmom and stepsister for a long time. Neither of them give you the time of day! After you get a job at a university laboratory, you finally gain the means to unlock the slutty nature inside of them!
For more erotic porn games, visit our perverted online games store!
STORY
You've secured a job in the local laboratory. Use the tools in the lab to help five girls fall in love with you!
The story is dependent entirely on player action. Will you go to the party with the cute girl from the lab? Or maybe you want to stay home and cuddle with your stepsister? All girls are open for your corruption, and you'll always get a second chance at those choices. There will always be new parties, and the girls aren't escaping to the mountains!
The writing conveys the progression of the corruption perfectly. At first, your stepsister will run out of the room when she catches you jerking off. Take your time, talk about sex, get her comfortable with sexual topics. Soon, she'll be interested to learn more! Outside of erotic content, the writing shines all the same. Each character has their own personality traits and motivations. They feel human.
There's a 120-day deadline to your internship at the lab. Once the days are up, the game will present you with choices on your future. Will you continue working in the lab? Will you take control and become the man of the house? The choice is yours!
The level of detail put into each ending is incredible. As a result, every choice you make has dramatic weight behind it.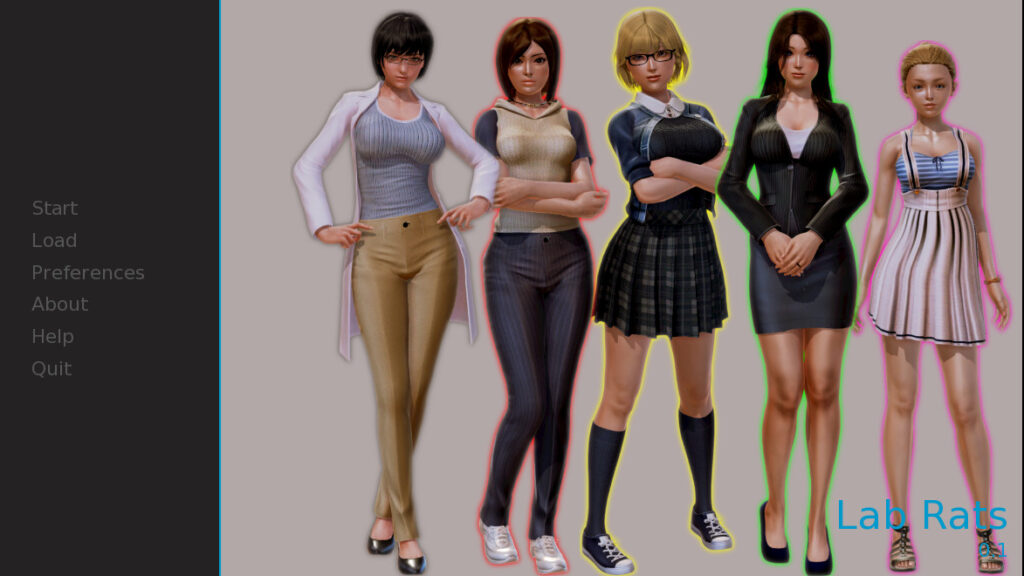 CHARACTERS
You, are a third year chemical engineering student, brought onto the lab team to help keep the equipment working. Depending on your choices, you may end up managing your very own harem!
Alexia is your classmate and friend in college. She seems to be interested in seeing you more. She already likes you and trusts you, like a fool. She'll be easy to destroy!
Lily is your younger stepsister. She goes to the same university as you. Unlike you, she's taking the summer off. She has an online boyfriend, but they haven't done anything sexual yet.
You stepmother is a luscious MILF who needs dick. Without a husband around, she works long hours to make sure you and her daughter sister can both attend university. She's morally bankrupt due to her dick-deprivation, and will offer you sexual favors in exchange for money.
Stephanie is a graduate student and your fellow lab assistant. She has been Nora's right-hand girl for years. If you earn her trust, you can spend your weekends with her at parties and tennis games.
Nora is the lab director. She's a smart conservative girl with a passion for science. She's very hard to seduce. She won't respond to your text messages, so don't bother. She only gives you handjobs because you're her beloved student. What a whore!
GAMEPLAY
Lab Rats is a visual novel made with Renpy. Click the screen to progress the story. The game prompts you with branching dialog choices at key moments in the story. Press CTRL to skip dialogue. Press 'H' to hide the dialogue box.
Every Monday morning you earn a paycheck. Its size depends on how many days you worked that week. If all you do is work, you'll never corrupt the girls. But if you never do any work, you won't be able to purchase lab ingredients, or buy lewd favors from your stepmom.
Many problems in the story have multiple solutions. For example, you can search Stephanie's desk to find the lab keycode, or you could just befriend her! Easy access to the lab will get you more tools to seduce the women.
Every Monday, you have the opportunity to purchase sexual favors from the stepmom. This encourages players to balance their work-life with their ambitions of corrupting their totally unrelated family members. You can pay the woman to wear a sexy outfit to work! In addition to that, you can command her to act like a whore, to attract more male attention. Plenty of guys around the office will be pinching her butt, and groping her soft lady bits all day long!
Each girl has two stats: resistance and attraction. Use strategy to lower their resistances and increase their attraction to you.
If you're only here for sex scenes, I highly recommend you download the "Dog Mod" to this game. The Dog Mod will keep all girls with zero resistance, which means you can corrupt them a whole lot faster!
GRAPHICS
The 3D character models were created in Honey Select. The background images are stock photos available for all Renpy users.
The number one issue with the visuals is the expressionless faces. Almost all of the game features girls wearing a cold, blank stare. Their body proportions are perfect and the curves are in all the right places, but those stone faces get creepy fast.
There is much untapped potential in the visual department. Each girl only has two, or three outfits. They have a default outfit that they wear for 90% of the time. They also have a bikini, and one other unique clothing choice. Your stepsister wears a cute black skirt on your movie date, and your stepmother wears a maid outfit, if you pay her to wear it. Beyond that, the characters never change clothes.
The visual display of this game is only impressive in the context of the dialogue box that accompanies it. For example, you'll read detailed descriptions of the girl breathing heavy, causing her boobs to nearly break out of her shirt – but the visuals don't convey that. Sure, the shirt looks tight, but without the dialogue box, I would never know.
VOICE ACTING AND SOUND EFFECTS (SFX)
Lab Rats has no voice acting or sound effects.
MUSIC
The game has only one song on its soundtrack. It's a digitally synthesized composition featuring mainly something akin to a harp playing. The pitch changes frequently, creating the illusion of depth. It fills the silence adequately.
The music is pleasant, but it loops forever and only goes on for a minute. Play some other music, or you will go insane.
HENTAI
Lab Rats features over 50 sex scenes, each exploring a unique scenario.
The author showcases mastery of the art of escalation. With the brainwashing fetish, it's important that things progress slowly for the sake of realism. The first hour of gameplay is mostly looking but no touching!
Use your verbal skills and skills in chemistry to make the women more comfortable with sex. Eventually, you won't need to pump their heads full of bullshit. They'll be horny sluts all on their own!
Sex positions are very predictable, with missionary and doggystyle featured in the vast majority of content. Also, there are no animations, and movement is conveyed entirely via writing.
As the girls become more corrupted, you can influence their behavior more. Will you convince your stepmom to go off her birth control? Will you convince your sister to have sex with her internet boyfriend? Will you get your professor to become a slut that takes random dick with no protection? Or do you want them to be loyal only to you?
The huge variety of scenarios and control over your harem makes for a great porn gaming experience.
CONCLUDING WORDS
Lab Rats is the perfect porn experience for fans of its featured fetishes. With a simple story, decent visuals, and tons of erotic content, this game is the full package. I recommend you download The Dog Mod if you're looking for a relaxing play. The game is free to download, funded by the donations of humble porn addicts.
Download Lab Rats for PC Windows, Mac OS, or Android. If you want a similar game with anime art, check out Snow Daze.
Graphics

Gameplay

Story

Music

SFX

Hentai