Princess Banging Hentai RPG Review: Alice Quest
Hentai Reviews

>

Reviews

>

Princess Banging Hentai RPG Review: Alice Quest
Written by Rastafoo69, edited by Otaku Apologist
Alice Quest, a hentai RPG developed by circle Poison. Released June 1, 2012. Download on DLsite for $10.00. For PC Windows. Full voice acting. Censored genitals. Download a machine translation by SonnyMafia on ULMF.
You are the runaway princess of the Baron kingdom. Explore the world and live the life of a true adventurer!
Read our guide how to download DLSite games.
STORY
The story is mildly retarded. The beginning is just fine, as Alice Baron runs away from home, wanting to become an adventurer. Because she is a sheltered idiot, she ends up kidnapped by bandits and turned into a cum-dumpster! A completely random guy paid the bandits to kidnap her, because apparently he likes to watch random women get pumped full of cum. Later, he feels guilty about it. When Alice finally escapes with the help of another man, she vows to find this man.
The story is so stupid, we're gonna spoil it here. The completely random guy who paid the bandits to kidnap Alice goes a little mad with the guilt, and vows to become the strongest warrior on the face of the planet. He steals power from the natural elements and you have to kill him or the world will be destroyed.
There are no plot twists or exciting moments. It's a very straight-forward dumbass story. The loss of the water element may cause the sea to dry up, the loss of the earth element will cause quakes that topple buildings, and the list goes on. This game is basically a hentai rip-off of the Final Fantasy series.
There are 9 possible followers in the game, each with their own interests and motivations. If you listen to their dialogue and take them to their goal, you'll be rewarded with a sex scene. It's a system inspired by the Dragon Quest series.
There are three endings to the story. Will Alice become a dignified queen, a slut queen, or give up the throne to be a whore? Regardless, there's a bonus game where you play as the bandit leader and his side of the story. This adds a new perspective to the story, like how he was hired to kidnap Alice at the start of her adventure. The question is, who hired him?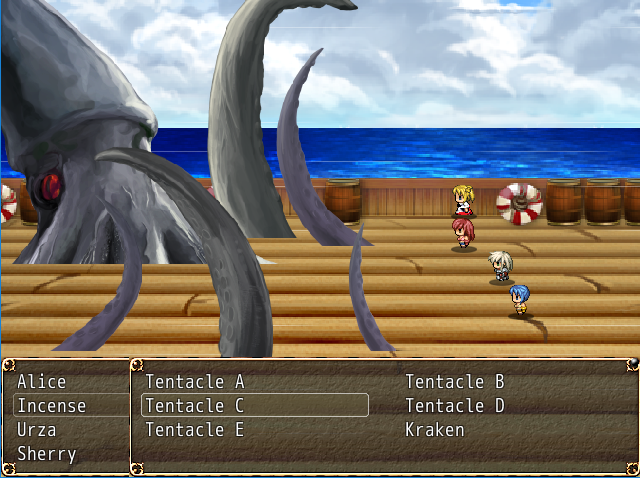 GAMEPLAY
Alice Quest was created with RPG Maker VX Ace, the most common version of the engine. Use the arrow keys to move. Press Z and X to interact with the world. There is no dialogue skip.
The game cycle follows the formula of your standard RPG adventure. Fight enemies for experience points and money which is spent on equipment in town. Once you're strong enough to beat the boss, progress to the next town.
This game is incredibly grindy. The coolest features like boat-travel and playing as the bandit leader aren't available until end-game, which was a huge waste. Very few players are going to play long enough to reach that.
There are 9 possible followers, making for a total of ten characters. Each character has a unique class from archer to priest, with advantages and disadvantages to each type. Experience is only gained when they're in your party.
Playing as a whore earns you stat boosters that make the game easier. Learning attribute weaknesses, like fire and ice will also make the game easier. And for completionists, there's an item catalogue that gives you information on each weapon and armor in the game. Altogether, it's a great RPG experience if you can look past the repetitive battles and grindy leveling system.
GRAPHICS
The art is traditional Japanese anime style. Scenarios range from bandit gangbangs to lava creatures penetrating Alice.
Visually, the artwork in this game is very well drawn, but doesn't have a lot of personality or passion behind it. Alice's breasts look like exact spheres, when real breasts tend to be affected by gravity. And the cumshots look unnatural, like marshmallow. And even though there are many girls in this game, they all have the exact same frame and body type. I wish there was a busty milf, or a petite cutie mixing things up!
The world is enormous but isn't well established. Something like a world map or more castles would really help bring this world to life. A border dispute, a rival kingdom, something, anything! Alice Quest has a big world with little in it.
There are 30 scenes in total. All scenes are unlocked once you beat the game. From being trapped in a wall to being whipped while riding a dildo, all sorts of sexy things happen to Alice on her quest. Even if the art is basic, the scenarios are always hot!
VOICE ACTING AND SOUND EFFECTS (SFX)
Alice Quest has full voice acting for the protagonist, Alice. Other girls are not voiced, even during sex.
The voice acting for Alice makes this game ten times better in every way! When she faces down the final enemy and confronts him, the voice acting shows her determination and desire to end things. On the other hand, when she faces a thick cock shoved in her face, her moaning and begging for a rough fuck conveys her lustful mindset perfectly.
The sound effects also match perfectly. In battle, the use of elemental magic with numerous sound cues makes combat feel exciting. In sexual encounters, the voice acting is the focus while a cock is loudly thrusting into her wet pussy. Altogether, the sound design is awesome, and the best part of this title.
MUSIC
The soundtrack has 43 songs in total. All tracks are digitally synthesized, with almost all of them originating from the RPG Maker stock library. From drums to violins, it's all the standard music tracks created by someone with a basic mix board. The changes in melody are so immediate and mechanical, there isn't a lot of heart behind the music.
Due to a lack of plot twists or exciting developments, this plain music fits the game perfectly. It's mostly different background tracks for different dungeons. While its something new for your ears, the music felt like it was placed by obligation rather than to improve the player experience.
HENTAI
The game features 30 sex scenes, each with a unique CG. Variation images are limited, with most scenes only having one image swap for the cumshot.
There is an unavoidable bandit gangbang and deflowering at the start of the game. Alice cries and gets aphrodisiacs literally shoved up her ass. It was super unnecessary and sets up a bad mood for your adventure.
On the bright side, by the end of the game, this pays off, if you get the bad ending. The same bandit who deflowered her, will be treating her like a sextoy. The royal princess has become queen, but she still gives up her pussy to bandit cock!
The vast majority of sex scenes are stupidly easy to find. Half the scenes can be found simply by sleeping at the inn of every town. The other half of scenes are found by taking your party members to the places they want to go, leading to monster sex. And if you still struggle to find all the scenes, just beat the game to unlock them all.
While the dialogue is usually basic, the voice acting in each scene is fantastic! Alice is an inexperienced blonde who ran away from home, it's the perfect setup! Whether it's gangbangs or sex toys, she's overwhelmed with pleasure, moaning and loudly begging for more.
CONCLUDING WORDS
Alice Quest is an extensive hentai RPG with tons of locations, hardcore sex scenes encompassing a variety of hot scenarios. The voice acting is fantastic and the visuals are boner-inducing during the sexy parts. If you're looking for a standard hentai RPG experience, play this.
Recommended for fans of ditzy blondes down on their luck getting fucked. Download Alice Quest.
Graphics

Gameplay

Story

Music

SFX

Hentai