Prostitution Hentai Game Review: Noelle Will Give Her All
Hentai Reviews

>

Featured

>

Prostitution Hentai Game Review: Noelle Will Give Her All
Written by Rastafoo69, edited by Otaku Apologist
Noelle Will Give Her All, an animated hentai game developed by Apricokobo. Released June 18, 2021. Download on DLSite for $18.00. For Windows PC. Partial voice acting. Uncensored genitals.
Noelle saw an ad for a house, only 1000 gold! She signs the papers only to realize, the person who owns the house takes the debt of its previous owner! Noelle now owes 1 million gold pieces! With no other choices, she'll have to sell her body to pay the bills!
Read our guide how to download DLSite games.
STORY
Noelle owes 1 million gold and has 10 days to pay it back. As she's unable to, she ends up prostituting herself to men around town.
The game is pretty linear, with the only real choices being the order in which you complete certain scenes. It starts out with harassment and builds up to prostitution and exhibitionism. The latter really loses its impact considering what you did beforehand. When you've already fucked every guy in town, why should I feel nervous about a bit of nudity? In other words, the pacing here is odd.
The first sex scene in the game is random sex with a tentacle monster. This felt like a slap in the face after all of the build-up. Handjobs, blowjobs, groping, nudity, it was all building up to sex with your employer. Instead, you get mandatory unavoidable tentacle sex. As always, unavoidable tentacle scenes are a negative to gamers who dislike that content. We're scratching off points for that one.
There are six endings in total. You either become an exhibitionist slut, a free-use slut, thrown into a pile of trash, or you settle down into a committed relationship. If you settle down, Noelle has futanari sex with the two shopkeepers in town. This makes four lewd endings and two basic good endings.
As always, I caution you to adjust your expectations. You might see the side heroines of Rin and Rimuru as cute babes to get fucked, only to be disappointed that their scenes are futa-focused.
Progress through the game is marked with 5 titles. At the start of the game your title is "Normal Girl", but it slowly evolves over time until you become a "Dirty Girl". While this system was nice, it doesn't ad much to the experience.
In spite of the "hit or miss" writing, the actual sex in this game is fucking fantastic! Giving a blowjob under a desk has that lewd and risky vibe I love. Thigh sex with the innkeeper was wonderful, since so few games do that. Filming a porno was super hot as well. And riding a dildo in public was so crazy! My favorite scenario was when Noelle pretended to sleep, hoping that the burglar in her home would grope her tits. When it comes to erotic scenarios, this writer knows his shit.
Since the game is focused on sex scenes instead of an overall story, the writer can basically do whatever they want. My favorite example is after you titfuck the otaku and he says you must leave because it is "Wise Man's Time". In Japanese the word is "kenjataimu" and effectively means "Post-nut Clarity". Just hearing this random guy say he's dealing with post-fap clarity made me laugh my ass off. This writer clearly had fun with his material.
GAMEPLAY
Noelle Will Give Her All was created in RPG Maker MV. Click on the screen or use the arrow keys to move. Press X to pause. Hold Enter to speed up dialogue. Press A for auto-dialogue. Press CTRL to skip messages. Tap Enter to attack in dungeons.
Noelle has four basic stats. Fatigue rises as you complete events, and when it maxes out, one day passes. Lewdness rises throughout the game and opens up new events or changes existing ones. Your work and exposure stats are pointless and just for show. In fact, the entire stat system could be removed from the game and nothing would change whatsoever. Since finding scenes is so linear, and stats rise so linearly, there is never a reason to even care about them.
Combat is a very small part of the game. Press Enter to hit enemies. Hit them three times to kill them. If you are beaten instead, you will be sexually assaulted and returned to bed. You cannot save your progress in dungeons, so always save beforehand. You gain nothing from killing monsters, so feel free to avoid them, since all battles are icon encounters, and not randomized.
Your quest log is in the pause menu, but it basically tells you where the next scene is. There is no need for exploration or thought, this game can be played one-handed. In the late game, you'll be able to return to past sex partners and prostitute yourself to random NPCs on the map.
Overall the game has 4-6 hours of content, depending how fast you read and if you're seeking all the endings. Just know that most of this game is dialogue and walking around, you should play it to fap, not for gaming.
GRAPHICS
The game is fully animated. The pixel art is laced with tons of detail and variations. While it's very similar to the anime art style, the fluid movements of this game have an element of realism that sets it apart from other titles.
Rather than black bars on the side of the screen like most MV titles, this developer chose a 960 by 540 resolution, completely fitting fullscreen mode. The game features unique sprites for Noelle and her friends. Each sprite perfectly matches the standing artwork and enhances player immersion.
There are 39 unique scenarios, each with multiple stages based on corruption. One scenario can shift from groping to fingering and eventually even vaginal sex! Since each scenario has stages, you could easily claim this game has over 100 scenes total. I wouldn't however, since sometimes animations repeat like in the photography scene and exhibitionist masturbation scene. The repetition is rare, but noticeable.
The core of this game is the animation quality. The story and gameplay are bare bones, relying heavily on the gratification of a well animated scene. And thankfully, these are some of the greatest animations I have ever seen.
The way Noelle's booty shakes when a dick is thrust into her looks absolutely beautiful. The cross-section x-ray view shows an interior creampie. The bouncing of an ass on a dildo! The moaning in each scene is hot, not simply because of the audio. The visuals depict Noelle moaning in pleasure! These still images don't do justice to the animations. After multiple playthroughs, I'm still going back and cumming buckets to these glorious and realistic scenes.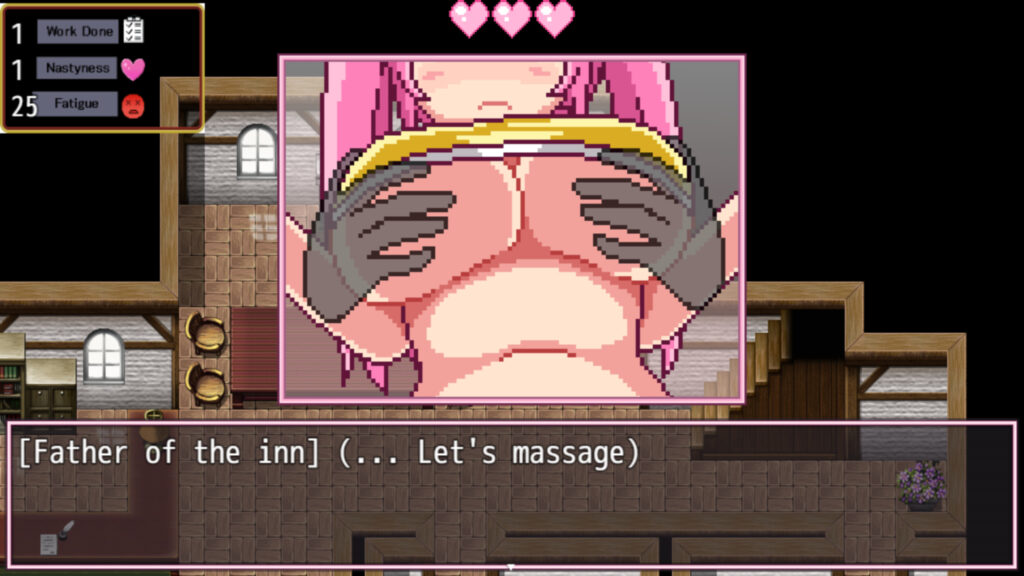 VOICE ACTING AND SOUND EFFECTS (SFX)
Noelle Will Give Her All features voice acting in sex scenes only. These moans sounded so realistic, I almost thought a moaning japanese girl was actually in my room! The phenomenal performance captures the realism of a rising pitch in voice before the release of an orgasm as Noelle's whimpers fade out. My favorite bit of voice acting came from Rin moaning "kimochi" while fucking Noelle. I swear, you've got to hear it for yourself, you'll cum like a firehose.
While the voice acting is incredible, the sound effects are hit or miss. In particular, the thrusting sound during sex is often way too fast and doesn't match the gradual escalation of the animations. This is understandable though, since matching the track to the animation would have been insanely time consuming. Still, it's a noticeable flaw in an otherwise perfect experience.
MUSIC
There are 36 tracks total. Most tracks are common stock assets used in most hentai games. Don't let the generic title theme spoil your mood! The actual game music is fantastic! Lewd scenes with the bass guitar sound super smooth and sexy. And defeat sex with monsters uses a digital synth track almost like a reverse xylophone, playing low pitches like a distorted Halloween theme. Although the music is too heavy on digital synth chimes, the voice acting covers it up and compliments the music well.
HENTAI
There are about 70 base animations spread across 150 scenes. In particular, there are 39 unique scenarios holding these scenes.
150 scenes may seem impressive, but there are so many fetishes, you're sure to find ones you dislike. Futanari, tentacles, piss play, stomach bulge, and so much more. In fact, there is a lot of piss in this game. So if we count only the scenes everyone loves, we're looking at under 100.
The creampies are super hot, but the game lacks impregnation or even believable talk about impregnation. Only one scene emphasizes condom removal. There are some disappointments like the lack of sex with old people even though the writing makes it seem possible.
Sex stats do not track gropings or thigh sex, only fellatio and vaginal. While some scenes have Noelle bound and submissive, other scenes depict her as a femdom goddess. This is not a game focused on consistent writing. Rather, its focus is on creating a huge variety of erotic scenarios.
Standing sex while answering the door was one of my favorites, since it's so risky and lewd. Another favorite of mine was deflowering the fat otaku. Regardless of your fetishes, this game has enough scenes that there is something for everyone.
CONCLUDING WORDS
Noelle Will Give Her All is an incredibly erotic hentai game with fluid animations and a wide variety of scenes. The voice acting is super sexy and the gameplay is simple. Just remember, this game does not have any RPG mechanics.
I recommend this game to people who fap first, and game second. Download Noelle Will Give Her All. If you liked this game and want a similar title, then check out our review of Miss Kyoko Wants to Get Done.
Graphics

Gameplay

Story

Music

SFX

Hentai