Written by Rastafoo69, edited by Otaku Apologist
Welcome to the Sexy Bar, a management sim developed by Kegani Laboratory. Released July 20, 2020. Download on DLSite for $18.00. For PC Windows. No voice acting. Censored genitals. Free demo available.
The old bar owner died with a ton of debt! It's up to you to help the bar recover and pay back the debt! Your childhood crush and her best friend are here to help, even if it means flashing their bodies for your customers!
New to Japanese eroge? Read our guide How to download DLSite games.
STORY
Your name is Ritsu, and together with your two friends Mizuki and Mallow, you're going to save the local bar you've come to love from bankruptcy!
There's barely any story. Every week you pay off a portion of the debt. If you do not, Mizuki or Mallow will have to sell their bodies instead! Will you become a total cuckold, or pay your debts like a real man?
The writing in this game is terrible. The first hour or two is a long tutorial. The former owner of the bar explains how to manage things. He and every other guy in the game pretend to be nice while trying to fuck your girls. There are no likable characters whatsoever. And since the majority of the game takes place inside the bar, things get repetitive fast.
You can only save one girl in a playthrough. Even then, it will be a difficult task to accomplish. They'll end up fucking the cook or your mentor. While other NTR games create suspense and build-up, here, things happen randomly.
There are 11 endings in total depending on what happens to Mizuki and Mallow. It is possible and very likely they will end up pregnant, which condemns you to a cuckolding ending. The weak writing is a problem.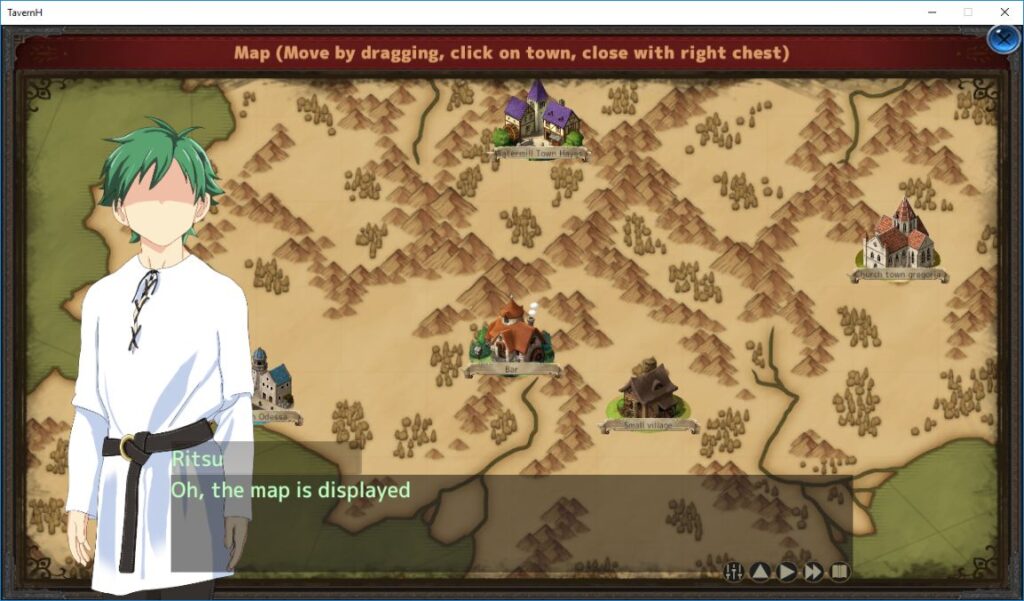 GAMEPLAY
Welcome to The Sexy Bar was created with the Unity game engine. The entire game could have been made in Renpy. The user interface is clunky and the application resource intensive. I wish he used Renpy instead!
The entire game is controlled via mouse clicks, with no real thought or strategy. When your customers want tod rink moonshine, click the purchase button to buy some. Then click the customer and receive their money.
There are three difficulty levels. Hard mode practically means you will never pay off the debt and will end up a cuckold. Easy mode gives you the flexibility to learn about the game and seduce the girls yourself.
In many ways, the game is rigged against you. For example, a delivery of ale costs 600 gold, but selling the ale gives you no profit. And while the girls fall in love with other men over time, you need to spend action points on them manually, which takes a very long time. In my view, easy mode is the only way this game is even remotely playable.
The game also suffers from too many features, that don't work together for a cohesive product. Prostitution for example, can only be toggled on if you have the exact alcohol required and a customer directly asks you for sex and the girl knows the sex-skill related to the task. Other games let you have sex, this game wants you to renew your mortgage first.
The game has trade routes, lust levels, business reputation, slut reputation, tracking love for other characters, and so much more. There's a million ideas, but none of them were implemented smoothly for an enjoyable experience.
GRAPHICS
The art is an amateur's idea of the Japanese anime style. Face shapes and bodies are changed from scene to scene. The character artwork suffers from total inconsistency between scenes.
There are 50 base CGs with 10 silhouette images. Silhouettes are used when girls have sex in the backroom of the bar. While this is erotic at first, the curtain is never removed, making these silhouettes a lazy artist's shortcut.
Character poses are completely unnatural. Girls often have a blank-faced stare like they're dolls. Expressions often do not match dialogue. Sometimes arms are short, other times they're absurdly long. Sometimes nipples are pink, other times they're brown. The censorship is completely overboard, with penises appearing as giant blobs of pixels that look completely laughable.
The interface in this game is autistic. Rather than calculating things like, 105 beers for $5 each makes a total of $525, the game makes you do the math yourself! The game lacks polish on so many fronts. Most prominently, it's impossible to zoom out on the world map. If you want to find things, you need to manually drag the mouse until the map highlights what you want. This is the most irritating interface ever.
VOICE ACTING AND SOUND EFFECTS (SFX)
Welcome to the Sexy Bar has no voice acting.
The sound effects in this game are limited and rare. The game is super quiet overall. There are practically no sound effects whatsoever, with even sex scenes being eerily quiet. It's mind-numbingly boring at times. Outside of a click sound to confirm your choices,, or an owl hoot telling you of time progressing, the music carries the game.
MUSIC
The music in this game is isolated to zones rather than events. There are a handful of tracks, and they never swap during important moments. For example, there is no specialized track for sex scenes.
The bar music is a guitar and some drums, with some atmospheric chatter from customers. The general outdoors music features a flute and some harp strumming in the background. None of the tracks are very memorable.
HENTAI
The game has 50 base CGs with multiple variations and silhouette images. Scenes tend to escalate over time, with girls only taking dildos at first before eventually trying actual cock. Some silhouette images feature basic animations. Clearing the game unlocks all images in the scene gallery on the main menu.
The pregnancy mechanic of this game is underused. The girls can get pregnant from random strangers at the bar after only one or two times of prostituting themselves. I wish there was a way to delay the pregnancy so it doesn't happen right at the beginning of the game.
In spite of its many flaws, the sex scenes are awesome. One girl thinks a dildo is under her, and drops her hips right onto a stranger's cock. Another girl is getting fucked in the bathroom stall while you're standing outside. The huge variety of wild scenarios makes for a unique cuckolding experience.
The sex stats in this game were great, but were weighed down by the relationship system. I don't care how much she likes is this or that guy, I want the numbers! How many creampies, how many blowjobs, how corrupted has my waifu become?
Sex positions range from the 69 to standing sex. Erotic dialogue is always very bare bones and poorly written. It's hard to believe these seemingly normal girls would consent to hardcore creampies after less than an hour of trying sex. The lack of buildup is a real burden on the whole experience.
CONCLUDING WORDS
Welcome To the Sexy Bar is another hentai simulation title with ideas too big for one developer to handle. He stretched himself too thin, leading to a weak story and gameplay, but some really great sex scenes.
Download Welcome to the Sexy Bar. And if you want to see bar management done right, check out our review of Ane Kasegi.
Graphics

Gameplay

Story

Music

SFX

Hentai