Written by Rastafoo69, edited by Otaku Apologist
Kung Fu Grand King, a hentai game developed by circle Aburasobabiyori. Released June 2, 2019. Download on DLSite for $12.00. For PC Windows. No voice acting. Censored genitals.
Lanmei is an experienced female fighter participating in the local arena tournament. Fight hard and crush the competition! If you lose, the other fighter can fuck Lanmei in front of thousands of people!
Order your adult artwork at hentaicommissions.com.
STORY
Lanmei fought in a war with Master Jie. After the war ended, Lanmei started her own dojo and began caring for Master Jie's daughter. Life was peaceful until Master Jie returned with news about an arena tournament in the neighboring town!
The game is very straight-forward. Although sexual encounters and exhibitionism are possible, they have no effect on the ending. Only the final battle determines the ending.
The limited cast of characters make for a generally bland story. Lanmei is the socially awkward hero, Master Jie is the confident MILF, and Reelin is the inexperienced apprentice. None of the personalities of these girls have any depth.
A lot of world-building in this game is incomplete. What was the war about? Why had no-one heard of the arena before? Is Reelin's father actually a panda bear?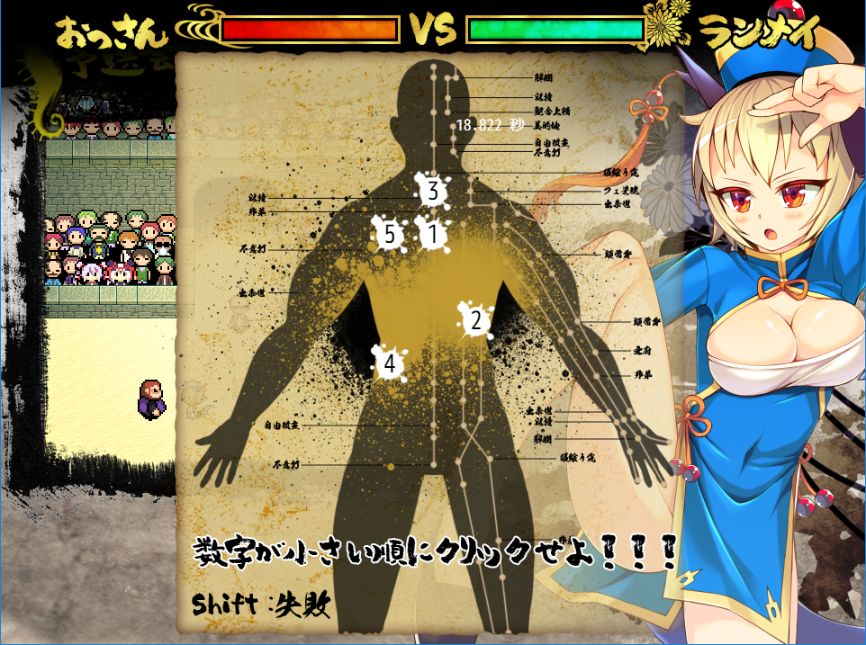 GAMEPLAY
Kung Fu Grand King was created with RPG Maker MV, but features a unique user interface that improves the experience. Use the arrow keys or mouse clicks to move. Right click to hide the text. Hold Shift to skip text.
Outside of talking to NPCs, the main gameplay experience is arena combat. Click on the five white dots on screen to punch the enemy in those locations. If you don't click fast enough, the enemy will strike first and you'll lose health.
The entire game is a very linear experience. You aren't even allowed to leave town. The two endings are decided based on whether you win or lose the final battle. There are no items, level-ups, or other RPG basics.
Although the artwork and story build-up insinuate that this will be a big RPG adventure, it's just a simple fighting game. And without sex stats or corruption levels, erotic scenes are found by either losing in battle or speaking to perverted NPCs.
GRAPHICS
The artwork is in the Japanese anime style. There are 37 scenes in total, but only around 15 base CGs. Artworks are reused frequently with minor variations.
Normally RPG Maker MV is despised for its ugly sprites, but this developer used the engine with those flaws in mind. Sprites are limited to a box in the top-left corner of the screen. During dialogue the sprites are usually replaced by cut-in images for breasts, pussy, and other sexy close-ups. To the right of the image box is the standing art, which always shows facial expressions and clothing.
This game has no fullscreen CGs. When a large artwork is shown, it's placed into a rectangular display above the dialogue box. This is an odd choice, and it's made worse by the lack of an image gallery. Scenes can be reviewed in the player bedroom, but it's impossible to admire the images alone.
In spite of the odd presentation style, the artworks are gorgeous. Lanmei has perfectly thick thighs rounding into a lovely ass. Her tits are bouncy and firm, which is a great contrast from the heavy mommy boobs of Master Jie.
The use of multiple characters really limits the scenes available to Lanmei. Most scenes are repetitive gangbangs, and I would have loved to see more of the missionary position and doggystyle. Floating dicks without bodies are lame. And there's only one standard blowjob in the entire game! Too many gangbangs! Not to mention Lanmei has a weird purple tail that doesn't fit her body at all. While the artworks are gorgeous, they're not perfect.
VOICE ACTING AND SOUND EFFECTS (SFX)
Kung Fu Grand King has no voice acting.
Sound effects are taken directly from the stock RPG Maker library. From the basic punching sound to the door creak, this developer put the bare-bones effort into sound design. For a game all about fighting with fast punches and kicks, I was expecting to hear at least one unique sound in a sea of generic bullshit!
MUSIC
There are 18 tracks in total. The music has an oriental vibe with clackers and percussion instruments creating a rural feeling. Digitally synthesized beats and clapping sounds keep the beat. The songs make you feel like you're in medieval Asia. Think of Kung Fu Panda.
The music is actually stupidly good. Problem is, it changes too often to let you enjoy the beat. The world is small and it discourages adventuring. These tracks would work a million times better if the player had a reason to explore, so there'd be song changeovers upon entering new areas, not just grinding the arena.
HENTAI
The game has 37 scenes in total, many of which feature repeated artworks. The vast majority of scenes are generic gangbangs.
Most scenes fall into two categories. The first type of scene is when you're defeated or bullied by an opponent. Whether he rips your clothing or fucks you in front of a crowd, the opponent completely dominates your character and fills her pussy with cum.
The second type of scene involves civilians outside the tournament. Lanmei will masturbate in public, let a homeless guy munch her tits, she keeps finding herself in all sorts of crazy wild situations! Outside of Lanmei's sexual escapades, Ranmei and Master Jie also have a handful of sexy pussy pumping scenes.
The writing in this game is an uphill battle. Each character is great at martial arts, but they never fight back when a man tries to fuck them. I guess all that physical exercise makes them super horny for dick.
Erotic dialogue is usually the tired old formulaic hentai dialog, like "wait, stop don't!", followed by the girl having an orgasm. This would be fine if the developer also did something different or unique to mix things up. As it stands now, the game is a very simplistic vanilla hentai gaming experience.
CONCLUDING WORDS
Kung Fu Grand King is a fun little hentai game. Your martial artist chicks keep losing in battle like idiots, getting their holes ransacked by their opponents time after time. The story is basic and the sound effects are lame, but these flaws are offset by fantastic music and super erotic visuals. With easy to access fuck scenes, this game is worth a fapthrough.
Download Kung Fu Grand King. If you like this developer and want more from him, check out our review of Tiny King Amelia.
Graphics

Gameplay

Story

Music

SFX

Hentai