Written by Mistress Valentine, edited by Otaku Apologist
Phazon Experiment A, 3D porn animation made by LordAardVark. Released Jan 13, 2017. Runtime 3 minutes. Full English voice acting. Uncensored genitals.
Order your adult artwork at hentaicommissions.com.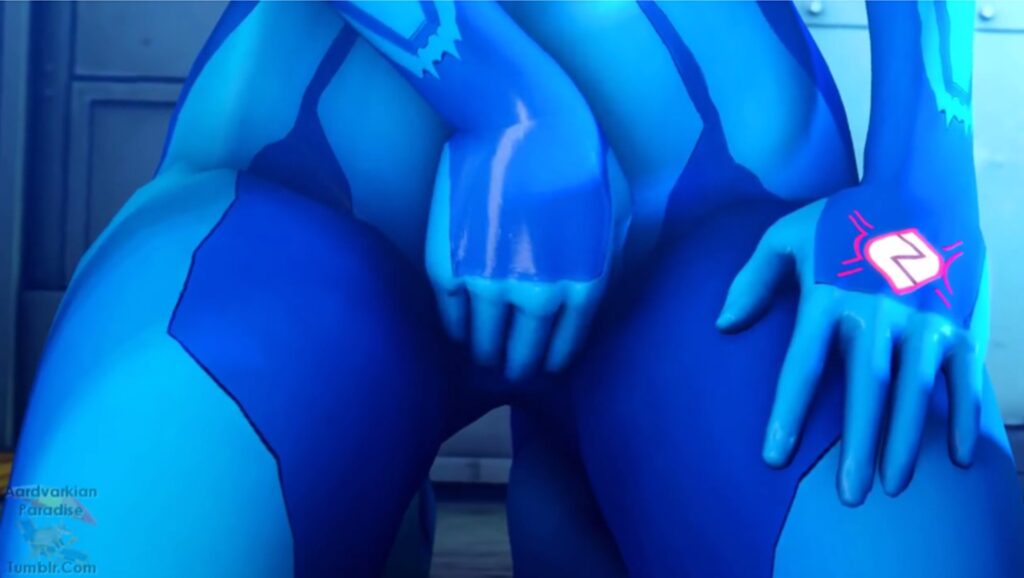 STORY
Samus Aran sucks the cock of a newly created humanoid experiment. She is testing how long it can hold out before the Phazon energy powering the humanoid runs out. At first, she questions why she has to suck dick, but when she learns that the crew on her ship voted as sexiest girl onboard, she's suddenly totally cool with it! So it comes to pass that Samus becomes a consenting human onahole.
After twenty minutes of constant thrusting of his cock in and out of Aran's mouth, the motherfucker blasts its load down Samus' throat. But, oh no! The scientist suddenly remembers he forgot to install a scale in Aran's mouth that would've measured the semen output. Samus eagerly suggests they run the experiment again!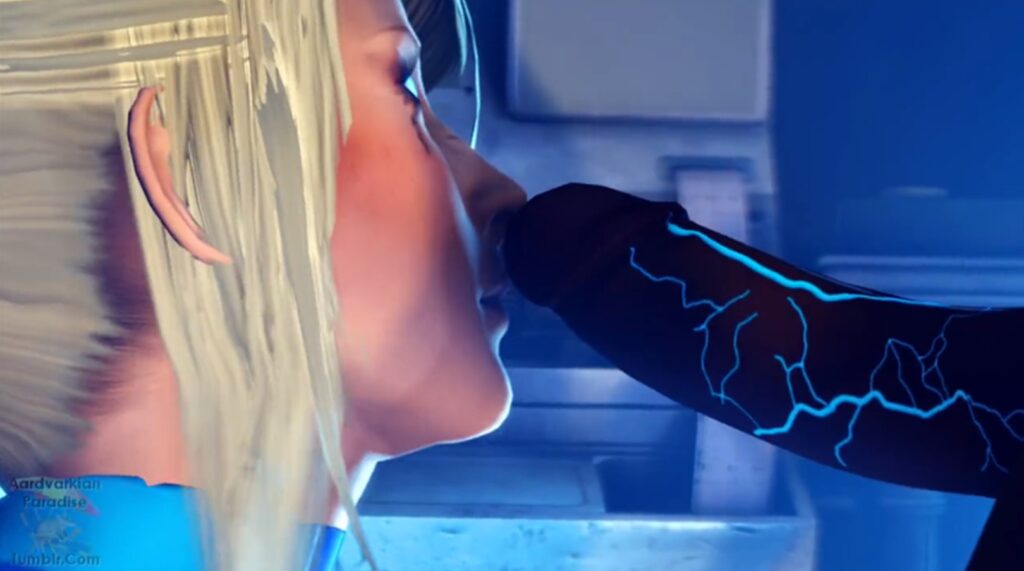 ANIMATION
The animation is great with excellent frame rate and decent rendering. If you watch the episode in HD, you risk pixelation.
Bodies are animated to have fluid movements. The camera lingers a lot, but also tries to capture Samus' sexcapade from as many unique angles as possible. There are a lot of close-up shots and even one x-ray shot which shows just how deep inside Aran's mouth the dick is.
Samus' model looks brilliant with minor glitches. Her hair passes through her ears, for example. Her mouth expands in-between shots to highlight how huge her partner's penis is. Her mascara gets runny midway to the act, which is just downright sexy.
The color scheme puts emphasis on shades of blue. The lab is brightly lit, shadows are realistically rendered. The Phazon Sex Toy's deep brown chocolaty dick is coated with glowing blue veins. Looks cool!
VOICE ACTING AND SOUND EFFECTS (SFX)
The voice acting is excellent with InsideIncognito putting on a believable performance as a reluctant Samus. She is annoyed over her mouth-pussy being used to test a sextoy, but grows to enjoy the thrill of it. Her blowjob noises are hot, with deep, visceral grunts making it sound like the Phazon Sex Toy's dick is really reaching all the way down her throat. The voice actor who plays the male scientist is equally entertaining to listen to.
The sex noises are limited. Some of the most featured sounds include Aran's blowjob grunts. You can also hear a lot of sexy, slimy, squelching noises as the fat cock thrusts in and out of her mouth constantly. The episode also features some subtle noises that are deafened by the sex sounds. These include computers printing and running data in the background.
MUSIC
The episode contains no music.
HENTAI
The episode is one long blowjob sequence with lots of back and forth between Samus and the scientist. After every exchange, the Phazon Sex Toy takes Aran's head and forces her to take his cock. Her gagging is both fun and sexy to watch. Her mouth expands and contracts depending on how much cock she takes while her mascara runs under the sheer weight of so much man meat inside her mouth.
CONCLUDING WORDS
Phazon Experiment A is fun little 3D animated short. The sex is limited to a single blowjob – one hell of a blowjob! The excellent voice acting and some comedic delivery make it a fun watch. It's the perfect clip for fans of Nintendo's iconic bounty hunter, looking to rub one out in a hurry. Consider supporting the creator, so we get more of this stuff to enjoy.
[pornhub url="https://www.pornhub.com/view_video.php?viewkey=ph5d96f3b45f4c4″]
Story

Hentai

Music

Animation

SFX