Animated Hentai Visual Novel Game Review: SF
Hentai Reviews

>

Featured

>

Animated Hentai Visual Novel Game Review: SF
Written by Mistress Valentine, edited by Otaku Apologist
SF, a visual novel game developed by T Japan and published by Denpasoft. Released May 12, 2020. Download on Nutaku.net for $14.99. For PC Windows. Partial Japanese voice acting. Censored genitals.
Youta is home alone after finding out that his best friend has betrayed their pack. You guys were planning to stay virgins until your 30s, but Youta went and hooked up with a cute girl. Youta has nothing to do now except watch porn on his computer until his childhood friend Rio shows up to offer her body to him!
STORY
You are Youta, a reclusive virgin on summer break from college. Your childhood friend Rio shows up to keep you company and you two start talking. Rio teases you about your virgin life style while you drill her about not spending time with her boyfriend. Rio says that she doesn't have a boyfriend which you find absurd considering she has a cute face, large breasts and radiates sexuality.
Rio then tells you to jerk off to her in front of her and says that she wouldn't mind having sex for the first time if it's with you. You jump at the chance to bang your childhood friend in every position that matters before deciding to become a couple so you can fuck each other's brains out every day until death do you part.
The game is incredibly short and can be completed in less than an hour. The story features a narrative that spans one large intimate scene between two people who like each other but are not brave enough to say it out loud. Rio is a very likable character with a flirty personality while Youta is an average, bland hentai protagonist who doesn't deserve the pussy he gets.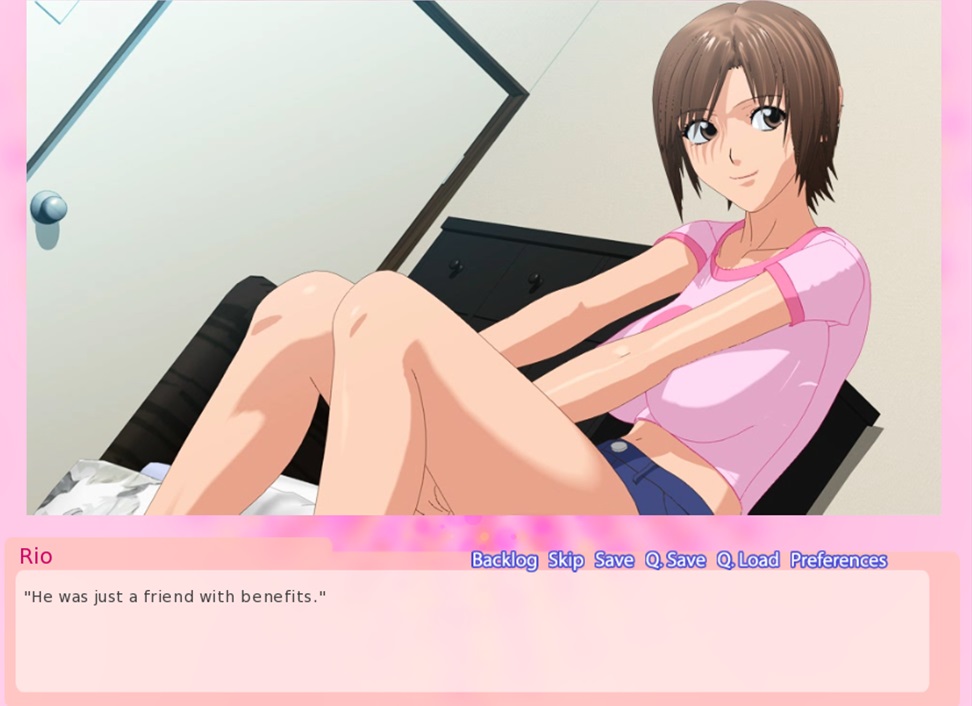 SOUND EFFECTS AND VOICE ACTING (SFX)
The actress of Rio gives a wonderful performance with impressive delivery and fantastic vocal range. She can be timid and shy one moment and playfully lewd on the next. The actress is just as strong when her character spreads her legs. Her moans are soft and her grunts are sexy. She sounds like the girl next door you wish you could fuck all day long.
SF doesn't feature many sound effects. Several noises you hear throughout the story include trains, cock sucking and pussy squelching. There are also several more abstract noises.
MUSIC
SF has excellent music. There are several tracks that fit the current mood exactly. The game takes turns featuring either original or synthetic instruments. Both musical styles compliment the action taking place on-screen. Most songs are slow-paced with an intimate melody designed to ease the player into a titillating mood.
Some of the most commonly used instruments include traditional hand-on-drum bashing, normal drum playing, soft piano playing, string plucking and several different guitars. The score is unique and memorable and does a fantastic job at demonstrating the intimacy of the characters' deepening relationship.
GAMEPLAY
SF is a visual novel game. Clicking the screen turns the page and advances the story. SF has basic VN functionality. There is a 'skip' button to speed through text but no 'auto' button. There are only six save slots available but they're enough.
The game presents you with choices every so often. Choices influence which ending you will get. There are two endings available. In the bad ending you turn out to be an inconsiderate asshole and only get pussy once. In the good ending you and Rio live happily ever after and you get pussy every day. In this unrealistic game, good guys don't even finish last.
GRAPHICS
SF features animated h-scenes. You feel like you're watching an anime. The game uses cell-shading to bring the characters to life. Rio and Youta have realistic bodily proportions, and Rio has a super cute fuckdoll design.
Even small details are animated, such as the bed sinking when Rio sits on it. The minor hair movements when she turns her head slightly are delicious as well. Rio's breasts sway hypnotically as Youta pounds her. There are no jagged movements or clipping of hair during sex. The bulk of the game is a series of animations cleverly paced after certain dialogue. The game has film-like sex scenes shown from a wide variety of enticing camera angles.
HENTAI
After Rio and Youta agree to fool around once, the rest of the game shows them having sex in every conceivable position. The play by play commentary is excellent with sexy dialogue, self-reflection and inner monologues that tell us what the characters are thinking while rubbing their genitals together. The descriptions during the action are wonderfully lewd.
Throughout Rio and Youta's sexual adventure she gets to watch him masturbate to her, she gives him a blowjob and offers both her holes to be filled. Watching Rio and Youta explore each other's bodies is very entertaining.
The game's 'limited animation' style of storytelling makes it feel like you're watching a hentai anime instead of playing a hentai game. Each position is styled as its own scene with animation looping after the dialogue has stopped. The player gets to choose if they want to move on to the next scene or stay and fap.
CONCLUDING WORDS
SF is a unique adult game that sacrifices a larger story to tell a pornographic story with unique animated visuals. The sex scenes are intimate and steamy. The many camera angles make things feel unique. I grant this experience my personal stamp of recommendation! If you download the game, please have a wonderful time fapping, ladies and gentlemen. Download SF now!

Graphics

Gameplay

Story

Music

SFX

Hentai