Hentai Game Review: My Yandere Sister Loves Me Too Much
Hentai Reviews

>

Reviews

>

Hentai Game Review: My Yandere Sister Loves Me Too Much
Written by Mistress Valentine, edited by Otaku Apologist
My Yandere Sister Loves Me Too Much, (also called Yandere na Onee-chan ni Aishitsukusareru Kankin Seikatsu), a kinetic novel developed by Norn / Miel. Released October 16, 2020. Download on Steam for $9.99. For PC Windows. Full voice acting. Censored genitals.
Yuu doesn't know that Airi has a severe brother complex. He believes letting his sister feed him lunch or holding hands is all part of a normal brother/sister relationship. That's until Airi tells him to take his dick out and stick it inside her.
STORY
Your sister Airi is obsessed with you. She uses her boobs to wash your back and holds your hand while you walk around town. She would be the perfect sister if she didn't get so jealous every time another girl talked to you. One night you find Airi in her room in a scantily clad outfit. She makes her feelings clear to you and grabs your dick before sucking out all the semen!
Life becomes one big depraved hentai adventure as you navigate around this awkward situation of having a relationship with Airi while keeping her from murdering your cute co-workers. Airi makes this as difficult as possible by smothering you with her boobs and chaining you up like a dog in the house.
I really enjoyed the writing in this game. It starts out like a cute rom-com of forbidden love but casually turns into a depraved nightmare as you play. The writing is good and Airi is a great yandere character. The game throws you a couple of nice plot developments while also lightly exploring the concept of brother-sister relationships.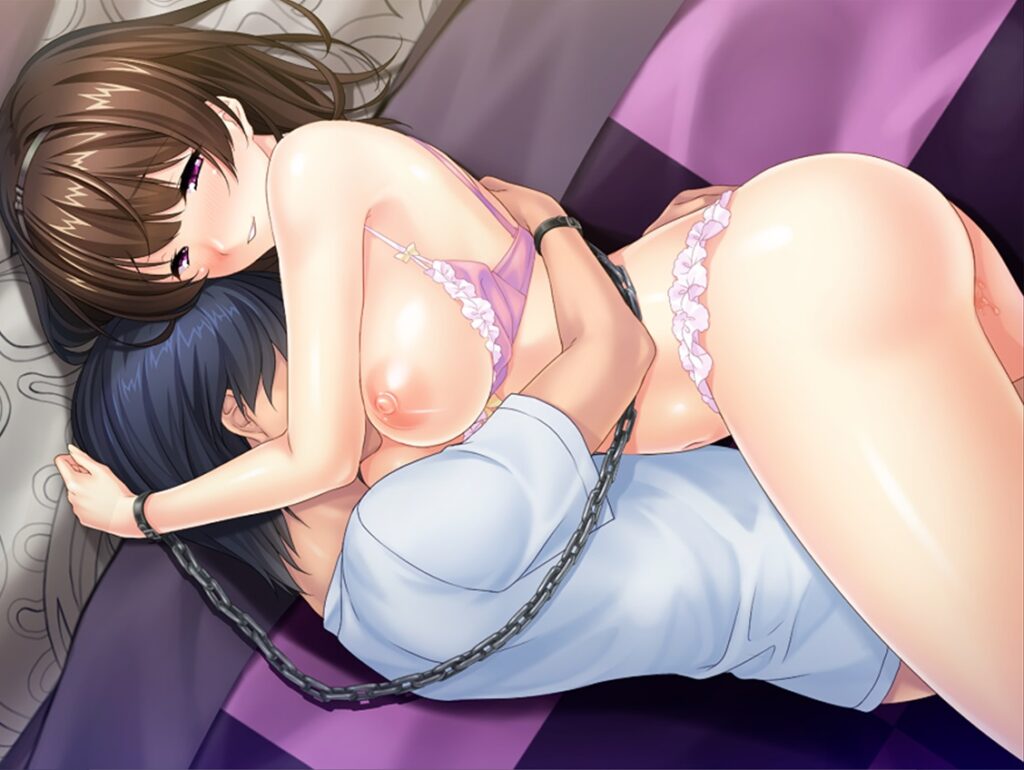 SOUND EFFECTS AND VOICE ACTING (SFX)
Airi is fully voiced and the actress who plays her is spectacular in the role. She shows terrific range. She goes from your cute and fun-loving sister to a jealous bitch in a snap. Her delivery is on point and her moans during sex are deliciously slutty. Her play-by-play commentary makes me wish I was listening to these lines in English.
My Yandere Sister Loves Me Too Much contains limited noises. Some of these sounds include doors sliding open and bells tolling. Sex sounds include several generic dick sucking noises and the standard pussy squelching sounds.
MUSIC
Certain music in this game feels lifted from other Norn / Miel games. The musical score sounds great, with songs often rocking a jazzy vibe with saxophone playing and casual drumming. Some songs keep to the jazz theme but use piano and string plucking, which put you in a relaxed mood that makes you want to hear more.
The game combines original and synthetic instruments to create several catchy melodies. Whenever Airi does something creepy or crazy, the music changes. A creepy twinkle will play in the foreground. Some songs feature church-like organ music.
GAMEPLAY
My Yandere Sister Loves Me Too Much is a kinetic novel game. You "turn the page" by clicking on the screen.  The game features basic VN functionality with enough save slots and normal 'auto' and 'skip' options. There are no branching story routes or choices to be made.
The menu tab allows you to change Yuu's name for extra immersion. View unlocked CGs in the Gallery tab or replay your favourite scene. You can also select an entire chapter to replay. You can reset all your achievements and restart the game from scratch from the same screen.
GRAPHICS
My Yandere Sister Loves Me Too Much is brimming with high-quality artwork. Background art contains rich enough detail and vibrant colours. The artist shows off their expertise with exquisite lighting and shading.
The game world feels big with multiple different locations such as bathrooms, bedrooms, living rooms, kitchen for Yuu and Airi's home life. You also get to see them at work in a snazzy office space location, at the work cafeteria. There are one or two outdoor settings like the karaoke bar and the park.
Airi's sprite design is cute with an inviting face. Her body is plump and rocks nice, firm tits. Poses are limited but Airi has several different expressions to show her change in mood. Her sprite will develop shadows around the eyes whenever she's jealous. She wears different outfits, most notably a naked-apron, a business suit, casual wear and of course she spends a good number of scenes completely naked.
Artwork in the game evolves as the scene progresses. You see Airi's hand move from her face to her pussy. You see cum dribbling down her mouth after you shoot your load down her throat. The art has variants that showcase changing cock placement, plus cum and blood during virginal intercourse.
HENTAI
My Yandere Sister Loves Me Too Much features twelve steamy scenes between Yuu and Airi which tick off multiple positions and fantasies. After finding Airi in just her dirty underwear in her room, she gives you a delicious blowjob in an attempt to hammer it into that numbskull anime brain of yours that she likes you. One CG shows cum leaking down the side of Airi's mouth and it looks fucking sexy as hell.
After sticking your dick inside her and taking her virginity, you engage in naughtiness at work with Airi giving you a nice big titty fuck underneath the table in the work cafeteria. Then fuck her at home when you come across her masturbating in her Yuu-themed room while sniffing your used underwear. The two of you meet up in the park where you fuck her up against a tree while trying to hide it from your co-workers. Airi also apologizes for chaining you up by letting you bang her pussy. The camera work is stellar with Airi's body only shown in the lewdest positions.
The game eventually progresses from a standard forbidden love story into a disturbing and depraved sexual experience with Airi's growing insistence of having you to herself.
CONCLUDING WORDS
My Yandere Sister Loves Me Too Much is a great adult game if you are into the fantasy of making love to your onee-chan. The story is decent, even if not very deep, and the anime artwork is fantastic. Airi is likable and her pussy completely fuckable. It's a simple story that devolves into a series of sex scenes very quickly. This title receives my personal stamp of approval, fellow perverts.
Highly recommended for siscons. Download My Yandere Sister Loves Me Too Much.
Graphics

Gameplay

Story

Music

SFX

Hentai