Hentai Image Dump Website Review: Truyen-hentai.com
Hentai Reviews

>

Reviews

>

Hentai Image Dump Website Review: Truyen-hentai.com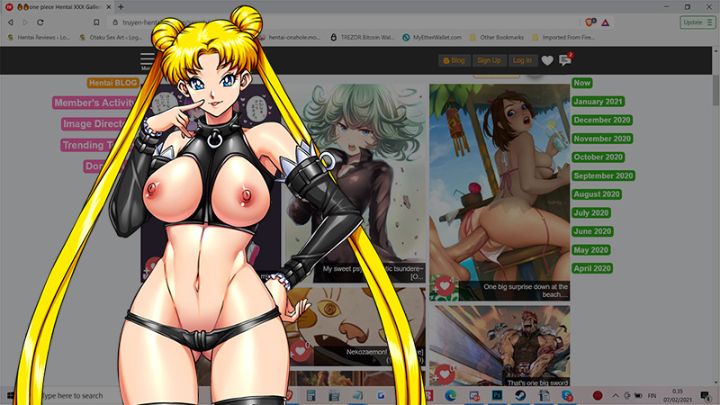 Written by Otaku Apologist
The hentai hustle is a perverse game of perverse incentives for perverse hustlers and their legions of wankers. There are countless thousands of free image sites on the web where the beautiful artworks of sexually articulate artists are dumped for countless millions anime fappers to be watched and enjoyed. One of these websites is called Truyen-hentai.com.
The site has a simple layout and basic navigation that make it easy enough to find the kind of porn you're into. You can browse categories and download the pictures just fine, or just express your enthusiasm about the art by pressing "like" or "dislike". Whether the website admin uses this feedback to further curate his content remains an open question.
Beyond the basics, the site offers little that would make it the go-to-site for anime wankers for their special needs. You can click a category or search tag, browse images by clicking the arrows on the left or right until the dirty deed is done. I suppose if you have a mad boner for the subtle color scheme, this might become the one site you always visit when the cravings emerge. The content is mostly singular images and GIFs. When searching for manga, I found standalone pages instead of full mangas. A truly frustrating experience.
The images are too small. The browsing isn't that convenient when all the functions for it are located on far ends of the screen. And for right-handed fappers, how do you click to the next pic without stopping your wanking? People should be able to click the image to see the next one. They should be able to set the images to be slide onwards automatically, hands off, like in visual novels. Better yet, let your visitors set the time interval for the changing of the images.
Oddities I did not understand at all included things like the search engine saying the words "sexy bareback boys". What the actual fuck? The site also has a blog, which seems to exist more for search engine optimization purposes, rather than creating any actual value to the customers. I would recommend posting product reviews in this blog and cutting the popup advertising.
The site has a lot of ads. Upon first visit, you'll click through quite a few popups before things settle down. Upon my review period, I got ads for hookup sites, porn sites, and cam sites, which quite suddenly decided to open new tabs in my browser. While these services may be just fine, I don't support these kinds of advertising practices, even if they are effective at making some money.
This service is very basic. That's all I can really say.
You can do away with the ads by creating an account on the site. For the price of sharing some personal information, your email address, the ads disappear. I don't know about you, but seeing how large corporations routinely peddle in the sales of their users' personal information, I would be weary of giving mine to a pirate porn site.
The issue with popups and most porn advertisements in general is the intrusiveness and degradation of the user experience. It's an ineffective practice that scrapes the bottom of the barrel for a buck compared to running a shop, reviewing products, or selling side services which make the actual buck. While these kinds of pirate sites always have the traffic, none of them can say they make $1000 on a singular sale to a customer, like we do with our art commissions business.
Truyen-hentai.com has many paths to improve its services. The site can focus on making the browsing of images better, with better overviews of available content – right now you can barely see a fraction of what's available when viewing a page. More advanced search functions combined with meticulous categorization to help people find the exact imagery they're itching to view. The site could include videos as well, why the fuck not? The bulk downloading of images could also be included. And when it comes to monetization, there are plenty of options these days, although they do require making a bit of a connection with the audience through the art of writing, not just running a passive hustle.
Sites like this can get pretty big with relatively low effort, but they are limited in potential, because how do you build trust with industry stakeholders when the entire base of your business is regurgitating the content of others? Your costs are low, yes, but do you produce anything that anybody would want to pay for? You have traffic, but you have no connection with your audience, no trust or respect of the industry's largest companies, nothing that could be translated into support of ambitious crowdfunding projects or new business ventures!
Piracy will always have its place in porn, it's the natural order of this industry. But if you're serious about making a dent, a legitimate dent, you build something of your own, your own content, a clean brand. Because while piracy is easy and the money comes easy, think about this: The artists whose content you share around gain fame and business from the exposure to your traffic. Where you make a buck, they make a career. When you use others, you get used. Bottom-feeding cuts both ways. The hentai hustle is Game of Thrones on steroids.