Written by Rastafoo69, edited by Otaku Apologist
Exiled Summoner Princess Pristella, a hentai RPG developed by Odontotyranus. Released July 18, 2015. Download on DLSite for $13.00. For Windows PC. No voice acting. Censored genitals. Download the English fan translation patch.
Pristella was accused of murdering her sisters in the royal family! To avoid a lengthy trial and court case, she is exiled away to another island! Will Pristella find her way back? And how will she change on the long journey home?
Read our guide how to download DLSite games. Also consult our article how to apply translation patches. If the patch is deleted, try this online tool to run a translation.
STORY
Pristella has a sister named Anemone, who is lusting for power. Anemone kills their entire family and pins it on Pristella, exiling her to a faraway island. Will the innocent summoner princess ever find her way home?
This game has multiple endings depending on how evil Pristella becomes. In the best ending, she lets go of her quest for revenge and lives to help others. In the worst ending, she gets black skin and becomes a massive whore. Your ending is determined by the choices you make in the story, so good luck!
Pristella has a naturally selfish personality, but it's up to you to determine whether that's a tsundere facade or her true self. At the start of the game Pristella is hard to like because of mean actions like refusing to help Ahri. However, by the end of the game you can shape her into an admirable and heroic figure. Alternatively, you can make her act even more selfishly and evil.
Most characters in-game have tons of dialogue and personality when introduced, only to fade into the background afterwards. Like Anemone, having no role except in revenge-based endings.
I noticed the later portions of the game lacked polish. For example you'd go to sleep, but wake up without full health. Or how Chary gets no lines once you decide an ending in spite of being your first traveling companion. In fact you have so many traveling companions, it's only natural that most of them get ignored. I honestly forgot Mohr and Wisteria were traveling with me since they never talked. And Philia has maybe four lines in the entire game!
Overall the game is good and enjoyable, but far from a classic. It's also a very linear experience. Five base islands, then Fate Island, and the ending island of your choosing. That's all folks. If the developer made it more open-world or reduced the amount of characters, the writing would have benefited tremendously.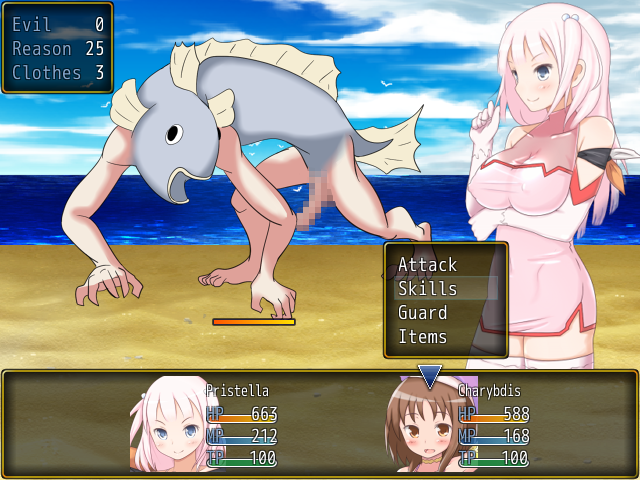 GAMEPLAY
Summoner Princess Pristella was created in RPG Maker VX Ace. Press CTRL to skip dialogue. Press Shift to hide text boxes. Press Q or W to hide standing art.
A key feature missing from this game is a text backlog or rewind function. Often times, key hints on how to progress are given in a single line of dialogue. If you miss it, you'll be clueless. For example, the swimsuit is accessed by acquiring the magical girl outfit and partially undressing. Without this knowledge, the hot springs scene is inaccessible. A backlog would save a lot of people from confusion.
The key feature that sets this game apart is the "Demon Trade Skill". Using it will recover and buff your character at the cost of some clothing. If you use it too often, and use it while nude, it will decay your reasoning stat. Low reasoning unlocks sex scenes but locks certain quests. Thankfully, you can raise your reasoning with expensive items in town. Basically, don't overuse the demon trade skill or you'll be steered towards the slut path. The problem is, I never felt the need to use it. I beat the game in 4.5 hours at level 58, and I never died.
You have three stats. The "evil" stat determines your ending based on story choices. The reasoning stat determines possible quests and h-scenes. The clothing stat determines how NPCs treat you and how the demon trade skill affects you. Walk around topless for some super erotic scenes!
Other features include treasure hunting, bonds, and unlocking new summons, but it's all so linear you'll stumble into success without trying. The game peaks at the third island when you have 6 possible quests to do in whichever order you want. After that, it returns to being a very linear experience.
GRAPHICS
There are 84 unique enemy sprites, 33 base CGs, and 8 unique outfits. The battle sprites carried over into Young Wife Souffle. If you've played that game, you may recognize Ahri as looking like a younger version of Souffle, but the games have no connection.
The 8 unique outfits are a double-edged sword. This allows for a wide variety of sex scenes and erotic poses as each outfit can be slowly undressed to look more and more sexy. However, this means there's only one or two standing artworks for each outfit, which isn't enough to match all conversations. You could hear about a murderer on the loose, but Pristella will have a dumb smile on her face.
If you can look past these flaws, this game is incredibly erotic. Chibi art is used for character moments, unique enemies make every battle a joy, and the creativity behind each sex scene is marvelous. Like some outercourse where Pristella grinds her pussy on a cock, or a delicate handjob where Pristella's hanging titties are perfectly placed upon her chest. This artist is a master of his craft.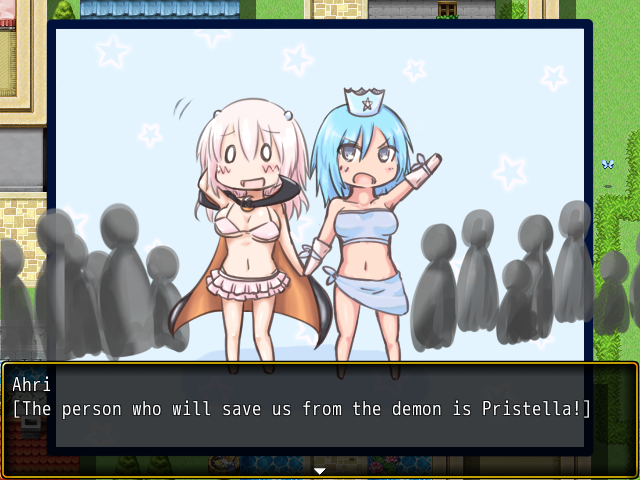 VOICE ACTING AND SOUND EFFECTS (SFX)
Summoner Princess Pristella has no voice acting.
The sound effects in this game are from the stock RPG Maker library but fit the game well. Due to the emphasis on summoning elemental fighters like earth and wind and fire, the sound design never gets boring. Especially because you need to customize your summons to the type of opponent you're facing. One day you'll summon baby dragon, the next you'll bring your mechanic onto the field. The sound design is just wonderful.
MUSIC
There are 42 songs in total. All tracks are stock assets that rarely match the tone of the story. For example, Pristella is deflowered in a prison cell, but the music is more like, you were caught stealing grapes at the supermarket. The mass produced digital synth tracks don't properly match the wide variety of scenarios Pristella finds herself in, and that's a major issue. Any tension of emotion this game might have had is sabotaged by its lackluster soundtrack.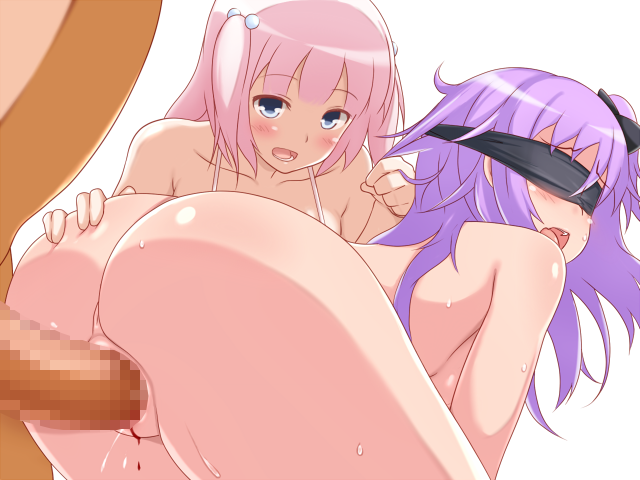 HENTAI
There are 33 base CGs to match the 34 scenes available. This game features multiple mandatory futanari scenes and unwanted deflowering scenes. Even your beloved and innocent traveling companion Chary gets deflowered against her will. These scenes have niche appeal, yet are forced onto the player. Meanwhile, scenes with broad appeal like blindfolding are only available on an evil playthrough.
The biggest motivator for sex in this game are Shinjin balls. Using the magic power in semen, these orbs power your ship, so you can travel from island to island. At first you'll give handjobs and titfucks to gather semen, but pretty soon you'll be on your back taking a pounding! Alternatively, you can find plenty of them by exploring.
There is no pregnancy talk in spite of constant creampies. There is no virgin playthrough either, and you'll have to perform at least a few sex acts for Shinjin balls. All sex is between humans or beast-people, there is no sex with monsters.
The scene variation is crazy. You can force a girl to be deflowered while blindfolded, or allow your tiny fairy companion to be fucked for your size-difference fetish. Even mandatory scenes like the pig-man fucking the beast-girl were incredibly hot for how taboo they were.
This game is enjoyed best when you just don't think about it. Yes you're level 99 and got one-shot purely as a setup for a sex scene, but who cares! The sex is hot! Don't worry about how farfetched things can be.
CONCLUDING WORDS
Exiled Summoner Princess Pristella is a gorgeous adult RPG title with multiple endings and tons of erotic scenes. The music is basic, but the wide variety of possible scenarios makes this a total hentai gaming classic.
Download Exiled Summoner Princess Pristella. If you liked this game and want more from the developer, check out Young Wife Souffle.
Graphics

Gameplay

Story

Music

SFX

Hentai