Written by Rastafoo69, edited by Otaku Apologist
Star Channel 34, a cartoon porn parody game developed by Akabur. Visit the developer's Patreon page. Released December 26, 2018. Last updated on June 18, 2021. Download for PC Windows, Mac OS, Linux, and Android. No voice acting. Uncensored genitals.
You run a spaceship with a teleporter connected to other worlds! You meet Aladdin, Harry Potter, and so much more! Pick up a waifu from every world and have fun corrupting them!
STORY
The protagonist of all previous Akabur games make an appearance in this feisty little porn title. He's the perverted genie from Aladdin! After his escapades in Princess Trainer and Witch Trainer, he woke up on this spaceship! His mission is to collect waifus, make money, and strengthen this spaceship for a mysterious future mission!
As a Patreon title, content is released incrementally in chapters. There are currently 11 chapters. Each chapter usually has 2 fullscreen CGs and 2 small animations. The rest of the chapter is pure dialogue. Sometimes it's funny, but other times it feels like Akabur is padding out the playtime.
There is no overarching plot. Rather, Genie slowly corrupts the girls into stripping and handjobs and eventually sex. For example, Ashelin from Jak and Daxter will fuck you in exchange for "Eco" for her to bring back home. Most of the girls have very little reason to stay and fuck you, but they do it anyway, because porn game logic. If you're expecting an immersive experience like Akabur's previous games, you are wise to lower your expectations. Akabur is writing this story as casually as humanly possible.
The primary reason to play this game is the novelty of taking these characters out of their typical setting. Lara Croft is bisexual for Ashelin Praxis! April O' Neil is showing off her tits on TV! Princess Jasmine is giving a blowjob where everyone can see! While the novelty is hot at first, no girl gets the full attention she deserves. Often times, full chapters pass without your favorite girl getting the spotlight.
This game is filled with jokes and references that only make sense if you have all the niche knowledge that Akabur has. Like Ashelin saying "I'm sorry Jak" when she finally fucks you. At the end of Jak 3, it's implied that Jak and Ashelin began a romantic relationship together. Even if you got that reference, there are a million more, and you'll probably be clueless sometimes, making the dialogue feel very random.
Altogether, Star Channel 34 stands in a strange place. It's almost like a compilation of sex scenes pretending to be a cohesive game. While previous Akabur titles focused on an end-goal like the Hogwarts Ball or Jafar's wedding, this game meanders on without any clear direction whatsoever.
GAMEPLAY
Star Channel 34 was created with the Renpy game engine. Press CTRL to skip dialogue. Scroll up to see previous dialogue. The game can be saved at the pause menu. Backtrack your choices by loading backup saves.
The focus of the game is on balancing star points and money. You gain money by assigning girls to jobs like stripping on camera. This money is spent on star points to unlock new scenes. Money is also spent on outfits and items, which are sometimes needed alongside star points to unlock new scenes.
The game is super linear. Any replay value comes from redoing scenes and making different choices like making a vibrator go softer or harder when April is doing the news. I never felt a need or desire to replay scenes for those minor differences.
Some moments of the game break up the monotony of farming star points. There are tiny minigames like a simple space battle. But altogether, the gameplay gets repetitive after the first hour. Players will likely stay for the sex or Akabur's sense of humor, because the gameplay itself is super basic.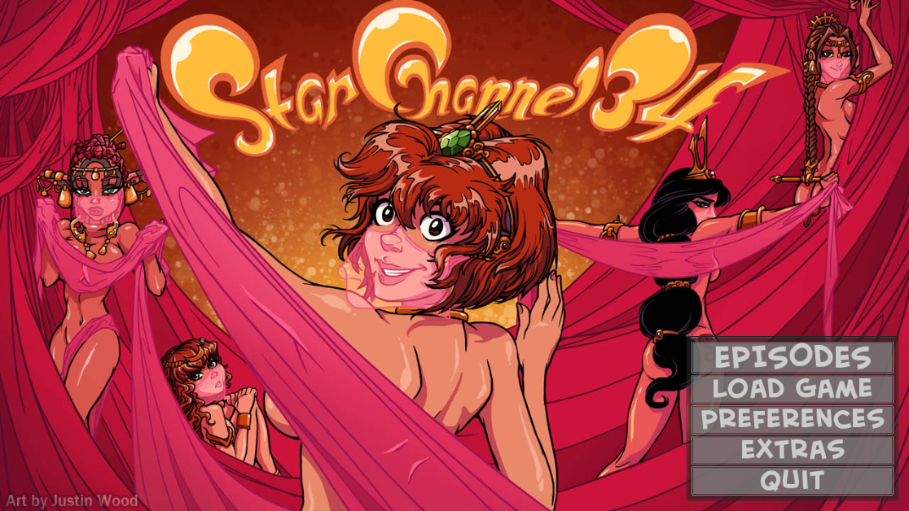 GRAPHICS
This game has spent around three years in development and Akabur admits in-game, it is a project of asset-recycling. Princess Jasmine is drawn in a different style than Hermione Granger, and Lara Croft mimics her appearance in Magic Shop. While the differences in art style are not game breaking, they are noticeable enough to be mentioned.
There are around 20 fullscreen CGs and 20 mini-animations. The animations play when you spend star points to make a girl act lewd in public like Hermione showing off her cleavage. In a short and sweet DLSite game, these numbers would be fine. But this game has spent 3 years in development, so I was honestly expecting a lot more. No amount of outfit variations and occasional new clothing can change the fact that this was supremely disappointing.
All artworks are drawn in Akabur's current style. This means the sprite animations are softer and smoother than before, while the fullscreen CGs have a great amount of detail. Akabur has always been great at illustrating realistic human forms while also retaining the cartoonish identity of the girls he is drawing. Some girls like Ashelin came from 3D games, so their 2D adaptations are entirely unique creations. This is likely why the art is more difficult than simply drawing original characters. Akabur has to remain faithful to the original designs while also adapting them to his more realistic style. Very few artists can do this well, but Akabur does so with ease.
In other words, the quantity of art is poor, but the quality is always incredible. Gravity is shown as cum drips off a face. A veil is drawn to perfectly mimic its transparent yet fabric-like texture. Hairstyles are kept consistent regardless of the angle of the camera. Hands are drawn almost photo-realistic. And small details like sweat-marks and the shine of a gold coin make each scene a work of art in its own right. In spite of my obligatory complaint about quantity, I still give this game high marks for the quality visuals.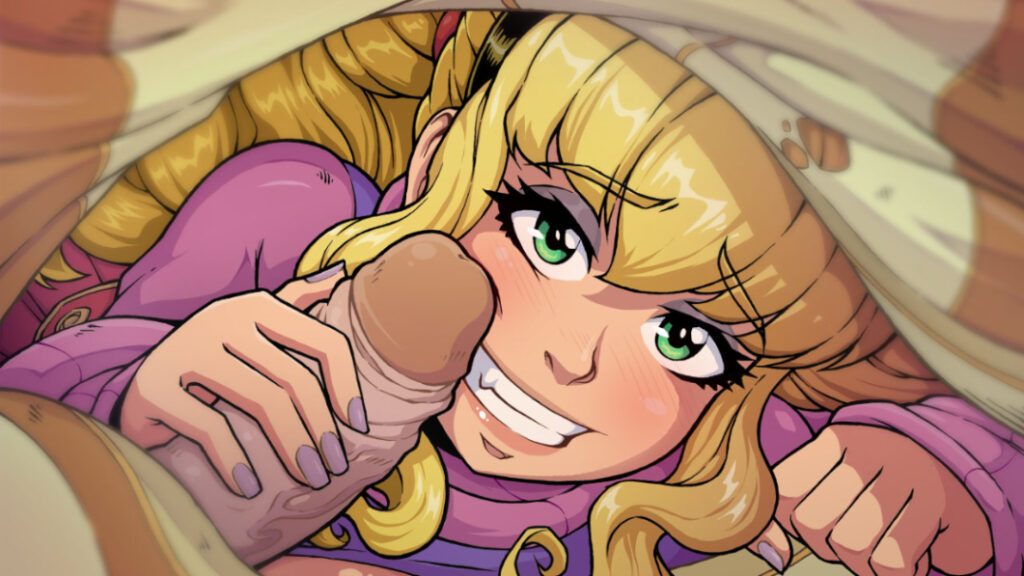 VOICE ACTING AND SOUND EFFECTS (SFX)
Star Channel 34 has no voice acting.
The sound design is fantastic as always, though it can get repetitive over time. The electronic buzz of a door opening is cool at first, but loses its charm over the hours. The whirring of a vibrator sounds hot, but also kind of painful when you hear how rapidly it's buzzing. And although the electronic chimes of making choices are nice, the fact that most of the game takes place on a spaceship does feel constricting over time.
MUSIC
The main music track of the game is "Skipping Through Time" by Radtionator. Most of the other tracks are the typical Kevin Macleod songs from Akabur's previous titles. Right now these repetitive tracks work because each Patreon update has you come back to familiar music. But if you're playing the game for the first time, ten hours of these free music tracks will make you go insane.
HENTAI
Star Channel 34 has around 20 unique scenes and is constantly adding more. Most are handjobs and blowjobs. April O' Neil has multiple milking scenes. And since all scenes are mandatory to progress, that can be a positive or a negative to some.
While previous Akabur titles allowed you to keep your girl to yourself or whore her out, this game does not. In order to progress, the girls must perform sex acts on other men. This creates a "free use slut" vibe to the experience. The trainer fetish that's typical to Akabur is gone.
You can pee on April, there's lesbian action between Lara Croft and Ashelin, and even a remote control vibrator used to simulate sex without real penetration. Interesting ideas that left me wanting good old in-and-out.
CONCLUDING WORDS
Star Channel 34 is basically a compilation of lewd scenarios with various cartoon babes. It's a very basic pornographic videogame, that sometimes feels padded to make up for the low effort development. If you have hard-on for a specific featured waifu, you'll have a good time whacking at this one, thanks to Akabur's incredible art. Available on all operating systems completely for free, anyone can join the community and wait to see which waifu is added next!
Download Star Channel 34 for PC Windows, Mac OS, Linux, and Android.
Graphics

Gameplay

Story

Music

SFX

Hentai