Dragon Ball Hentai Game Review: Kamesutra
Hentai Reviews

>

Reviews

>

Dragon Ball Hentai Game Review: Kamesutra
Written by Rastafoo69, edited by Sexy and OtakuApologist
Kamesutra, a Dragon Ball Z hentai game developed by Naughty Turtle. Download the game on the developer's Patreon. Released October 17, 2019. Last updated June 27, 2021. For PC Windows.
Explore the world of Dragon Ball with a hentai twist! Find dragon balls, play strip poker, and complete quests with all your dragon ball pals! Please note, this game is still being updated.
STORY
There is no overall story. Players will choose their character. You can play as Master Roshi or Supreme Kai, among others. The game starts in the saiyan saga, players will explore six time periods, exploring all of the dragon ball mythos.
Your first quest is to find the dragon balls to revive Goku before Vegeta and Nappa arrive. Along the way you'll fantasize about nude women or grope them in person. There is very little sex overall; currently the game is more ecchi in nature.
The fact that the game itself links to an online walkthrough should speak volumes. And its development via Patreon should speak even louder. This game is a mess of random and often disconnected scenarios. Scenes are added piece by piece, and the developer adds locations and NPCs with only vague ideas of what they will later become. Do not expect great writing.
GAMEPLAY
Kamesutra was created with RPG Maker VX Ace. Not an RPG however, it is more of a collect-a-thon with exploration mechanics. There are some minigames like playing cards.
Although they've announced this release as version 1.2, there are still many issues. "Script item line 221" error is a common problem. And with this engine, the game will freeze or even close over a problem like that. RPG Maker MV would have been the better choice since it handles bugs better and allows players to continue the game.
The tutorial is at least a half-hour long, and the content is so scattershot, it's hard to remember. Getting wet makes your clothing see-through, the carrot symbols indicate your rising lust, each character has unique abilities like telepathy and teleportation, weather and time of day will change event availability. Experiment with different combinations to find scenes, strip poker has multiple different modes like ensuring the numbers on the four sides of your card are higher than the numbers on your opponents card, but don't experiment with the card game too much because a loss means losing one of your cards and at the start of the game this will leave you with an incomplete deck unable to play cards anymore. Did you get all of that? No? Good luck!
This developer seems ambitious, but even after two years of development, this game is still a mess. I am not optimistic about future updates. Already, the vast majority of places in the game say "not available yet". And following a walkthrough to locate the 25 caps, 17 gold caps, and endless other collectibles, it's not entertaining.
Even if every piece of content currently unavailable was suddenly completed tomorrow, the game lacks any sort of flow or direction. There is no replay value. This is and will always remain, a collection of erotic CGs hidden behind padded content, rather than an enjoyable gameplay experience.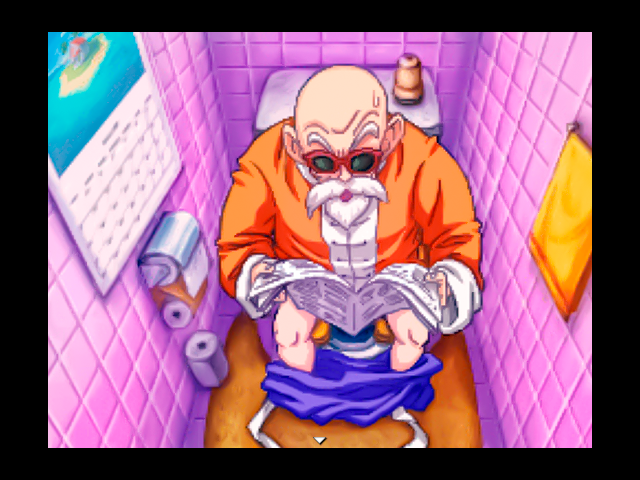 GRAPHICS
Currently there are over 40 art assets in total, but only 25 are actually good. The rest are placeholders and aren't very good at all. Most base CGs have variation images to enhance them. Pubic hair can be toggled on or off.
Due to the large amount of placeholder art, this game is super "hit or miss". After two years of development, Bulma's cleavage is still drawn in black and white. Seems nobody is rushing to finish even the things that are almost complete. Only a handful of artworks are drawn in full color, the rest are monochrome. Currently, almost all artworks focus on ChiChi. Some of them show her fucking farmer Willy, others show her fucking Roshi. Don't assume all CGs in this article are unique scenes. Often times, Roshi will fantasize about certain things, so they aren't actually real scenes.
Besides the ability to change the field of view, it's unclear why RPG Maker VX Ace was chosen. Whether it's diagonal objects or animated NPCs, all of the features seen in this game would function better in RPG Maker MV. Sometimes the frame rate feels a bit choppy. As the patches continue to add content, the limitations of the engine will become ever more visible.
In spite of these many complaints, the world itself is actually fantastic. From the Kame House to Capsule Corp and everything in between, the world truly does feel like Dragon Ball! And Roshi riding his turtle on the water is super cute!
VOICE ACTING AND SOUND EFFECTS (SFX)
Kamesutra has no voice acting.
Due to the lack of battles or action scenes, the sound effects are largely digital chimes and beeps as you pick up items or navigate menus. While some environmental sounds play to match the setting, the vast majority of audio assets are chimes that provide the player with basic feedback.
MUSIC
There are 125 tracks in total. Most of the tracks are from the Dragon Ball OST, including both well known and obscure background tracks. Many other tracks feel completely unique, using digitized music similar to Banjo Kazooie. They are just hoping nobody will notice the ripped music and make an issue out of it.
HENTAI
Although there are 40 CGs total, there's only a handful of sex scenes, all involving ChiChi. The vast majority of content is ecchi in nature. Often times you'll get excited for a potential scene, only for the content to be unavailable. Don't let the cover art and marketing fool you, this game is bare bones.
Sex positions range from doggystyle to cowgirl. There are no animations. The erotic scenarios and writing lack believability, so they aren't really engaging. And honestly, the lack of Bulma content is a crime. What kind of DBZ game doesn't have Bulma sex scenes? They don't even have Vegeta yet! And the women behave our of character.
CONCLUDING WORDS
Kamesutra is yet another directionless Patreon title adding content piece by piece. While the visuals are nice, there are way too many placeholders. After two years of development and reaching version 1.2, this game still feels incomplete. It doesn't cost anything to download, so you can judge for yourself!
Graphics

Gameplay

Story

Music

SFX

Hentai