Netorare Hentai Game Review: Lady Lawren
Hentai Reviews

>

Reviews

>

Netorare Hentai Game Review: Lady Lawren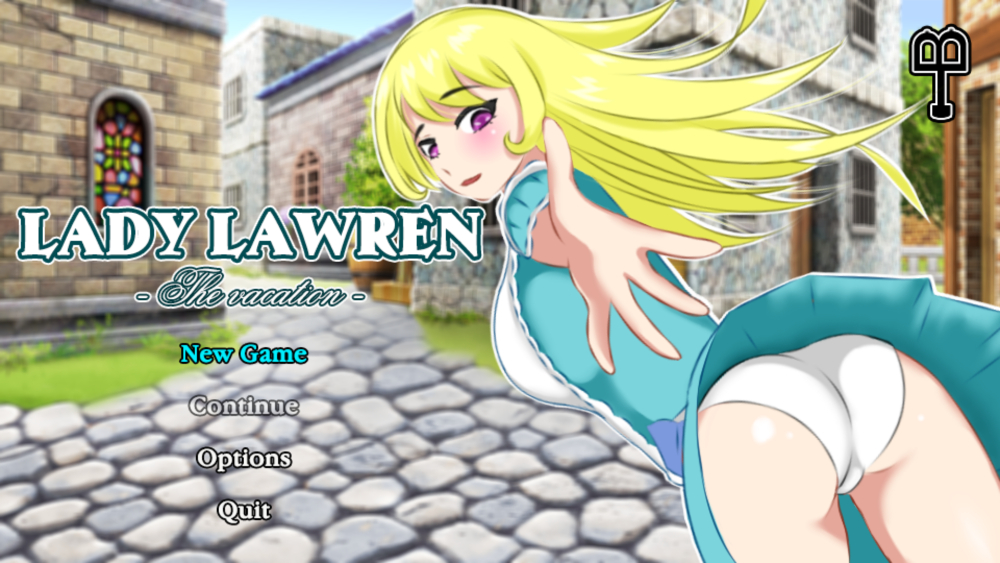 Written by Rastafoo69, edited by OtakuApologist
Lady Lawren, a netorare hentai game developed by BTCPN. Released April 4, 2021. Download on DLSite for $8.00. For Windows PC. No voice acting. Censored genitals. Available in English and Japanese.
Lawren has 30 days to rest before returning to the royal academy where she studies. During this vacation, she hopes to confess her love to her childhood friend Will while helping his business. Little does she realize there are plenty of men hoping to fuck her all around town!
PROMO: When you download games through links on Hentaireviews, you help produce original hentai media.
STORY
Lawren and Will are childhood friends in love with each other, but neither have confessed yet. To get close to him, Lawren is helping Will with his family business. They have a shop, a warehouse, and a local mine to run. Good luck with that!
On day one, Lawren finds an adult book and reads it. On day 15, Will confesses he loves you. And of course, the game ends on day 30. What you do in between these points is entirely up to you.
Although this is an official translation, there are some hiccups. Especially in regards to grammar, capitalization, and word contractions. Overall the translation quality is good and easily understandable, but the game lacks polish.
In-game and on the DLSite page, the main character is named "Lawren". But in the DLSite description her name is Lauren. This developer seriously needs to polish their shit.
Although the game is marketed as an NTR experience, the writing doesn't lead you into NTR. In fact, unless you're actively running around town searching for sex scenes, the game feels pretty vanilla. Yes, there are NTR endings, but you have to go find them. The writing instead pushes you to work as a shopkeeper and do other domestic things. Rather than excitement and anticipation, the game felt bland overall.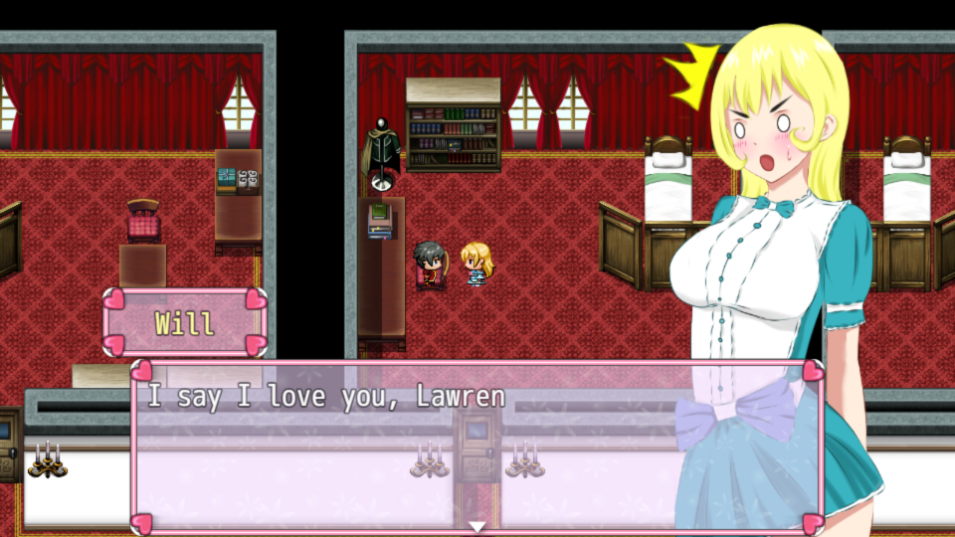 GAMEPLAY
Lady Lawren was made in RPG Maker MV. Press Q to view your status. Press W to return to your bedroom. There is no text skip, text log, or ability to hide text boxes. The pause menu only says "options, save, quit". It's a very bare bones experience.
The status menu tracks your lewd exp, lewd level, and max MP. Frankly, it felt repetitive that the status menu had a separate button and interface rather than just merging it with the pause menu.
There are no level-ups or adventure mechanics. Rather, the game is focused on three stats. Stamina, Gold, and Lewdness. Stamina is consumed when you do things. The day ends when you use up your stamina, so keep an eye on that 30-day countdown! Gold is used to purchase items that help you in minigames. Lewdness unlocks new scenes.
Your stamina bar is on the bottom of the screen. When it falls below six hearts, it becomes night time. Stamina is consumed by every little thing you do. Even a quick butt pinch will consume one stamina heart, so be careful to plan your days!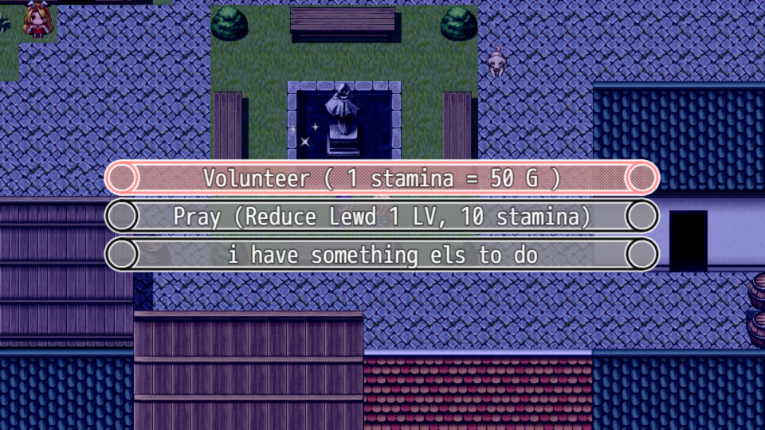 Lawren wants to help Will run his business, which involves three minigames. The store and warehouse are memory games. If you've ever played "Concentration" also called "Matching Pairs", then you'll know how to play these. The mine is an auto-battle game where you kill slimes to earn money. Due to the lack of originality or complexity, these games get repetitive quickly.
Grind out these games to earn money to buy items. The hourglass will increase your time on memory puzzles. Meanwhile the magic items will allow you to kill more slimes. Purchasing items is required to win the minigames regardless of how much skill you have, since the puzzles lengthen as you progress.
While the memory puzzles were fine, killing slimes was irritating. There are no experience points and the traps are completely randomized. How to defeat the bosses isn't explained at all. It's pure trial and error while praying RNG goes in your favor. And even though you spent 1000 gold on armor, it doesn't actually affect your performance.
The game lasts 1-2 hours, but the repetitive minigames and heavy RNG make it a bore after 30 minutes. Memory puzzles have been done in other games a million times, so I was very disappointed this developer lacked creativity.
GRAPHICS
There are under 30 CGs but they're low quality. The artist occasionally doesn't draw hands, so there's just a stump at the end of the arm. Lawren is always covered in a thick liquid that's supposed to be sweat but looks like she's melting. There's floating penises without bodies! Seriously, the visuals in this game are severely flawed.
In-game is no better! Often times animations like the ones for doors don't even play! So Lawren is literally walking through doors like a ghost! And in the dungeons, enemies respawn right in front of your eyes!
There are some positives though. The town has a unique layout with the player home at the center of a circular design. The warehouse to the east, the shop to the north, the bar in the south, it's always easy to find where you need to go. I also like how investing money in posters to promote your business actually changes the environment. When you go outside, you'll see posters all over the walls!
The sad thing about the visuals is that there's nothing unique about them. You can tell the artist is still refining his style. In fact, some art looks painfully amateurish while other art is downright gorgeous! Sometimes the shading and lighting is done perfectly, but other times it's an inconsistent mess!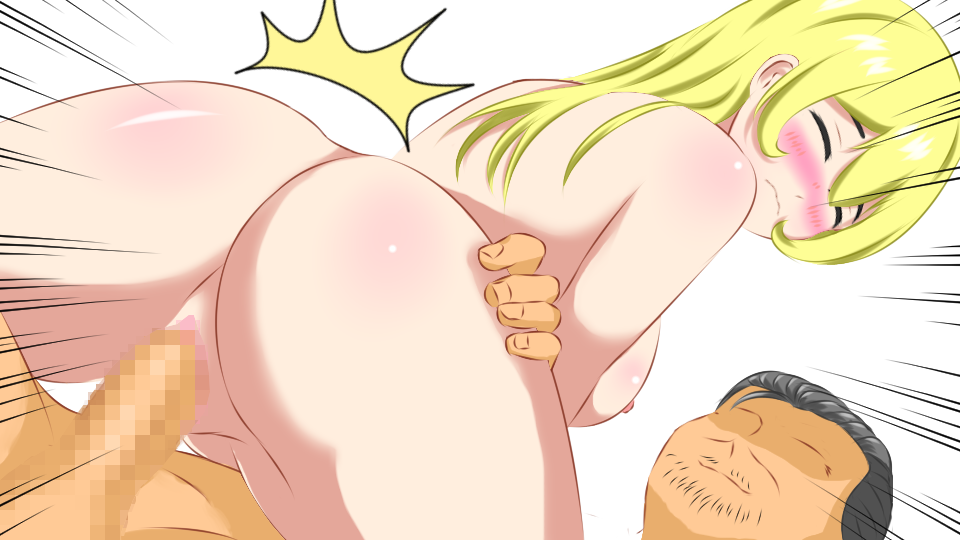 VOICE ACTING AND SOUND EFFECTS (SFX)
Lady Lawren has no voice acting.
The sound effects in this game are a mixed bag. Sometimes they're atmospheric like the sounds of chatter in crowded town. Other times they're basic like the digital buzzing meant to indicate an attack. The developer literally dragged in all 300 sound assets from the stock RPG Maker Library, so don't expect anything fresh.
MUSIC
There are 32 tracks in total. Most are stock assets but a handful are fresh and unique. However, the domestic setting and lack of action means there isn't much reason for the better tracks. "Childhood memories" has a beautiful music box melody, but the writing isn't strong enough to match, so it all feels a bit forced. "Battle to the Max" is the standard boss battle theme, but without level-ups and unique equipment, it felt like the battle was not nearly as dramatic as the music pretended it was. Overall, the music would have been fine in any other game but this one.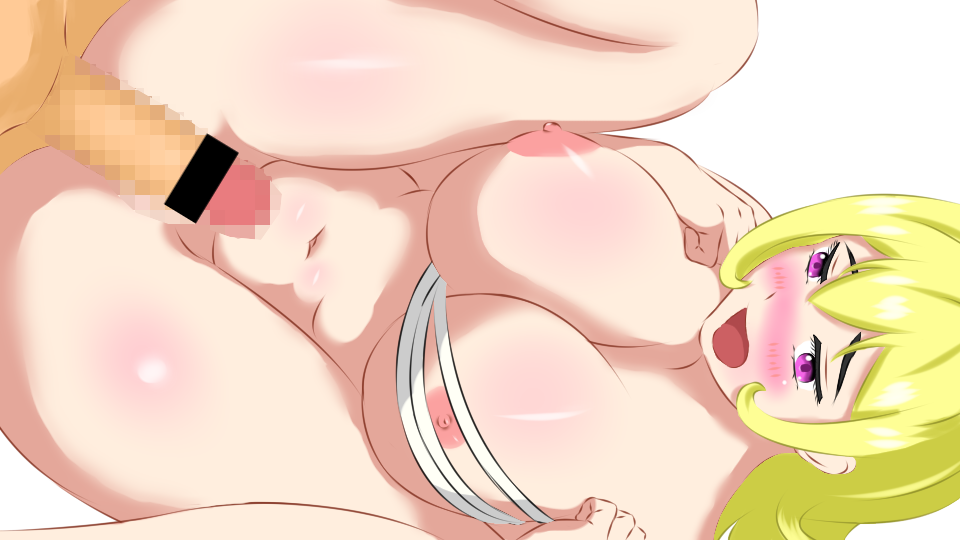 HENTAI
There are under 30 CGs total, but it's never apparent how to unlock them all. A hint system would have made this game more erotic. Especially because the stamina system and 30-day countdown discourage you from goofing off.
A rumor that fountain water makes you pee, a sketchy guy loitering at night, a bar that needs dancers. Some of these can be accessed immediately, others require raising your lewdness level. Often times you find the trigger for a scene but are unable to use it because your lewdness isn't correct. If you're going to lock scenes like that, you have to have a hint system.
Sex positions range from cowgirl to mating press. There are no animations. You never really know what you're getting from scene to scene. It might be a groping, it might be a bare creampie. Even when you're deflowered, it isn't emphasized with blood or a dramatic moment, so it really doesn't mean much at all. While the quantity of visuals is high, the quality is low.
CONCLUDING WORDS
Lady Lawren is a short netorare game focusing on the quantity of scenes rather than the quality of the experience. The minigames are nice, but they get repetitive. The NTR is good, but you aren't given a clear route of progression. The sex is hot, but ultimately forgettable.
Download Lady Lawren. If you liked this game but want a more cohesive NTR experience, then check out our review of Marina's Cuckolding Report 2.
Graphics

Gameplay

Story

Music

SFX

Hentai