Cheating Wife Visual Novel: Lovely Moment with a Married Woman
Hentai Reviews

>

Featured

>

Cheating Wife Visual Novel: Lovely Moment with a Married Woman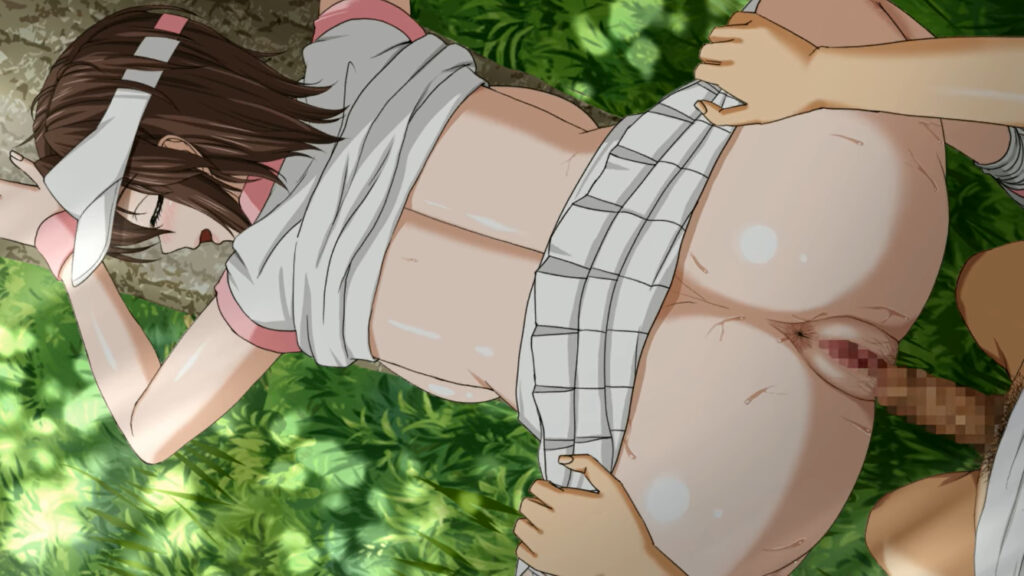 Written by Rastafoo69, edited by Otaku Apologist
Lovely Moment with a Married Woman, a hentai visual novel developed by circle Stick. Released March 31, 2021. Download on DLSite for $22.00. For Windows PC. Full Japanese voice acting. Censored genitals.
Miyuki the housewife is a beautiful married woman. Her life was quite boring until the day she met you. With three possible endings, you'll decide whether you give her pure love or pure sex. The choices you make will determine what happens to you and Miyuki once the affair is over!
PROMO: When you download games through links on Hentaireviews, you help produce original hentai media.
STORY
Throughout the game you'll often be given the choice to creampie or bukkake Miyuki. Constant creampies will unlock the pregnancy ending. Constant cumshots will unlock the ongoing affair ending. The breakup ending is unlocked by always pulling out and running away from Miyuki at the final choice of the game.
The buildup to that final choice is phenomenal! At first your relationship starts out innocently enough with Miyuki inviting you to the tennis courts and making small talk. But after you cross the line and finally have sex, she gives you her number and the affair really heats up. At one point, she calls her husband while you're fucking her! This bitch has one filthy mind!
Besides choosing where to cum, the only choice in the game is in the final scene. Miyuki's husband has arrived home! Do you run away, or stay with Miyuki? Staying in her home is the better ending and the writing there is perfect.
We've all been there. You see someone you know in a different context and realize how distant and far away they feel. Like seeing a teacher at the supermarket or a family member at a bar. You suddenly feel out of place, like you don't really know that person as much as you thought you did.
To see Miyuki talk to a grown and mature businessman like this, makes you feel inconsequential. Instead of feeling pride as someone who fucked a married woman, you feel jealous and unsure of yourself. Like in real life when your partner hangs out with their friends. Suddenly you feel like you don't know this other side to their life. Even worse, you feel excluded.
The writing and dialogue here perfectly captures that melancholic feeling that we have all faced at one point or another. And Miyuki's wonderful sense of empathy means she tells you what you've always needed to hear. She smiles and says, "You know me better than anyone else, so don't worry". It's at this moment when the protagonist finally confesses his love for Miyuki, and it's perfectly clear why. Even as a player, I felt myself falling for her.
It just goes to show that even if the cheating wife fetish is old, developers can still create memorable and engaging experiences by focusing on the writing. Getting the player to care about the characters is key to creating a wonderful adult game.
GAMEPLAY
Lovely Moment with a Married Woman is a visual novel created in an engine unique to this developer. Click to turn the page. All standard functions like quicksave, auto mode, and text skip are available on the UI.
I absolutely adore the interactive replay room. From the main menu, you have the choice of rewatching scenes with all the dialogue and buildup. You can also find the scenes in the interactive replay room. From there, you can simply choose which animations you want to play. Whether it's a POV blowjob or some big booty doggystyle, you can set the pace as well as where you cum. This interactive system is a borderline simulation mechanic and I absolutely adore it. Most NTR games do the bare minimum, but this game did so much more.
The fatal flaw of this game is the engine. Even the developer acknowledges this in the readme file that accompanies the game. In the Q&A section, the developer outright admits that skipping text is likely to cause glitches regardless of PC quality. It was very frustrating to deal with this glitch.
Outside of skipping text, there are some other problems. You cannot click anything until an animation has fully played out. Animations may sometimes have visual glitches. Sometimes when you load a save file, text doesn't appear anymore. The game crashed on me multiple times due to "WebGL" errors. And often times when loading between scenes, the screen goes completely black for about 15 seconds. If you click during that time, the game will go unresponsive.
Altogether the game is still perfectly playable, but the engine being used needs to be swapped in future titles. Or at the very least, updated to resolve these issues. The ReadMe file should never say "I acknowledge this problem" when it could be fixed.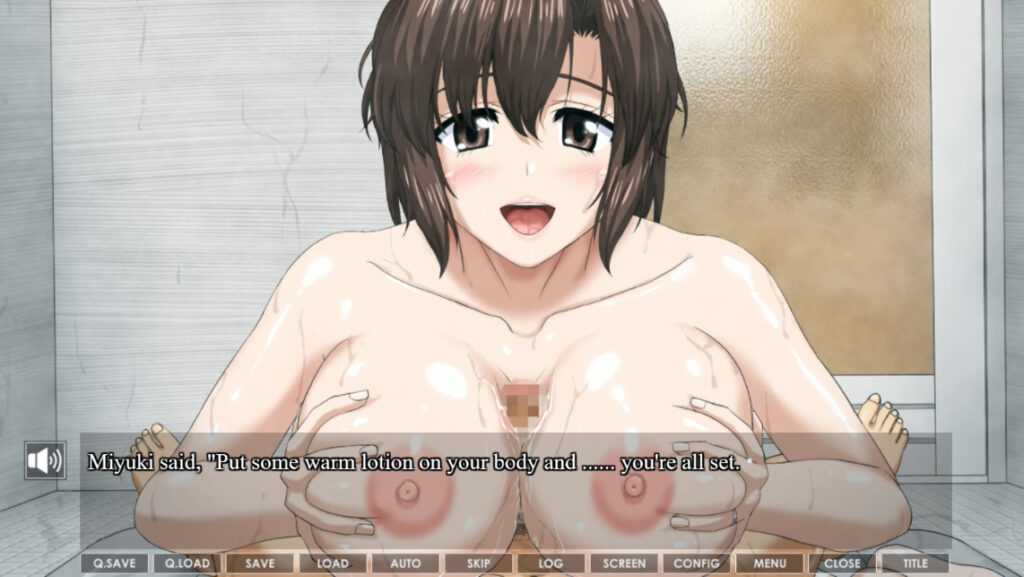 GRAPHICS
The visuals are the primary focus of this game and they are saucy! Rather than short animation loops, this game relies on fluid Live2D visuals. Cross sectional view is available in all scenes regardless of positioning. All animations transfer seamlessly into one another, even during branching choices like where you choose to cum.
Miyuki is fully animated to move, react, and behave like a real person. She sways when standing, breathes and blinks, and changes pose depending on the flow of conversation. This is especially impressive since Miyuki has multiple outfits, each better than the last. Paired with her voice, she truly feels like a living, breathing individual.
The panning shot of her naked body is undeniably erotic. The x-ray view lets you watch her swallow every drop of sperm you nut in her. Her facial expressions when you rub your cock on her pussy and eventually shove it inside, it's awesome!
Her orgasms are glorious. And the protagonist is well animated too, shaking his hips like he can't help himself! Unloading burst after burst of thick cum deep inside her pussy while her expressions change to reflect surprise, then lustful satisfaction.
The sex is not simple thrusting, it's pure realism! She not only rides, but also shakes her hips from side to side. Her tits sway with her body, and her hair elegantly follows. Every scene features two distinct animation sequences and dialogues to reflect when you creampie or score a cumshot. That's double the work for the developer! Most animated games don't give you that choice! Because animating sperm requires finesse to show it as a thick liquid with a good amount of weight behind it. And this artist does so with ease! When you cum on her face, you actually can see gravity work as the cum drips bit by bit down her chin.
This developer really has no chill. If you enable x-ray view during sex with a pregnant Miyuki, you can actually see the blurred out baby growing inside of her! And if you cum inside, your cum literally lands on that blurred out baby's head!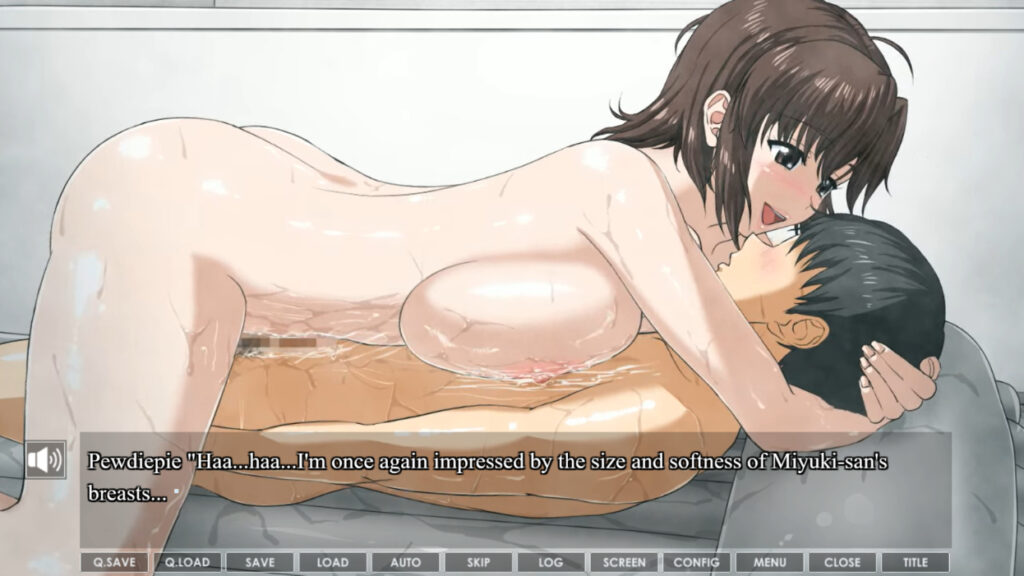 VOICE ACTING AND SOUND EFFECTS (SFX)
Lovely Moment with a Married Woman features full voice acting for Miyuki. And the dialogue gives her tons to work with! Like when she says "Konnichiwa Ochinchin-san", which means "Hello there Mr. Penis" right before a blowjob! I almost fell out of my chair laughing so hard!
I love how the voice acting is synced perfectly to the animations. If the visuals show moaning, the voice actress is there to match. If they're kissing, you can hear her lips smooching away. If you make her deepthroat you too hard, she starts to cough and catch her breath!
The sound effects do a fantastic job of complimenting the voicework without distracting the player. Like the simple cell phone beeps and chimes when Miyuki gets on the phone with her husband. Or when you smack that ass and hear a loud "spank" noise. Seriously, the person running audio on this game knew exactly how to punctuate a moment and enhance the dialogue without distracting from the core eroticism.
MUSIC
The soundtrack is small but filled with original songs used masterfully to convey emotion. Whether it be sad emotions like asking if Miyuki is tired of you, or beautiful moments like when she confesses her love, this game hits the mark on every moment. The soft piano and bass guitar of the loving confession made for one of the most memorable scenes in the game. Weeks later, I still vividly remember every detail of the scene because the music was so dang iconic!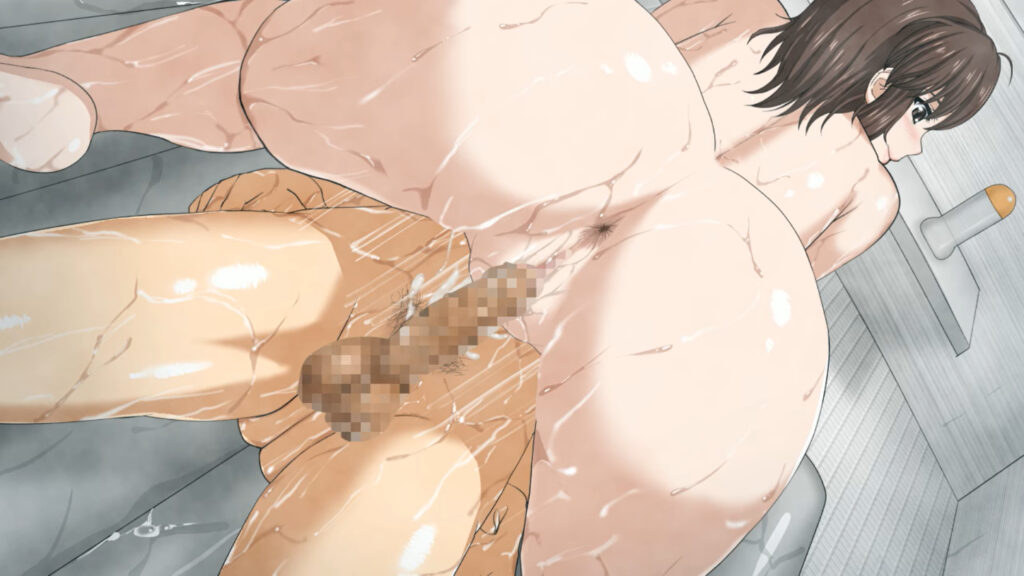 HENTAI
Lovely Moment with a Married Woman features 22 scenes total, though one of them is the bad ending with no sexual contact.
The vast majority of scenes in this game are magificent. Like the POV cowgirl scene with Miyuki's swaying tits and blushing face. Or the sweaty standing sex against a tree! Or the final scene with optional impregnation content as you unload in Miyuki's unprotected pussy! This married brunette is finally carrying your child!
However, there are some downsides to the content in this game. Like how the censorship on the dick is so excessive, it sometimes looks like a brown turd coming out of your pants. Or how your dick changes length and thickness at random moments, ruining immersion. Seriously, Miyuki is gorgeous but the protagonist has a 3 incher and it's embarrassing.
The main area where the hentai fails is the unavoidable scenes. Like the aforementioned pregnant sex scene where you see an x-ray view of a fetus covered in semen. Or the disgusting rimjob sequence.
In this unavoidable and unskippable scene, players are given a 3D x-ray view as Miyuki's tongue directly enters the player's anus. This is not licking around the butt, this is her tongue directly in your asshole with a zoomed in view. You cannot skip it or the game glitches and makes you watch it again. There are no choices to reject this action either. If you play this game, you need to accept the tongue-in-anus action.
CONCLUDING WORDS
Lovely Moment with a Married Woman was one of the most visually outstanding adult games of 2021. The animation is incredible, the writing is lovely, and the voice acting is among the best we've ever reviewed. But that unreliable game engine and unavoidable rimjob keep this game from the complete perfection it nearly reached.
Download A Lovely Moment with a Married Woman. If you like cheating milfs but want a cuckolding focus, then check out our review of Marina's Cuckolding Report 2.
Graphics

Gameplay

Story

Music

SFX

Hentai