Hentai Pixel Art Game Review: Succubus Hunt For Meal
Hentai Reviews

>

Reviews

>

Hentai Pixel Art Game Review: Succubus Hunt For Meal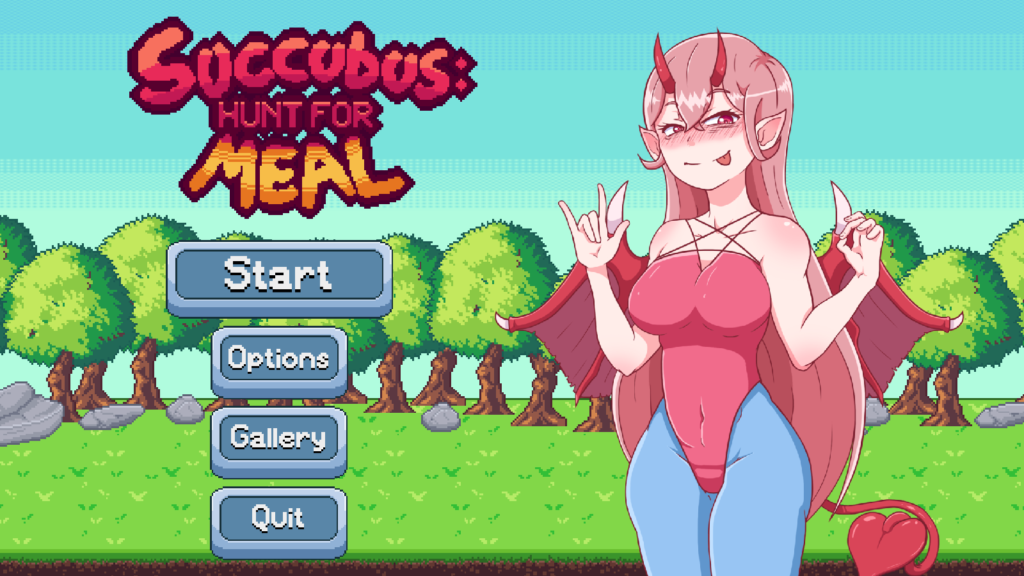 Written by Rastafoo69, edited by Otaku Apologist
Succubus Hunt For Meal, a pixel art porn game developed by Phracassado of the Deep and published by PinkySoul. Released September 3, 2021. Download on Steam for $2.00. For Windows PC. No voice acting.
You play as Lilithane the succubus who is tired of weak human villagers! She's going to visit castles and forts where adventurers are exploring, hoping to fuck them all!
PROMO: When you download games through links on Hentaireviews, you help produce original hentai media.
STORY
Succubus Hunt For Meal has no overall story.
GAMEPLAY
This game is a hentai rip-off of the hit mobile game Hero Castle Wars. You drag your character over enemies with a lower power level than yours to do battle. Some enemies drain your power level, so you have to strategically decide the order in which you defeat your foes, to have enough strength to defeat them all.
Unfortunately the game relies on RNG. If you kill an assassin enemy, he will give a power boost to a random NPC. Sometimes this is harmless, other times he soft-locks the level, so you cannot win and have to restart. This reliance on RNG ruins the strategy focus of the game and makes it a very flawed experience.
There are 30 levels total. Completing them all will slowly unlock all the enemies in the game. The succubus has sex with enemies when she beats them, so every new enemy is a new animation waiting to be enjoyed.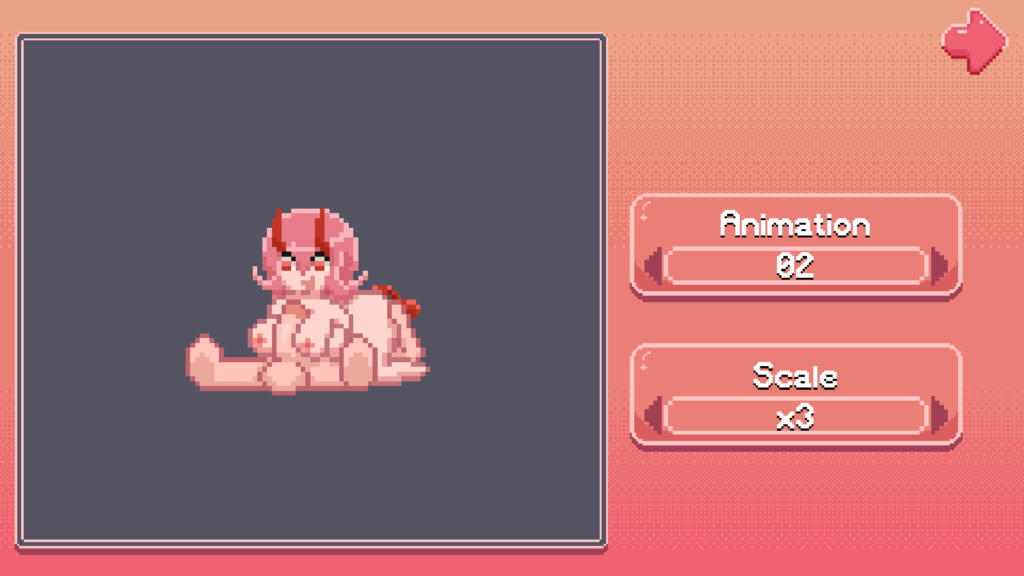 GRAPHICS
The pixel art style is simple enough to animate but lacks detail. Of the 18 animations I only found 8 to be particularly enticing. Even then there are some flaws; like plus signs instead of nipples and ovals instead of dicks. While you can tell what's going on, it's not exactly erotic. The biggest offender occurs during the cowgirl position where it's hard to tell if the dick is in at all.
The artist clearly has a great talent outside of pixel art. The two nude standing artworks unlocked at the end of the game are simply phenomenal! Rather than the typical anime style, this artist has a semi-3D style demonstrating knowledge of shading, anatomy, and creativity via the succubus body parts. Just looking at it reminds me of the famous eroge developer, Akabur. Whoever does the standing art in this game should focus on that instead of pixel graphics. If there was a full visual novel in this art style, I'd buy it in a heartbeat.
I love how the standing art has multiple facial expressions and I appreciate the tutorial box that shows before certain levels. My only complaint is that after 30 levels the castles and backgrounds still all look the same. There should be some kind of change, but instead the developer just adds to the power stats.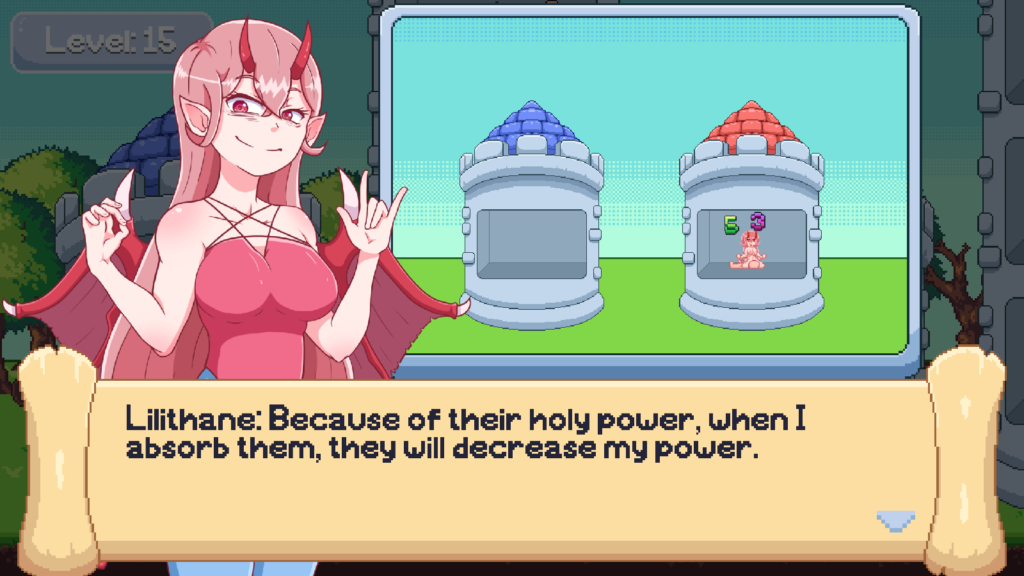 VOICE ACTING AND SOUND EFFECTS (SFX)
Succubus Hunt For Meal has no voice acting.
The sound effects are limited overall due to the drag and drop nature of gameplay. Whenever you defeat an enemy, you'll get to hear some stock moaning sound effects, but that's pretty much it. I enjoyed the level-up sounds when you gain power. It never gets old! The lowering pitch of digital chimes when you lose is great feedback, makes it feel like you're in an arcade.
MUSIC
There are two basic tracks used throughout the game. The first is a simple 8 bit track with chimes added in while the second is a lively piano track for light-hearted moments. While the music may be basic, it fits the pixel art genre.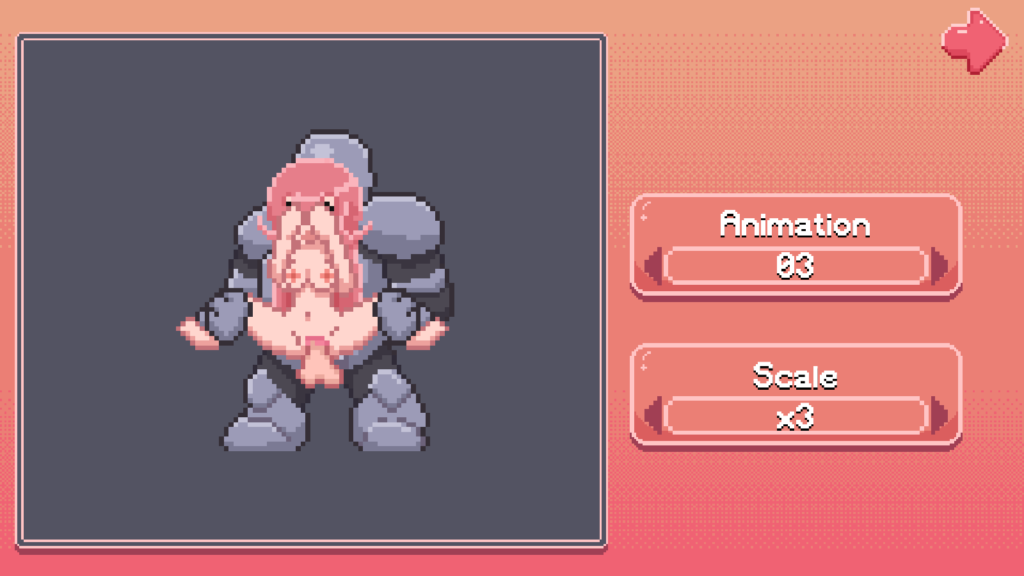 HENTAI
There are 18 animations and 2 nude standing artworks. The nude art is simply phenomenal while the animations are hit or miss.
Other games by this developer focus on monster sex, but this is the first title to center on humans fucking each other. Unfortunately, the different human types have no effect on the scene. I wish we could have seen the succubus ride that priest until he involuntarily cums rather than a simple doggystyle encounter.
The lack of dialogue is another drawback to this arcade experience. Lilithane the succubus clearly has a lot of personality, but it only comes out during the standing artworks. When she says "those priests worship the wrong deity", I hoped she'd run out and do some femdom stuff, but instead she just sits there and lets them fuck away. Lilithane is such a cute character, it feels like a wasted opportunity.
CONCLUDING WORDS
Succubus Hunt For Meal is a short sex game about doing some basic addition and subtraction in a hentai setting. While the game is a total rip-off of Hero Castle Wars, I enjoyed the music and sound design enough that it felt fresh, unique, and enjoyable.
If you liked this game and want more from this developer, then check out our review of Fall in Labyrinth.
Graphics

Gameplay

Story

Music

SFX

Hentai