Written by Otaku Apologist
Naughty Nyx, a match-3 hentai browser game, developed and published by Erogames. Released on February 17, 2023. Start playing for free. Available for PC and mobile. Partial English voice acting. Uncensored sexiness.
Here's something I never expected. A free to play adult game that is actually hard. After blazing through the first forty puzzles of Naughty Nyx, my ass started to ache. I had to turn around in disbelief, because the game was kicking my ass. The quick-to-solve introduction stages done, that was it for showing me around to the mechanics. I was treated with brain teaser after brain teaser, my attempts at solving them ending in bitter defeat and frustrated mumbling.
It was after reaching level 45 that I realized, this developer isn't fucking around. It took me ten attempts to beat it. Eventually came level 83, which I highlight in the screenshot below. This is just motherfuckery.
Where to even begin? Your goal is to bring down the lips token to touch the bottom border. You have to delete six lips. There are teleporters in the middle of the level, which I still don't quite understand how they work. There are two types of ice blocks. Then there's the shape of the level, which makes things rather difficult. You have a limited number of moves to figure your shit out. I tried this level so many times that I ran out of lives.
GAMEPLAY
Now, before you think I'm bashing on the game, I'm not. On the contrary! I've been fed up with casual games for years. A couple such titles were fun, but generally speaking, if a game cannot fuck me up, that's boring. Because I'll never grow into a better player. Just like getting your ass kicked on the schoolyard is the best lesson life could teach you. A fist in the face grounds you to reality, to the limitations of your body and people's ability for moral behavior. This is the kind of brutal clarity that Naughty Nyx provides.
So many times, I was certain that I was defeated, only to somehow solve the puzzle with my final moves. Sometimes I thought a level was downright impossible, but after a few more tries and a bit of luck, I beat the brain teaser into a pulp. Persistence is truly a virtue if you want to excel at this one.
Friendly tip. You absolutely need this Shiny girl in your team, or some levels aren't beatable.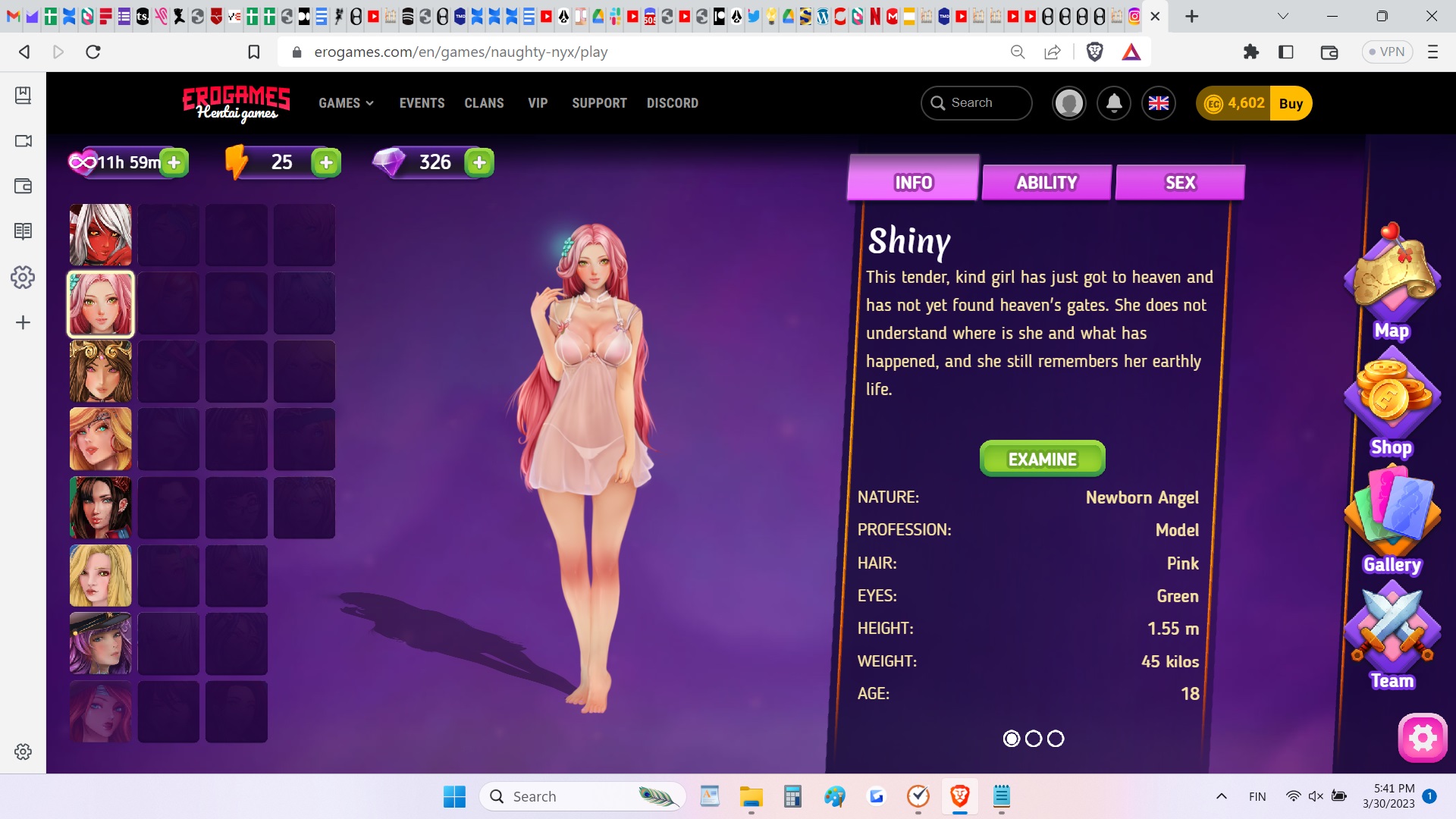 The level design is so hardcore, you will need a full team to have any shot in later levels. Add girls into your team in the "team menu". They cost a bit of gems (the in-game premium currency), which you can from normal play. You can spin the wheel of fortune to get up to 100 gems. You get free spins by beating levels. If you truly abhor the idea of supporting the developer who provides you quality entertainment, just grind up the gems, it won't take long.
You can have three girls in your "team". Each girl has a special ability which costs energy to execute. You absolutely need to use these powers, because of the occasionally spiking difficulty level. You'll want to spam Asmodeya's ability especially.
You have a world map. Each node has a cluster of puzzles divided into chapters. When you complete a chapter, you get an animated sex scene. These sequences are currently tedious rhythm-based mini-games. I'm hoping the developer will wisen up, because it's hard to fap when you're constantly getting negative feedback about fucking too fast.
STORY
The story is a total mess. I don't really want to comment on it. The creative decisions are unfathomable. I'll let you experience the whole shit show, no spoilers. It's basically an isekai story about a godless memester going to women's heaven.
GRAPHICS
The visuals of the game are gentle to the eyes, with every icon and interface element looking just gorgeous. When playing a level, you always have an animated waifu dressed in revealing clothing providing eye-candy. The waifu designs are evocative, distinct, and titillating! Everything from the coloring to the shading until the last flock of pubic hair looks crisp. It's a very polished experience. I personally experienced no lagging, no crashes, no glitches, just a smooth ride.
VOICE ACTING AND SOUND EFFECTS (SFX)
On the audio front, everything from the technical standpoint works. There's a bit of English voice acting. Not every line is voiced, but a sufficient number of them are, enhancing the immersiveness of the experience. The voice acting could totally shine if the script wasn't trash.
The sound design is just excellent. All the little noises you hear while matching tokens are blissfully enjoyable. Every jingle fits perfectly and enhances the experience, making everything feel physical, real and immersive. You hear everything from serene blips to bombastic explosions. There's a wide range of sounds, even during sex scenes. The audio is inspired work.
MUSIC
There's a very limited musical score. For reasons I cannot fathom, free to play hentai games always have the shortest list of music. The songs you hear are chill background stuff, synthetic, only somewhat enhancing the atmosphere. You won't hear one memorable melody here.
I feel like the developer didn't consider the music too important, but it could be. With more effort, this very basic match-3 game set in women's heaven could have the most elevating score that wouldn't feel out of place, even if it included opera singing! If they didn't have the budget for something more interesting, I understand, but looking at how high the production values are in most areas, it reeks of a stylistic choice that lacked vision.
The puzzles are excellent enhancers of your cognitive abilities. You have to seriously stop to think in order to beat these. It's like, the music is trying to take a backseat, so I can think. But frankly, I'd personally rather have something fast-paced and stimulating, so I can access a higher mental state and tap into more brain power. The game offers no option for what tracks play, so you cannot please everybody.
HENTAI
The hentai scenes are visually gorgeous, but play like tedious mini-games. Maybe you'll find them enjoyable. I struggled to get enjoyment, because the girls were constantly complaining. Felt like the women were in charge, practically extorting you to consider and pay attention to their every sordid neurotic impulse. I'm not looking for a realistic marriage simulator when playing a porn game. I want a fantasy that lets me forget this very reality of how real-life sexual relationships work. If I want to fuck and slap her faster and harder than she can take it, then let me have that. It's a damned game, not sex education.
The animations are quite lovely, showing the soft shapes and textures of the girls' lewd bodies. But how the sex mini-game plays out, so it doesn't distract you from fapping, I see room for plenty of improvement.
BUSINESS MODEL
The business model seems underdeveloped. While you can purchase boosts and unlock new girls, buy energy to cast more spells, it really feels like things aren't very well thought-out on the business front. Many things that I could desire to buy aren't available at the time of writing. For example, a larger energy pool is something I'd definitely want to buy, so that when I come back to play after a lengthy pause, I could actually progress in the game again, by virtue of having enough energy to cast the spells I want. Also, the game doesn't really explain many things. Like the special boosts you are offered, you only see their icons, but no explanations. I'd very much like to know what I am buying.
CONCLUDING WORDS
Naughty Nyx is a competent, very polished puzzle game with just a hint of hentai making it that much more stimulating. The production values are high, and the core gameplay is truly enjoyable and challenging, with every level offering a unique creative problem-solving experience. While the software seems to have been developed with casuals in mind, it may be too much for casuals, because of the occasionally spiking difficulty level. If you're looking for an adult game that tests your smarts and your patience, you've found the perfect one. Start playing Naughty Nyx.
Graphics

Gameplay

Story

Music

SFX

Hentai