Porn Game Review: Blind Date 3D Big Bang
Hentai Reviews

>

Reviews

>

Porn Game Review: Blind Date 3D Big Bang
Written by Rastafoo69, edited by Otaku Apologist
Blind Date 3D Big Bang, a seduction sim game developed by Real Love 3D. Released August 21, 2018. Download on Nutaku.net for $10.00. For PC Windows and Mac OS. No voice acting. Uncensored genitals.
After a one-night stand with your best friend's wife, you've been craving another chance at that tight blonde pussy! You've been invited over to their house for drinks. You finally have your second chance to plow the wife's ripe cunt!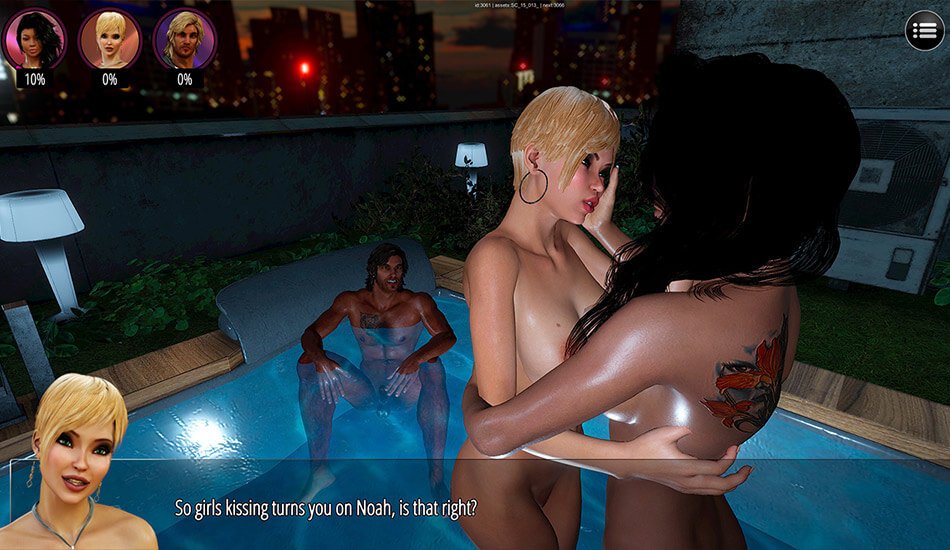 STORY
Your name is Noah. After a one night stand with your best friend's wife, you've been waiting for another chance to have her! Your best friend is setting you up on a blind date, so maybe you can use this time to finally make your move!
The night begins with drinks and a dip in the hot tub. After that, you'll have a shot at dancing with your girl and finishing up those drinks! Play your game of social manipulation correctly, and things may just get kinky!
If you seduced your best friend's wife, you can fuck her while he's passed out drunk! Steal his woman right from under him! If you seduced your blind date, you can enjoy some kinky sex with a world famous super model! The perfect end to a perfect night! If you're an anti-social coward, your blind date will go home and your friend's wife will have no interest in you. Time to go home and jerk off to anime in crushing loneliness!
There are three other endings to the game, but they're very difficult to find. There is a lesbian ending included.
The story is only ten minutes long. It's more of a bite-sized sex adventure. The real fun comes from replaying the story with different decisions to see all the sex scenes.
GAMEPLAY
Blind Date 3D Big Bang is essentially a visual novel. Although your character can freely move around the house, you can only move a few feet in any direction. The character movement is completely unnecessary. If this game was created in the Renpy visual novel maker, absolutely nothing would change.
Sometimes you're given choices on where to walk to. Will you walk toward your best friend? Or your blind date? Regardless, it could have easily been a multiple choice menu, and nothing would have changed.
Each ending unlocks new outfits for the characters. If you're a completionist, you can beat all six endings in less than an hour.
A huge problem with this game is that you practically need a walkthrough to unlock most endings. One bad decision will render all the rest of your decisions meaningless. If you anger your best friend and wife at the same time, that will stop you from achieving the majority of endings in the game.
You cannot save the game. Either sit through a full 20 minute playthrough, or your progress is lost.
GRAPHICS
The art consists of 3D visuals and 3D animations. Its likely they were created in the Daz3D engine, but they could be original creations. Faces are usually expressionless with far too much shine on them from unknown locations. Even though it's night time, why does every character have a reflective white texture on their skin?
Animations are not bad, but not exceptional either. Sometimes the animation loop looks annoyingly choppy. For example, during segments with dialog, character sprites sway from right to left. At the end of that animation, they immediately reset to a center position to restart the loop. It takes you out of the moment. Very off-putting.
The graphics are also poorly optimized. Unless you run the latest hardware, this game will have an incredibly low framerate. My computer can run games with far better graphics and more people on screen, it's just this game that is poorly optimized. That's also the consensus of most users on f95zone. If you find a way to fix the game, leave your comment below.
VOICE ACTING AND SOUND EFFECTS (SFX)
Blind Date 3D Big Bang has no voice acting.
Sound effects are extremely minimal. Even during sex scenes, there was only background music with no sex noises.
MUSIC
Nearly all of the game has one soundtrack. It's a 10 second guitar strum of alternating high and low notes. There is little to say, because the song loops before it evokes any emotion. I guess the track is supposed to be relaxing, but it's really not. The repetitive guitar strums made me want to mute the game. As for sex scenes, they have slightly more upbeat music, but nothing worth mentioning. It's a different track, sure, but still not good.
HENTAI
The lewd content in this game is fully uncensored and damn hot! You've been seducing this girl all night long, and at last, she's finally opened her legs for you!
Each sex scene offers 6 different positions and 3 different speeds for your thrusting. The women outright say they are on the pill, so you can go ahead and creampie them with 99% certainty of no pregnancy!
The animations work, but are short loops with expressionless faces. The textbox also disappears when the animations start. You switch from textual stimulation to pure visual stimulation.
You can steal your best friend's wife and fuck her while he sleeps nearby. Or, you can push them closer together, and jerk off knowing that your friend is fucking the woman you love!
CONCLUDING WORDS
Blind Date 3D Big Bang is a unique seduction game for its focus on stealing a hot wife. The visuals are professional and the story straightforward. If you're looking for a game to get your rocks off quick and dirty, strap yourself in for a blind date with these promiscuous fictional cuties.
Download Blind Date 3D Big Bang. If you like cheating wives, also check out our review for Please Bang My Wife!
Graphics

Gameplay

Story

Music

SFX

Hentai