Written by Mistress Valentine, edited by Otaku Apologist
STORY
Daichi used to be an adventurer but now he works as a receptionist at the Guild Hall. He spends his day watching cute elven adventurers Sissel and Kiera happily adventuring with their husbands. Until one fateful day when he gets into an argument with both of them. Kiera feels her husband should rank up as an adventurer while Sissel overreacts when Daichi touches her.
Upset and jealous over other men getting to bang such sexy specimens, Daichi hatches a plan. He goes to Kiera and offers to give her husband the Adventurer's Exam, so he can advance, but only if she'll fuck him. He then learns that Sissel's husband won't touch her sexually. He offers to instruct her in the art of getting laid.
Both elves reluctantly take up the offers and the story gets going. Daichi keeps pushing Kiera, getting her to do more outlandish things like anal and tittyfucks while continuing to make Sissel believe her husband doesn't want to have sex with her. He fucks her up against the window, cumming in her pussy and dressing her up in silly costumes.
Each new sexual encounter Daichi manages to further corrupt these two bitches until they are both loyal only to him. Believe it or not, this brainless sex fest actually has more plot than other titles by the developer!
SOUND EFFECTS AND VOICE ACTING (SFX)
The voice over work is professional and well-executed. Both actresses deliver their lines convincingly, adding to the overall immersion. Kiera is clearly the developer's favorite and also mine. Unfortunately the script doesn't give the actresses much to work with. While they do a great job with what they're given, the lines themselves can feel a bit lacking in depth. It's still very satisfying listening to them complain over getting fucked. Both actresses sound very sexy during sex scenes.
The limited sound effects library is a minor drawback. It covers a limited range of noises including doors, clothing, abstract sounds, ie. falling and impact noises, as well as more sensual sounds like vibrating anal beads, water flowing, slapping someone's ass, and generic squelching noises that genitals make when rubbing against each other.
MUSIC
First off, I have to say that the choice of synthetic instruments sometimes clash with the sword and sorcery sandbox. Tracks give off a futuristic and modern feel that doesn't vibe well when the characters are standing in a Guild Hall or fighting battles with swords. The songs also don't really stand out. They're not bad by any means, but they don't really grab your attention either.
When it comes to the sex music, it's a mixed bag. On the one hand, I appreciate that they tried to create something original by using a combination of real and synthetic instruments. But on the other hand, it's clear that a lot of the songs are simply copy-pasted from other titles in the developer's catalog. Could they really not put more effort into the music?
GAMEPLAY
Elf Wives Cheat to Ride My Meat is a kinetic novel, meaning that the story progresses as you click the screen. The familiar menu from other Miel games is reused in this title, allowing you to easily replay your favorite Scenes or Chapters. Additionally, the Gallery feature enables you to view unlocked CGs.
This game does not feature a branching story or any choices.
GRAPHICS
As with most titles from Cherry Kiss Games, the attention to detail is mouthwatering, save for a few caveats. The backgrounds are richly designed and possess a striking pop effect. Several backgrounds are recycled from the developer's vast library of releases. Having played so many of their visual novels, I can easily spot them. Notable highlights include Kiera's bedroom, as well as certain streets in the town and the fountain on the outskirts.
Character sprites are thoughtfully crafted with uniquely distinct designs that are aesthetically pleasing. Kiera and Sissel both have enormous tits begging to have a dick slide between them. The animations of the characters' lips moving in correspondence to their dialogue is a nice touch that enhances the overall immersion of the experience. Kiera and Sissel's sprites are equipped with a diverse range of expressions that perfectly capture the characters' emotions, but they have very limited poses. But, the developer gave both multiple attires, including standard and unclothed, costumed and pregnant, providing further depth and intrigue. CGs are quite varied, with certain variants for cum and piss.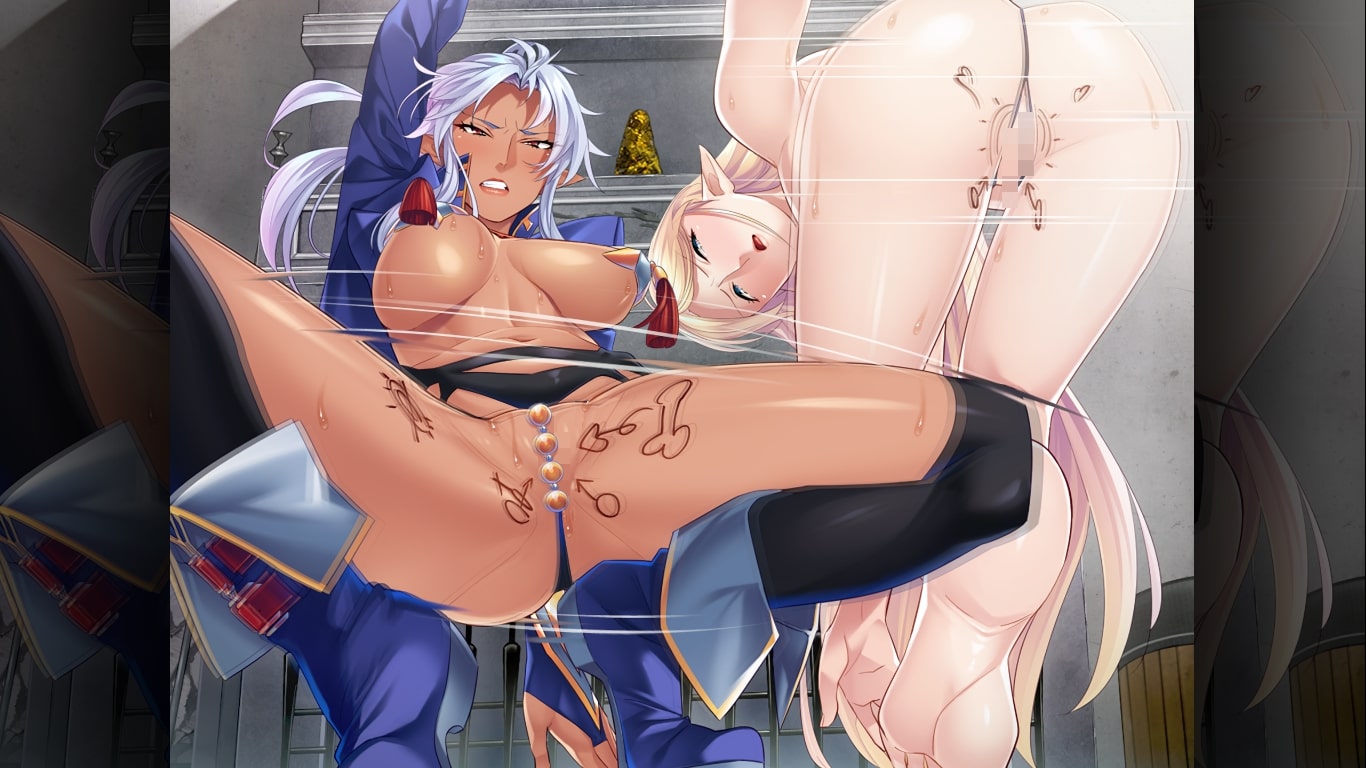 HENTAI
The quality of the sex is amazingly lewd. The CGs are very sexy with only the best positions selected to show off Sissel and Kiera's bodies. Sissel in particular has an amazing O-face, but it's Kiera that gets the most fucking done. In one scene, she becomes trapped in a magic circle and Daichi takes full advantage by fucking her senseless. In another scene, he tricks Sissel into transforming into a half-animal and taking her for a walk. Her husband doesn't even recognize her. Afterwards, Daichi fucks her in public, but not before making her piss like a real dog.
There is a scene near the end where the two elves figure out Daichi's scheme when he becomes bold enough to want to bang them both. They complain about him putting it in their asses and the look on their faces as they squirm under the pleasure of a couple of magical anal beads is awesome. Afterwards he takes turns pounding them, until their asses are leaking cum.
Since this is a Cherry Kiss Game, both girls end up pregnant and we are treated to a final scene where both are carrying a child, but unable to resist having Daichi shoot more cum into them.
CONCLUDING WORDS
Elf Wives Cheat to Ride My Meat is a cookie-cutter h-game that ticks off all the tropes that you'd expect from a Cherry Kiss title. Fans of this developer have come to expect a certain formula when it comes to the writing, art and sex, in that regard, this game will not disappoint. Download on Nutaku for $11.99. Download on JAST USA for $10.19.
Don't forget to pick up my new Light Novel 'My Life as an Ero-Magi Sucks! All Roads lead to Perversion!!'
Graphics

Gameplay

Story

Music

SFX

Hentai