Free Hentai RPG Game Review: Heroes of Lust
Hentai Reviews

>

Reviews

>

Free Hentai RPG Game Review: Heroes of Lust
Written by Otaku Apologist
Heroes of Lust, developed by Super Hippo Games, available on Nutaku.net since March 23rd, 2018. Free to play MMO RPG. Uncensored genitals. Play in your internet browser on PC Windows, and Mac operating systems. Also available for Android smartphones.
Update 1.6.2018: The game received a patch that improved upon many of my earlier gripes about it. This review has been revised to reflect the improved quality of the experience. The free market wins again!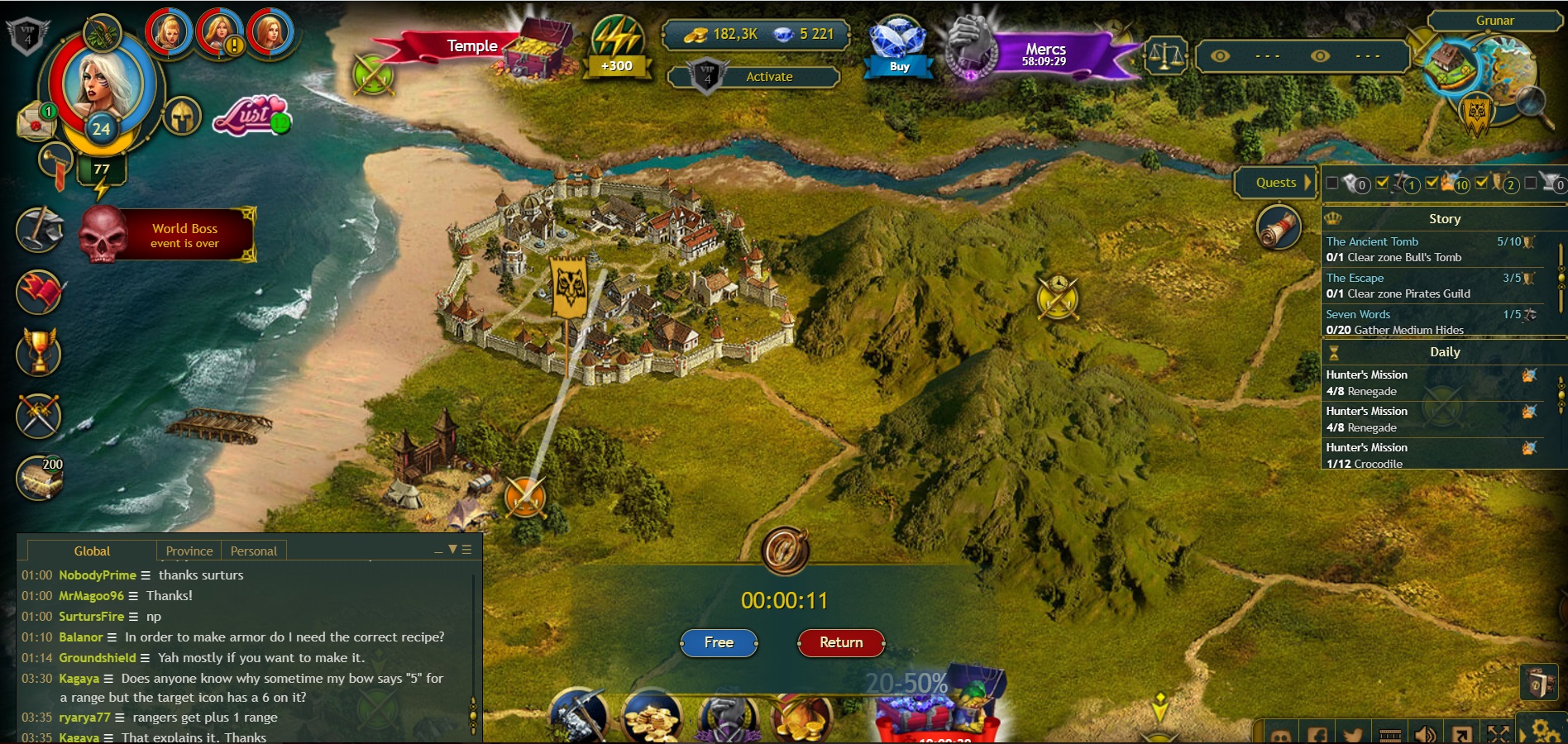 STORY
What little story this game has, was covered in a slide show at the beginning. There's a war between humans and demons, yada yada yada… Seriously, they're not telling a story, but establishing a premise. There's barely anything resembling a narrative once you start playing. You're some random bitch, or bitch boy with murder in your eyes, grinding generic monsters ad nauseam. For glory!
Bullshit aside, I quote the game's sales page: "The Evil Succubus Lilith threatens to wipe out human kind. Few Heroes stood against her, but to no avail – she continued to abduct and seduce every man in the Kingdom, leaving them mindless ghosts of their former selves. Now, when the time is dark and full of sexual demons, a Hero is needed!"
GAMEPLAY
Advertised as a turn-based MMO RPG, Heroes of Lust is actually a clicker. Sure, you arrange your team on the field, equip your characters with suitable gear, level them up, spend talent points, all that good jazz, but the actual battles are automated RNG simulations. You press a button to skip the battle. After about 10 clicks, you've cleared a zone of monsters. You can head back to town to vendor your loot.
The game started out nicely, with lots of quests and new things to explore. The punitive stamina system took time to kick in, and once it did, I felt like fisting a wall. I kept playing because I'm a hard-headed motherfucker, but then, the game was patched around the 30th of May 2018. The maximum stamina cap of players now increases by 5 points per level, letting everyone play a lot more per day.
Every round of combat costs 10 stamina points, while you start out with only 300 stamina. My stamina cap is around 1000, because of the patch, and my VIP boost. Stamina costs are sometimes reduced in random events.
You're not alone. You can buy mercenaries with gold, to form your adventuring party. Place them on the map in a battle, with melee on the front, and rangers in the back. Otherwise you'll quickly notice you have party members doing absolutely nothing. Similar to every waifu gacha game ever released on Nutaku, you're aiming to luck out on your lottery rolls, and get rare girls of maximum power potential.
My team comprises of two melee mercenaries who stand in front of my four crossbow girls. One of the crossbow girls is me. I've focused all my stat points from level-ups on strength and dexterity. The former lets me wear better armor and heavy crossbows without penalties, while the latter increases my hit accuracy. I was speccing lots of strength in the beginning, in hopes it would increase my damage, only later reading tooltips more closely: Apparently strength only increases your damage when wielding melee weapons. Since I became a dedicated ranger, the only use strength has for me, is that I can wear heavier armor and weapons. Each piece of equipment has a stat "reserved strength": If your strength drops below 0, all your stats get penalized.
The gear can be challenging to read. Some items offer bonuses to skills, ie. Spirit Armor. Some items let you access these skills despite no talent points in them. If the item has a "+" symbol before the skill bonus, you have to own the talent to gain the benefit. If there is no "+" symbol, you gain the skill, and then items with "+" symbols will boost the skill. Make sense? It's an interesting system.
The game offers simple quests, that often boil down to doing what you're already doing: You head to different zones on the map, and kill things. Much of the game can be automated, as is common in casual games. When you click the "healer" hut in town, you can set automatic healing for your party, and automatic buying of health and mana potions.
Heroes of Lust is a fun grind, as great loot keeps dropping at short intervals – at level 24, I was already decking out my bitches with epics. I'm level 31 as of time of writing. My team is now much larger and more fierce. At level 30, I unlocked the 5th mercenary slot.
GRAPHICS
The game looks spanking great. The character art is shizzling hot, with a distinctly western style to draw the women. The characters are caricatures, with impossible curves and body proportions. That's part of the charm. Meanwhile, the backgrounds and area maps look so realistic, they're almost like photographs. Visually, and especially for a browser game, Heroes of Lust is stunning.
In battle, the character art is plastered on what look like playing cards throwing their own dance routine. The art pieces are admittedly beautifully colored and detailed to perfection, but it's essentially just concept art that was never rendered into character models. It's a blatant shortcut, let's not sugarcoat these things.
The interface is somewhat convoluted. I've learned to make sense of it after months of playing, but goddamn. Please developers, don't overwhelm your players with too much visual information. Keep it simple for the kids.
MUSIC
The music is way too epic for a browser game. The contrast between the clicker gameplay, and the booming cacophony of instruments heralding a world-shaping war, is downright comical. The soundtrack rocks several epic songs, that work beautifully in a medieval fantasy setting, but the melodies are so aggressive. In context of what you're doing, which is mostly just doing the basic RPG game cycle, the soundtrack sounds out of place. I'd much prefer less aggressive tunes while enjoying my off-time gaming hours. And when your stamina depletes, and the game starts wiggling the message in your face "BUY MORE STAMINA WITH REAL MONEY", at a peak moment in the battle song, you're ready to punch the screen.
In summary, the game has well-composed, memorable melodies that work as standalone pieces, but they are ill-fitted for the context. A less dramatic composition for the battles, and travel would be welcome, unless the point specifically is to make me extremely emotional, and set me up to making emotional decisions with my hard-earned cash.
VOICE ACTING AND SOUND EFFECTS (SFX)
Heroes of Lust has no voice acting. The game has a glaring lack of sound. There's no effects for sword fighting, no effects for sex scenes, nothing lets out a peep. Sure, adding audio wouldn't work when the hellishly epic music overpowers everything, but still. I'm nipping points for skimping on an entire game aspect.
BUSINESS MODEL
Heroes of Lust is free to play. You can buy premium currency, to unlock boosts. You can buy loot chests that appear randomly in battles, that grant random rewards. You can buy stamina refills. You can also buy the VIP boost for several weeks, full of benefits like daily diamonds, instant travel, more gold and items, stat bonuses, and two free inventory bags. The VIP boost is very useful, and you can get it for several months with just a few bucks.
The game has a gacha system for mercenaries, and other things you may desire. In the "temple", you get three free rolls of random chests every day. The loot can be stamina points, rare items, crafting materials, etc. If you spend gems, you can roll more chests. Meanwhile, the mercenary gacha gets you new characters to add into your party. Mercenaries only cost gold, which you gain in abundance in this game.
For the game's credit, the benefits for paying are above and beyond rewarding. After your first purchase, you automatically unlock two extra bags for loot. That alone is reason to throw at least a fiver at the game, if you find yourself playing daily. The VIP bonuses are pay-to-win levels of crazy: The amount of shit you get is listed in a long-ass chart. Included is a substantially enlarged stamina pool. And, after your first buy, the game will throw extra offers at you, like 50% more gems next time.
HENTAI
The hentai is limited to singular CGs with a single line of text. You unlock the CGs from achievements, and other triggers. If you can fap to pictures alone, this game has plenty of pictures for you, my friend. You can zoom on the juicy details, and full-screen the imagery without text. The quality of the artwork ranges from decent to ball-busting. Sure, it adds a basic level of titillation to the experience, though nothing you couldn't get from other sites.
CONCLUDING WORDS
Heroes of Lust is an interesting game. It's a poorly masked skinnerbox clicker with little substance to offer players. But as addicting free to play cancer games go, it's some of the most fun you can get for the affordable price of free.
This game has been discontinued and is no longer available for play.