Written by Otaku Apologist
Tenga Spinner is the ideal cock sleeve for first-time onahole fappers; Made by the famous Tenga corporation, the entrance of this fucktoy is nice and loose, while the grip is tight. The size fits both small and medium-sized penises. The sleek container makes it a clandestine inclusion to your office decoration: the white plastic cylinder hides the fact that it's a sextoy.
Order at Motsutoys (EU) €27.95 – Order at Toydemon (USA) $26.95 – Order at JLIST (JP) $24.00
Note: The Tenga Spinner I reviewed was provided by Motsutoys. We gain commissions from sales. Click a link / banner to a retailer's website, and complete your purchases within 24 hours to support our comics. Thank you!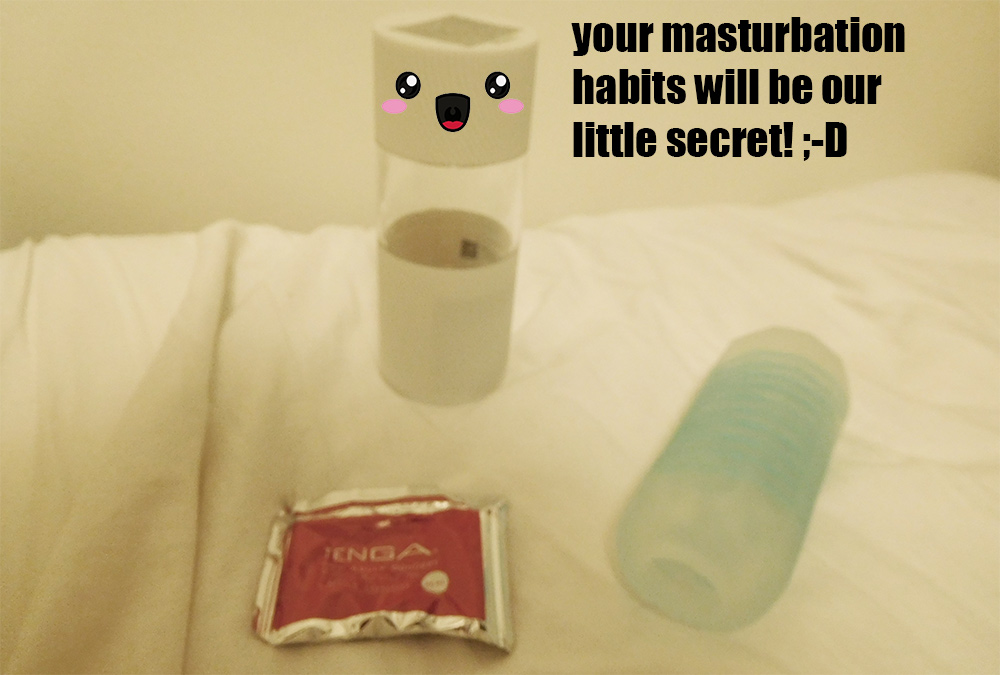 PACKAGE
The packaging of the Tenga Spinner is just a plastic wrap. Once you unwrap the thin transparent veil, you're in for a little puzzle game: How do you open the container? Just figure out which side is the "cork" and turn it like a key in a lock. The soft rubber pussy will plop out from the hard, plastic cylinder. Don't throw it away! The container is great for packing the toy for travel, or hiding it in public view in your workplace, or home. Unless the people you live with are nosy bastards who touch your stuff, chances of them finding your dick sleeve are slim.
Once you've unscrewed the "cork", you're staring at the sleeve. Inside the sleeve resides a little white tampon-shaped plastic container with a sample packet of lube inside. It's a very tiny packet, so you'll need to buy lubricant separately to use the toy properly. Don't even think about using soap, you need a bottle of water-based brand lube that checks all the safety standards. Never put something on your genitals that's not supposed to go there.
MATERIAL
The material is anti-bacterial rubber that feels somewhat like skin. It's very soft and flexible, and mimics a vagina decently well. Inside the soft sugar walls is a "skeleton" that's made of harder plastic, which forces the toy to gyrate. When you're masturbating with this, the toy spins around your shaft. The hole is riddled with ridges and bumps that hungrily suck your dick and massage you towards a blissful climax.
The toy is sealed at the end, which creates a vacuum suction effect. It eats your dick, like it doesn't want to let go.
The material is durable enough and shows no signs of wear and tear yet. Doesn't gather dirt too easily, especially if you stuff it back in its container outside of use.
PLEASURE
The toy rotates around your shaft as you plunge deeper into it. It's not the most powerful toy I've used, you'll have to work for your orgasm. I see this toy good for longer than 5-minute masturbation sessions, when you're not in a hurry, and your privacy is secured. You can control the intensity of the pressure by squeezing the sleeve with your fingers. The pleasure is the kind of bliss you'd expect from a tight well-lubricated hole. It's not better than a woman overall, but sure as hell beats safe sex.
I recommend playing some porn while using the toy. While the sensation is fine, there's no eye-candy for your brain. Most sextoys are designed to look and feel like real women's vaginas, but this toy fades that association. There's no tiny titties or belly buttons, no anime girl in the package. Pop your favorite porn video and immerse yourself in your fantasies!
The toy makes some noise. Because there's plenty of empty room for air pockets to form.. Once you've plugged the sleeve with your dick, you're in for a concert. For online masturbation sessions with an overseas girlfriend, the erotic noise this toy makes is ear-candy for your girl. Your lubricated prick churning this rubber pussy makes squishy, nasty sounds. The lube rolls around inside the hole while you dip in and out. Pulling out makes the loudest noise, like a "pop". You need privacy, or noise-dampening walls in your bathroom to use this toy without anyone knowing.
To achieve the best climax with the Tenga Spinner, I recommend you squeeze it hard and up the pace, and keep going while the cum starts spurting. Don't slow down! Keep going while cumming.
This onahole is so tight, it's perfect for dakimakura (hug pillow) sex! Please read my guide for dakimakura sex to have the most wonderful orgasms of your life dry-humping cute anime pillows!
CLEANING
The cleaning is easy and standard: Pour water into the hole and wash out the lube. Use warm water to wash away all the lube and dirt on the outside too. Feel the toy with your fingers several times, for any signs of squishy liquids. Be thorough, and your toy will last a long time in pristine condition. The entrance is loose, and you can easily dry the insides by inserting the corner of a towel. Use a tampon or your fingers to absorb the liquid in the deepest part.
Leave the Spinner to air-dry for 30 minutes, and put it back in the cylinder to reduce contact with bacteria.
CONCLUDING WORDS
Tenga Spinner is a solid male sextoy. It's a different kind of pleasure that's refreshing from your regular handjobs. The spinning gimmick works well, and adds oomph to the experience. You can adjust the pleasure it provides by turning it around, going faster, slower, squeezing it with your fingers. The best part is the container, that makes it easy to pack up and hide from view. You can take this toy with you in the secret pocket of your backup.
Order at Motsutoys (EU) €27.95 – Order at Toydemon (USA) $26.95 – Order at JLIST (JP) $24.00

Pleasure

Material

Cleaning

Package