Written by Mistress Valentine, edited by OtakuApologist
Pact with a Witch, a visual novel developed and published by Jonnymelabo. For PC Windows, Mac OS, and Android. Limited voice acting. Uncensored genitals. Support on Patreon and download the latest version.
Your best friend tries to rape a witch. Before you can intervene, she bites and curses him. Your male roommate starts turning into a nasty, slutty nympho whore. Convince the witch to undo the curse!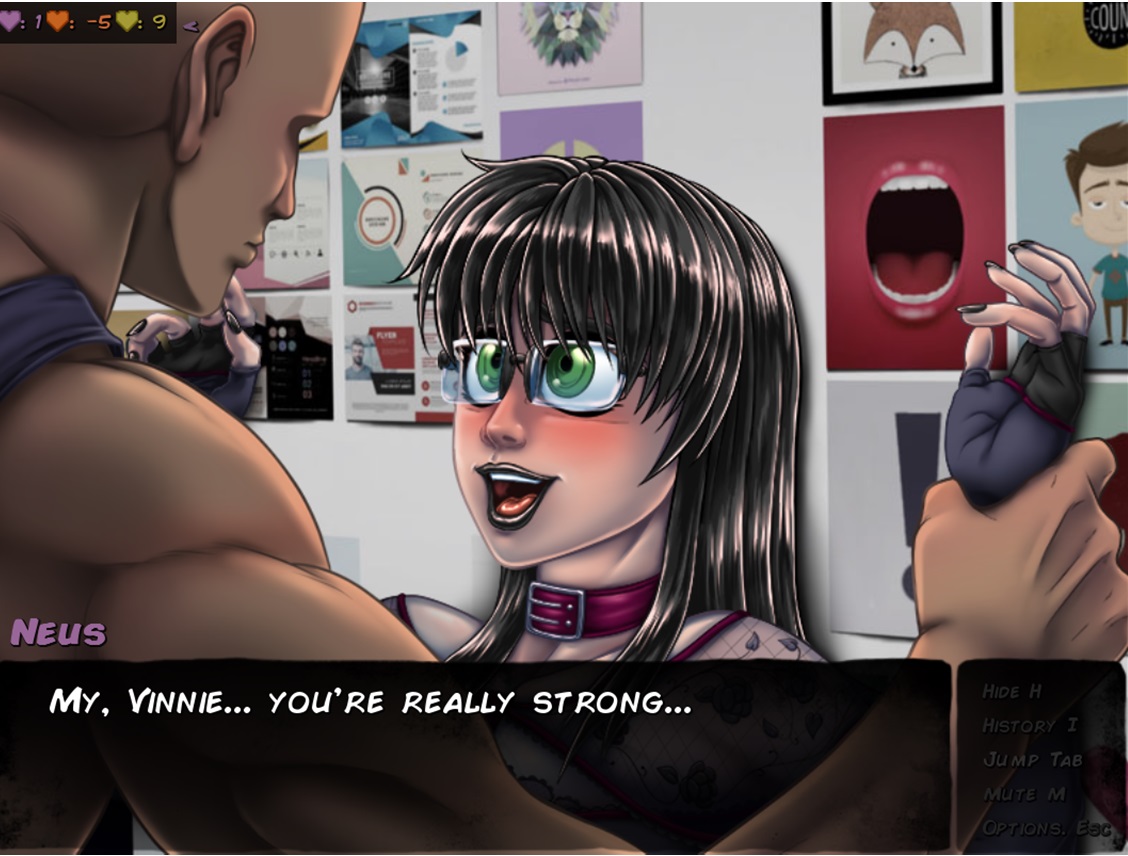 STORY

You play as Vinnie, a studious young man whose best friend is a rapist. His name is Didac, he tries to rape a girl named Neus in the bathroom. You intervene like some white knight bitch boy hoping to get laid with your act of virtue signaling. Before you can pull Didac off, Neus bites him. After apologizing to the raped girl, you leave the crime scene. You immediately start noticing changes in Didac's body.
Didac's manly pecs are replaced with fat juicy tits. His once raging boner is now a pink, cute pussy. These are only the first of the coming changes. The witch girl tells you it's only going to get worse, unless you go on three dates with your friend. If you don't, Didac will stay a nymphomaniac cum bucket forever.
On each date, Vinnie learns more about Neus and the curse. He begins to like him as a woman.
Vinnie has to fend off numerous sexual advances from Didac. His new pussy is hungry for some cock. Neus warns Vinnie that if he shoots a load inside her cunt, he'll remain a slut forever.
Vinnie also encounters a mysterious woman named Meritxell. Unfortunately the story of Vinnie's relationship with Meritxell is not very exciting. This side-quest takes place in a museum, and involves historical quizzes.
As of time of writing, only two of the three dates are available for play.
GRAPHICS
Pact With a Witch features a very unique art style. Its charm is in the mixture of different styles. The art style that gets most screen-time looks dirty, and grotesque, with jagged ugly characters that blend with the dark overtones of the storytelling. Facial expressions are many. Characters blush frequently from embarrassment and arousal.
The character designs are inspired by anime with a western vibe. Neus is a white emo girl in a Gothic Lolita costume. Didac's character has huge boobs that look like they're gonna spill out at any moment. Merixtell's design is simplistic with nothing extraordinary or attention grabbing.
The sex scene artwork is a pleasure for the eyes, featuring close-ups of boobs, faces, and genitalia.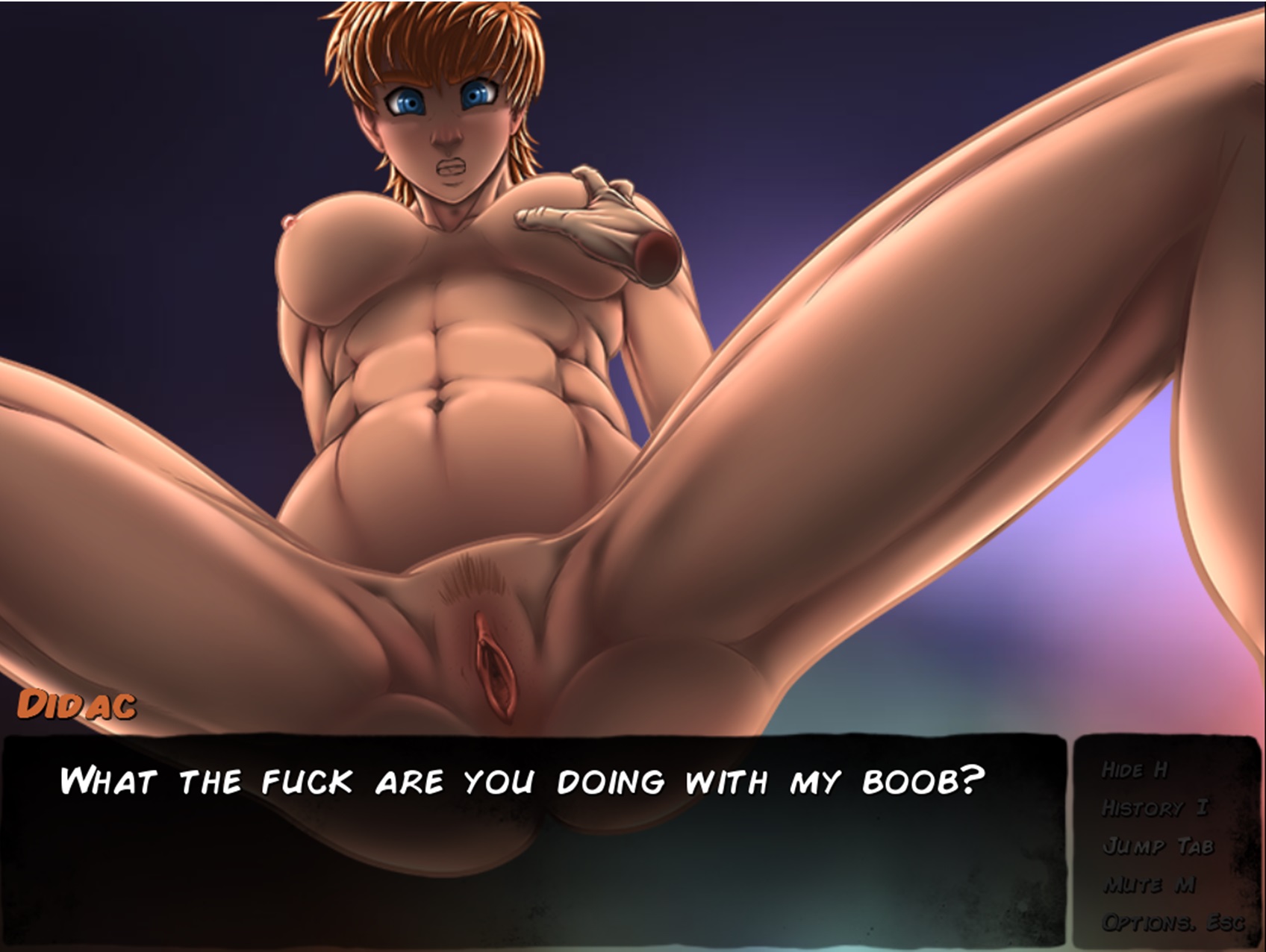 Some background images have cheap-looking backdrop characters with distorted faces. The backgrounds are mostly simplistic and ordinary. Characters often block the screen. The game also borrows a lot of real-life photos of areas and pastes character sprites on them, as if that's something a creator can just do. It's a cheap trick that sure lowers art costs but also reduces the quality of the product.
Sometimes sprites are not colored at all. The game is clearly not fully complete yet.
GAMEPLAY
Pact With a Witch is a visual novel. You click the screen to "turn the pages". You are presented with branching choices which influence future events of the story. The choices affect your relationship with the three main girls. Depending on whose pussy you're closest to fucking, the story will branch into different routes. There are several endings, though they don't go anywhere as the game is unfinished.
You are presented with a lot of choices, but most scenes play out in the same exact way regardless. There are only nine save slots available, making it difficult to backtrack choices. There is an auto-forward button to skip through text you have already read.
Pact With a Witch also features mini games where you have to scroll all along your partner's body and grope, squeeze, lick or finger them before plunging your hard cock into either their holes. Sadly the version I played only allowed me to squeeze titties.
VOICE ACTING AND SOUND EFFECTS (SFX)
Voice acting in this game is very limited. You hear screaming, coughing, and licking. There's also sexual sounds like slurping and erotic moans. There are no environmental sound effects. Object-related sounds are rare. Some audio clips include shower taps, slurping, kissing noises, crowds of people in the street, birds chirping in the early morning. These sound effects often feel intrusive and disrupt the music.
MUSIC
Music is limited. You hear only a few tracks during the entire game. There are a lot of scenes that do not have music. This is most notable during intimate scenes.
Soft piano and guitars play in intimate everyday encounters. Some of the tracks feature electric guitars which feel as if every second is building towards a climatic confrontation that ultimately never comes. The melody is simple, but invokes passionate emotions.
The theme song for the game is very unique. It has a distinct feel with electric instruments such as guitars and a phantom of the opera style piano number that sets it apart from the other musical pieces.
HENTAI
Most of the sexual content is foreplay. One standout scene features an encounter between Vinnie and Didac in a clothes store. While Didac bends over and tries to distract the store employee, Vinne takes out his cock and hotdogs Didac's butt cheeks, gently stroking it before blasting a huge load all over her backside.
Another highlight scene is when you take advantage of Neus while she's drunk. The writing in this scene is excellent You take off her clothes and embarrass her by staring at her naked tits. They're not very big, but they're soft and squishy between the fingers.
The sex scenes are good too. A standout scene features Didac, tired of sticking house hold supplies in his new pussy, trying to convince Vinnie to fuck him. It's a highlight scene because the characters discuss the potential consequences of them having sex. Vinnie thinks long and hard about the terrible outcomes while sandwiching his massive throbbing cock between Didac's luscious titties.
Unfortunately, the sex scenes are unfinished. Hopefully future builds go all the way.
CONCLUDING WORDS
Pact With a Witch features some sexy writing with lots of focus to building character relationships. The story slowly eases the player to feel comfortable and excited of the idea of having sex with a transsexual character. The periodic teases of fucking Didac, Neus and Merixtell, combined with the unusual artwork and musical score make this game a unique experience. We can only hope the next update arrives sooner rather than later. You can download 'Pact With a Witch' from Patreon.
Discover more quality hentai games on our webstore, including tons of free download titles!
Graphics

Gameplay

Story

Music

SFX

Hentai