Schoolgirl Corruption Visual Novel: Violated Miki Chan
Hentai Reviews

>

Reviews

>

Schoolgirl Corruption Visual Novel: Violated Miki Chan
Written by Rastafoo69, edited by Otaku Apologist
Violated Miki Chan, a kinetic novel developed by HeisenDou. Released January 24, 2011. Download on DLsite.com for $12.00. For PC Windows. Full voice acting. Censored genitals. Free demo available. English fan translation patch here.
Miki Hosokawa is a gorgeous busty schoolgirl who dreams of becoming a celebrity idol. When a pervy old man promises to make that dream come true, she's willing to do anything to please him.
Before trying this game, please read our guide how to download DLsite games.
STORY
Miki Hosokawa is a virgin schoolgirl blessed with enormous breasts. She's conceited but very gullible, which ultimately comes back to bite her. As this is a kinetic novel, the player has no control over the story. It's very linear. She agrees to model for a man, drinks an aphrodisiac, poses nude, and then gets blackmailed. After having sex many times, she accepts that she's become a sex-obsessed slut.
There's a cold irony in the writing that's pretty funny to think about. At the start of the game, Miki is looking down on the homeless as perverted bums unworthy of her time. By the end of the game, she's having sex with every bum she meets!
GAMEPLAY
Violated Miki-chan is a kinetic novel. Press Enter to advance dialogue, and hold it to skip ahead. A toolbar at the top of the screen allows players to customize the screen resolution and other functions. Scroll up to review the text log.
The game is less than two hours long, comprised mostly of sex scenes with minimal foreplay. Completing the game unlocks the CG gallery and scene menu. Currently, the English translation does not cover the scene review menu.
GRAPHICS
The art style is Japanese anime, with a bit of a cartoonish bent towards more realistic male figures. There are 17 base CGs and many variation images. The visuals are primarily CG images.
As a game from 2011, there are clear improvements that could have been made on the user interface, for example, customizable opacity or more stylized fonts. Most of the developer's time and energy seems to have went into creating the numerous CG artworks featured throughout the game, but a better interface would have made this game more memorable.
The game world is purely residential, with the most exciting location being the sex scene taking place behind the convenience store. Miki-chan wears an unremarkable green blouse to match her green eyes. None of these visuals are memorable, but they create a relaxed and believable feeling that fits well in this corruption storyline.
VOICE ACTING AND SOUND EFFECTS (SFX)
Violated Miki Chan features full voice acting for the main protagonist, Miki Hosokawa. I loved every minute of the actress' performance! She was the perfect startled virgin girl, especially during her first creampie! As Miki cried out in fear that she might get pregnant, I felt truly immersed. Admittedly, the high-pitched girl voice is over-used, but this actress performed it perfectly!
Sound effects are very limited and rarely used.
MUSIC
The soundtrack includes about three songs. The instruments are digital. Various beeps create a simple tempo and melody. Sometimes you hear computer generated instruments like bongos and cymbals, but they sound too polished to be believable.
Using purely bongos during sex scenes was a bold move, but it worked. It created a minor sense of impact while also keeping the scene light and believable. Honestly, you could forget that the music was ever there, and that's a good thing! Relaxing bongos work well to balance out the high pitch squeal of the female protagonist. Overall, this game has balanced and respectable sound design.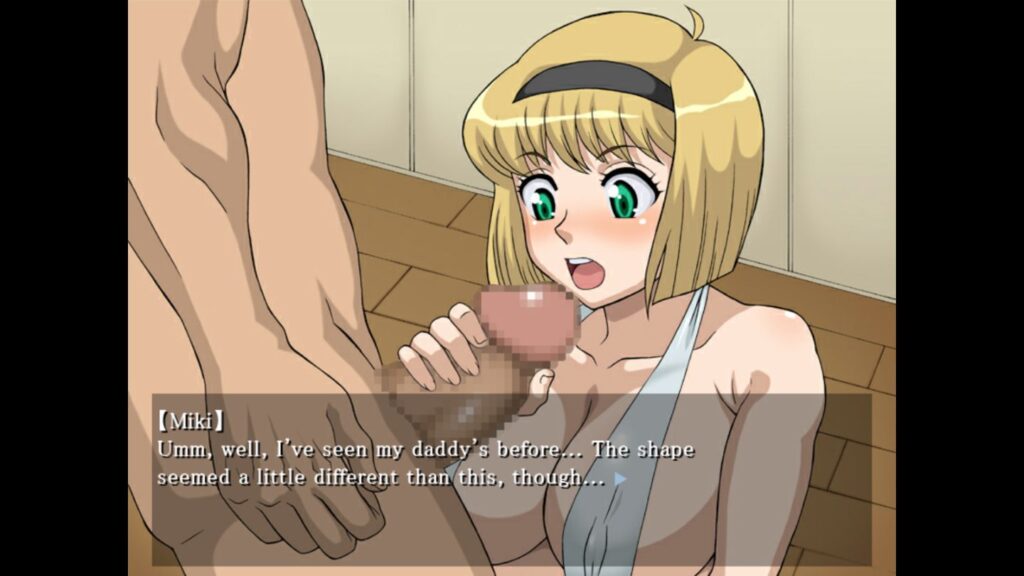 HENTAI
Violated Miki Chan has 17 base CGs to match a similar amount of scenes. Some images repeat frequently.
The primary featured fetish in this game is corruption. From the moment she loses her virginity, Miki-Chan begins her downward spiral into becoming a complete and total whore! At first, she was only having sex because of blackmail. Then, she decides to prostitute herself a bit for some quick cash! And now, she's having sex with the homeless because she truly does love cock!
Numerous image variations make the scenes dynamic and capture your attention. The erotic dialogue is perfectly written, especially when Miki-chan talks about getting pregnant! Sex scenes are unusual, and show off as much skin as possible.
CONCLUDING WORDS
Violated Miki-chan is a classic corruption hentai game, featuring virginity loss and homeless sex. The story and gameplay are practically nonexistent, but the voice acting and hentai are fantastic! As a game from 2011, Violated Miki-chan is a diamond in the rough!
I recommend this game to fans of slutty schoolgirls! Download Violated Miki-chan.
Graphics

Gameplay

Story

Music

SFX

Hentai