Written by Mistress Valentine, edited by Otaku Apologist
Lulu & Ennoi – Sacred Suit Girls, a hentai game developed and published by SmallSqurriel. Released December 18, 2019. Download on Steam for $4.99. For PC Windows. No voice acting. Censored genitals. Sign up free with your email
Owen is summoned to meet a priestess and an adventurer. Suddenly, he gets dragged into a fight with monsters. He must now bed lots of women, kill a ton of monsters, and save the kingdom like some medieval James Bond!
Visit our perverted store for more hardcore porn games.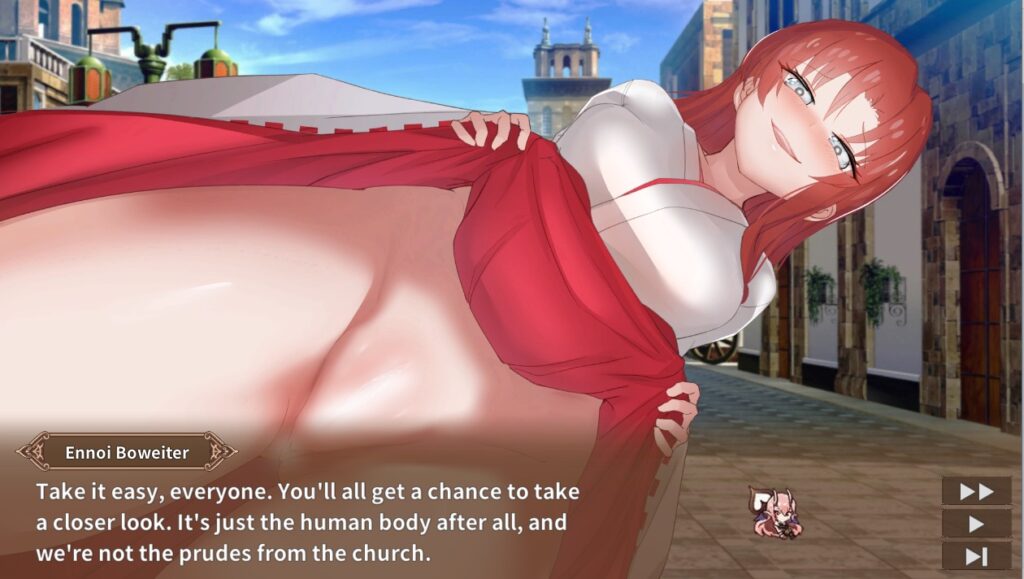 STORY
Owen is called to the Church of the Hero where he meets priestess Lulu. Owen's services are needed to defeat a monster army that has invaded the kingdom. They are joined by Ennoi, an adventurer who dislikes the church for no apparent reason.
Owen and his party travel to nearby towns and villages, defeating monsters. Along the way they also meet Succubus Kassandra who immediately picks up on Lulu and Ennoi's attraction to Owen and starts devising elaborately lewd scenarios for them.
The writing for Lulu & Ennoi feels bland. Many scenes are just excuses for fanservice. Scenes do not flow well. You go from fighting goblins to dressing up Ennoi and Lulu in bunny costumes. The connection to the rest of the story is non-existent.
The game doesn't develop its characters or even explain why Lulu and Ennoi like Owen. No time is devoted to building up their personal relationships. The game's biggest weakness is the amount of time it takes to unlock sex scenes and their relative shortness.
There is one or two grammatical errors in the text but they are thankfully rare.
SOUND EFFECTS AND VOICE ACTING (SFX)
Lulu & Ennoi has no voice acting.
Sound effects are limited. Most sounds are generic sword noises. Sexual sounds are non-existent.
MUSIC
Lulu & Ennoi has above average music. Music feels neither interesting nor entertaining. Songs are composed with real instruments for the most part. The keyboard, flute, drums, and electric guitar are prominently featured. Scenes in the countryside feature a great musical number that combines the best of the pipe-organ and keyboard, creating a beautiful track.
The travel and battle stages use an upbeat and vibrant song you'd expect to find in an action adventure anime. The song loops continuously without notice. There is a good variety of different songs that strike a good balance between vibrant and upbeat, slow and intimate, casual or ominous. Music is not disruptive. The tracks are strategically placed to match the atmosphere of the scene taking place.
GAMEPLAY
Lulu & Ennoi is a strategy game, and an RPG with visual novel mechanics.
Clicking the textbox advances the story. Functionality features are normal to other visual novel games with an 'auto' button for smooth play. During travel scenes, players take steps on a map screen in order to complete missions. The player must navigate their way across the map, defeat monsters and complete whatever mission they're on. Missions usually involve either defeating all monsters in a given area or reaching a checkpoint.
If your health points run out, or you run out of steps, it's game over. It may take several play-throughs before you get the hang of things. You also become stronger after defeating each monster. This comes in handy as you progress through the game and need to have high attack to quickly end a battle, as well as high defense to mitigate incoming damage.
There are not many save slots available, which makes the game more difficult. There is also a music gallery where you can listen to the soundtrack.
GRAPHICS
The artwork has a dull colour scheme that makes it look hand drawn. The lines are thin with light shadows in key places to give bodies a sense of texture. The characters look a lot like each other. Their faces, eyes, and hairstyles look very much the same in artworks. Bodily proportions remain consistent between scenes. Both Lulu and Ennoi have several outfits that they wear throughout the adventure. Both girls have gorgeous bodies. There's a lack of variety in facial expressions. The chibi artwork for travel and battle stages is cute.
Background art is excellent. They're rich in details and good with the lighting. The surrounding areas feel alive. There's a great variety of interesting areas.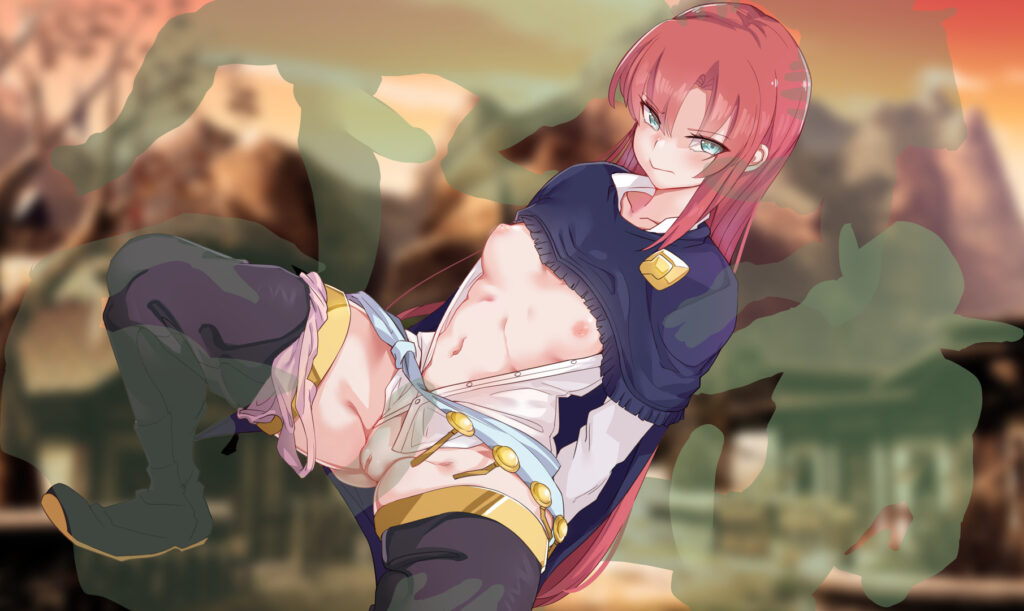 HENTAI
It takes a lot of hard work and time to unlock a sexual encounter. Sex scens are abysmally short and unsatisfying. The characters do not give a lewd running commentary of their bodily sensations, like in most hentai games. Descriptions of the sex are concise and kind of bland.
The game doesn't treat sex as a reward you have to work for. Sex is also very tame. I didn't get a sadistic sense of pleasure when Ennoi is gangbanged by a bunch of monsters. There is not enough horror and emotion to make you care or bust a nut. Sex scenes occur seemingly at random with no build up, and are devoid of romance. They cease to be lewd relatively quickly.
Paradoxically, the lewdest scenes in the game occur without actual sex. Ennoi dresses in Japanese priestess attire and shows off in public, gladly lifting her skirt to tease bystanders with the sight of her pussy.
The camera work for h-scenes is subpar. There is a limited number of sexual artwork available.
CONCLUDING WORDS
Lulu & Ennoi is a fun departure from the sex-heavy hentai games out there. The sexual content could use improvement, but the gameplay more than makes up for it. The soundtrack and art are average quality. The overall gaming experience is great for its meager asking price.
Recommended for all hentai gamers. Download Lulu & Ennoi – Sacred Suit Girls.
Graphics

Gameplay

Story

Music

SFX

Hentai