Hentai Anime Review: Toilet no Hanako-san vs Kukkyou Taimashi
Hentai Reviews

>

Reviews

>

Hentai Anime Review: Toilet no Hanako-san vs Kukkyou Taimashi
Written by Mistress Valentine, edited by Sexy and Otaku Apologist
Toilet no Hanako-san vs Kukkyou Taimashi, a hentai anime produced and published by Suzukimirano Petit. Released February 26, 2021. Runtime 16 minutes. Full Japanese voice acting. Censored genitals.
STORY
Gonsou is a world-famous exorcist who has tracked down the elusive spirit of Hanako who haunts the toilet of a school. He is confident he can purify her with his dick juice but his nut-busting powers are tested when Hanako proves more resilient to his holy baby-making milk than expected.
Hanako vows to kill Gonsou for interrupting her. She is soon captured and gets punished in her sex holes. The plot ends here, and the rest of the episode is devoted to showing Gonsou fucking Hanako's brains out. She exits this episode a creamy, sexy mess much to the satisfaction of Gonsou and the audience.
ANIMATION
The animation looks good. Early on you are greeted by the creepily lewd imagery of evil auras fondling Hanako's boobs and massaging her pussy. The character designs for Hanako and Gonsou are great. Hanako looks cute and her body makes you want to fuck her. She has big boobs that bounce with every small step she takes. The animators went the extra mile by giving her evil red glowing eyes, as well as bags under her eyes. Subtle things like seeing the characters' breath during a cold night deserve to be praised. Gonsou looks like a generic, bulking, balding man but his uniform and lack of pupils makes him fit right in with the rest of the horror-esque anime.
The episode takes place at night but shadows and various subtle lighting techniques still stand out. The episode never looks too dark or unnaturally bright. The camera work is wonderful. We get to see Gonsou subjugate Hanako from a lot of different camera angles. The camera loves to zoom in on Hanako's lewd expressions, as well as Gonsou's dick which is incapable of going limp.
VOICE ACTING AND SOUND EFFECTS (SFX)
The voice acting in this anime is great but Gonsou's VO steals the show with his over the top, dramatic portrayal of the exorcist. Many of the lines become funny because of how serious he says them despite being in a hentai.
Hanako's VO is super cute and lovably sexy. Her complaints about being fucked are titillating and funny at the same time. At certain points in the hentai she portrays the character with so much emotion that you feel genuinely sorry for her as she continually calls out for help. You can tell that a large part of her hates what is happening to her and her hopelessness compliments the dark tone of the aime.
The episode is very atmospheric with plenty of creepy imagery and sound effects. Rough footsteps, floorboards creaking, evil aura sounds, rocks being smashed, impact noises are some of the many sound effects that haunt this anime. Gonsou's dick has its own unique aura sound! You can also hear fabric tearing, as well as the usual sex noises.
MUSIC
I really enjoyed the soundtrack in this hentai. Songs are slow and eerie. You feel like you're in a horror movie. Near the beginning, the music builds tension as Gonsou approaches Hanako. It's creepy as fuck.
As soon as they begin having sex the music changes and becomes more upbeat, still maintaining that eerie overtone. It's the perfect mixture of nuance and chaos and perfectly juxtaposes over the sound of Hanako being sexually exorcised. The hentai uses original instruments like the piano and pipe organ with some violins and wind instruments to paint a captivating audio landscape.
HENTAI
Gonsou is a real alpha bastard. He tears off Hanako's panties and dramatically sticks his dick inside her. She's confused by this exorcism technique but he just fucks her through her confusion. He forces her onto his cock and makes her blow him, all the while we get a nice, juicy shot of her pussy leaking cum.
Gonsou is portrayed as someone with unlimited cum and a bottomless degree of control. He endures a one-hour blowjob before cumming in Hanako's mouth. The shot of Hanako's puffed out cheeks and cum-filled mouth is delicious.
Gonsou completely dominates Hanako. He slaps her silly with his dick before ambushing her from behind and ramming his cock up her ass. He ties her up and fucks her while suspended in the air. The episode is almost apathetic to Hanako as she cries for help and begs for forgiveness. Gonsou gives no shits about forgiveness and just shoves his dick into her mouth and makes her clean him up before going back to work.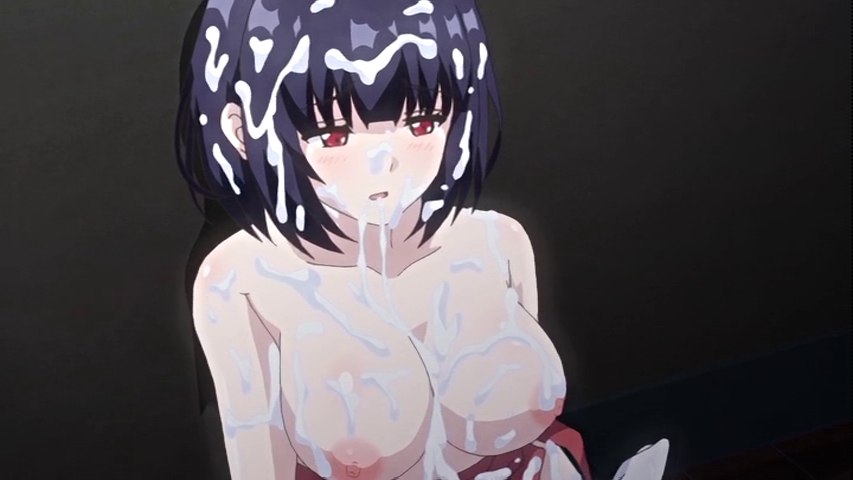 CONCLUDING WORDS
Toilet no Hanako is a dark and twisted porn anime with a revenge theme. The premise of fucking up slutty ghost bitches using a magical cock is as hilarious as it is sexy. The visuals, cute girls and atmospheric tone make this hentai a must-watch for fappers everywhere.
You can watch Toilet no Hanako-san vs Kukkyou Taimashi on Muchohentai.com.

Animation

Story

Music

SFX

Hentai