Sextoy Review: KYO Plush Doll – Life-Size Sex Doll
Hentai Reviews

>

Reviews

>

Sextoy Review: KYO Plush Doll – Life-Size Sex Doll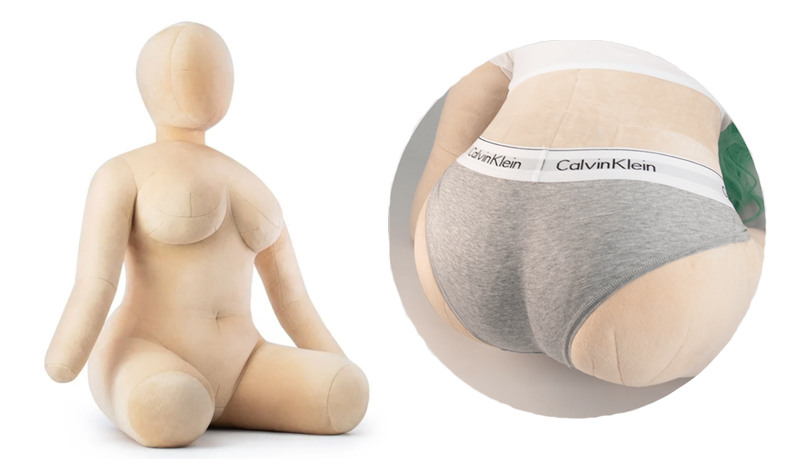 Written by Jay Johnson, edited by Otaku Apologist
Have you ever found yourself looking at a plush toy and thinking, I'd sure love to stuff my favorite onahole between those slutty legs? Because that is exactly what the KYO Plush Doll was built for. She's a near full-sized plush doll with an adjustable hole designed to fit most pocket pussies. The select-a-snatch concept is similar to expensive silicone dolls that have removable pussies. One big difference is that this doll is plush—just like your favorite teddy bear from when you were a kid! Another difference, and perhaps the most important, she's actually maneuverable because she weighs next to nothing. So let's get into it and see what this build-a-bitch can do!
The KYO Plush Doll I reviewed was kindly provided by Motsutoys. Retail price around €200.
PACKAGING
As this is the first fuckable plush doll I've ever had the pleasure of owning and boning, I really had zero idea what to expect in regards to the packaging. And, even then I was a little surprised at lack of any packaging or artwork at all.
MATERIAL
The doll has a really soft, high quality plush exterior like you would expect. I haven't been particularly easy on her these last 3 weeks to say the least, but even then she hasn't developed any damage or wear on her exterior. The stitching still looks new and the filling has stayed perfectly fluffy and in place. She's built to last. The synthetic filling is great everywhere except for in the neck, which is a little bit wobbly. Her head was already drooping slightly to the side when she arrived in the mail, but luckily the floppy neck situation hasn't gotten any worse. The adjustable pussy hole is just large enough to fit a bigger onahole like the Meiki no Shoumei 5: Zhang Xiao Yu (ZXY for short). I found it much easier to insert an onahole into the doll if you first place your onahole inside a small plastic bag and kind of twist it back and forth while pushing it up into place.
And, did I mention how big she is? She's basically life-size and has a nice sexy body shape that's a little on the fuller side, with curves in all the right places for my liking. Her tits are a good size and give you more than a handful to hold onto, but don't expect them to squish like the real thing. Her big ass is surprisingly bubbly and she fits perfectly into my wife's Victoria's Secret panties. G-strings, on the other hand, don't look so great on the doll as she doesn't have an ass crack that can swallow a thong.
PLEASURE
Being that this is a BYOP (bring your own pussy) type scenario, your penile pleasure will totally depend on the onahole you choose. But, once your onahole is locked in and you're ready to get unloaded don't expect a standard session. Having that full size body just takes it up a notch. And, because she's so light weight you can fuck her in any and all positions without feeling any fatigue or strain from holding her. Missionary, doggy, cowgirl, reverse cowgirl, standing, amazon, upside down, you name it—all very doable and surprisingly fun! Just slide your onahole into the plush doll, tie a couple knots in the drawstring to keep the pussy in place, tuck the ends of the drawstring inside so they're out of the way, and go fuckin' nuts.
Her thighs are just long enough to prop her up nicely for a good old-fashioned doggystyle dick smash. But, if you'd rather get horizontal under the sheets, she's more than capable of holding all your body weight on top of her. And when you've finished fucking the ever-loving stuffing out of her, she makes a great cuddle partner.
I found myself mostly equipping her with a Meiki ZXY. And, while the ZXY does fit, it's a little tight getting her in there. I don't think she could fit an onahole with a larger diameter. And yeah, the tiny pseudo-ass cheeks on the ZXY and some other onaholes look kind of weird when you've got her stuffed inside the plush doll. But, boy do those cheeks feel amazing slapping into your nut sack when she's riding you cowgirl and you're balls deep, pumping hot cock sauce into plushy ona goodness.
CLEANING
If you've ever owned an onahip or a torso, you know that cleaning them can be a bitch. This is precisely where the KYO Plush Doll shines. It requires basically zero cleaning, unless you decide to nut all over her stomach or ass. If you do decide to spray your plushy slut, then yeah, you'll have to spot clean her with toy cleaner or mild soap and let her air dry. But, for less messy folk, the postcoital cum cleanup only consists of removing your onahole from your doll and cleaning it as usual, then putting your onahole and your plush doll away.
Cleaning up is quick enough that I was actually able to sneak some quickies with her on a few occasions—and that's something that cannot be said of almost any other hip/torso this size.
CONCLUDING WORDS
I really wasn't expecting to enjoy this doll as much as I did. I thought the lack of spankable skin and realistic feeling flesh would be a bigger drawback, but it simply wasn't. The fact that that she's plushy and always warm (unlike silicone or TPE), incredibly light, and barely needs to be cleaned, means that this is a toy destined to stay in my rotation.
You can purchase the Kyo Plush Doll from many venerable sextoy retailers, including Motsutoys.com.
Packaging

Material

Pleasure

Cleaning