Steven Universe Porn Game: Beach City Nights
Hentai Reviews

>

Reviews

>

Steven Universe Porn Game: Beach City Nights
Written by Rastafoo69, edited by Otaku Apologist
Beach City Nights, a Steven Universe porn parody game developed by DigitalKaiju & Rilogator. Download the game on the developer's Patreon. Released on October 26, 2020. For Windows PC, Mac OS, and Linux. Partial voice acting. Uncensored genitals.
It's a Steven Universe porn game with animated sex scenes! Play puzzle games and unlock new scenes!
STORY
Beach City Nights has no story.
GAMEPLAY
The game was programed in the Godot engine. It's a simple gem-matching puzzle game where you rearrange the symbols on screen to land three in a row. There are no rewards for chains or streaks, so don't worry about it. Play this game at your own leisurely pace. It is impossible to lose.
There are six levels in total. After matching enough gems you can rotate them counterclockwise for one turn. Otherwise, your default mouse control are to simply click the screen and rotate four gems in a clockwise motion.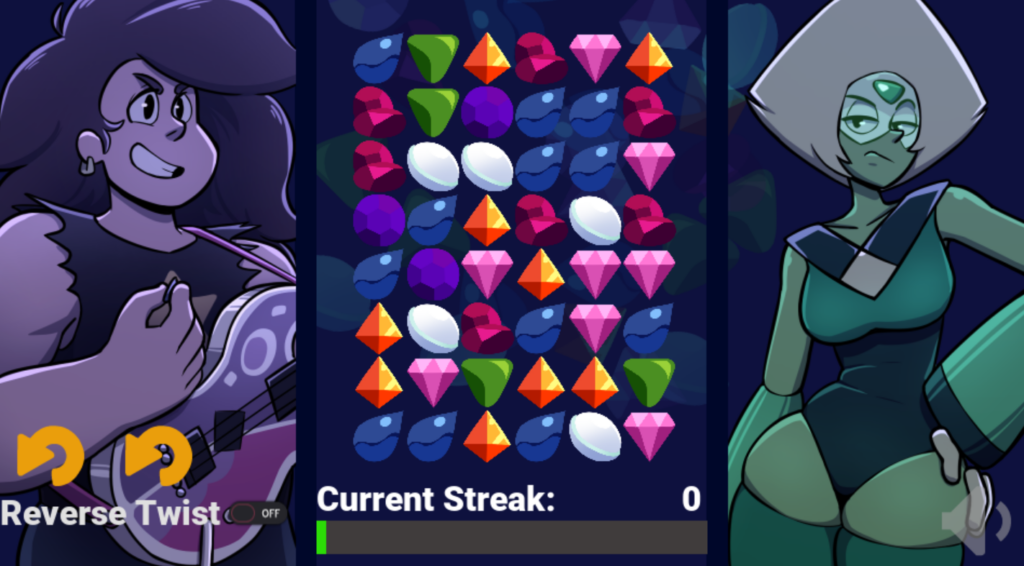 GRAPHICS
Although Steven Universe was a 2D television show, this game features fluid animations and rounded body proportions. You can actually see an ass jiggle as it bounces up and down, which makes the characters feel more realistic than their television counterparts.
There are six animations in total. Pearl and Amethyst give blowjobs. Garnet fucks you cowgirl, Lapis fucks in missionary, Peridot has a mating press scene, and Jasper gives a titfuck. Keep in mind that all scenes are fully animated and totally unique. Even if the animations are short and loop regularly, they remain an incredibly hot view for fans of the characters.
The gameplay also features basic animation as the gems during the puzzles are rotated or disappear. This keeps the sense of movement and flow consistent throughout the game. If not for the static title screen, it would feel like this entire game was a full motion experience.
My biggest complaint about this game is really just a pet peeve, which is, we don't get to see the facial expressions of the girl during her mating press scene! Show me some ahegao!
VOICE ACTING AND SOUND EFFECTS (SFX)
Beach City Nights has partial voice acting for sex scenes and successful gem matching during the puzzle. All lines are usually a word or two like "great" or simply moaning. Each of the six waifus has her own unique voice to match the character. Of course, I wish there was some actual dialogue, but it would be difficult to live up to the voice actresses of the real Steven Universe.
Sound effects are limited and often overshadowed by the voice work. Honestly, a moaning voice actress is a million times hotter than generic thrusting. The developer did good by adding some basic female voice acting.
MUSIC
The title music has a simple and jazzy synth beat like a high tech nightclub. It fades out when you start a game, but fades back in as a more upbeat and fast paced track kicks in. Bass guitar is heavily used during this upbeat puzzle track, which is perfect for filling the quiet without distracting you from the puzzles. With only two or three songs to work with, the developer used them masterfully to keep the game from getting boring.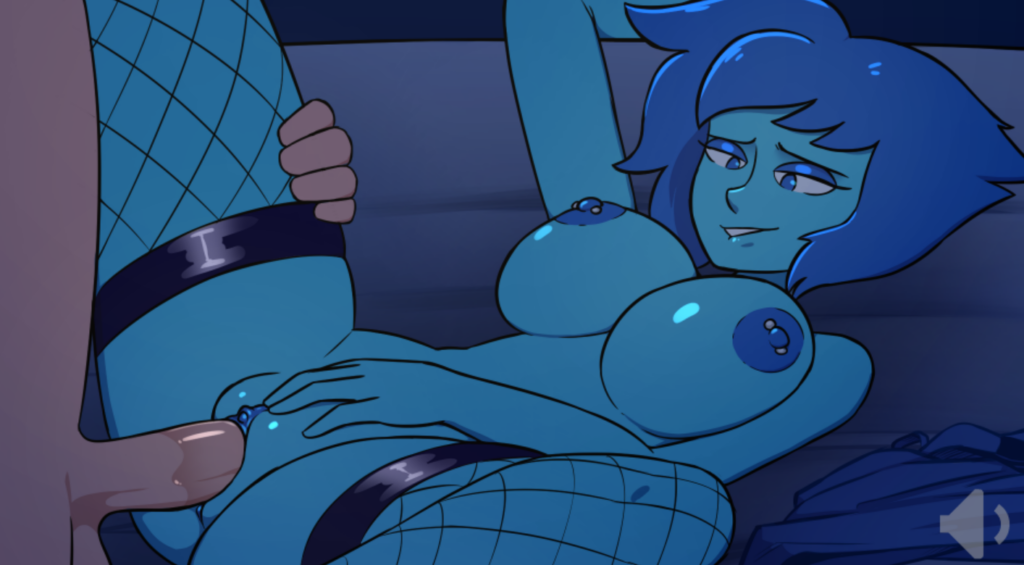 HENTAI
Beach City Nights has six sex scenes, one for each waifu. All scenes can be reviewed in the pause menu after they've been unlocked.
I wish Pearl and Amethyst got more than simple blowjob scenes. And the titfuck with Jasper was underwhelming. I mean, there's not even a doggystyle scene in this entire game! And it's always a third person perspective instead of POV. While the scenes are hot, I was left wanting more.
The biggest sin this game commits is the lack of any creampies or cumshots. The male never cums even once! A sex scene without a climax is like a shoe without a foot, it's incomplete! I enjoyed the scenes, but I was left disappointed.
CONCLUDING WORDS
Beach City Nights is an enjoyable little adult game. The art is beautiful and the girls are hot. The voice acting was a great way to bring the characters to life while staying true to the puzzle format. While the game is easy, the animations always had me rock hard!
I recommend this game to fans of Steven Universe. Download Beach City Nights.
Graphics

Gameplay

Story

Music

SFX

Hentai