Hentai Action Game Review: Freya's Potion Shop
Hentai Reviews

>

Reviews

>

Hentai Action Game Review: Freya's Potion Shop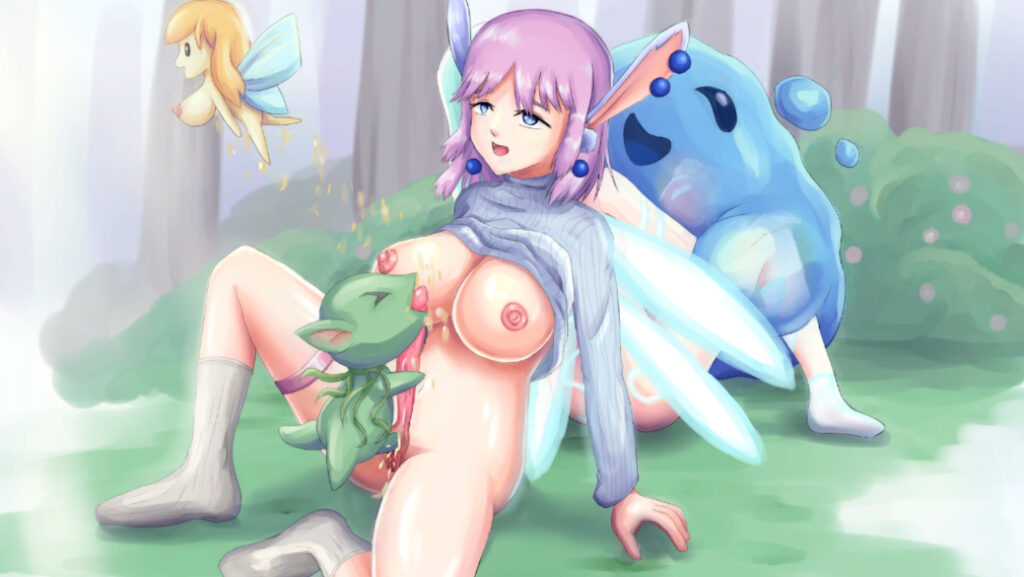 Written by Rastafoo69, edited by Otaku Apologist and Mistress Valentine
Freya's Potion Shop, a hentai action game developed by oneLegNinja. Released August 13, 2020. Download on Nutaku for $6.00. For PC Windows and Android. Partial voice acting. Uncensored genitals. Available in English, Chinese, & Japanese.
You and your mother owe 100,000 gold pieces to the local rich guy in town, Manji. To cover the interest, he's fucking your mom! Run your potion shop, fulfill requests, and save up enough money to save your mother!
PROMO: When you download games through links on Hentaireviews, you help produce original hentai media.
STORY
The translation is very poorly done. Sometimes it's hard to discern details, other times a conversation is borderline incomprehensible. There are numerous typos like "celevrate" instead of "celebrate". This only applies to the English version of the game. I am uncertain of the quality of the Chinese or Japanese versions.
Megumi, the protagonist of the previous game, appears here. In the first game, she had to track down and rescue the scouts working under her. They appear in this game where Megumi is Knight Captain and often uses her body to please her troops. It's nice to see the character from the previous game has advanced in her career. I enjoyed how she was integrated into this game by giving you battle exams to unlock new regions.
You owe 100,000 gold pieces. Doing requests from townspeople usually doesn't pay, but it will unlock lewd scenes. Most of your money is made by selling potions made in your shop. To do this, you need to go out foraging for potion ingredients. At the end of the game, you learn that Manji was injured from too much sex and you need to make a revival potion. There's a boss fight, an orgy, and then the game is over. It's a pretty bare bones plot.
When it comes to world building, the game is basic. You aren't even told about the country or city you live in. There are sentient horse people and other fantasy creatures, but none of it is discussed in-depth. I wish the writer delved deeper into the specifics of this society, so I could get more attached to the experience.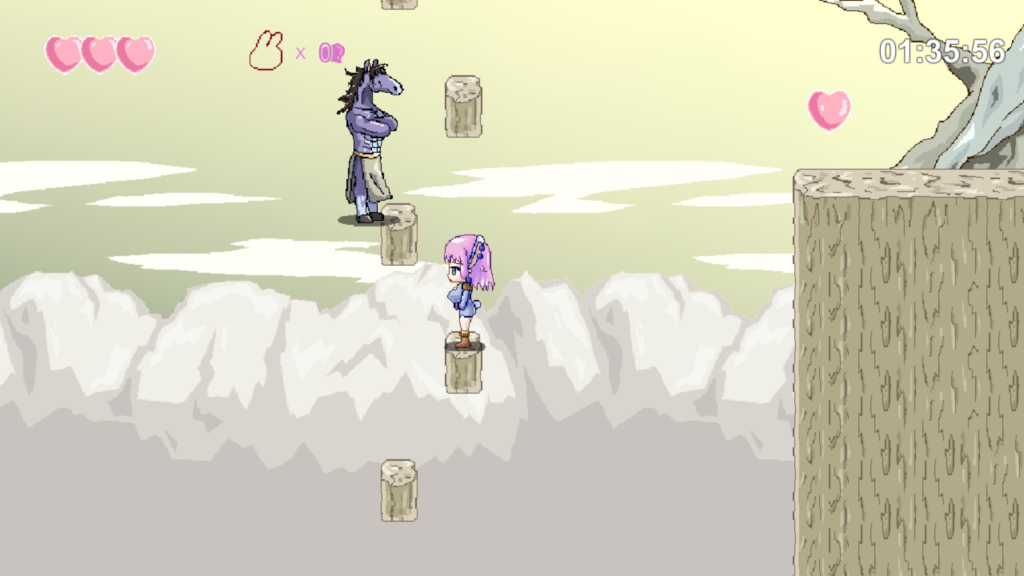 GAMEPLAY
As a side-scroller, you use WASD to navigate. Press W to pick up items. Press S to duck and avoid projectiles. Press Spacebar to jump. Hold it to jump even higher. Press Q to masturbate and initiate sex. Press Shift or left-click to throw a potion. Hold the button to throw the potion a long distance.
The game is only a side-scroller in dungeons. In town, you can freely move around. Free Roam is unlocked after 5-10 minutes, so be sure to talk to everyone and find new quests!
This game was created in the Unity game engine. That means although some portions follow a visual novel format, it's missing key features like a text skip. This means if you accidentally trigger a scene in town, you'll be stuck watching it. The lack of text skip is especially annoying when it's a fetish you hate and you're forced to watch it.
The game loop is relatively simple. Go out in the wild to gather ingredients, then return home and craft potions. These potions will either please the town people or be sold at the shop. Money can be spent on new recipes. You may also find recipes if you explore the levels thoroughly. The game's "Read Me" recommends quickly purchasing the "One Leg Ninja", a special item that will tell you which potions will sell for more on any given day.
The game gives you a grade at the end of every level and multiplies your ingredient count based on the score. I hate how simple the combat is. Honestly, just click as many times as possible to win, since you have no incentive to aim your shots.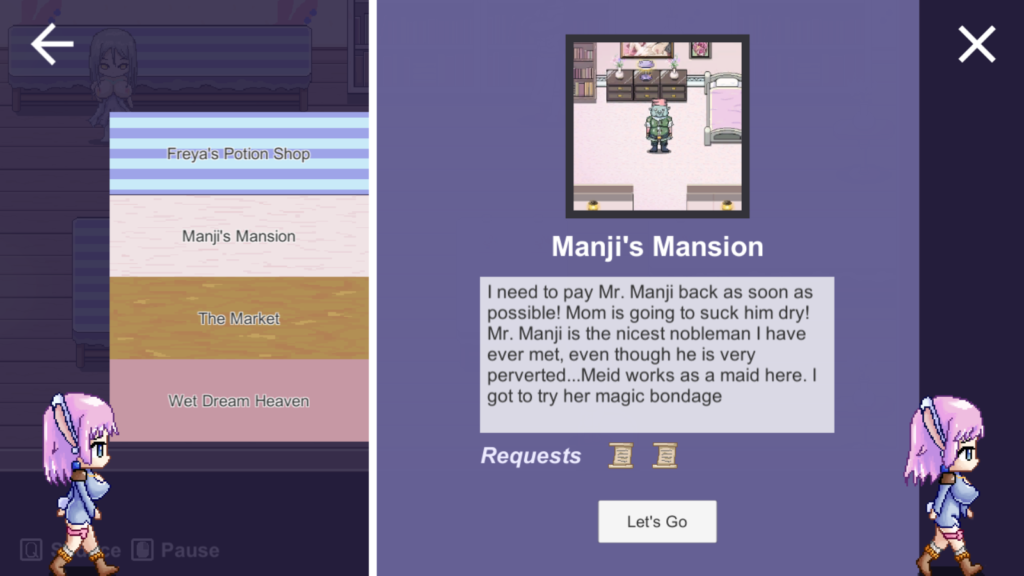 This game has a lot of positive aspects. It's a fantastic platformer with engaging level designs and surprises like moving platforms where you have to time your landings. Combine this with flying enemies you'll have to time to strike in mid-air, and it can actually get pretty intense. I loved how each enemy type operated with a unique AI pattern like the horses that jump into the air and try to stomp you.
The platforming is super responsive. You really feel like you have a lot of control over your character based on how long you hold the jump button and how much momentum you give yourself by pressing the right button. It's surprisingly good.
Of course, there are multiple negatives. You have multiple lives but if you die once, you lose all of your ingredients. You're likely to die or risk death often as you learn the new enemy patterns, traps, and methods of dealing with them. For example, one enemy takes over 5 strikes to kill so they may seem invincible in a first play-through.
You have 3 health points, but you must face a hundred enemies. You can't attack directly in front of you because Freya always lobs potions in an arc. The game is over 4 hours but there's nothing new to be seen after the first two.
One of the most infuriating moments in this game was an unfair death scene. There was greenery covering the bottom of the floor, so I had no idea a pitfall was there. I fell down and lost over 100 alchemy ingredients.

GRAPHICS
This game was created in the Unity game engine. Naturally, this allows for smooth pixel animations and mildly animated standing artworks. However, this means the game is an action RPG built from scratch rather than working with an existing engine. If you want custom window transparency from Ren'Py or a wealth of stock assets from RPG Maker, you'll be disappointed in the Unity engine.
As an action RPG, the gameplay has to feel fluid and dynamic. Thankfully, this developer manages that perfectly! From the downfall of potions you throw to the unique attack patterns of each foe, the visuals in this game always deliver. In case it wasn't obvious, as an alchemist, Freya is always throwing potions in battle. All enemies are various types of monsters like a harpy that charges at the player. While some enemies fight by shooting cum at you, others are giant stone golems rushing at you like walking tanks!
If an enemy dies in mid-air, their alchemy ingredients will fall naturally with the momentum of the direction they were traveling. In other words, sometimes you'll have to time your jumps to catch items in-air which is awesome.
My favorite level is the Mountain Path Test. There are multiple routes to complete it! Will you battle through hordes of enemies, a difficult platforming challenge, or time your running to avoid spikes?
Although I often attack the Unity game engine, this game is an example of where it's used right! Each part of the pause menu has a unique UI. Every NPC has a unique animation, every location has some interactive elements, and every region of the game has its own quirks like narrow tunnels to create suspense and tension. If this game was released on consoles, it would be a wonderfully enjoyable action RPG title. While Ren'Py and RPG Maker are suitable for a desktop experience, the Unity Engine has the potential to create games that are fun regardless of platform! I can already imagine myself laying on the couch with a game controller jumping and dodging all the enemies coming my way.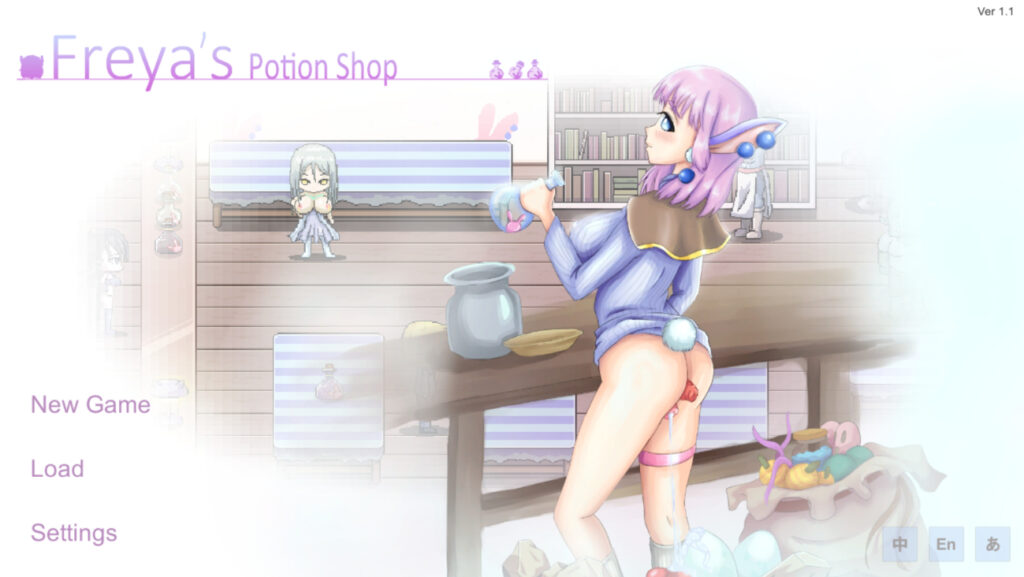 VOICE ACTING AND SOUND EFFECTS (SFX)
Freya's Potion Shop has partial voice acting. Giggling and moaning does play from time to time, but these are very limited. Sometimes a handful of lines are spoken like when Freya says "ome deto". The voice acting is done purely to provide a voice for the character while keeping the vast majority of the experience focused on the visuals. I loved the scared whimpering from Freya when I made her jump off a cliff. The visuals and the partial voice acting combine to make a tangibly exciting experience.
While the sound effects are varied, the game mechanics diminish their efficacy. The best way to preserve your 3 HP is to spam potions at enemies, leading to the "glass shatter" sound effect playing constantly throughout the game. The game design itself ensures this is the only sound you'll remember, even after 18 levels of battle.
MUSIC
There are 5-10 tracks total. The main menu music is the same as Freya's potion shop, which is a simple harp track. The brothel is a stock digital synth track.
The market is some lively xylophone. But the really good tracks come from the most unexpected places! Like in Manji's house where cymbals and piano create a really adult feeling, without being overly obnoxious. It's the kind of music you'd expect if you went to a fancy club. Another great track is the fast-paced flute that plays in the mountain levels. Overall, some of these tracks really stand out, but none go above and beyond expectations.
I wish I could purchase a music-box in game to decide which tracks I can hear more often. After all, regardless of how good a track is, hearing nothing but flute for six levels is a major drag.
HENTAI
There are 4 CG images, because the main focus is on pixel art. When it comes to pixel art there are 29 animations total. 13 are with villagers while 16 are in the wild. These range from quick urination to full blown gangbangs!
There is no virgin route. You absolutely must press Q to seduce enemies to gain special ingredients like fairy cum or the game cannot be completed. If you're missing a vital ingredient, chances are, you didn't fuck the right monster. This was pretty lame because it turns sexy animations into simple obligations.
Getting fucked in the middle of levels tends to ruin the lewd excitement of it. Like whenever you want to pick up a flower in region 1, you have to pee on it first. After the tenth flower, it loses any sense of excitement.
The hentai content in this game starts out with simple blowjobs but ends up very hardcore. Some scenes include vore-esque content, while others include full on fisting. I desperately needed a text skip button, because that was horrible to watch. And the dialogue is even more disgusting, with Freya saying "Look at my beautiful prolapse" and bragging about her incontinence. Then there's all the unnecessary futa content, even though the game lacks a futa tag on it. Altogether, it was too hardcore for me.
This is not a corruption experience. It fits more into the degradation category, and Freya is not a virgin at the start of the game. As you gain more experience, Freya will consent to being degraded even further, like allowing Meid the Magic Maid to cast BDSM magic on her. While the scenes are well animated, they weren't what I was looking for when I saw the innocent girl on the cover art.
CONCLUDING WORDS
Freya's Potion Shop is a fast-paced action RPG with tons of hentai animations waiting to be discovered. The animations are gorgeous, the story is simple, and the partial voice acting is very well done. If you're looking for an action RPG to keep you engaged, this is the perfect title for you. Download Freya's Potion Shop on Nutaku.net.
Graphics

Gameplay

Story

Music

SFX

Hentai