Cuckolding Hentai Anime Review: Netosis
Hentai Reviews

>

Reviews

>

Cuckolding Hentai Anime Review: Netosis
Written by Mistress Valentine, edited by Otaku Apologist
Netoshisu (or Netosis), a hentai anime produced by T-Rex. Released June 4, 2021. Runtime 16 minutes. Full Japanese voice acting. Censored genitals.
STORY
Ayato is in love with Kasumi. He works his fingers to the bone studying to pass his entrance exams. Kasumi tutors and lives with him at home. To cope with being so close to his dream love, Ayato gets off every night to some sexy girl on the internet that looks like Kasumi.
He confesses to Kasumi, but she doesn't give him an answer just yet. At the same time, Kasumi keeps disappearing every night and looks unhappy all the time. Ayato eventually meets Anjou, the guy Kasumi has been hanging out with. He also learns that the girl of his dreams is the same one he has been fapping to every night.
The erotic scenes are well done, but the storytelling outside of them has weak spots. The writing overall is good. There is a marvelous scene in the third act that changes your opinion of Kasumi completely. Unfortunately, the last minute of the episode is a complete turn off. The twist is shocking and unearned.
Discover more cuckolding hentai media we have reviewed!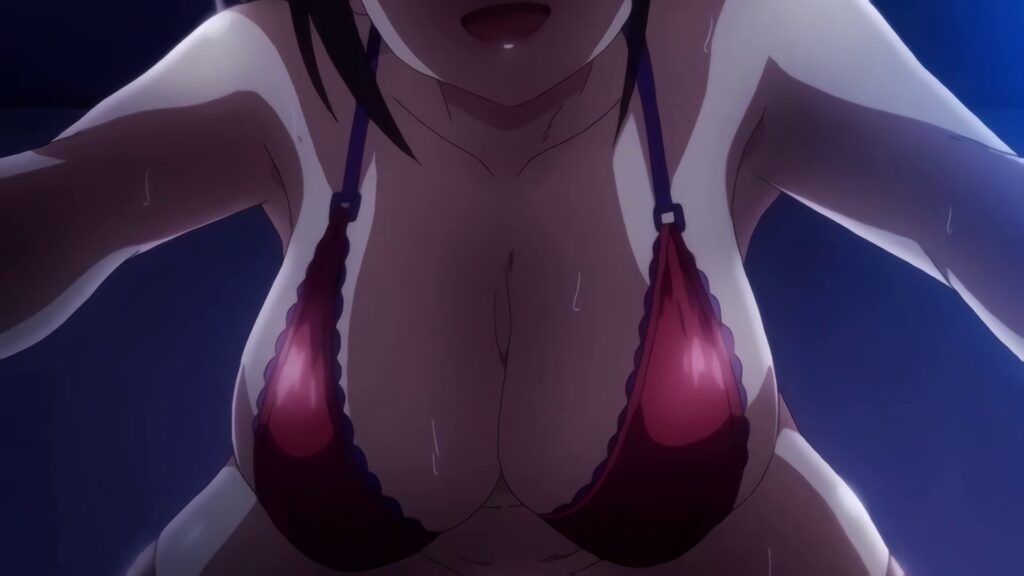 SOUND EFFECTS AND VOICE ACTING (SFX)
Kasumi's vocal performance steals the show. She is both kind and considerate, as well as lewd and ruthlessly cruel. The actress shows real range and makes you believe that this sweet Onee-chan can be a cutthroat bitch. Her moans drown out music and grow boners. Ayato's actor is believable as well. Unlike most hentai MC's, he is given more to work with. Anjou does not get much to do but still manages to come across as a total douche when he appears.
The episode is littered with abstract anime sounds. You will hear plenty of swishes, whirls and impact noises of different varieties. Other effects that you will recognize include fabric rustling, footsteps, doors opening and closing.
MUSIC
Songs are inaudible for large chunks of the episode thanks to Kasumi's sexy moans, the loud squelching and slurping noises that are dominant in every sex scene. The anime uses synthetic instruments in the front half to create a strange ambient beat that is difficult to pin down to a genre.
There is a complete dramatic shift when Kasumi seduces Ayato. The selection switches to dramatically dark piano numbers that are positively spine chilling. They are perfectly tailored to what is happening onscreen.
HENTAI
The sex in Netoshisu is great. Kasumi is a whore for the camera that likes to show off her body in deep close-ups. She has a library of lewd expressions that we get to see. When she is aroused, we can see her pupils dilate. At one point they are replaced by love hearts – a cute detail that I really enjoyed personally.
The series focuses on Kasumi and Anjou having sex with Ayato watching. This adds a voyeuristic flavor to the fucking. All the major positions are ticked off. The title is especially fond of vaginal sex. The last scene is the best. It is interlaced with Kasumi explaining what has been happening behind the scenes and utterly destroying Ayato through the screen who she knows is watching. The title tricks you into think we're going to get a shot scene, but the camera blue-balls you hard by fading to black.
ANIMATION
The aspect that stands out most is the color palette. The episode's color scheme is bright and vibrant. Scenes are lit like the characters are fucking in a night club underneath a disco ball. It gives the episode a unique look. Other scenes are dimly lit with only the moon showing us what is going on. The contrast in lighting plays well into establishing sex scenes that are meant to be raunchy and which are intimate. Kasumi's character design is delightfully lewd. Her proportions include huge titties and thick thighs that are well-suited for crushing sissy boys.
The camera work should be highlighted. There are very few loops or scene repeats. The same action is usually shown from a different angle which adds an inimitable flavor to the sex scenes. Kasumi's facial expressions deserve a shout out. She makes all kinds of depraved, lewd faces throughout this story and each one is as stimulating as the last.
CONCLUDING WORDS
Netoshisu is top tier anime fap fuel when it comes to cuckold porn. If this is your kink, you need to check out this title. You'll empty your balls to Kasumi in no time. But you have to enjoy the fetish, as this won't do much for you without it.
You can watch this faptastic hentai anime at MuchoHentai.

Story

Hentai

Animation

SFX

Music