Medieval Hentai Action RPG Review: Dark of Chroe
Hentai Reviews

>

Reviews

>

Medieval Hentai Action RPG Review: Dark of Chroe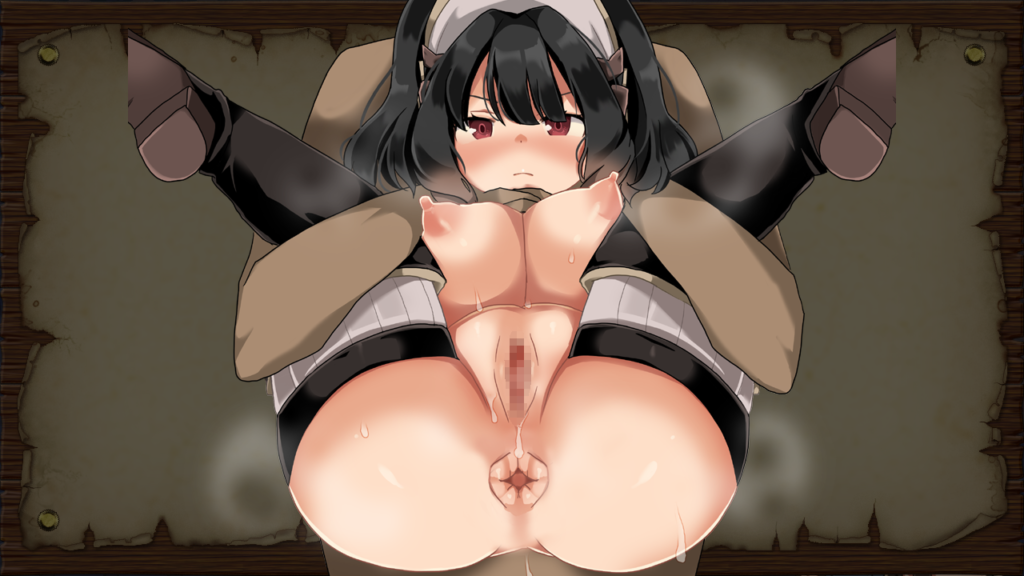 Written by Rastafoo69, edited by Otaku Apologist and Mistress Valentine
Dark of Chroe, an adult action RPG developed by circle Sugar Star. Released November 12, 2021. Download on DLSite for $12.00. For Windows PC. Partial Japanese voice acting. Censored genitals. Available in English, Chinese, and Japanese.
Starving in a war, Chloe had no choice but to eat a dead dog. Ever since then her body has been cursed to be sensitive to the smell of men. Hoping to cure this illness, Chloe visits the hidden temple of the pagan god Kurobikari. She must pass his trials in order to have her affliction lifted.
PROMO: When you download games through links on Hentaireviews, we make original hentai comics.
New to Japanese eroge? Read our guide how to download DLSite games.
STORY
The game drops you in with little setup. Although the temple of Kurobikari has a couple of girls like Lapis and Bellflower, they don't have much dialogue. This is a gameplay-focused experience.
Although the store page and title art say "Dark of Chroe", the girl is actually named Chloe in the game. This is because the Japanese commonly mix the two letters.
After defeating the three bosses of the game, you will unlock one of three endings. The good ending is unlocked by avoiding sex scenes. Chloe is cured of her illness and begins a knighthood named Kurobikari, in honor of the pagan god that cured her illness. The two whore endings occur if you fuck the people of the temple or because you fuck any guy who asks.
The three bosses can be defeated multiple times to earn "humanity". This can be sacrificed to unlock erotic scenes. But if you hold onto your humanity, you will find the good ending of the game. It seems the writer meant to do more with the concept but never did, which is pretty typical of circle Sugar Star.
Discover more medieval fantasy hentai games we have reviewed over the years!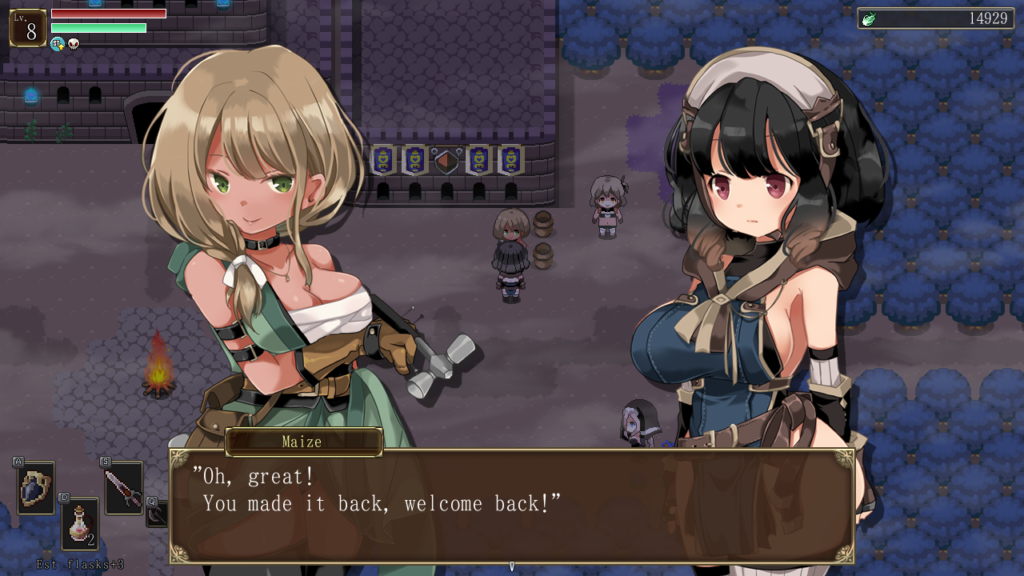 GAMEPLAY
Dark of Chroe was created in Wolf RPG Editor. The real-time combat runs smoothly with a great frame rate. It's supposed to offer 4-6 hours of playtime, but I beat the game in an hour. Unlocking all scenes takes an hour longer.
Although the DLSite page emphasizes "fully random" drops causing "large power spikes", this is also inaccurate. I tested it and the drops are not truly randomized. Even if they were, you cannot equip certain items unless your level is high enough. The game is super easy. My character was level 8 when I beat it.
Press CTRL to skip text. Press Shift for auto-text. Press S to attack. Press A to guard. Press D to heal. Press Q to swap weapons. Press W to roll. This sounds like a lot to remember, but it's actually very intuitive once you get into it.
You go into the forest and kill monsters until you face a boss. If you beat the boss, you can return to the temple to level up. You can only level up by talking to Lapis by the temple, which forces you to pace yourself even if you're on a roll. Once all three bosses are dead, the game is over and you can choose to strengthen the enemies for a better challenge.
There are three primary weapons. The sword can block 100% of damage, but it has low range and attack power. The axe leaves you vulnerable, but has high range and strong damage output. The bow does damage based on your skill stat and arrow type, but can only be used if you actually have arrows on you. I highly recommend saving the bow for boss fights.
The ability to raise individual stats and increase your carrying capacity for healing potions felt like under-used features. I wish the game was longer and had more dungeons, so we could see the limits of this semi-rogue-like format.
When you start the game, tutorial boxes appear to help guide you through the basic mechanics. This is fantastic, but personally I always felt the game is self-explanatory. Just a glance at the pause menu gives you a clear vision of your weapon types and items. When you start the game, you get to choose one special item, so you'll already know what to expect. For example, if you choose arrows, you can use a bow. Choose an upgrade stone, you can improve the sword. It's all common sense because the menu system is slim and to the point.
GRAPHICS
The art is drawn in the classic Sugar Star style. Although all the waifus are cuties, only Chloe has sex scenes. There are 24 base CGs for 27 scenes. There are 19 normal scenes, 5 erotic battle themes, and 3 ending scenes. Counting all variations, there are 148 CG images.
The game is simply gorgeous. I love the red health bar and green stamina bar in the top left corner like something out of Morrowind. I love the controls in the bottom left and standing art on the right. The interface in general is just phenomenal. That's the beauty of the Wolf RPG Engine, offering the flexibility to create a great user experience.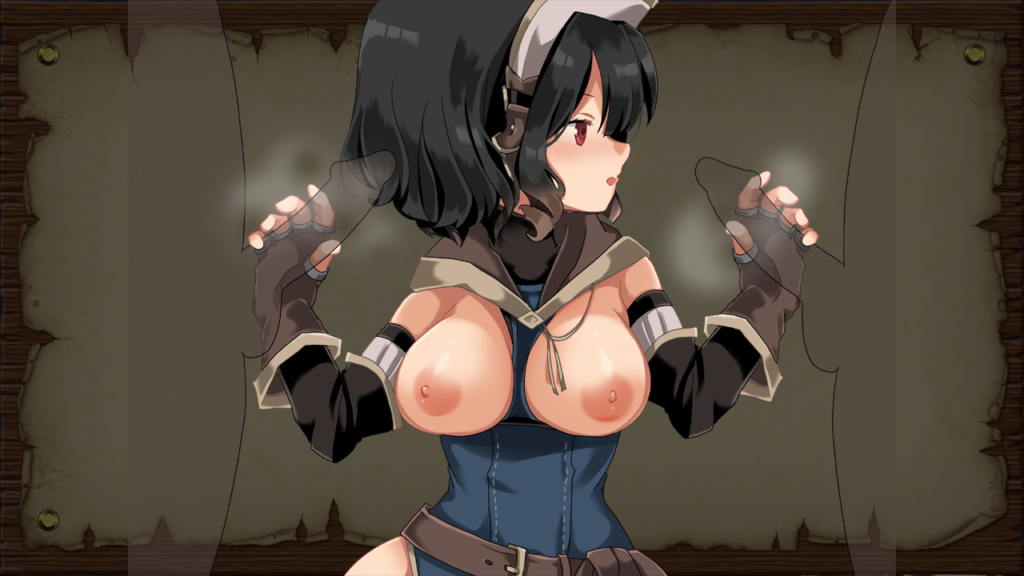 The sprites are super cute. I love Chloe's short hair covering her ears and shield at her side. I'm impressed by the enemy sprites falling down and bleeding out when they're killed. I wish more games had floor spikes and arrow traps the way Dark of Chroe does. There's just so much to praise! If this game was longer than an hour, it would be among the greatest adult games released in 2021.
Besides her absurdly exhibitionist style of dress, Chloe is a very well designed character. The artist creates so many great poses and facial expressions that add a ton of variety to the experience every step of the way. I love how some scenes offer a third person view while others follow a POV perspective to emphasize her tits and legs. I have no complaints except that I wanted more content!
I consider myself to have a good memory, so this wasn't a problem for me, but some players may get lost in the forest. For those folks, there should have been an optional minimap that filled up as you explored the area. Still, the game is enjoyable without it.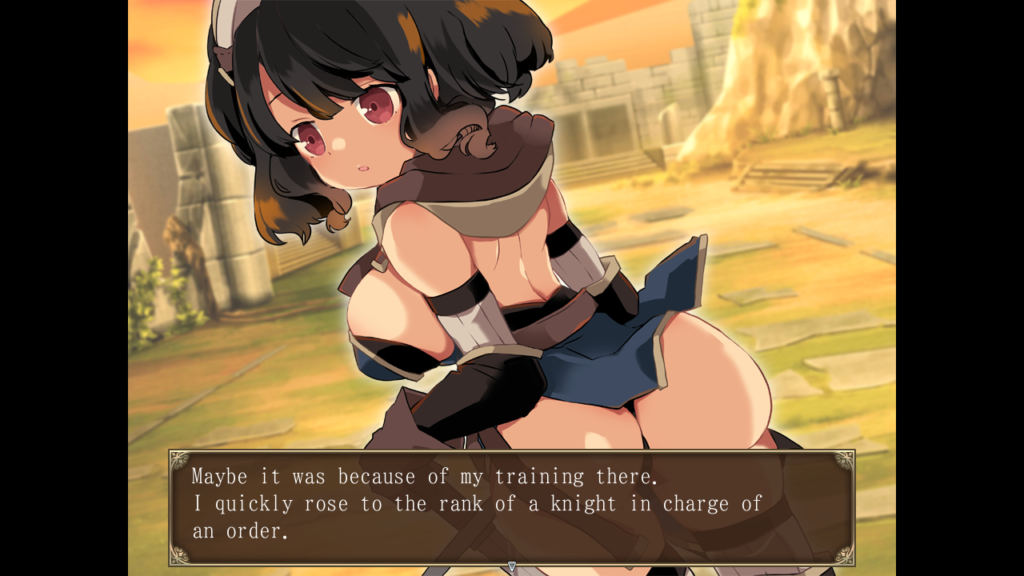 VOICE ACTING AND SOUND EFFECTS (SFX)
Dark of Chroe features full voice acting for Chloe during sex scenes, but not during dialogue. The girl who levels you up, Lapis, has a handful of lines but no full-blown dialogue scenes. Chloe doesn't really speak in full sentences during sex, instead it's mostly moaning and grunting and squealing. I enjoyed it all the same.
The sound effects in this game are fantastic. Whether it's a sword swipe or a metallic click for dealing with traps and such, each sound effect fits well and vividly conveys the actions occurring on screen. I really enjoyed the feedback I got for every action.
MUSIC
There are only a handful of tracks but each is better than the last. The heavy emphasis on piano perfectly matches the "hidden temple in the woods" vibe. Because you're often going between battles, fighting bosses, viewing sex scenes, and returning to camp, tracks never loop or repeat like in other games. It's altogether a really enjoyable audio-visual experience.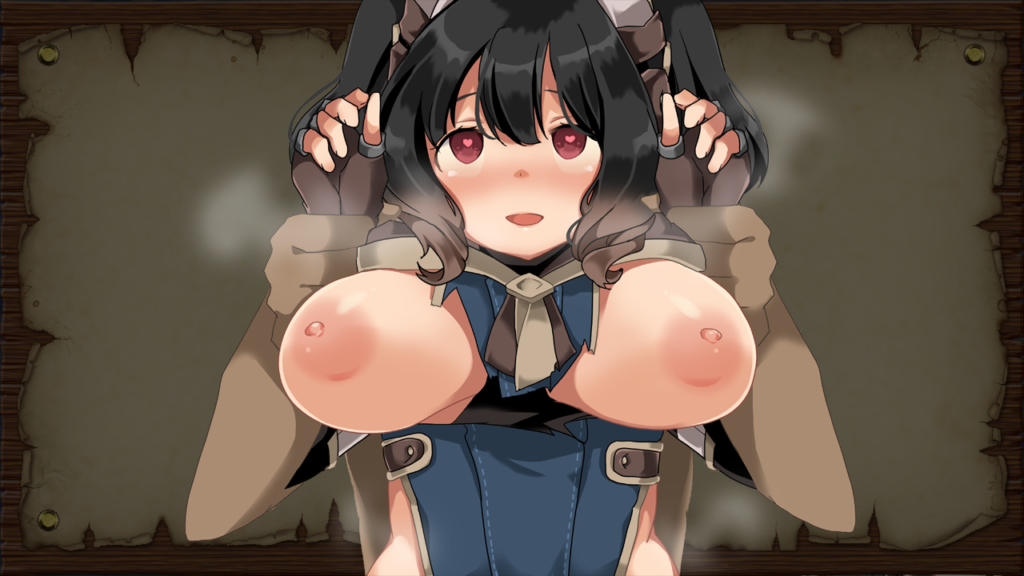 HENTAI
There are 27 scenes total, but only 19 are fully erotic scenarios. All scenes focus on Chloe, none of the other waifus get scenes. Sex positions range from doggystyle to the pile-driver. Variation images are used to simulate motion. Erotic dialogue follows a general trend of the stoic knight Chloe trying to deny the pleasure she's feeling, but submitting to it in the end.
I absolutely love her giant tits, but I feel like they are too often the primary focus. I would have loved a POV ass scene, rather than a constant third person view. And frankly, the vore scene is pretty unnecessary. I would rather see Chloe in different outfits, than see two pile-driver scenes back to back.
While the scenes are erotic, they aren't really integrated with the gameplay. You can kill all three bosses without ever seeing a single sex scene. Viewing sex scenes doesn't really get you anything. In fact, you'll have to backtrack and re-fight bosses just to view more sex. Impatient players may be discouraged. I wish these scenes appeared naturally over time instead of being purchased with boss drops.
CONCLUDING WORDS
Dark of Chroe is a super enjoyable pornographic action RPG focused on slowly leveling up and delving deeper into the forbidden forest. The visuals are nearly flawless, the gameplay is super engaging, and the voiced moaning is super erotic. My only complaint is how short the game is overall.
Download Dark of Chroe. If you liked this game and want another visually impressive title, then check out our review of Sujimon Quest.
Graphics

Gameplay

Story

Music

SFX

Hentai