Written by Misstress Valentine, edited by Otaku Apologist

Produced by studio PoRO, released in 30th March, 2018. "Saimin Gakuen (2018): Episode 1″ is a hentai anime that follows a student named Yukimasa who gets his hands on a Magic App that lets him control people. The first episode runs at 23 minutes. Censored genitals. English subtitles available.
Fetishes: Big boobs, blowjob, boobjob, creampie, facial, handjob, harem, licking, masturbation, mind break, mind control, golden shower, pregnant, public sex, rape, school girl, threesome, virgin.
STORY
Yukimasa is the son of a prominent family, but due to being weak and awkward, he is pushed around by girls until he receives a message telling him that he has been chosen as a winner. The prize is a magical app that lets him exact his revenge.
The premise of the story is not shown, but told. After you're done reading, the anime throws you in the middle of the plot with Yukimasa inviting Suzune for a stroll with him. Suzune agrees despite peer pressure. The app is already controlling Suzune's decisions. In the woods, Yukimasa orders her to remove her panties and pee against the tree like a dog. After wiping her pussy clean, he makes her forget what happened.
The next morning, Ruka, Yukimasa's number one tormentor is panicking. Ruka woke up seemingly with a pregnant belly with no memory of how it happened. Worse, she finds her classmates all masturbating furiously inside the school. That's when Yukimasa shows himself.
Ruka and Suzune are forced to watch Rio suck Yukimasa's dick before Yukimasa has Suzune get on top of Ruka. She dips his dick into the top girl while the bottom girl watches. After deflowering Suzune, Yukimasa moves on to fuck Ruka.
The last five minutes of the episode are devoted to credits and preview scenes from episode two.
VOICE ACTING AND SOUND EFFECTS (SFX)
The Japanese actresses for Ruka and Suzune get equal amounts of screen time to moan and squeal in terror. Listening to their performances, you get the feeling that these ladies have been in the hentai world for a while. They sound rather natural in their roles as schoolgirls who are getting fucked. There is a lot of virgin screaming coming from both Ruka and Suzune. The screaming ranges from painful-to-listen, to painful-but-sexy.
When it comes to sound effects, you hear girls peeing and penis pumping into drooling vaginas, but there are also more subtle effects like the sound of cicadas in forests, and bustling trees. There's also a sound for virgin blood dripping on a girl's face.
MUSIC
The musical score works beautifully in a school setting. The style is light-hearted. It's not too loud, and mixes well with the events depicted in the scenes. The music increases in tempo at the same rate as Yukimasa's thrusting, offering another layer when it comes to fast-paced fucking.
There's also a couple numbers for a darker mood. The scene with Suzune in the beginning features a song that's both dour and hopeless. You can just feel how empty Suzune's soul is under Yukimasa's control.
ANIMATION
The animation is bright and colourful. The environments and characters are visually well-developed. It almost feels like the studio was putting more effort into the visuals than the story. Each character looks beautiful, drawn in the cookie-cutter anime style that is so prevalent today. The babes sport bulging breasts big as watermelons bursting out of their fabric prisons.
The animation of the girls peeing looks awesome. They studio added a 3D animation effect for the piss. There are also some wonderful close-up shots of Ruka watching Suzune and Yukimasa from underneath as their genitals grind against each other. The movement of breasts is also very realistic, and delicious. The boobs on the anime girls are big and jiggly.
My favorite scene showed the virgin blood that stuck around after the babe was deflowered. The imagery stayed consistent between shots, making the experience more immersive.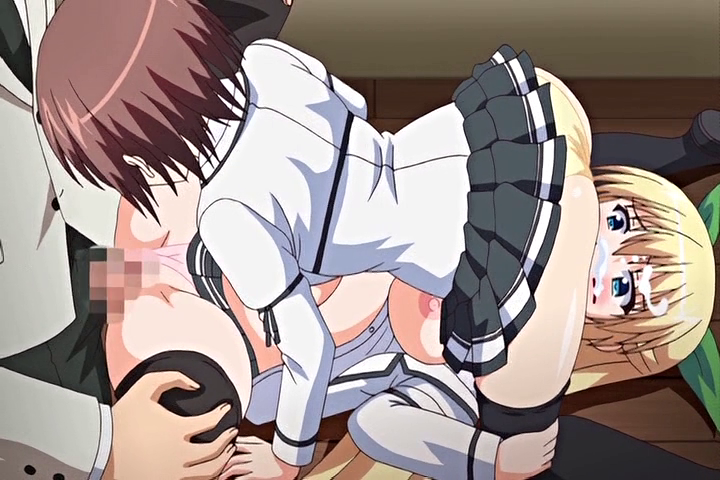 HENTAI
The early sex scenes aren't long. We get a good look at Suzune's pussy during her outdoor peeing scene, but nothing more than that. A cascade of the girl's piss waters the plants before Yukimasa wipes her clean, and that's that.
One of the hottest scenes features Rio sucking Yukimasa's dick before he moves on to use Ruka's and Suzune's tits. The scene is wonderfully realized with several different angles showing off Rio's mouth and tits, focusing little on Yukimasa. He finishes up by cumming in Rio's mouth.
The highlight of the episode is the moment when Suzune is getting fucked by Yukimasa while Ruka is positioned underneath, watching from below as Yukimasa smashes her friend. Yukimasa takes Suzune's virginity and drops of blood spill on to Ruka's face. She stares in awe at Yukimasa's 'big thing' and trembles at the thought of getting that huge cock inside of her. Yukimasa picks up the pace and cums inside of her. He pulls out like a gentleman, unplugging the filled up pussy, resulting in his cum dripping out on Ruka's face.
Ruka's deflowing scene shows her protest all the way, saying she hates how she's feeling with Yukimasa's dick sinking deep into her virgin hole. Multiple gorgeous shots show Suzune's breasts flopping about as Yukimasa drills her, but her pregnant belly barely shows because of the camera angles. Her belly serves no purpose really. Blink and you'll miss it, but Suzune actually pees on Ruka's face after watching Yukimasa cum inside Ruka.
CONCLUDING WORDS
The story loses points for including almost three minutes of reading at the beginning. It comes across as a very brutal way of cutting costs and hurts the narrative. "Show, don't tell" is the golden rule of storytelling. Ignoring the eight wasted minutes of runtime, Saimin Gakuen is a very sexy story about schoolgirls getting their filling of penis.
You can watch this hentai anime at Hentaisun.com, or Hentaipulse.com, or Hentaihaven.com.