Written by TheHentaiGuy, edited by Otaku Apologist
Princess Eris, a hentai visual novel developed by Norn. Published by Hime-chan Company on September 23, 2009. Available for Windows PC. This game is no longer commercially available to the public. You can download the game for free here. Japanese voice acting. Censored genitals.
Shouta is a perverted Asian male who knows everything about his female neighbors, who happen to be the devil's daughters! One day, the girls inform him that they want to make babies to carry on their race. Shouta obliges and chooses to knock up the cute and sexy Princess Eris! She's a sex-hungry succubus who believes in the traditional marriage between a man and a woman with a hint of premarital sex!
STORY
The story begins with Shouta confessing his love to Eris. She is delighted, and quickly moves in with him. They plan to marry and have children. They lose their clothes and their self-control and make love. Living with the perfect woman, Shouta enjoys his unlimited sexual access to her steady supply of pussy as the couple works hard to make a baby in multiple faptastic scenes!
Shouta and Eris don't keep it in their pants in school either. They kiss publicly in class. Shouta's sister is aghast and warns his brotherman that his pervertedness is rubbing off on Eris.
Shouta gets invited into a karaoke night, but refuses the offer. He wants to keep his promise and meet Eris after school. They meet up, but Eris she can't keep her promise because of student council duties. At this point, the player can choose to help her, or wait it out. Helping Eris will unlock a maid cosplay sex scene.
Shouta's openly sexual relationship brews a conflict between him and his sister. He turns down another opportunity to hang with his friends, and rushes home. He finds Eris wearing nothing but her apron. Sex scene after sex scene, the couple learns to love each other, and provide the other with mind-blowing pleasure.
The game features the minimum amount of heart-rending drama. The story is happy and full of sex, and the ending is a heartwarming wedding with lots of consensual genital rubbing action.
The dialogue is well written and gives brilliant insights about the characters. You learn to know these guys well, which amplifies the emotions you experience while watching them fuck each other senseless.
GAMEPLAY
Princess Eris is a visual novel. You click the screen to advance the story. You are presented with only two choices the entire run of the game. These scenes don't affect the ending you'll receive, but which sex scenes you'll view. Skip dialog by pressing the spacebar. Save your progress into multiple save slots.
GRAPHICS
The art is traditional Japanese anime style. The color compositions are warm and nice, just like the entire lovey-dovey game. Body proportions are consistent between scene, no matter the change in angle. The consistency of the visuals is an indicator of high quality.
The characters are generally a mashup of tropes and not very original in their designs, but neither are they irksome. All the female characters are incredibly cute, especially Shouta's sister. She's depicted as an adorable, innocent, delectable girl who would never use her sex appeal to manipulate resources out of a man. The main female character, Eris, has a big wardrobe of different girly clothes, which build up the anticipation. Watching her, you just want to rip those clothes off her with your teeth. The character art is incredible at capturing the excitement of making love to a person you cherish.
VOICE ACTING AND SOUND EFFECTS (SFX)
The voice acting is decent Japanese quality. All the female characters enjoy full voice acting. The only problem is Eris, whose high-pitched squeals just pissed me off. During the first few sex scenes she's downright annoying, but the actress' performance improves considerably later on.
Disturbingly, several scenes featured a sound effect for Shouta cumming that sounds like a Pokémon using water gun. I was not expecting that! When Eris cums, you hear the same inappropriate clip. That should give you enough idea of the quality of the audio design. The developer was clearly cutting corners here.
MUSIC
Princess Eris features a soundtrack full of relaxing songs. I almost fell asleep listening to the main menu theme. Really, I just closed my eyes and relaxed. The menu theme is a piano-dominant track. Every key stroke the melody feels more and more soothing, like the music is seducing you. It sure gets you in the mood for a romantic love story full of consensual creampie sex!
During dialog scenes, you listen to a song with dominant violins and pianos. It's another smooth, soul-soothing experience. The music adds a level of immersion and perfectly compliments the storytelling.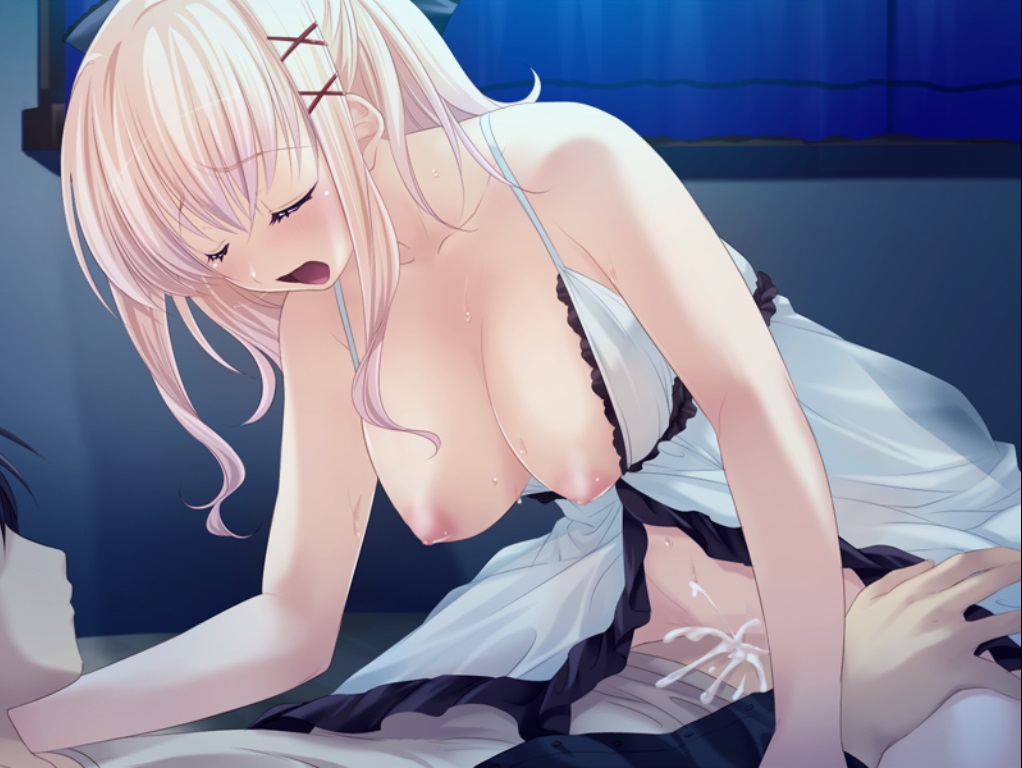 HENTAI
The sex scenes are a blend of wonder, love, and exploration of kinky exciting fetishes. The characters express their love for each other via kisses and touches and words, both publicly and privately.
One of the better sex scenes features the couple having sex in the backyard. Shouta bends Eris over and grips her ass cheeks before thrusting his dick in her. She gets so excited, she vocally begs for him to cum inside of her. This goes on for a while, and Shouta creams her ripe young womb several times before pulling out. As she's riding the dick of her dreams, she keeps complimenting his size and technique. She rides the shit out of him and gets rewarded with several lumpy loads in her drooling pussy.
My favorite sex scene was the makeup sex the couple has. After a heated argument, both parties feel stressed and full of pent up energy. What better way to release that tension that fuck the shit out of your loved one? In this scene, Eris is the aggressive one. She sits on Souta's cock, playing with her own clit while staring him right into his eyes. The combination of aggression and intimacy milked my nut hard.
CONCLUDING WORDS
Princess Eris is a fun game. It feels like hentai studios don't make these kinds of healthy romance stories anymore. The age of the game definitely shows in good ways and bad ways. The overall experience is good for a solid fap session or two. This was a really nice game to get into and I'm really glad I invested my into it. This is a love story centered around a young man and a woman.
Download Princess Eris for free (PC Windows). Remember to check out our great sponsors!
Graphics

Gameplay

Story

Music

SFX

Hentai