Written by Mistress Valentine, edited by Otaku Apologist
Sakura Gamer 2, a hentai visual novel developed by Winged Cloud. Released on December 12, 2019. Download on Nutaku.net for $9.99. For PC Windows and Linux. No voice acting. Censored genitals.
Nekohime and her friends Clover and Suki return to make another game after the success of their first game. They're planning to launch it at Manga Market, but Neko is starting to feel less and less confident in their product.
We've also reviewed Sakura Space, Sakura Santa, Sakura Halloween, Sakura Dungeon, Sakura Gamer, Sakura Nova.
STORY
Several months after the events of Sakura Gamer, Nekohime and her friends enjoy success. Every copy of their first game has been sold. The fan outcry is intense for a sequel. Depending on your choice, Nekohime is either dating Clover or Suki. Neko is feeling anxious about their upcoming game. She has severe writer's block and doesn't have confidence in herself. This is due to negative reviews online criticizing her work on the first game. The group want to include their new game at Manga market, an exhibition for video games and other anime products. The trio runs into Kurumi, a scantily clad girl, who hates MikoMaid. She's hell-bent on ensuring a sequel never sees the light of day.
The writing for the game feels like an improvement over the first. Nekohime receives more development and her fears and anxieties are explored. It makes the character feel more rounded. Clover and Suki exist only to be advice gives, sounding boards or look cute in lewd situations. Like the first game, this sequel has unneeded padding to extend play time. This padding is only there to provide the audience for some ecchi moments. Clover agrees to give a frustrated Neko a massage which quickly turns into yuri affair. The dialogue is puts you in the mind of typical cutesy slice of life anime about friendship, hard work and determination.
GRAPHICS
As par for the course with Winged Cloud titles, the artwork looks stunning. The girls look cute and young, and thoroughly fuckable. Especially their glossy anime eyes are beautiful. Backgrounds are vibrant, colourful and rich in detail.  There is a good balance of indoor and outdoor settings, combined with night and day time.
Most of the character sprites are copy and pasted over from the first game. The characters suffer from the very common anime "same-face syndrome". Their eyes, hair, colour, attire and personality set them apart. All the girls have unique clothes that make them stand out. Eeach of the cute girls have massive boobs, which the babes freely grope.
GAMEPLAY
Sakura Gamer is a kinetic novel. You click the screen to advance the story. The game sometimes presents you with multiple choices at key points but these choice don't have any material impact apart from changing some of the dialogue. The story is linear. The choices you make don't affect the game's ending in any meaningful way. The game really only has one ending, but certain details surrounding the ending depend on basic answers you give at the very beginning of the story. The game has a lot of save slots where you can save your progress. There is also an 'auto' and 'skip' button for faster play.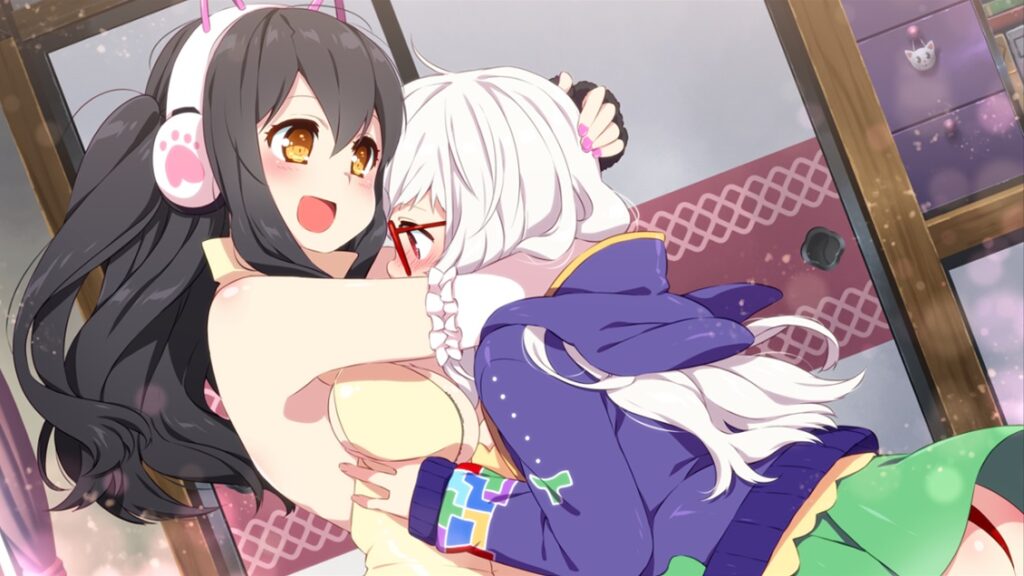 VOICE ACTING AND SOUND EFFECTS (SFX)
Sakura Gamer 2 has no voice acting. The game's sound effects library is limited to knocks on doors and doors opening.
MUSIC
The game's opening song is like a classical 80s arcade video game theme. It features synthetic instruments, complimented with an 80s arcade visual menu screen. The game's music has a typical anime feel. The soundtrack is limited in quantity but you don't really notice. The OST has a good mixture of song genres and styles. There's song that are silly, romantic, serious and even bizarre. Instruments you're likely to hear whilst playing include saxophone, xylophone, guitar and piano. Much like the first installment, the game's music feels energetic and alive.
HENTAI
Sakura Gamer 2 features 15 CGs. More than half of these are sexual.
This is a Winged Cloud game, so expect lots of lesbian shenanigans. Don't expect actual sex because there is none. Content is limited to vanilla ecchi encounters between the main heroines. This game focuses primarily on putting the main girls in erotic sexual positions where they can show off their cute bodies, look adorable for the camera or set themselves up for a lewd encounter with another girl.
You can tell by the size of your boner just how much this game loves boobs. The girls talk about their chests a lot, they wear skimpy outfits and even press their breasts up against one another which makes for very arousing visuals. In another scene, a character's face is shoved in-between a girl's boobies, much to everyone's embarrassment. The dialogue is palpable. It's only ever sexy when one of the more perverted characters do the talking.
CONCLUDING WORDS
Sakura Gamer 2 is a worthy successor to the first game. It's still a very paint-by-the-numbers title. There are better titles in the Winged Cloud library. But excellent graphics, a better story, and cute girls certainly make this a more enjoyable game. I can't promise you'll rub one out though. At the end of the day it's still a hentai game without any actual sex.
Recommended mostly for hardcore fans of ecchi lesbian action. Download Sakura Gamer 2
Story

Music

Graphics

Hentai

SFX

Gameplay